Teleporting yourself to the most beautiful and idyllic coasts of Ibiza or Santorini is more feasible than ever before using decoration. Feel the calm and serenity of the sea with these failproof tips for Mediterranean-style homes. What can we do if we were 'born in the Mediterranean'?
Soft salty touch. The sea breeze caressing your cheeks... It feels like summer, right? If this is your favourite season of the year, you're in luck, because in our '12 months. 12 styles' series, we bring you the keys to Mediterranean-style decoration.
Although initially it was a style of interior design followed primarily by professionals for flats and beach houses, in recent years the Mediterranean has become a timeless decorative style that can be seen in any house or project on the Mediterranean coast. It is a way of bringing the sea indoors whether or not you have the privilege of seeing the ocean on the horizon.
What is Mediterranean style and how did it come about?
Mediterranean style transports you to Mediterranean life. Like stepping into a Sorolla painting, you are transported to the seaside scenes of local customs and manners. It is the freshness and serenity of the sea. Rich in history, Greece is really where this style emerged thousands of years ago. It was the Greeks who, thanks to their moderate climate, were the first to advocate the development of outdoor living and began to opt for large patios and terraces in their private residences.
However, when we pronounce the words 'Mediterranean style', two geographical locations quickly spring to mind: Santorini (Greece) and Ibiza, and it is mainly in the southern European countries (Greece, Italy and Spain) that the Mediterranean style in interior design is most widespread. But contrary to popular belief, the Mediterranean style does not only come from these three countries, did you know that? The Mediterranean way of decorating has many traces and influences whose location comes from other coastal states, such as Israel or Morocco.
Keys to Mediterranean-style decoration (room by room)
Having explained the origins of this style (which you'll want for your home this summer), it's time to give you the best guidelines to achieve a stunning and incredibly cool Mediterranean décor. We will go through the houses room by room so that you can adapt it to each space and project.
Mediterranean-style living rooms
One of the essential characteristics of Mediterranean-style houses is that they are always looking to open up to the outside world while enjoying the good weather that is typical of their surroundings. The goal is to bring the sunshine into the rooms and to transmit joy and zest for life, the desire to do things all the time. Ideally, the atmosphere should be as relaxed as it is warm and cosy, giving us the feeling of being on holiday all the time.
Therefore, it is not surprising that Mediterranean-style living rooms include direct access to their terraces through large windows that let in light and can be opened to enjoy the climate as well as the views. As if trying to include them in the interior design. The sea and nature as a backdrop.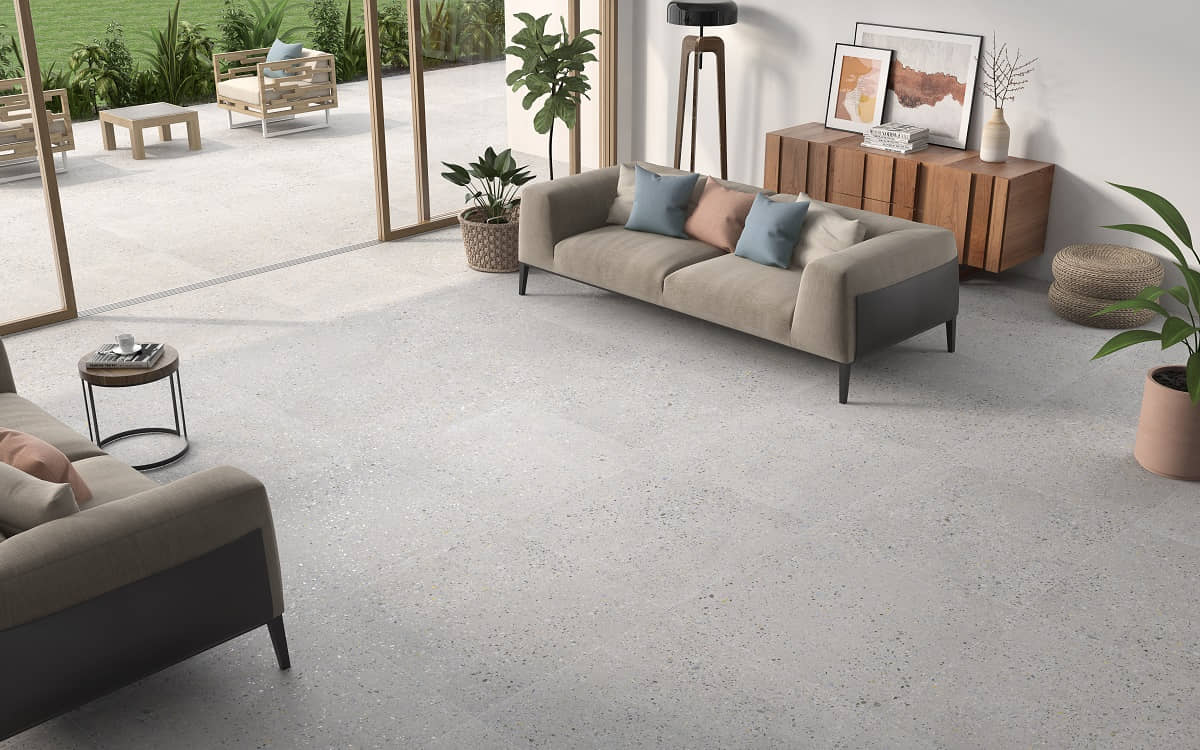 Mediterranean-style living room with Takara Pearl 90x90R flooring. A design inspiration terrazzo floor whose neutral tones and multicoloured confetti touches (including blue), are ideal for this type of decoration.
If you opt for a Mediterranean-style living room which is more typical of houses in Ibiza or Santorini, you should know that this type of decoration uses elements which are typically rustic at a structural level, such as whitewashed walls and handcrafted aesthetics, highlighting their imperfect character. This perfect imperfection in which every sign and crack is beautiful is also transferred to the furniture, where romantic, antique or stripped furniture is the protagonist of the scene.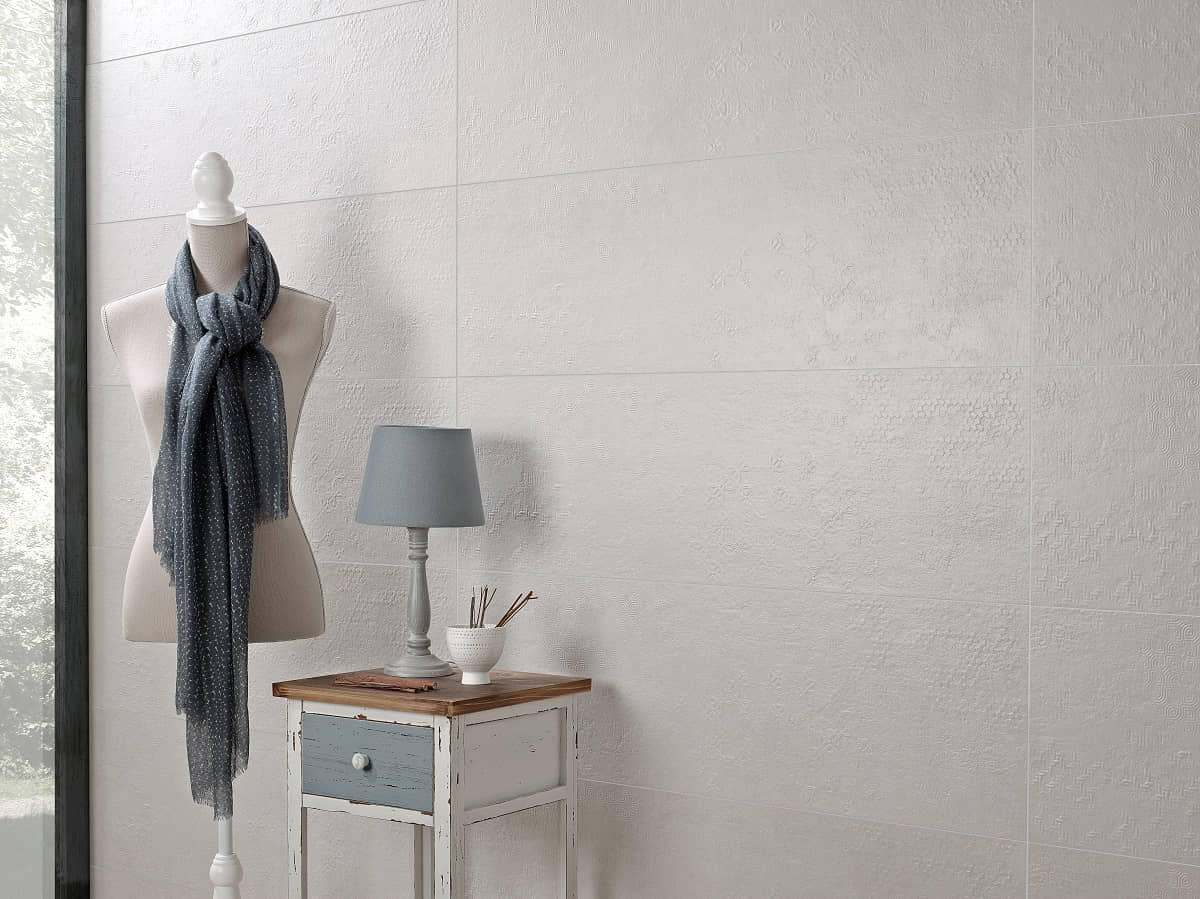 Although the most characteristic feature of the Mediterranean style is whitewashed walls, you can imitate a similar effect with ceramic collections for wall cladding by Colorker such as Atelier Moon 31.6x100R and its Evan relief (in the image).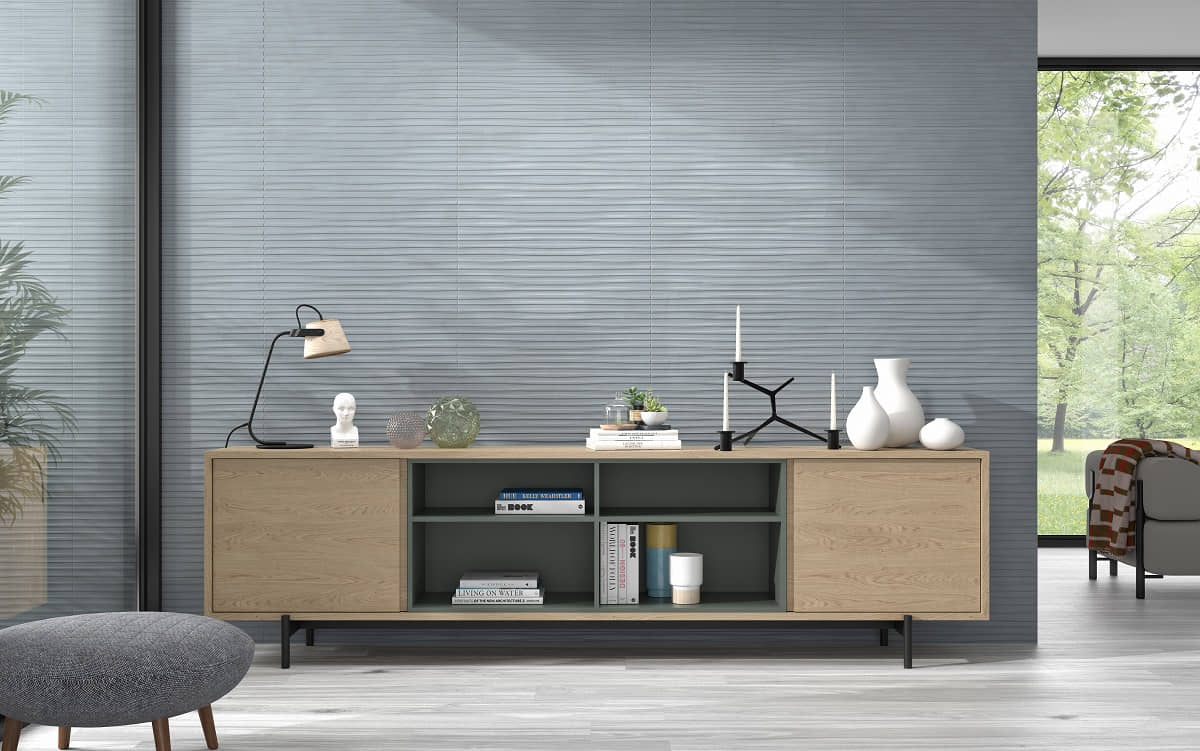 Mediterranean-style living room that is installed in its most evolved and modern version. Get it with blue-toned embossed wall tiles, such as Impulse Volia 25x75 and imitation wood tiles for the floor. Pay attention to the large glass windows (which allow the INSIDE exteriors to shine through) and the wrought iron details, which are becoming increasingly common in this style.
Mediterranean-style bathrooms
Mediterranean-style decoration is usually soft and relaxing, serene and full of peace, without great stridency, like the very sea that gives it its name, with generally calm waters and no big swells. This is even more important in contemporary bathrooms, where the room has become a temple of relaxation and escape.
To achieve this effect, the Mediterranean style is usually based on white as the predominant colour (an emblem of light and the sensation of space); although other shades inspired by the sand and the sea also take centre stage, such as off-whites, beiges, sandy tones and, of course, blue.
The Mediterranean style sees the introduction of blue in all its variants: from the typical light blue, navy, sky blue, turquoise and aquamarine, to other more exotic colours such as indigo, cobalt or lapis lazuli, a 'total trend' in recent years.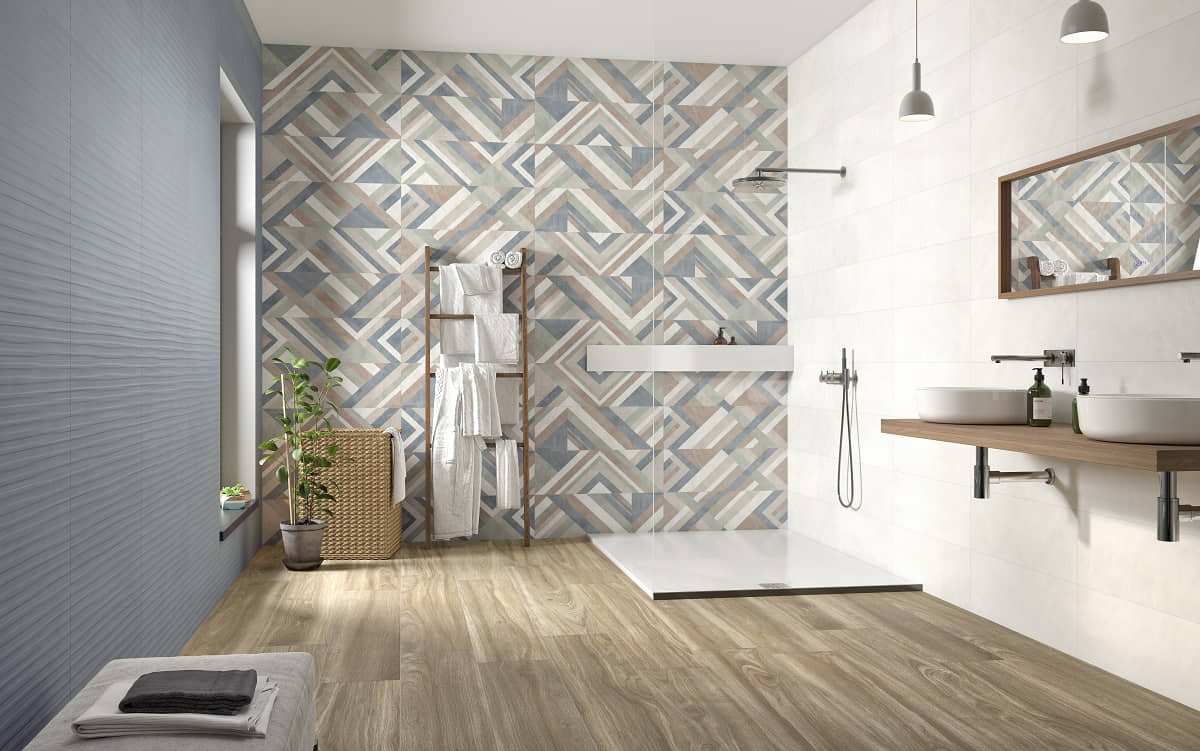 Mediterranean-style atmosphere with the Impulse collection by Colorker. A very dynamic and trendy example with combined tiles for the bathroom with a wall in neutral tones (Impulse White, 31.6x100R), a bluish relief (Volia Blue 31.6x100R) and a main wall in multicoloured geometric decoration (Monet Mix 25x75).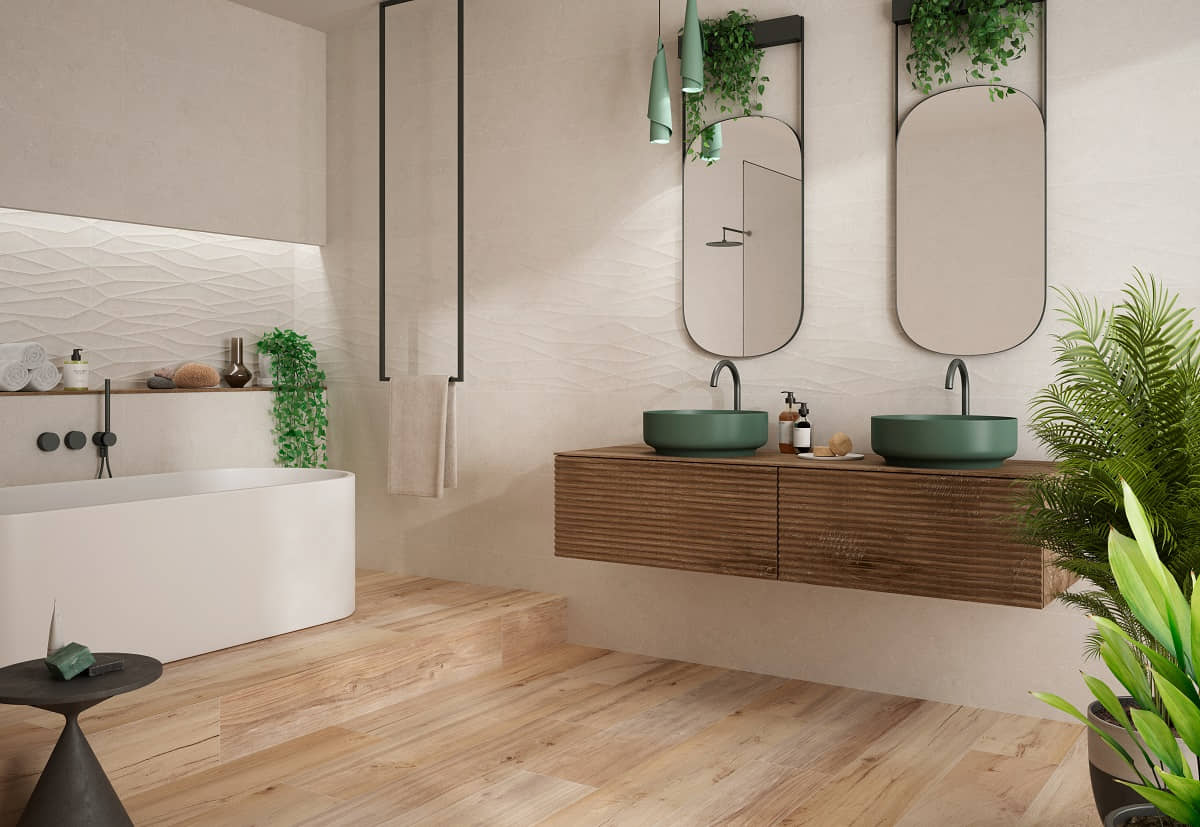 The Mediterranean style can vary from blues to aquamarines, drifting into its more greenish aspects. A bathroom reminiscent of the sand washed by clear oceans of turquoise beaches typical of places like Ibiza, Greece or Malta. Maldives Pearl cladding 31.6x100R and its Sea Pearl relief 31.6x100R. Flooring: Hamilton Natural 23x120. Greenery is also a big feature in this style. Introduce it into your interior design and make it much more exotic!
The materials that are most common in Mediterranean-style homes are stone, cement and concrete. You can opt for the natural material or choose ceramic, whose resistance and durability is 100% ideal for highly demanding rooms such as the bathroom. Hydraulic tiles are also common in the Mediterranean style, taking us back to the traditional houses of the Catalan and Valencian coast.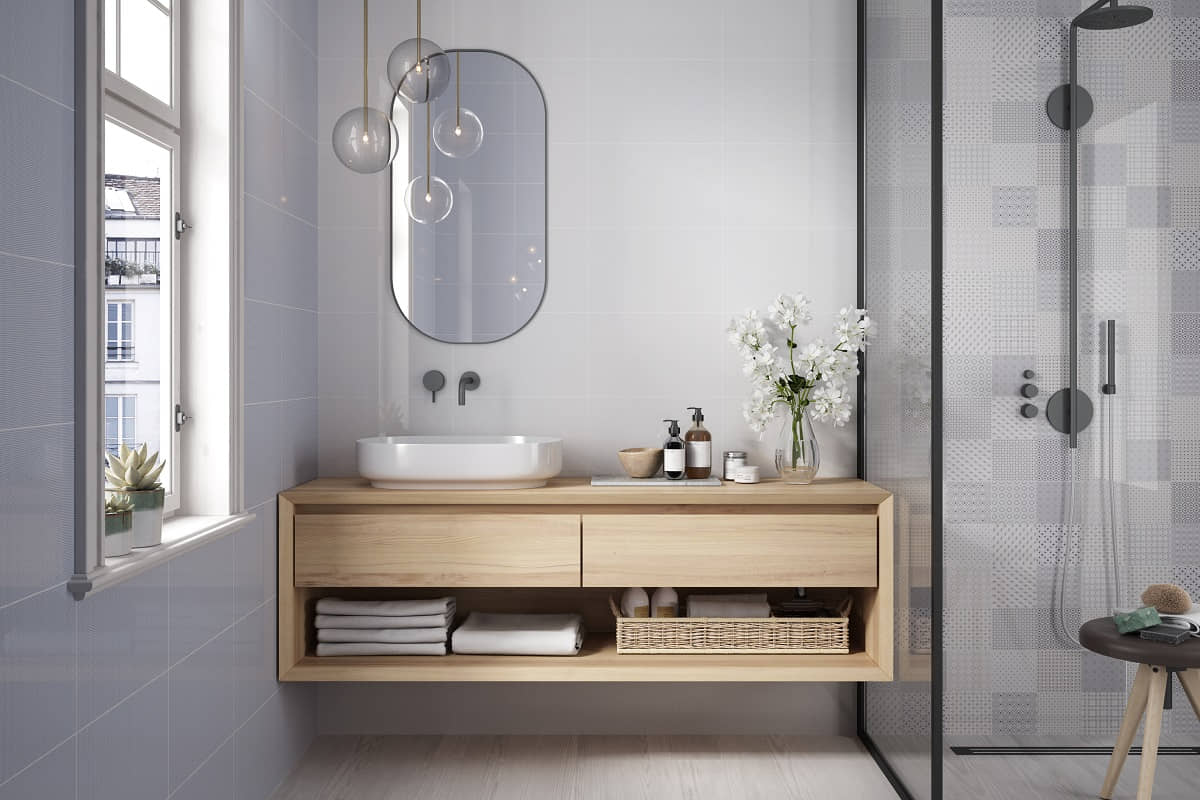 Mediterranean-style bathroom with Ikon Blue and Ikon Moon 25x40. A ceramic hydraulic tile version has been chosen for the shower from the same series: Sindara Mix P 25x40.
Mediterranean-style kitchens
Mediterranean kitchens are open, connected and spacious. They are designed to enjoy the family or the company of visitors. In these kitchens, there are no barriers separating the dining room from the cooking area, interior and terrace; and they are usually equipped with a large table and island.
The most commonly selected materials for equipment, furniture and decoration tend to be natural, such as wood, wicker or rattan, and may include rope, straw, jute elements and linen or cotton textiles.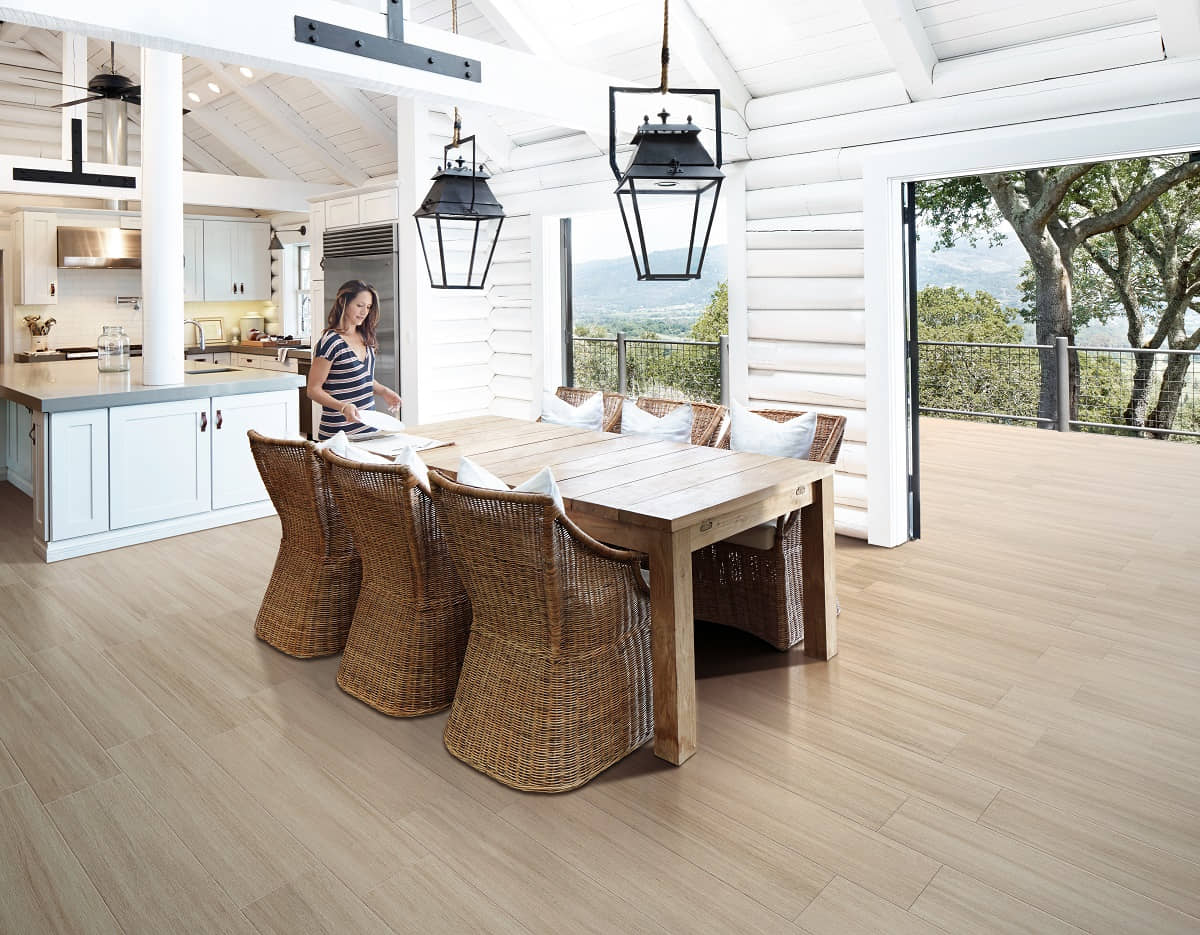 A typically Mediterranean kitchen totally open to the dining room and the outdoors. The flooring is Boreal Oak 21.8x84.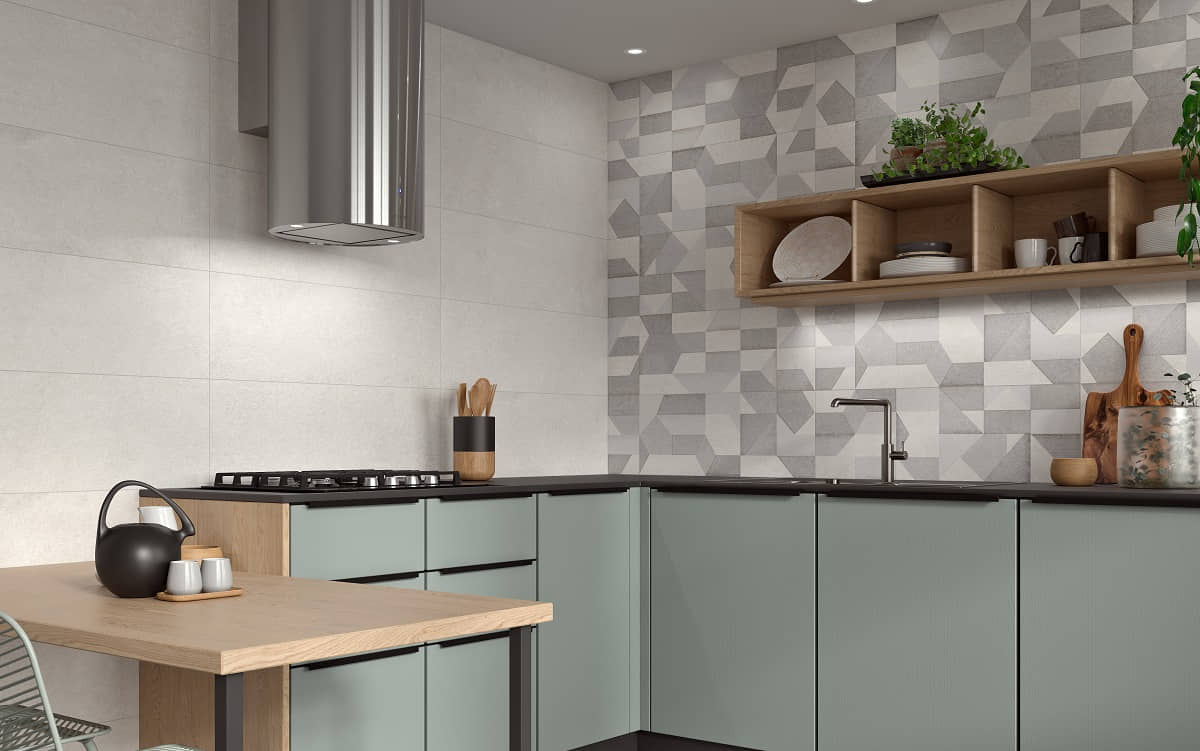 More modern kitchen idea with turquoise furniture. Wall tiles: Backstage Moon 29.5x90R and decorated Drums Mix, 29.5x90R.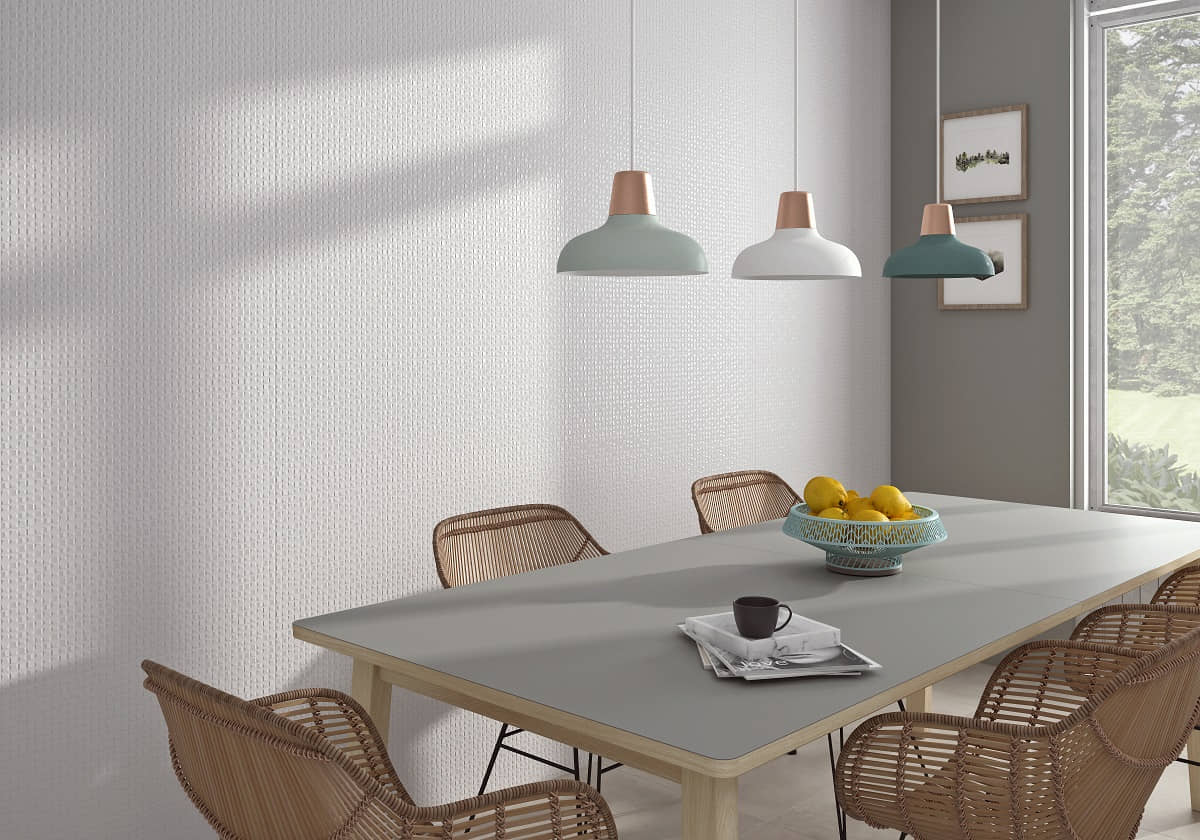 Dining area adjacent to the kitchen with Arty Lenox White cladding, 29.5x90R. If you get tired of colour, you can always go for white and soft colours and natural finishes and relegate blue to simple decorative touches.
Mediterranean-style terraces and exteriors: life is made outside
What would a Mediterranean-style house or flat be without its terrace or outdoor environment? Here we propose two sea-flavoured ideas with a swimming pool included for your best dips this summer. Are you in? We say, YES!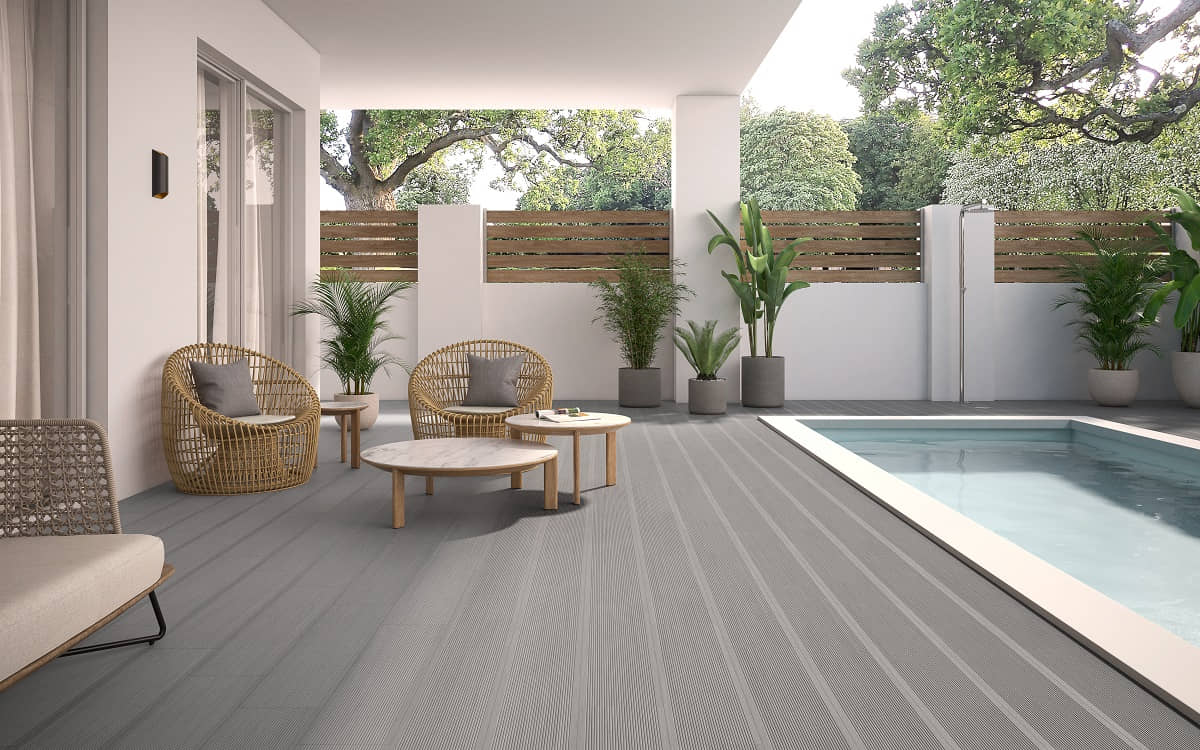 Mediterranean-style terrace with Deck imitation wood flooring. In its GRIP+ anti-slip version, it is perfect for outdoors and swimming pool environments. Deck Silver 21.8x84 GRIP+.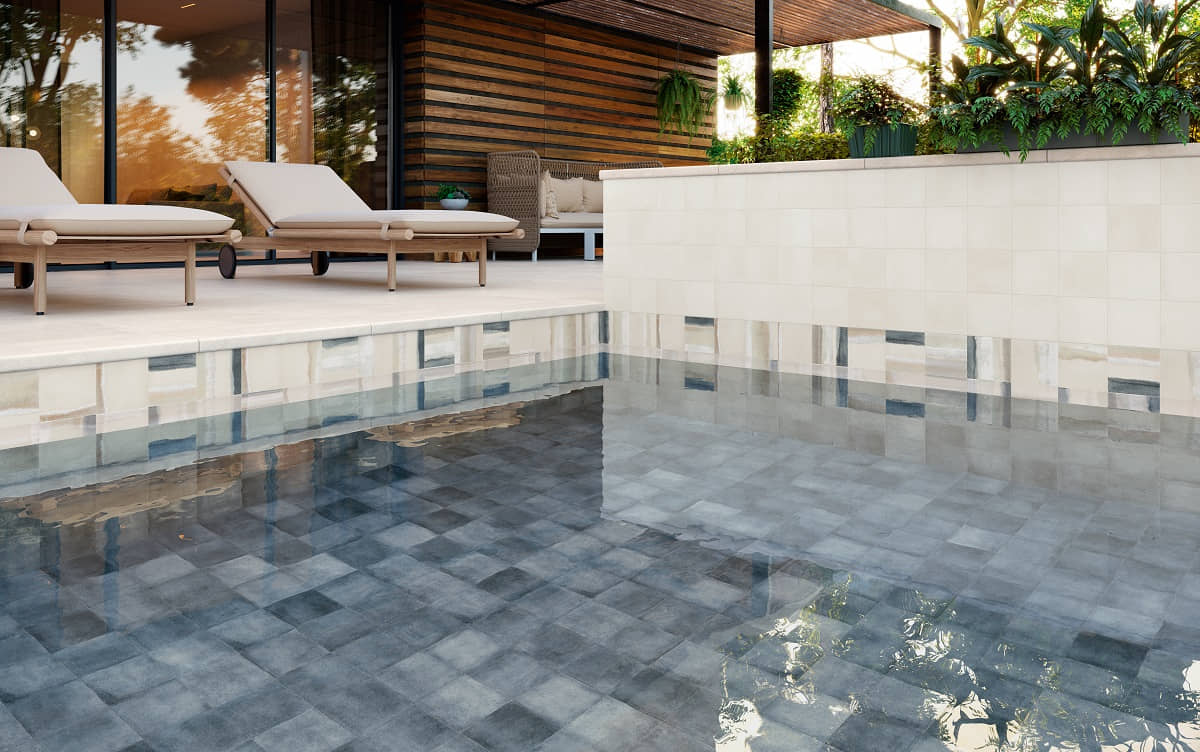 New Matter series by ZYX, emblem par excellence of the spirit and essence of Mediterranean-style decoration. It is inspired by the most beautiful scenes that nature offers us, captured and reinterpreted by the artist's hand. This porcelain series is suitable for lining the interior of the pool with multiple and different combinations. Choose the effect you want to achieve with the light effect and the reflection of the colours under the water. Matter Blue 15x15, Matter Bone 15x15, Matter Canvas Bone-Blue 15x15.
More tiles for swimming pools, here.
_
My eyes got used to your red sunsets.

Like the bend in the road

I'm a singer, I'm a liar

I like the game and the wine, I have the soul of a sailor

What can I do if I was born in the Mediterranean?

I was born in the Mediterranean. - Mediterranean, Joan Manuel Serrat.