As an alternative to glass mosaic, porcelain is the most competitive material for tiling swimming pools and the surrounding area. Discover the latest in tiles for swimming pools which offer durability, a non-slip finish and safety.
The coronavirus pandemic has led to a surge in demand for homes with swimming pools. If you have thought about building your own pool or replacing your current pool's tiles, keep reading.
With over 30 years of experience in high-end ceramics, Colorker has a wide range of tiles for swimming pools. Dive into our ideas and get a unique designer pool this summer with guaranteed hygiene and safety for you and your loved ones.
Ceramics for swimming pools: porcelain or glass mosaic?
Whilst glass mosaic has traditionally been the most in-demand material for swimming pools, porcelain has been gaining ground in recent years. But why?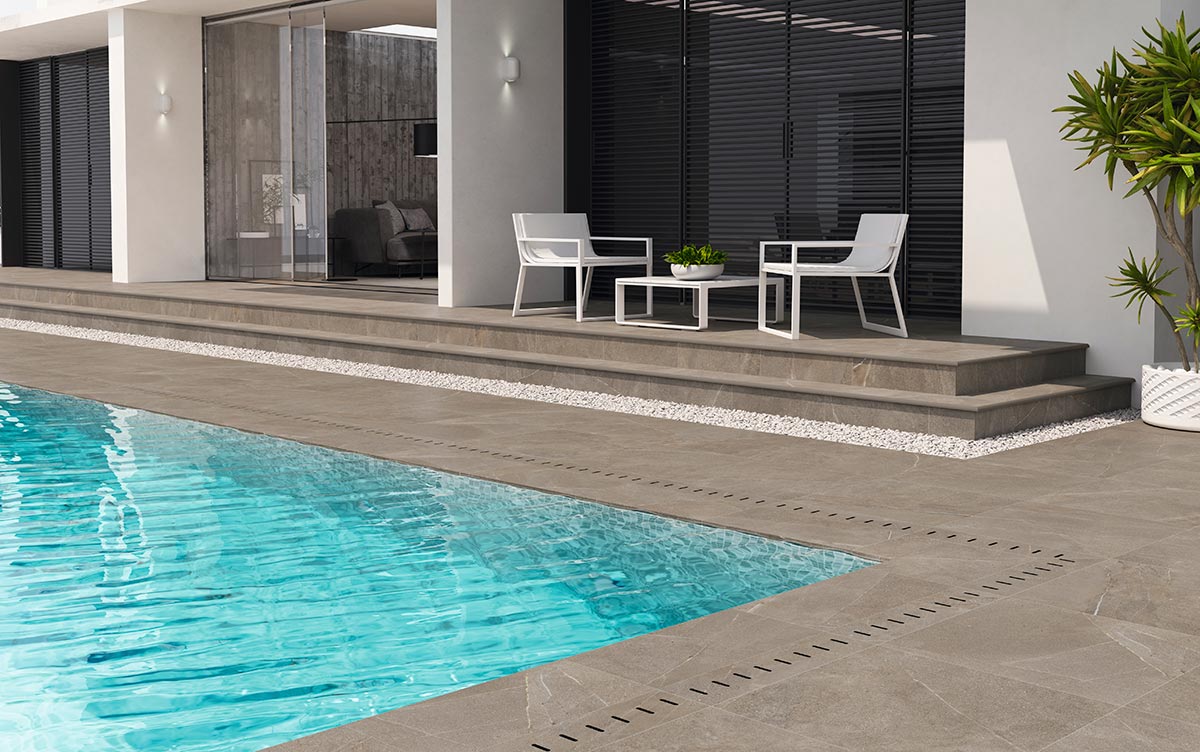 Madison Noce Puplo 60 x 60 series. A stone effect collection from Colorker classified as R11/C/class 3.
Benefits of porcelain tiles for swimming pools
Versatile. Wood, stone, cement-effect... technological innovations in ceramic design and manufacturing mean there is an infinite range of porcelain designs inspired by natural materials. There are also highly original decorative tiles which can add a unique touch to modern pools.
Seamless. Porcelain's technical features means it is the ideal material for both the inside and surrounding area of a pool. It can provide a continuous 'in&out' effect and even blend into the surrounding terrace.
Water and moisture-resistant. In addition to being able to tackle any adverse weather conditions, outdoor porcelain is a material which can resist water and moisture. Its impermeability and hygiene properties prevent moisture from penetrating the tiles, limiting the formation of mould and germs.
Durable. Porcelain does not wear or lose its colour, making it a long-term, durable option. It is also very strong and unlikely to break.
Easy to maintain. Ceramic materials allow us to make the most of summer, as once laid they require very little cleaning and maintenance. They are suited to cleaning with chemical products and rarely stain.
Completely safe. All floors for terraces, pools and pool areas are specifically designed to avoid slips with the non-slip R11 / C / Class 3 finish. This finish resists over time, ensuring safety in the long-term.
Sustainable. Due to its long life cycle, porcelain minimises the risks of environmental damage.
The best porcelain ideas for swimming pools
Stone tiles for swimming pools: opt for 100% natural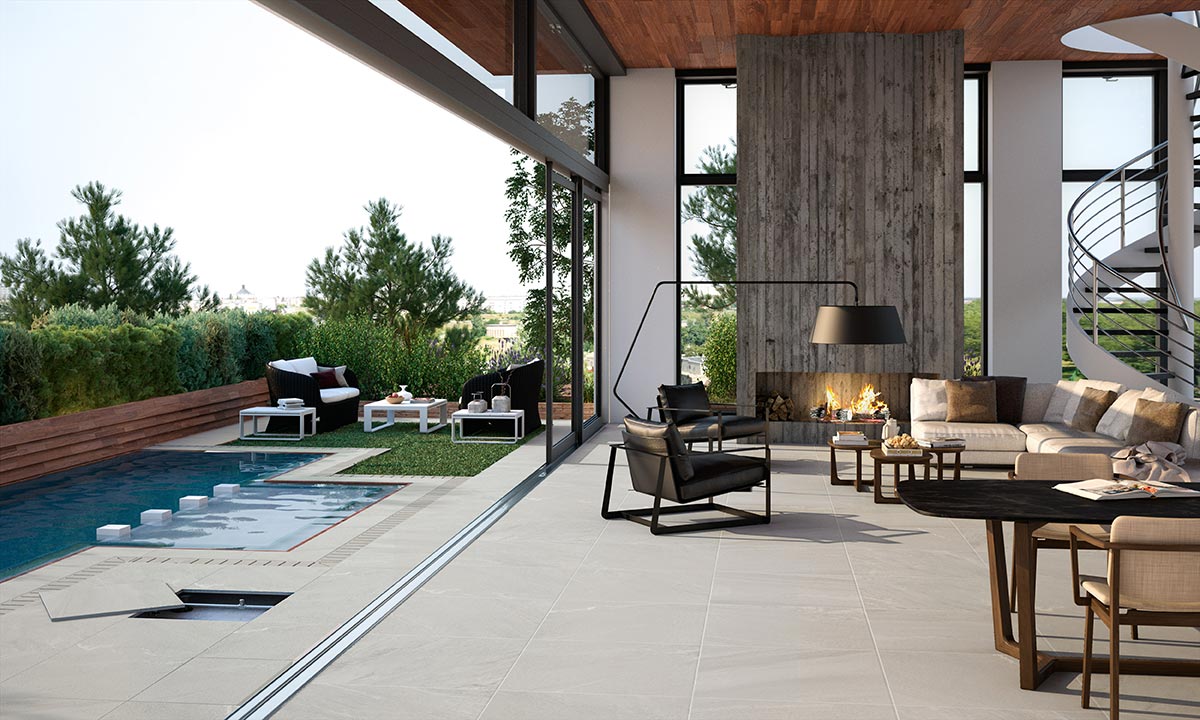 Code 62 Moon Duplo 60x60 floor tiles. Colorker's Duplo double-thickness option is ideal for terraces which blend into the pool.
Due to its natural look and ability to mimic its surroundings, stone is one of the most common options seen outdoors. The same applies to tiles for swimming pools, where the natural-look tiles extend and expand terraces to the edges and interior of pools. This exquisite endless effect blurs the borders between the inside and outside.
Sand-effect tiles for swimming pools: from the beach to the home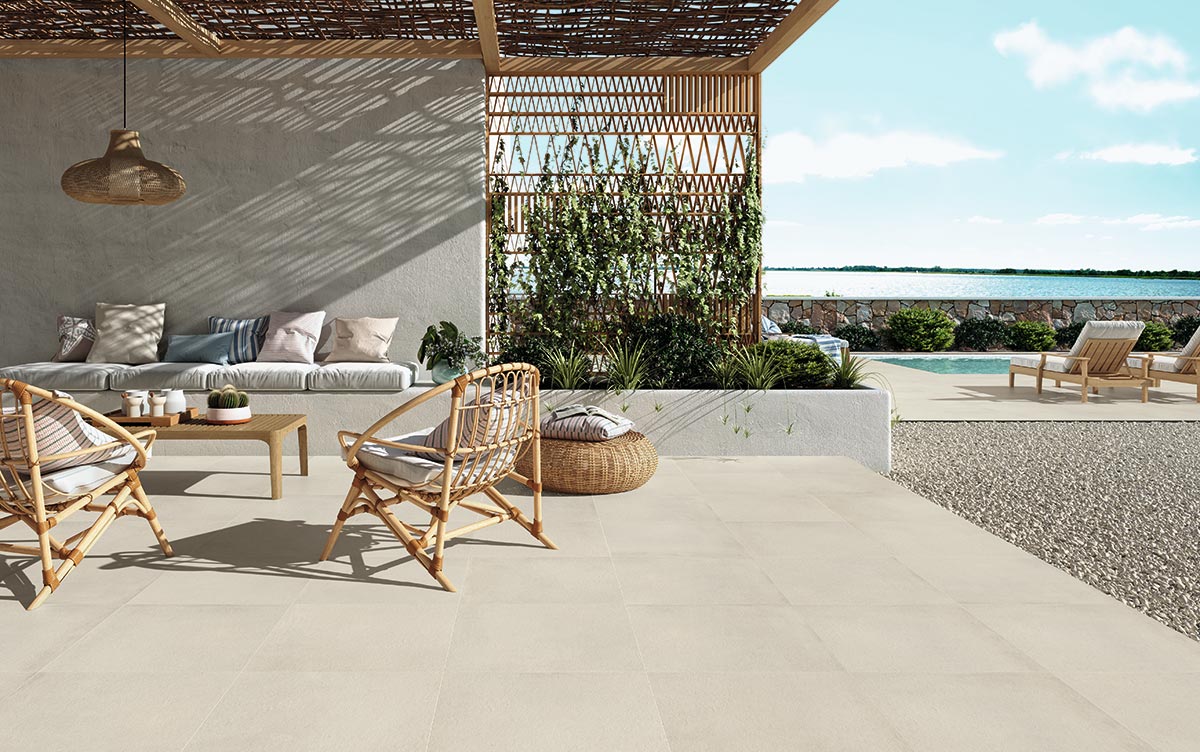 Norton Bone Duplo 60x60R cement effect floor tiles. The appealing warm beige colour takes you on a journey to lost paradises and heavenly beaches.
The latest trends in pool tiles seek to replicate natural environments even more closely. Stone or cement-effect tiles in beige tones are increasingly popular for this area, as they look just like sand on the beach. If used to tile the inside of the pool, the warm and neutral tones give the water a very appealing turquoise colour, similar to seawater.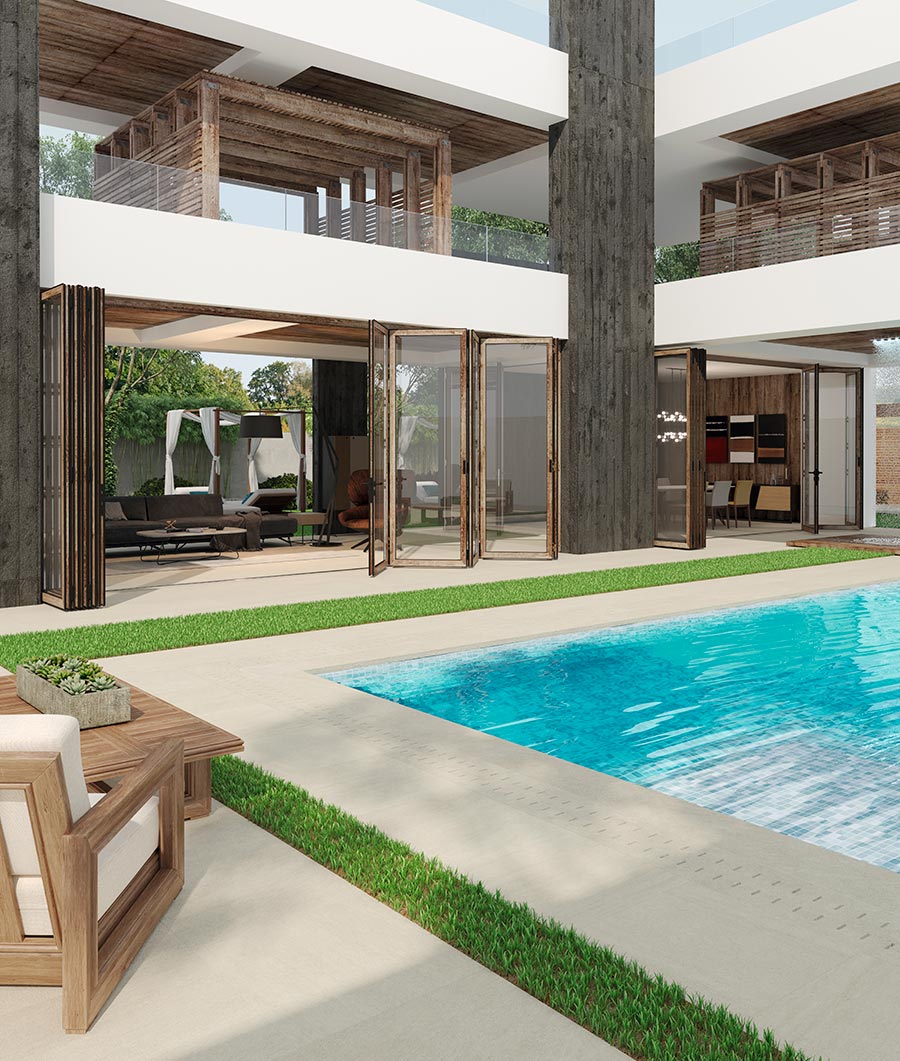 Lander Bone
Travel to Bali: tropical trend, or the latest in green tiles for the pool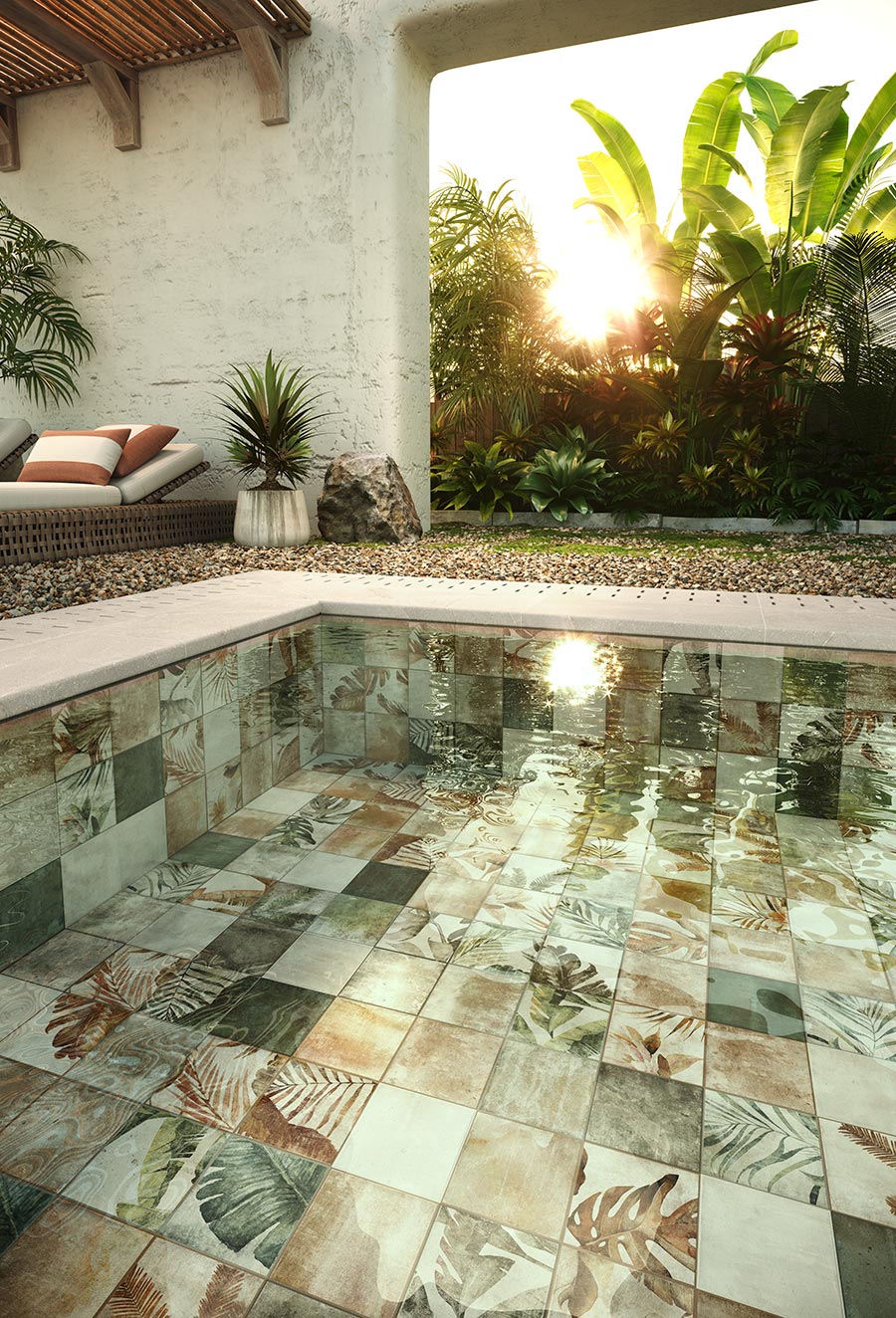 Amazonia Tropic Cotto + Tropic Emerald + Tropic Grey 13.8x13.8. Experiencing the lost paradise.
As an alternative to neutral tones and more natural cements and stones, there are pool tiles like Amazonia by Zyx. A 'tropical trend' inspired green pool tile which is a bestseller in pools worldwide. Its success is down to its artisan, slightly worn finish and trendy colours, such as green, grey and the Cotto range. It is the perfect ceramic collection to recreate a wild jungle feel, or for hotels to take guests on a journey to the world's most exotic locations like Thailand or Bali. Disconnect to reconnect.
Wood deck-effect pools
The porcelain looks just like wood and offers all its own beneficial technical properties to make it a reliable and unchanging alternative for pool design.
Recently, the Colorker Group has reinvented the traditional wood deck concept with its new Deck collection, a ceramic tile which combines utmost safety with a thoughtful relief design down to the finest details. Along with tones suited to wood, such as Natural and Oak, the company has added Silver, a refined and elegant finish for grey tile pools.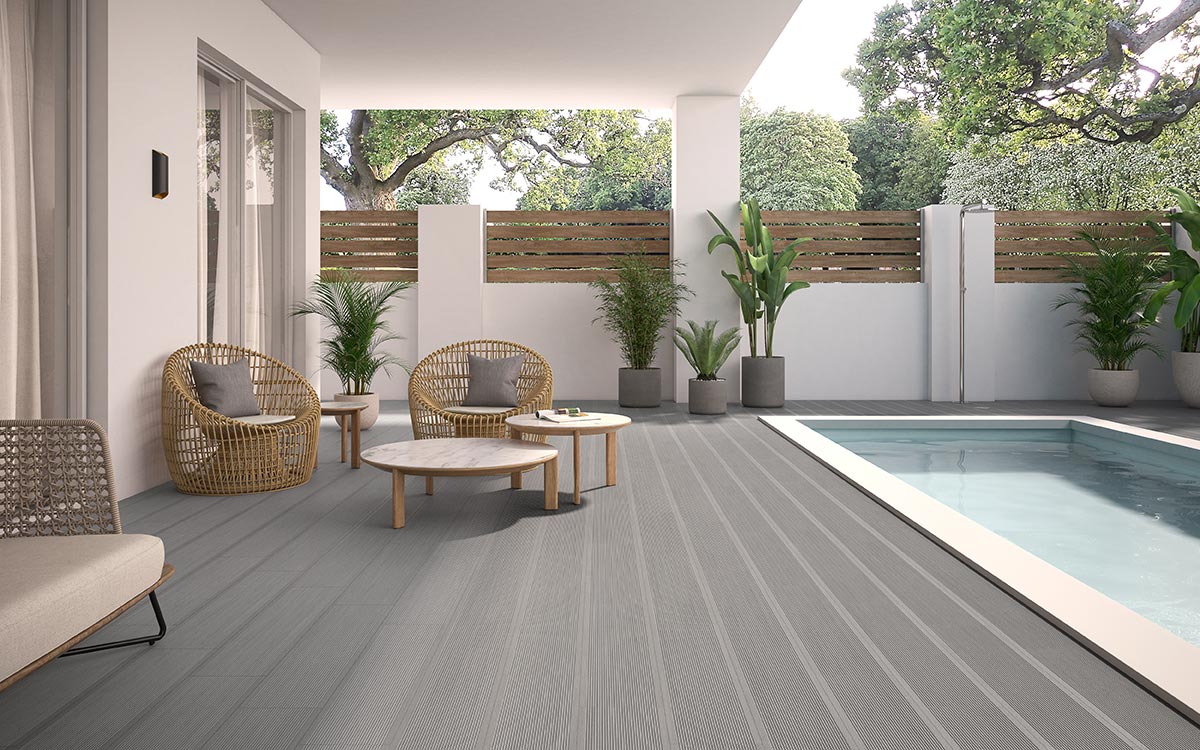 Deck Silver grey tile for swimming pools. Its wood-effect look and GRIP non-slip properties make it the ideal solution to add a natural touch to outside spaces.
Find more tile ideas for swimming pools on our Pinterest board.
▸And if you need any more information, just contact us.