Just because you're tiling a bathroom doesn't mean you have to use the same design for the entire bathroom. The wide range of ceramic products available offer infinite bathroom tile combinations. Want to showcase the washbasin area? Go with a different aesthetic for the shower? Get inventive and create something special.
Are you renovating your bathroom? Not sure how to decorate it? When it comes to materials, ceramic is certainly a great accessory. However, there are people who think that ceramic tiles are boring, and that you have to choose the same design for the entire room. Nothing could be further from the truth. That's because in addition to having ceramic flooring and cladding options for all tastes (and bathrooms), Colorker's collections have been expanded to include new relief tiles and decorations to achieve bathrooms that are as original as they are perfectly coordinated.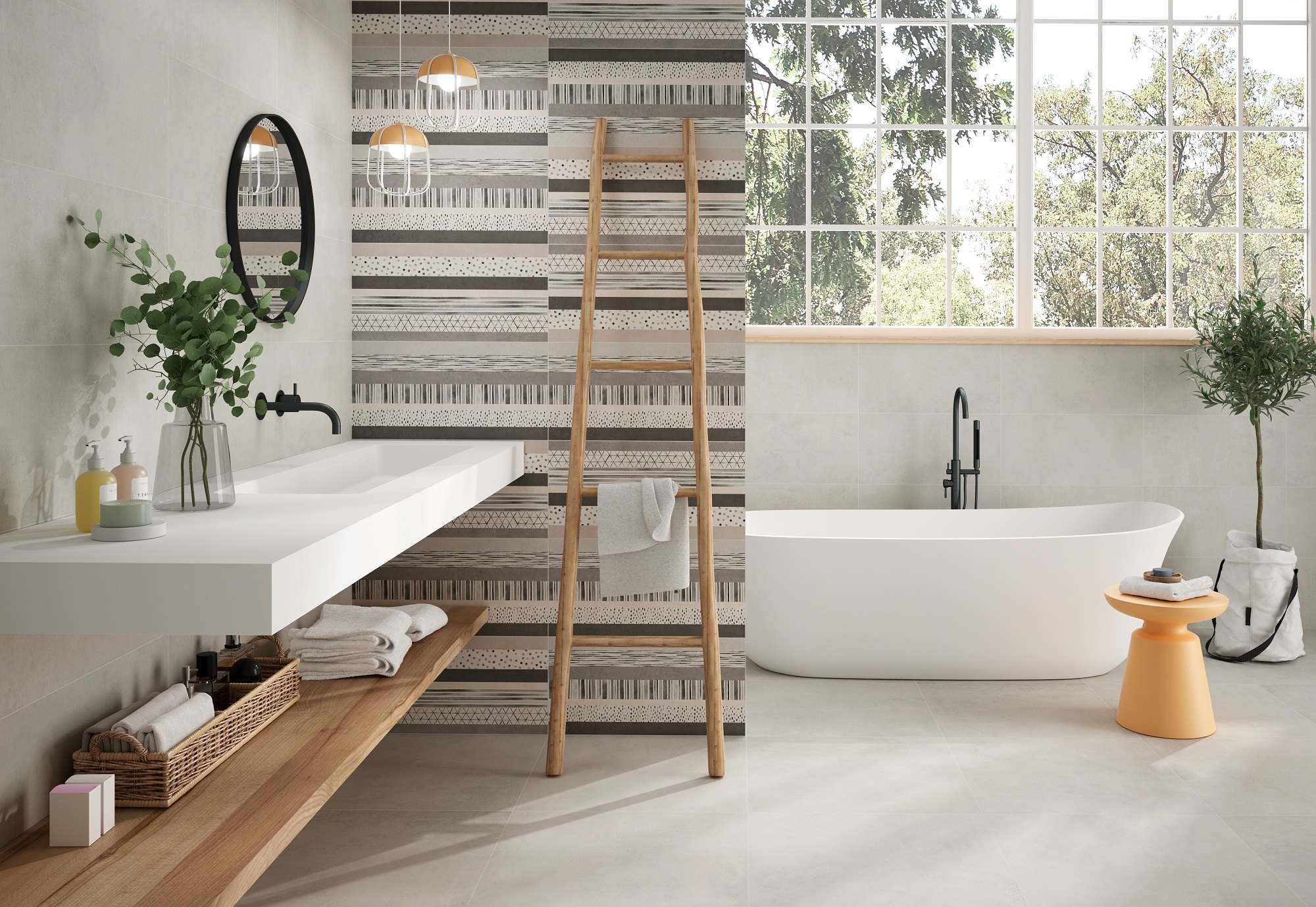 As experts in ceramic manufacturing with more than 30 years of experience, at Colorker we want to inspire you with different bathroom tile combinations. Take a look at the list of ideas we've put together and design your temple of well-being with your favourite ceramic aesthetic. What's more, you can access all the information on the new formats and the technical characteristics of each design so that your bathroom is as exclusive and modern as it is welcoming and safe.
Fully coordinated bathrooms: 1 ceramic collection
As we were saying, the latest innovations in ceramic manufacturing have allowed us to create unique relief tiles and decorations that give a distinctive touch to the base tiles of each collection. Combined tile ideas for bathrooms in harmony with the aesthetics of their series that allow you to divide the bathroom into zones, emphasise an accent wall or add a new feature to the room, such as a shower niche or a half-wall. Although it may not be an issue for wall cladding, the ceramic chosen for the floor must be porcelain flooring that's durable, resistant and easy to clean and maintain.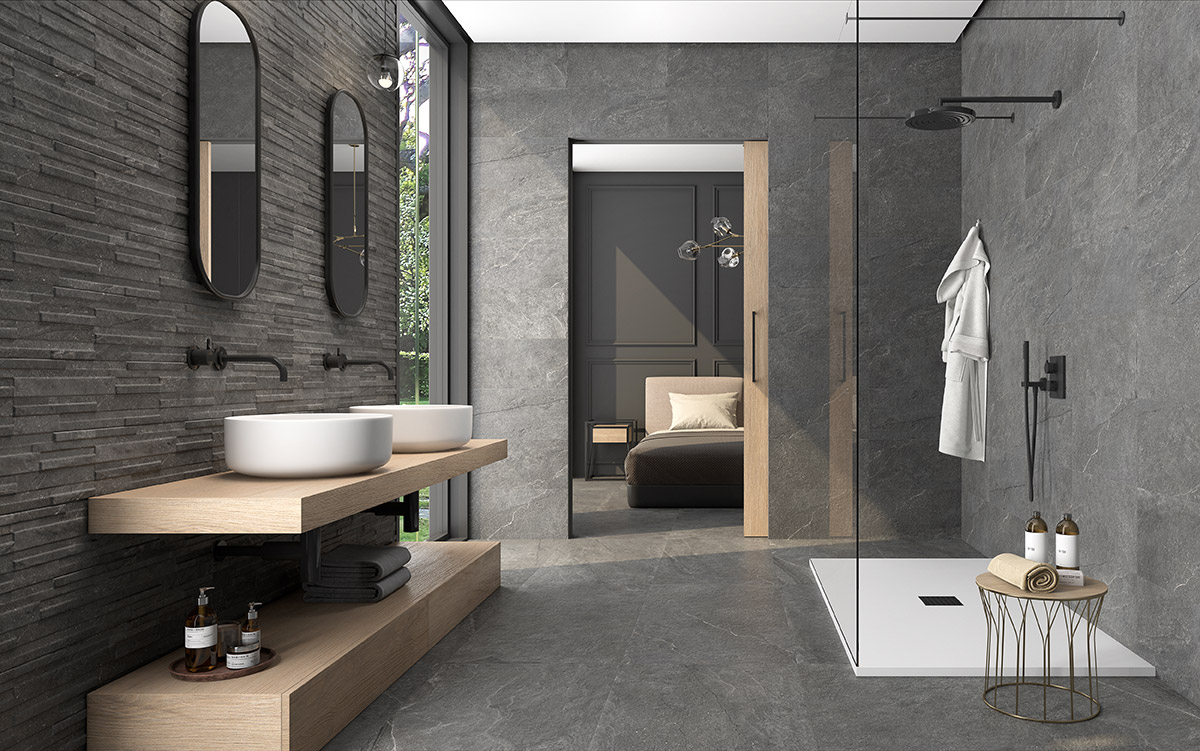 Coordinated bathroom featuring the Horizon collection. The combination of tiles in this bathroom comes from the wall tile of the series, Lagoon, which gives the washbasin area a fresh and different aesthetic. Horizon Dark, 29.5x59.5R, 59.5x119.2R, Lagoon Dark, 17x52. The flooring is designed to provide continuity to the bedroom.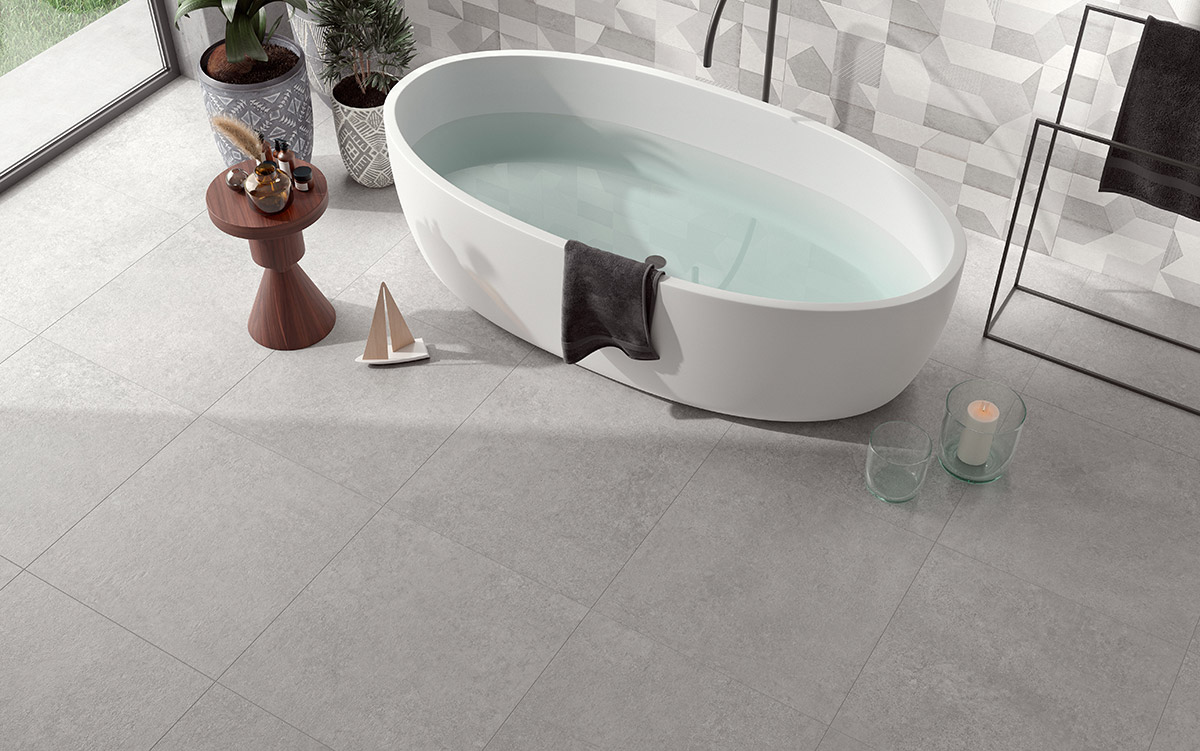 Backstage Grey stone-effect porcelain flooring 59.5x59.5. The decoration of the wall tiles is Drums Mix 29.5x90R, which envelops the free-standing bathtub in an exclusively decorative aura.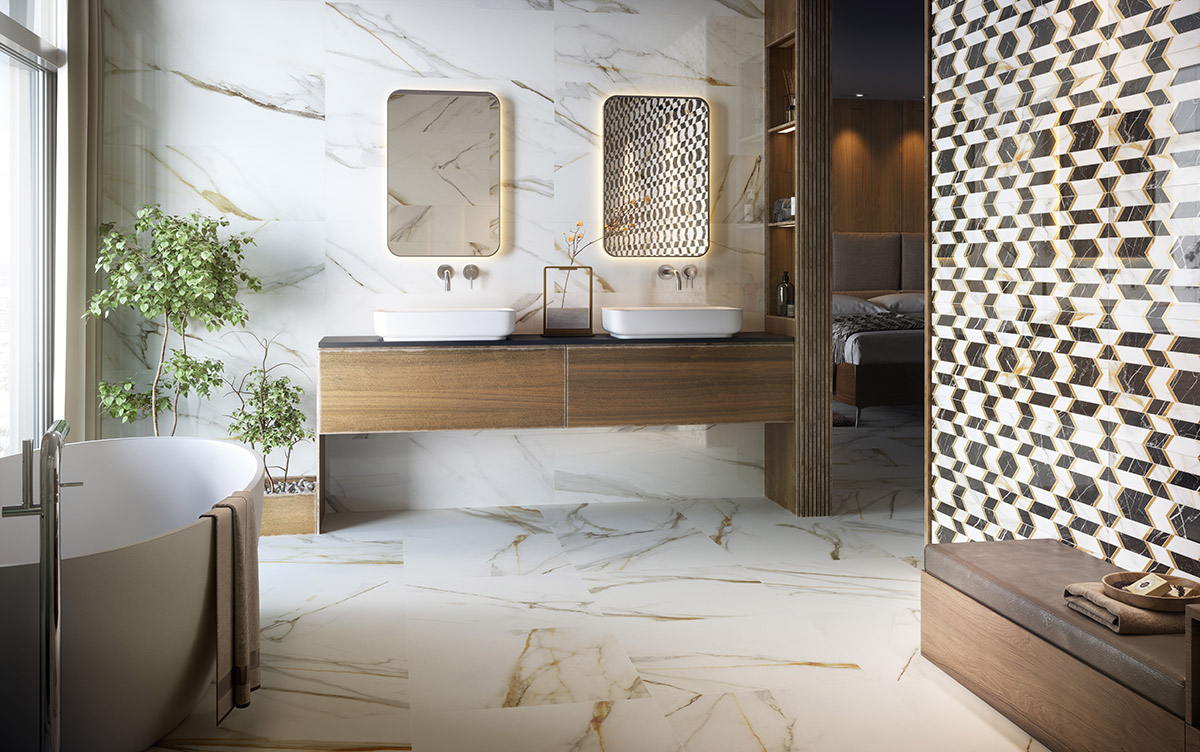 Calacatta Gold Collection. The unique Era Gold decoration gives the wall with the bench a stunning wallpaper effect and gloss finish. Calacatta Gold, 59.5x59.5R, 31.6x100R, Era Gold decoration, 31.6x100R.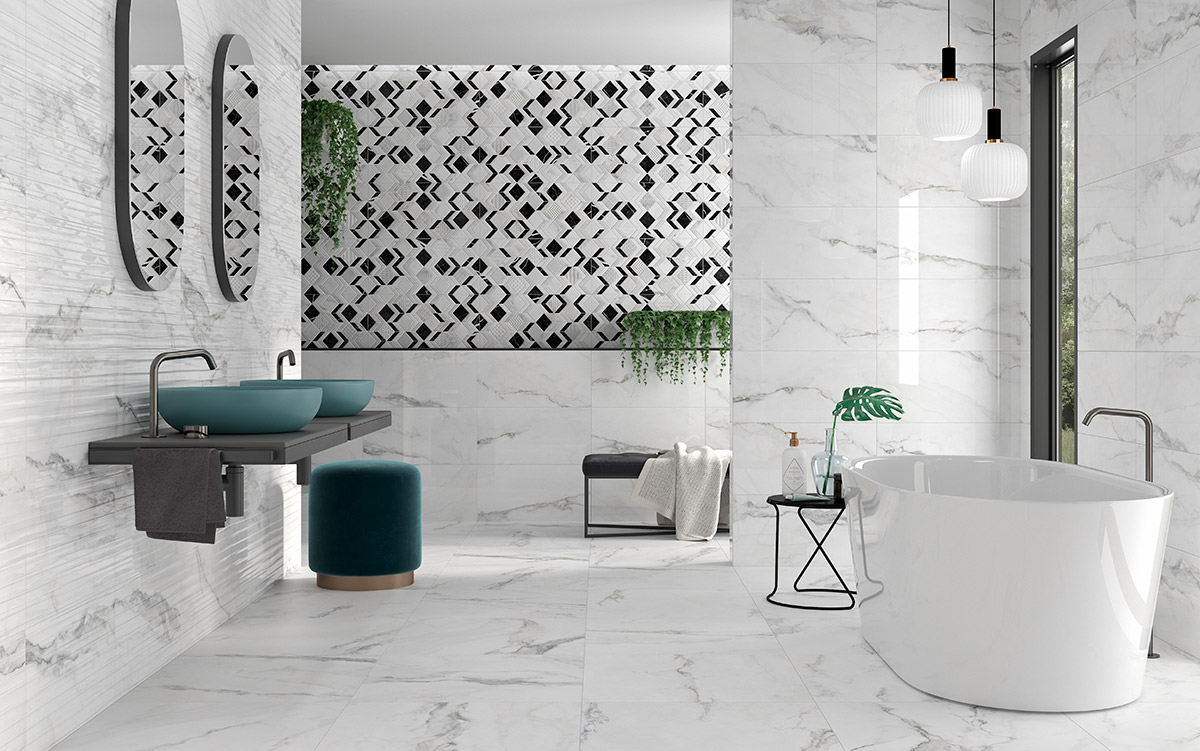 Bathroom with combined tiles from the Insignia collection. The Sekos decoration gives the cladding behind the half-wall by the shower its own character and personality, while the Ion relief tile makes the washbasin area shine. Insignia White 59.5x59.5R, 30.5x60.5, Sekos White Gloss decoration, 30.5x60.5, Ion White Gloss relief tile 30.5x60.5.
How do you combine tiles for showers?
Showers are tricky spaces, requiring materials that are easy-to-maintain and highly resistant to damp and direct contact with water. Porcelain is the ideal material for this purpose. Its boundless aesthetic options also allow you to combine tiles in the shower itself or make it stand out against other areas of the bathroom. Here are some combined tile ideas for your bath and shower.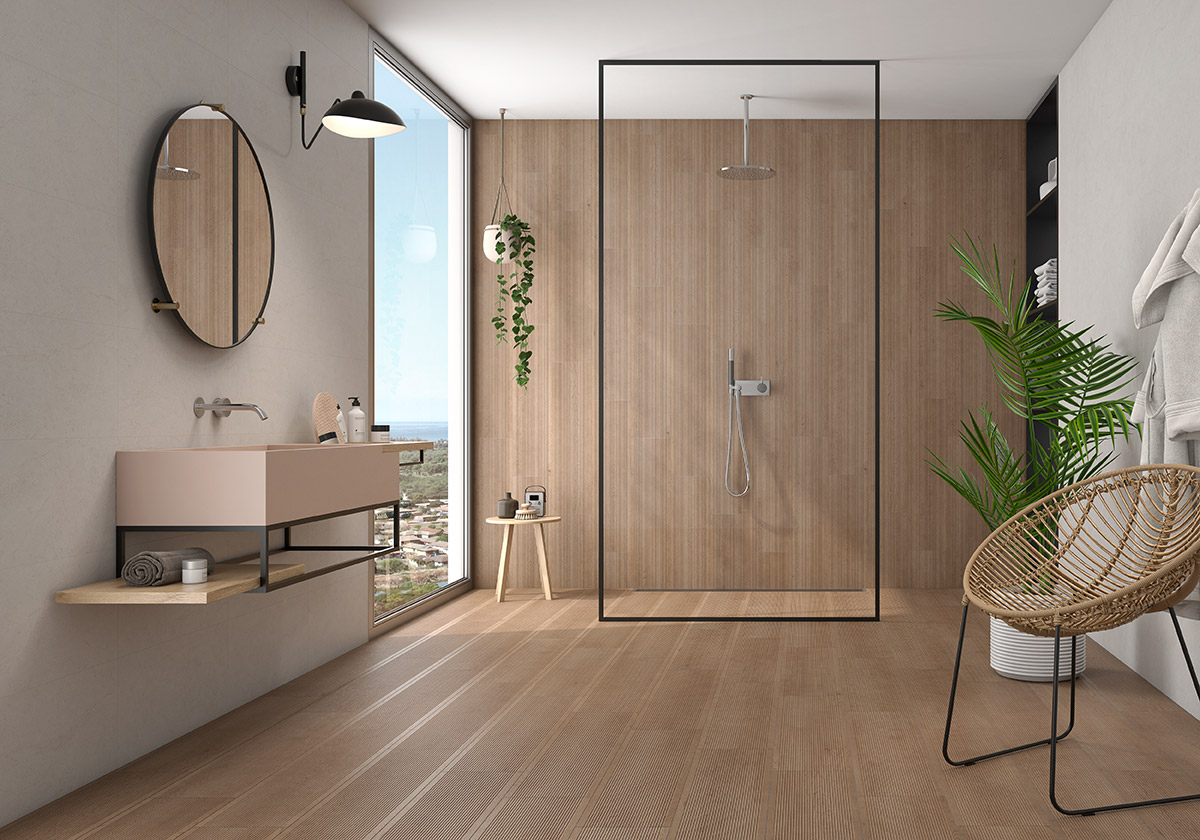 Deck is Colorker's new wood-effect porcelain tile. For this bathroom, a continuous aesthetic between the main bathroom flooring and the shower floor and cladding has been chosen. This material is perfect for showers due to its high technical properties and R11/C/Class 3 anti-slip rating. Deck Natural Grip + 21.8x84, Hudson White 29.5x59.5R.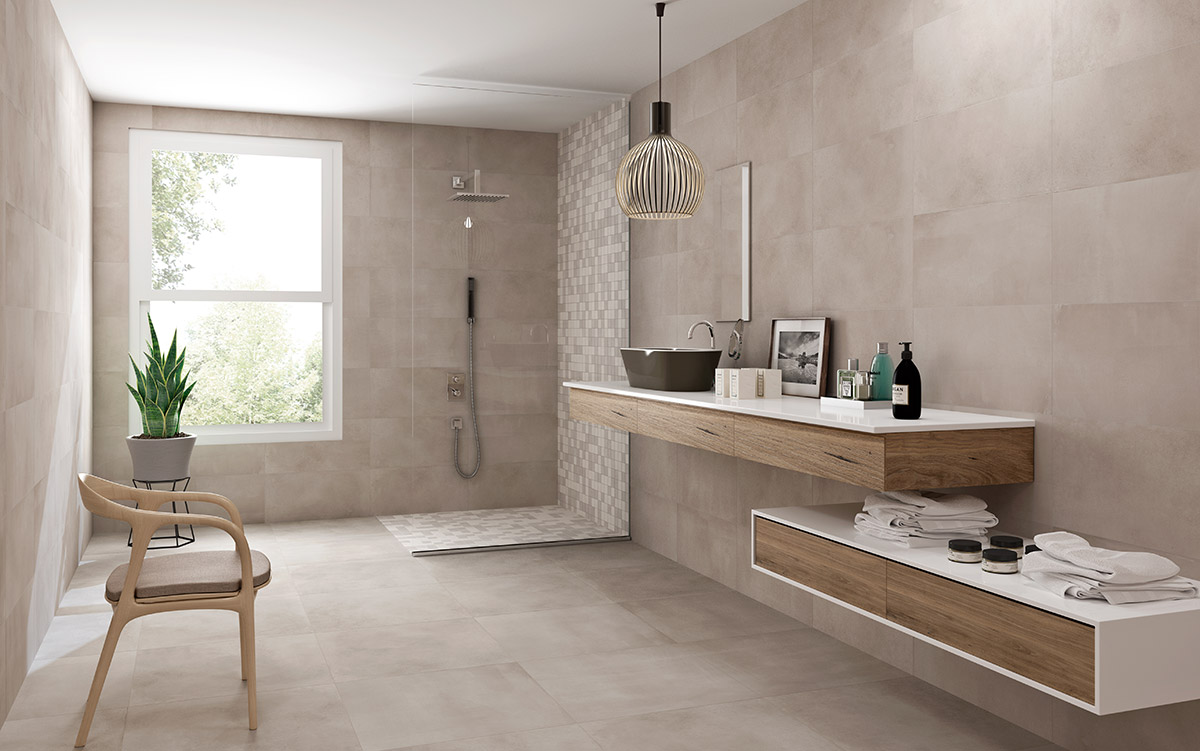 Within Colorker's concrete-effect tile collection, Evidence is one of the longest-standing lines. If you are looking for ways to combine tiles in shower spaces, this is a very original option. The flooring and one of the shower walls are made to look like a mosaic to create a different effect to the rest of the bathroom décor. Evidence Taupe 30x60, 60x60, Mix C Mosaic 30x30.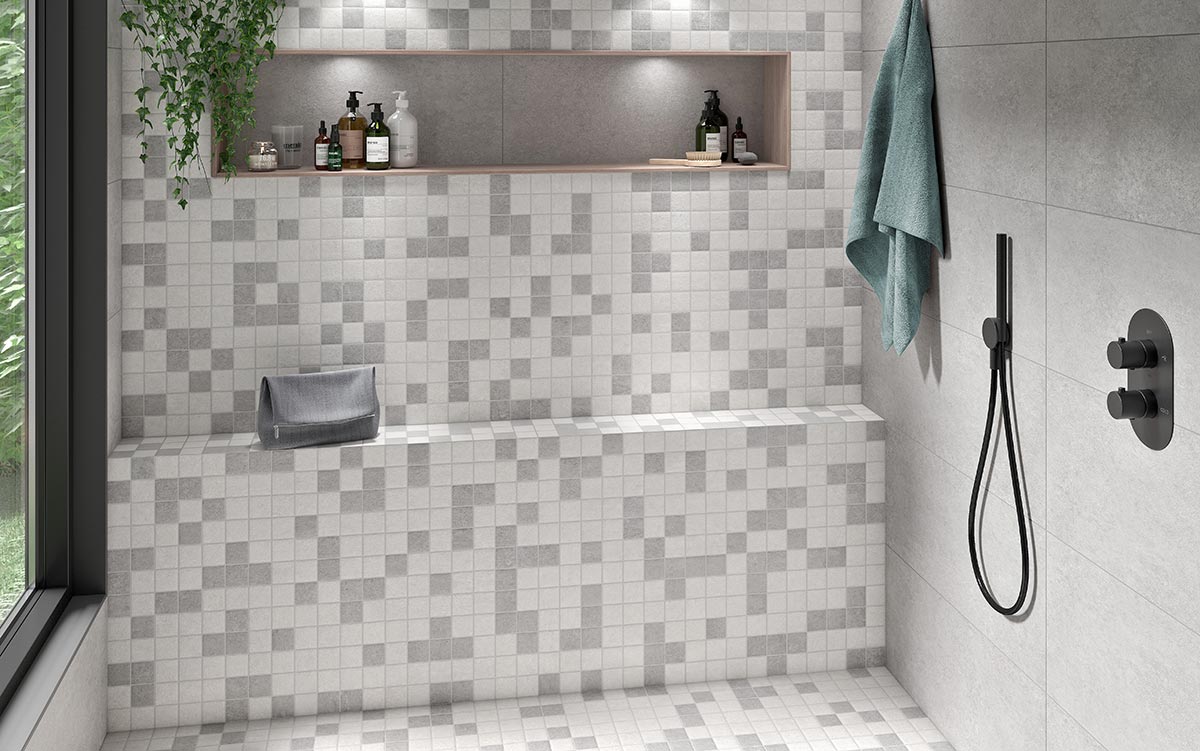 Modern showers are rendered by smooth combo tiles with mosaic ceramic. In this design, the Mix Mosaic 30x30 from the Backstage collection stands out, which has allowed us to create a shower-spa with a built-in bench seat. Also notice the functionality of the shower niche (a cubbyhole in the shower wall), which works as storage space.
Bathrooms with two or three materials combined: the warmth of wood vs. other options
When it comes to choosing tile combos for bathrooms, there are more daring 'souls' who like to mix and match materials for maximum contrast and originality; and then there are those who take a more conservative approach, preferring to play up the warmth of the space with wooden flooring.
Bathrooms with combined tiles and wooden flooring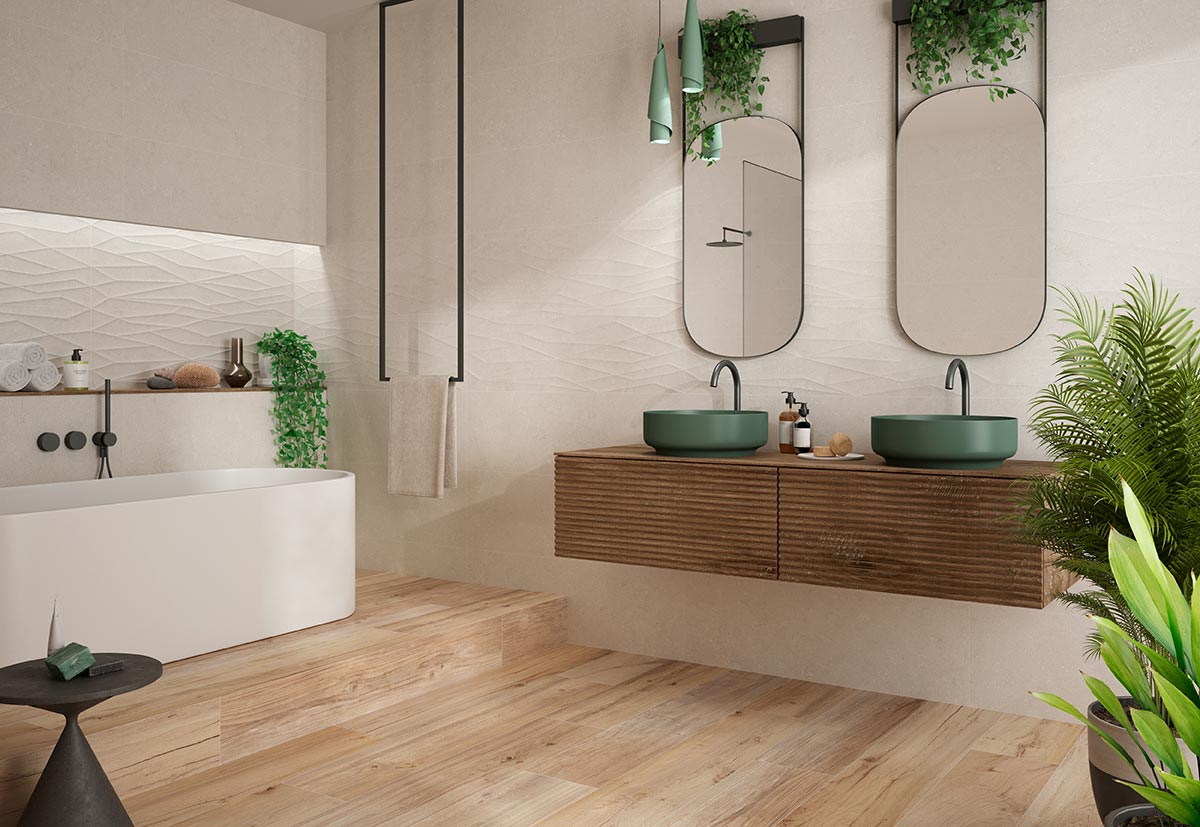 This bathroom is an ode to greenery and the teal shades of the ocean. The new Maldives series, inspired by coral stone, is perfectly complemented by imitation-wood ceramic for a more traditional effect that evokes natural spaces. The Sea relief tile also takes centre stage, creating a decorative 'border' around the washbasin and bathtub spaces. Maldives Cream 31.6x1ooR, Sea Cream, 31.6x100R, Hamilton Maple, 23x120.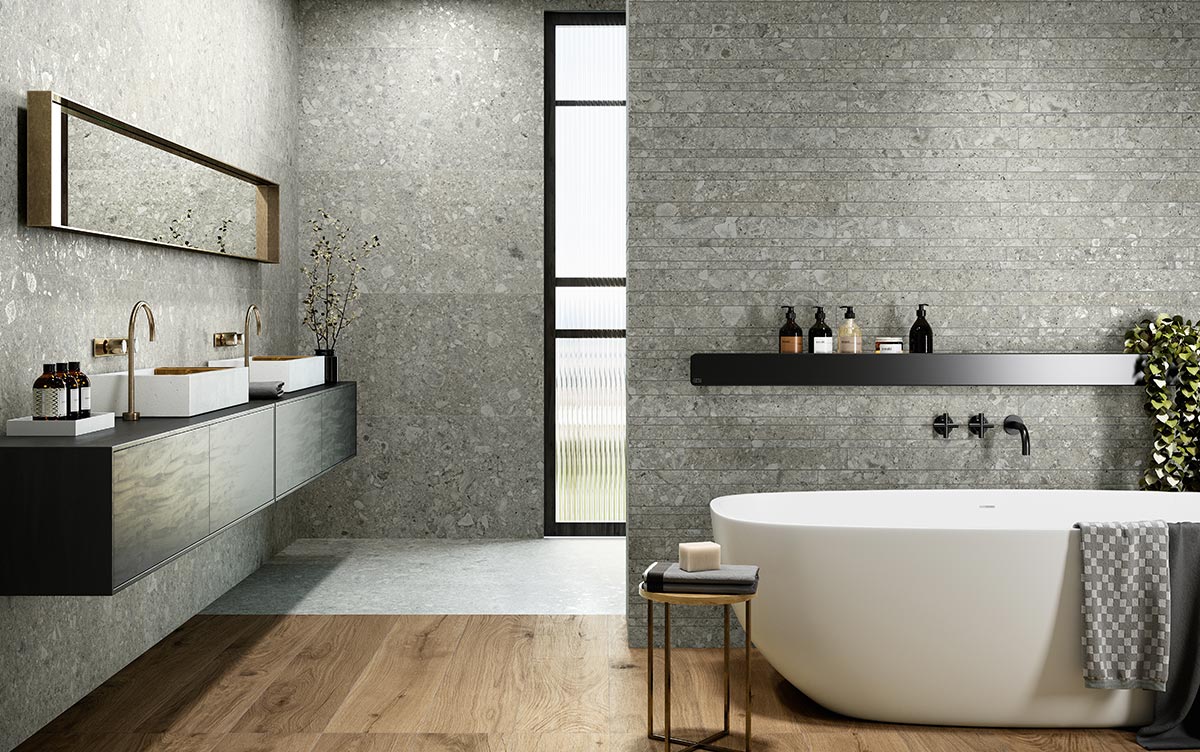 Wooden semi-flooring creates a mellowing effect against the cool of the stone in this elegant bathroom. These two floorings create two clearly divided spaces between the bath and shower areas, with the washbasins in the middle. The decoration is from the Native collection, the most modern terrazo. Native Moon 59.5x119.2R, Moon Tile, 28.8x59.5, Century Honey, 25x150R.
Other bathroom tile combinations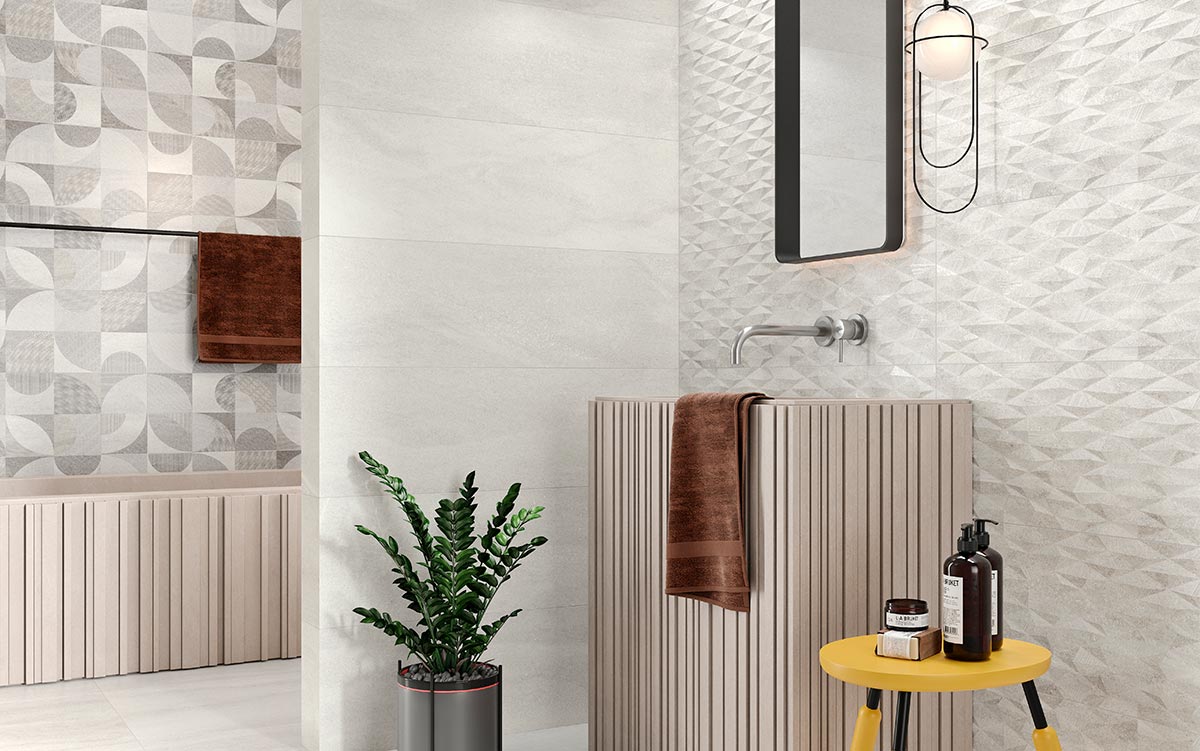 Colorker offers very varied combinations of relief tiles and decorations within each series. All of them can be used together to create a highly unique, modern bathroom. The Kawaii series is showcased here in this elegant bathroom, featuring base tiles in shade Moon for the general flooring and to separate spaces, and the Yugen Mix decoration and Nara relief tiles for the bathtub and washbasin areas. Nara gives the décor a delightful three-dimensional effect and a creative interplay of light and shadow.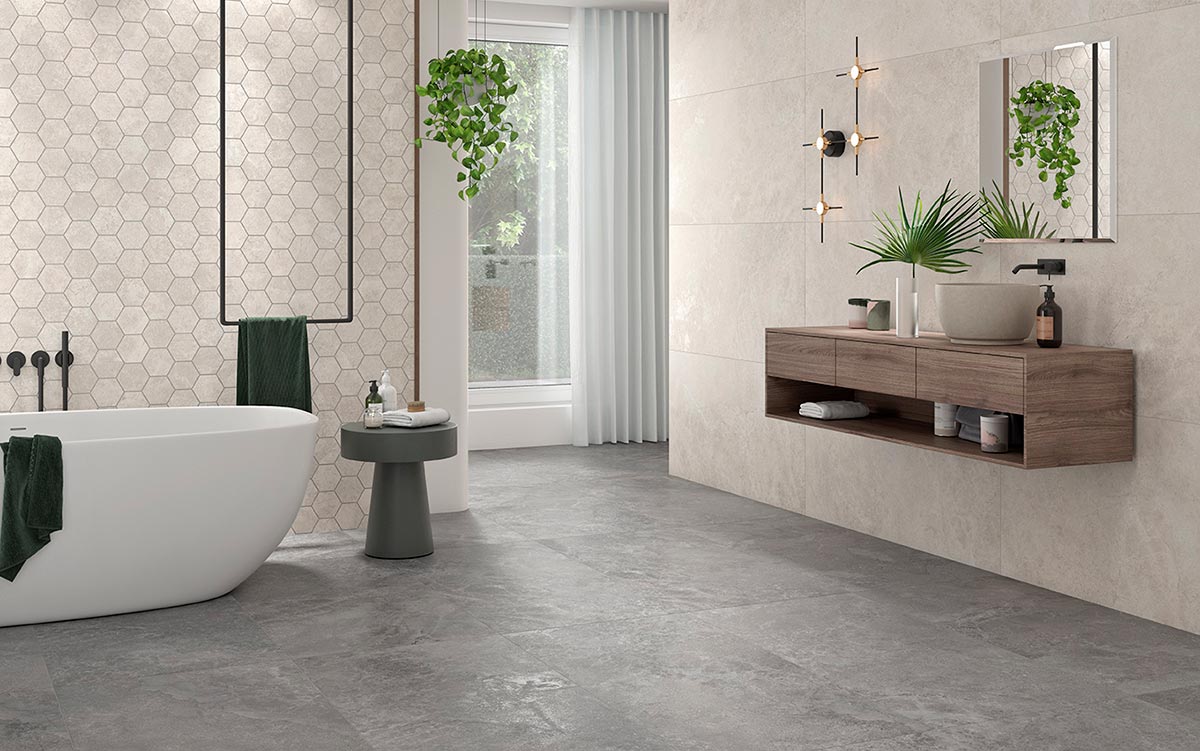 Another great way to combine tiles in bathrooms is to switch up the colour of the flooring for more 'hard-wearing' colours. In this case, we've used Liberty Grey, 59.5x119.2R, which provides a subtle contrast with neutrals Moon, 29.7x34.4; and Hexa Moon, 29.5x59.5R.
Bathroom tile colour combinations
Pantone announces the colour or colours of the year every December, influencing colour choices across interior decorating and design. When it comes to combining bathroom tiles, colour combos are often hardest to picture due to how striking and obvious they are. However, they can be actually be very elegant, if you know how to coordinate them correctly.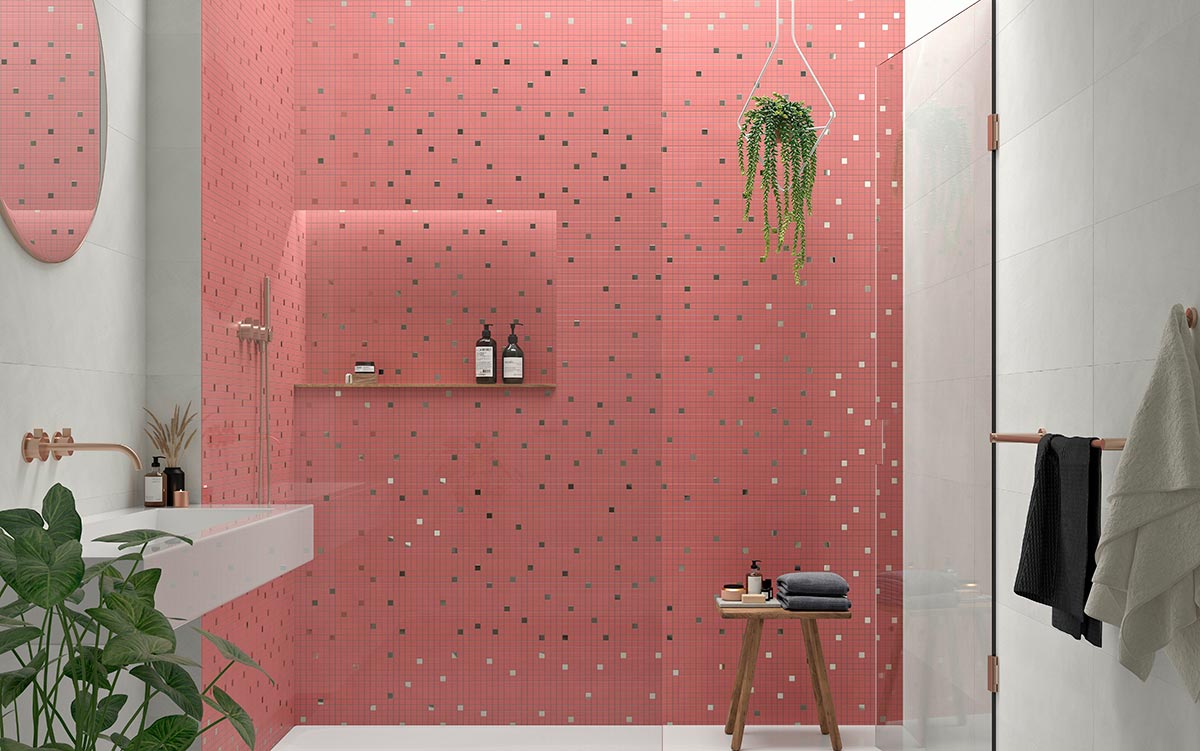 Living Coral was one of Pantone's colours of the year recently. Why not choose it to accentuate the shower and create a contrast with the rest of the bathroom tiles? The series is Impulse Metal Garnet, 30.5x30.5.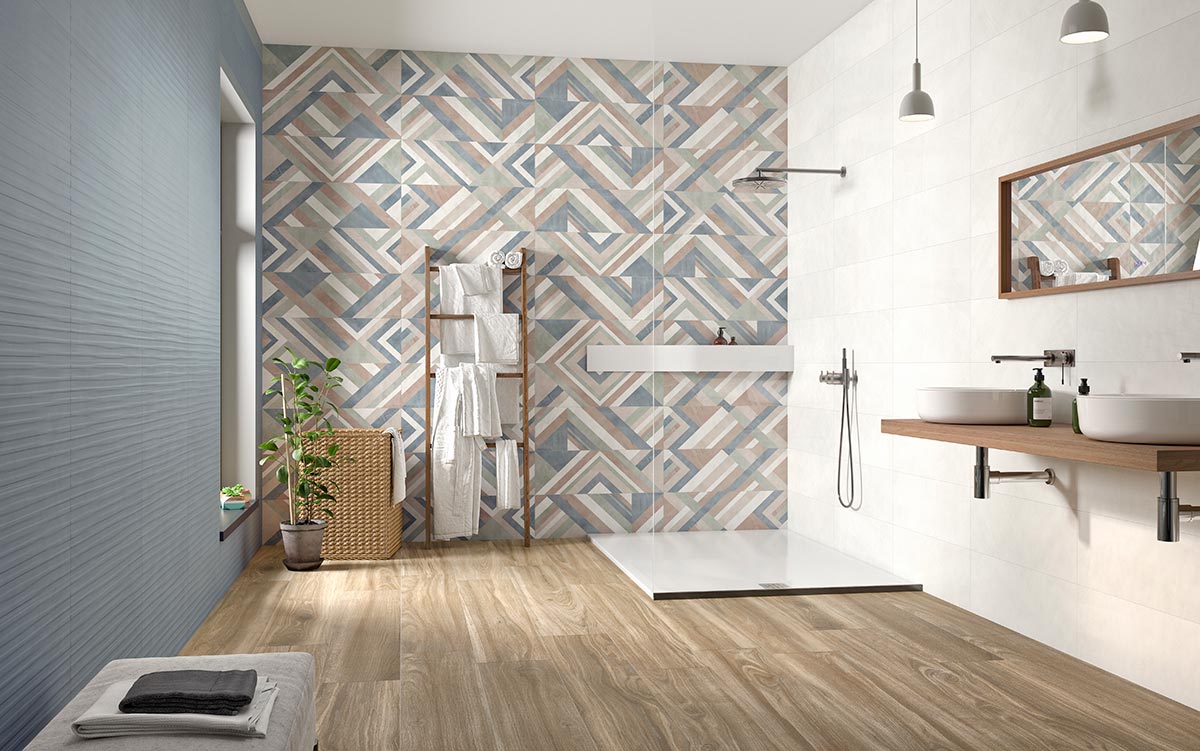 Slightly less obvious (but just as original) is this bathroom with white & blue & wood combination tiles and Monet Mix geometric pattern wall tiles, 31.6x100R. This originality gives the bathroom depth and 'dresses' the shower space with multicoloured details. Impulse White 31.6x100R, Impulse Voila Turquoise, 31.6x100R.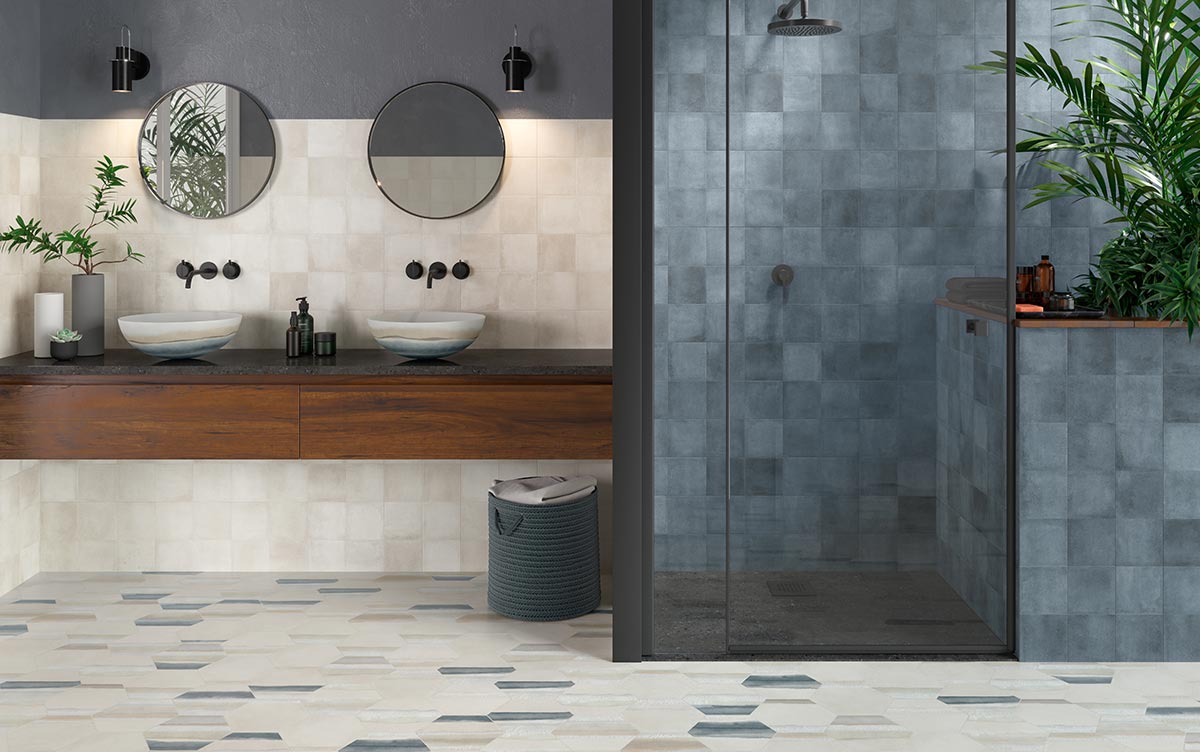 Combined bathroom tiles with the new Matter collection by Zyx. A series specifically designed to be mixed as desired, either through its base tiles, decorations and formats: square and hexagonal. #YourPerceptionMatters. Matter Blue 15x15, Matter Bone 15x15, Matter Hexa Canvas Bone-Blue 20x23, Canvas Blue toilet, 40x15.
What's the best colour for a bathroom?
The ideal bathroom colour depends on your space and needs. For small, narrow or dimly lit bathrooms, it's a good idea to choose bright, neutral colours that make the room feel bigger. For larger bathrooms, it depends on the latest trends and your preferred design styles. For a more Mediterranean vibe, you can opt for blues and aquamarines, while more uplifting colours like red will give it a vibrant, bold feel. Grey, beige and earthy shades are ideal for creating a relaxing, calming atmosphere.
Looking for more photos and ideas of bathroom tile combinations? Check out our Pinterest board for more inspiration.