The exodus from the city to the countryside that is so in vogue now has led the rustic style to become one of the most popular interior design trends in pandemic-era homes. Discover how to nail this comfortable, simple, natural look without your home looking old-fashioned. It's time for the new rustic.
If you cast your mind back (or flick through an old photo album), images of a childhood spent at 'grandma's house in the countryside' will probably come to mind. In those days, more than a home décor style, the rustic style was a way of life, all about enjoying the slow pace of the countryside away from the hustle and bustle of the city. Although this style has remained timeless over the years, especially in rural settings, the exodus from the city to the countryside caused by the pandemic has helped this interior décor style bounce back as one of the biggest design trends in modern homes. Of course, it now has a fresh new look; a new take on rustic style that rejects the clichéd and worn out and works around modern-day living.
What is the rustic style?
The rustic style is an interior design style influenced by the homes of the last century that aims to create a country atmosphere that's highly relaxed and connected with nature. The new rustic style is based on the above but adding to the spaces a modern twist, with much whiter features — a cross between rustic aesthetics and Nordic design styles —, statement furniture with rounded lines made of natural fibres and interior arrangements that are in line with current architecture trends, like open kitchen/living rooms.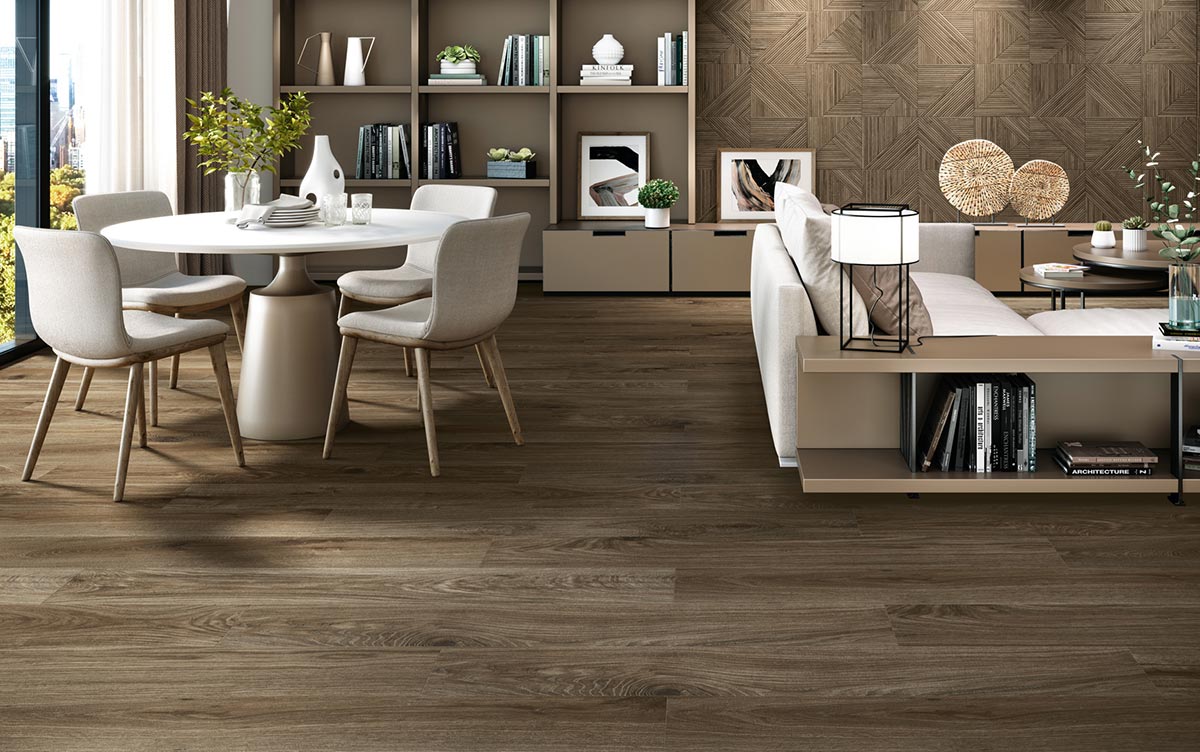 Modern rustic style builds on traditional rustic style commandments, giving them a slight twist to suit current trends and lifestyles. It's not uncommon to find the bright and cosy white typical of Nordic design or statement furniture pieces with modern lines. Room with Century Brown 25x150R wooden flooring and Tangram Coffee 31.6x100R relief cladding.
Modern rustic-style houses: a new take on traditional décor
1. The materials
As you can probably guess, the most notable material in modern rustic houses is wood. Just like in the homes of the past, this natural and authentic material should be everywhere; in the walls, floors and furniture, as well as in the more fixed elements of the house's structure, such as old doors, beams and wooden ceilings. To achieve a modern rustic style that will suit a present-day home, we recommend wood-effect tiles as these offer all the appeal and allure of wood but with the practical advantages of porcelain. Just like in real forests, there are more modern ceramic woods, and then there are the more rustic ones that will help create a more farm-inspired, cosy living room. There are also different shades and intensities available to create that antique, quaint, rustic atmosphere.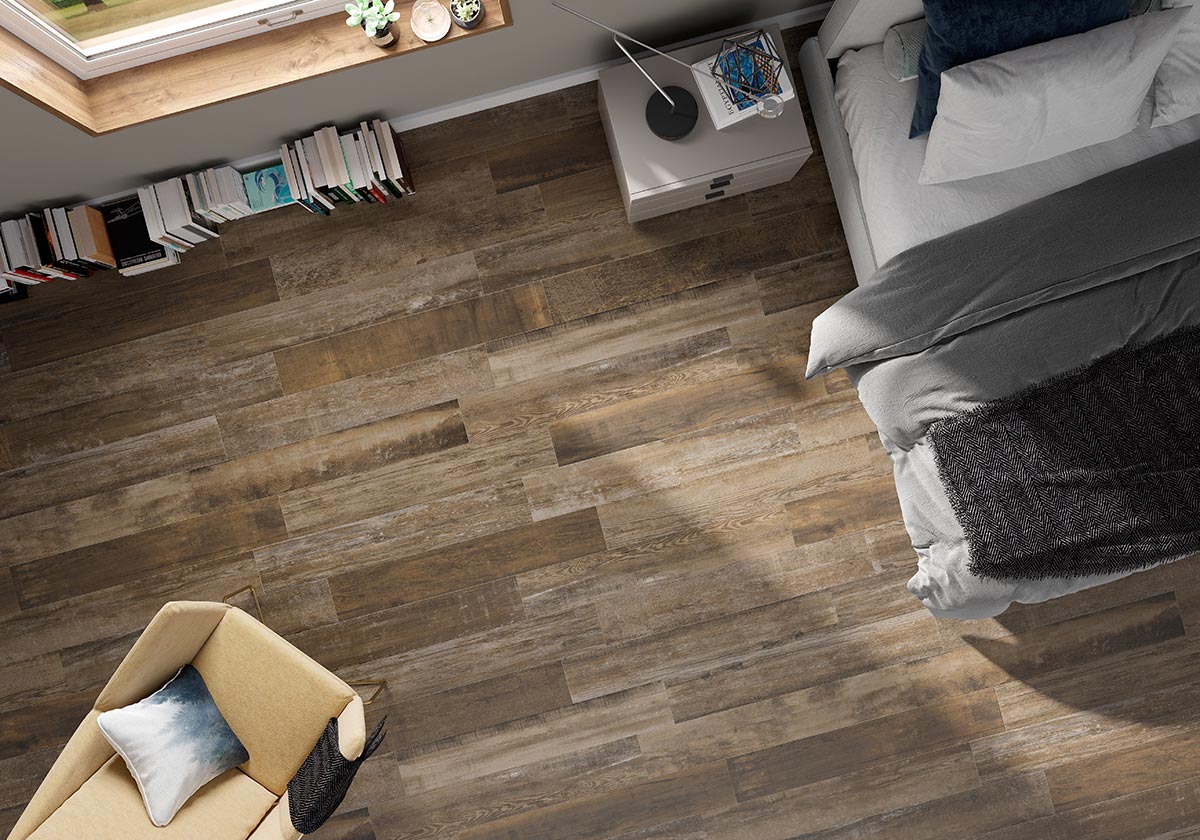 The Colonial collection is one of the most rustic ranges in the Colorker catalogue. Its deep detonation and tonal graduation make each piece unique, closely recreating wood extracted directly from nature. Colonial Soft Noce 19.5x119.2C.
Other materials that are perfect for modern rustic homes are ones you would find in more traditional rustic houses, such as stone, mud and natural fibres. However, don't be afraid to use other options such as plastic, glass or metal for things like lamps and enclosures. This creates an original hybrid rustic/industrial style, which is also very in vogue now.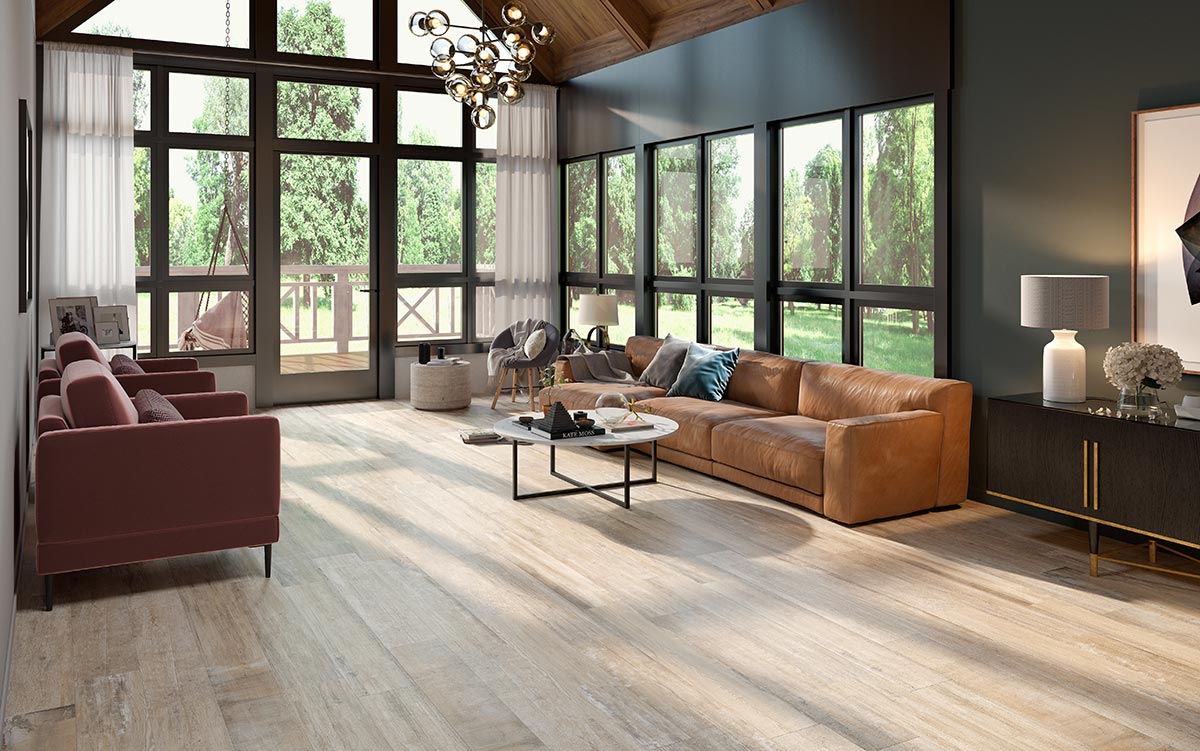 The new rustic style is modernised by blending country aesthetics with features from other decorative trends. As well as wood, a favourite in rustic décor, it is not uncommon to find other materials such as glass or metal or wrought iron enclosures, more typical of industrial styles, or mid-century furniture and lamps. Colonial Soft Natural 19.5x119.2C floor.
2. Colours
Browns, beige, dark blacks and wood colours are unsurprisingly the most common in rustic-style décor. The new rustic style takes this a step further, flooding spaces with white to provide a greater sense of space and light, particularly in kitchens and bathrooms. Other shades favoured by the new rustic style are earthy hues, such as maroon and terra cotta, and livelier colours (blues, greens, pinks), but only in small doses.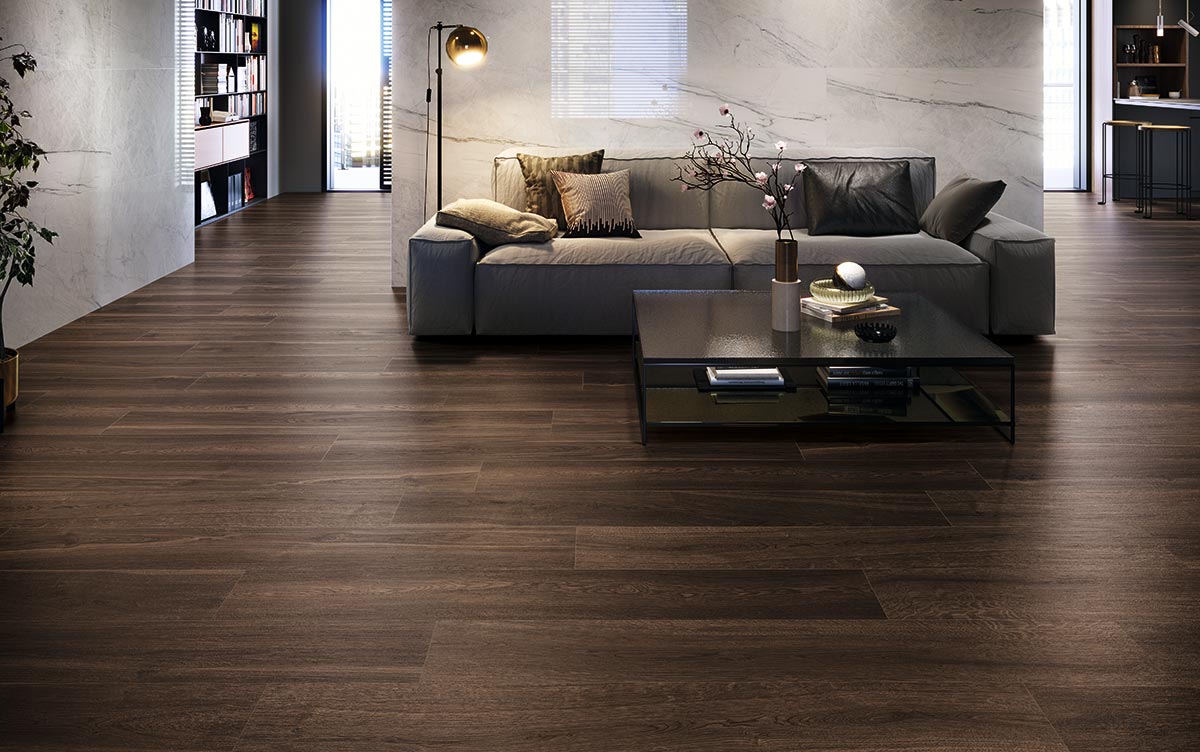 Dark browns are another hallmark of the new rustic style. Steer away from an outdated home with a marble accent wall. Get the look: Kaira Brown 25x150R floor and Da Vinci White 60x120R marble cladding.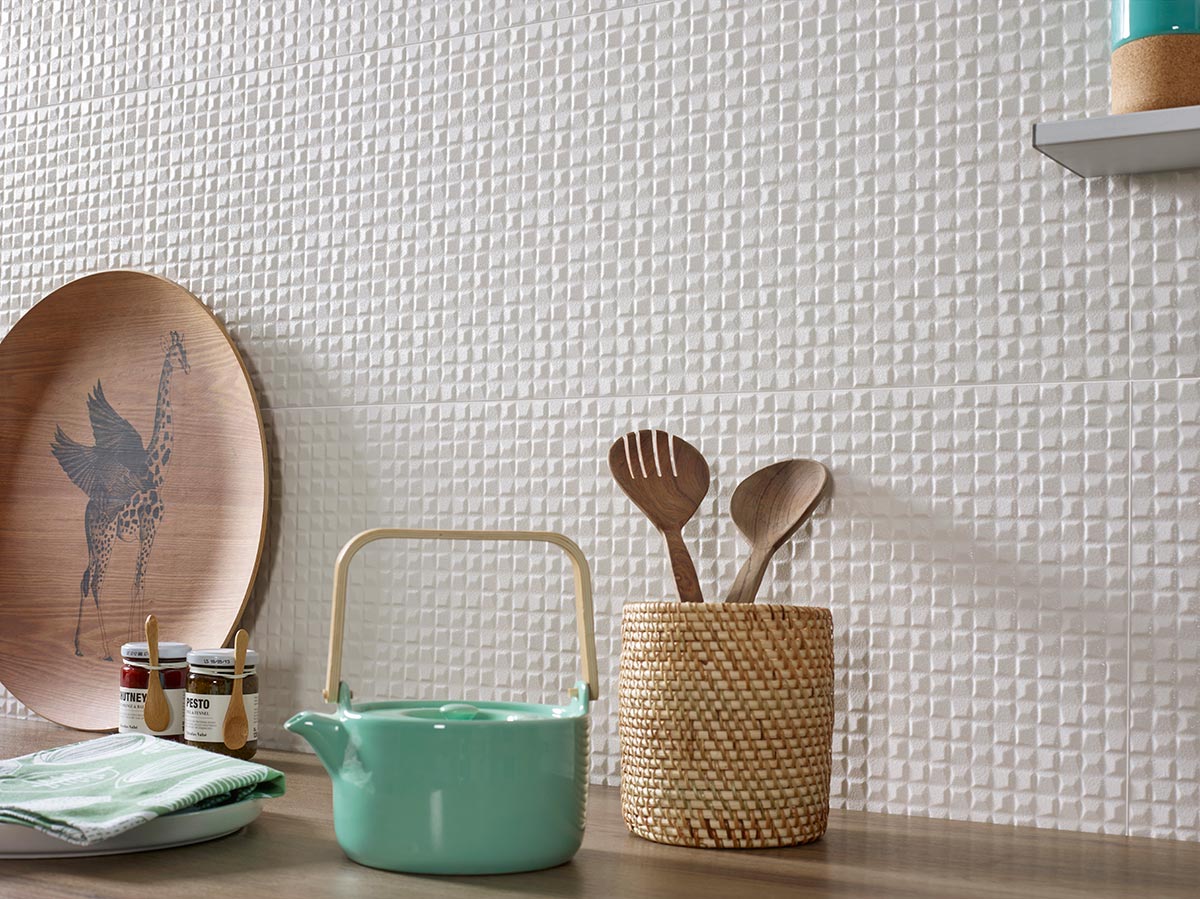 The rustic style has just as much of a claim to white as Scandi home interiors now. But if you find these neutrals too boring, add a pop of colour in the kitchenware or decoration, pairing this with wooden utensils. Arty Lenox White 29.5x90R cladding.
3. Other elements
Provençal furnishings are a staple of the rustic farmhouse aesthetic thanks to the romantic, antique feel they give off. Throw in some wooden pieces or white lacquer finishes for a more modern look. However, the new rustic style takes elements from classic rustic and pairs them with more contemporary, rounded furniture pieces made of natural fibres like yarn, wool, linen or cotton. In terms of finishes, worn and untreated is the way to go for the rustic style. Benches, irregular wooden stools and pieces of logs are other popular fixtures, and be sure to leave room for flowers and plants. Other elements that can be introduced are antique pieces to pile on the rustic-ness, contrasted with contemporary works of art. You can also warm up the space with blankets, cushions and rugs, be they leather or soft, snuggly ones, and add a chimney if you have the means.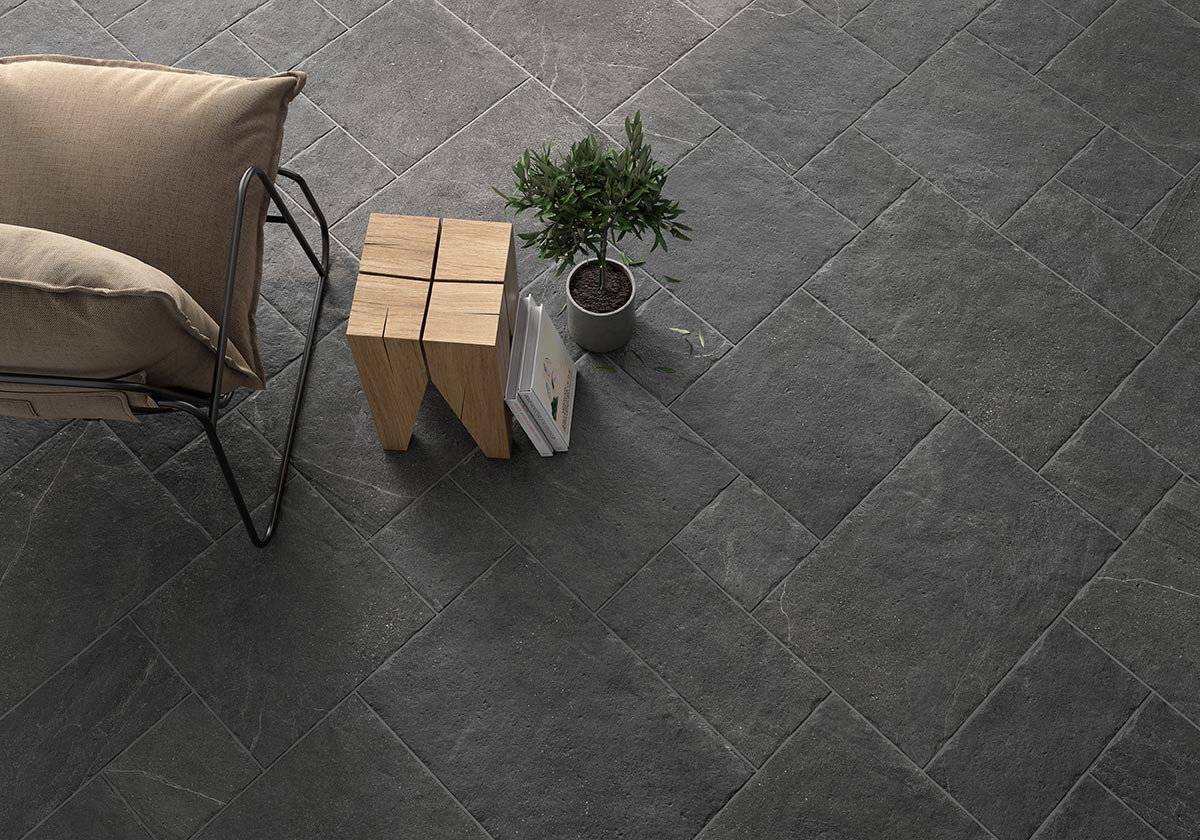 Stools made of wood or pieces of logs give spaces a nature-inspired, rustic aura. The perfect complement to chic rustic flooring like Giant by Modular Concept, comprised of four different formats in a single package. Giant Dark GRIP+ 44x66+44x44+22x44+22x22.
Rustic-style kitchens
2022 kitchen trends have switched up kitchen layouts, including rustic-style ones. Nowadays, kitchens are open and annexed to the living room. There are also office kitchens, spaces in which to comfortably work and gather with family and friends. For a modern rustic style in kitchens, combine wooden or stone flooring with a plain white backsplash or metro-style tiles. You can also be bold by decorating this area with hydraulic or tropical tiles or tiles with geometric patterns, bringing dynamism to the space as a whole. As for the décor, opt for wooden and glass kitchenware like in the homes of times gone by to add a finishing rustic flourish.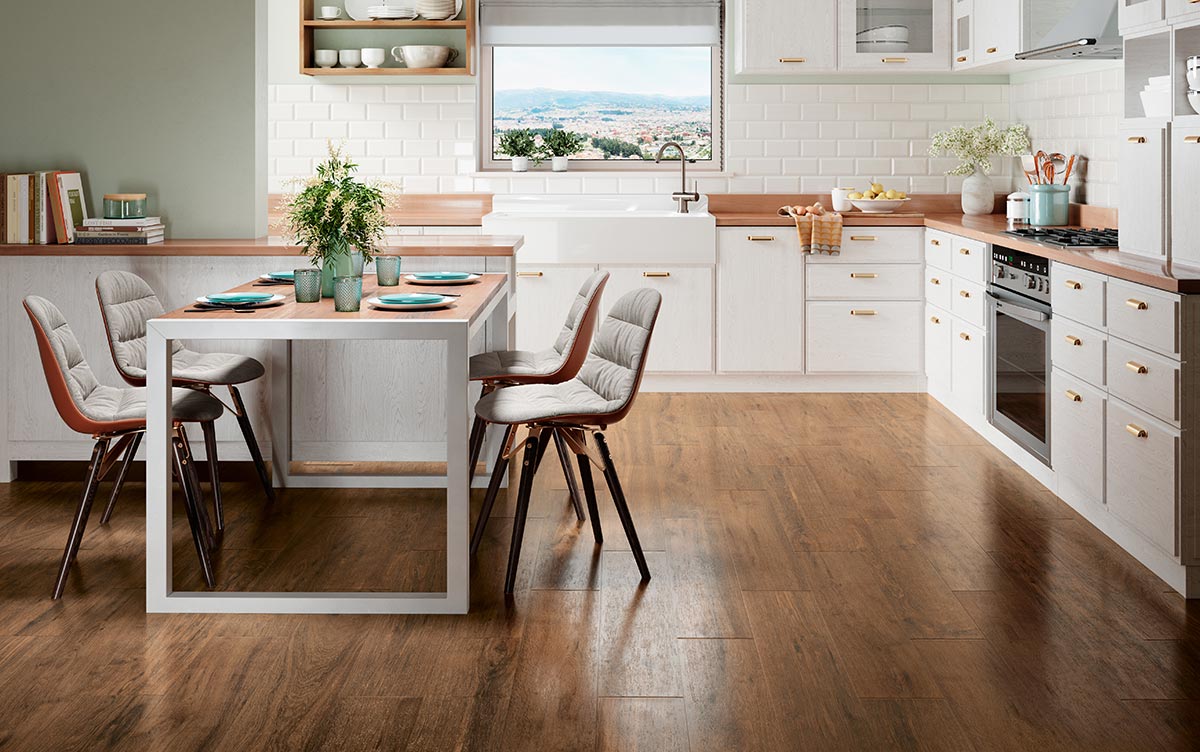 Example of modern rustic-style kitchen with wooden flooring and backsplash inspired by metro tiles. As today's lifestyles demand, the kitchen is an open-plan office kitchen, allowing you to cook and eat at the same time. The romantic furniture is a combination of white lacquer with a wooden countertop. Montana Oak 19.5x119.2C flooring.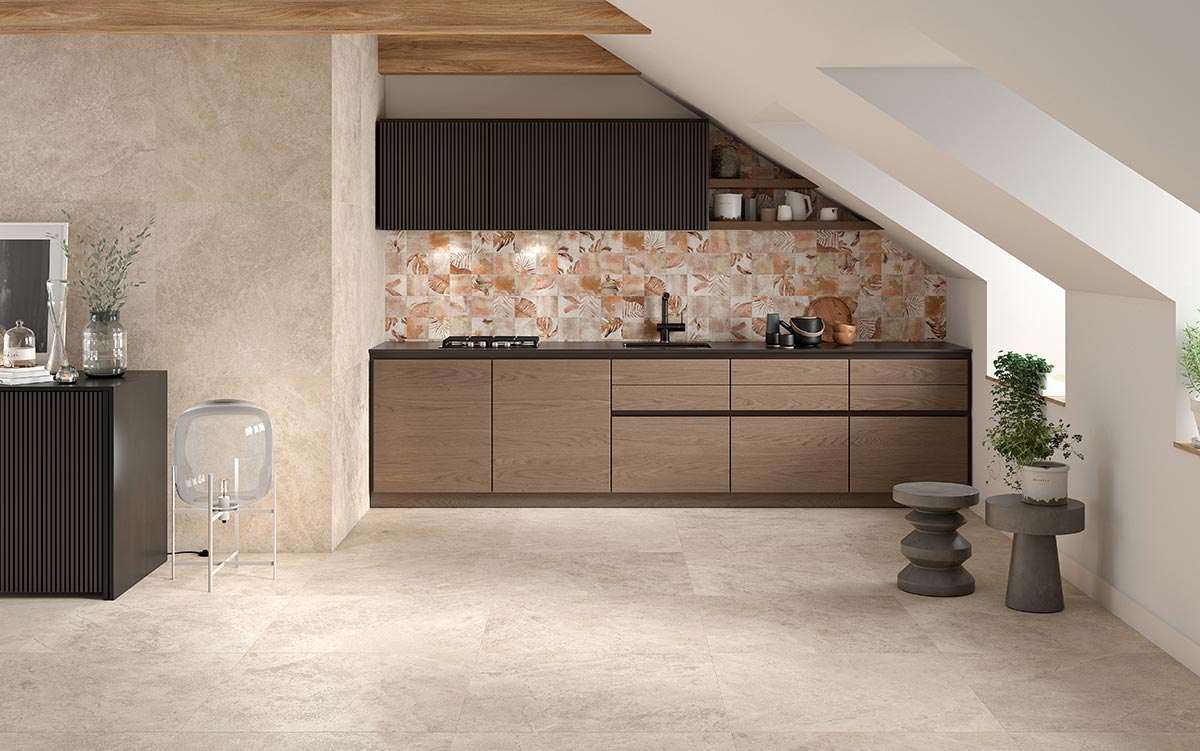 If you're looking for more original ideas for your modern rustic-style kitchen, you can choose more dynamic materials for wall sections. In the photo, Amazonia Cotto + Tropic Cotto 13.8x13.8 by ZYX. The matching flooring and cladding are Liberty Cream 90x90R (flooring), 29.5x59.5R (cladding).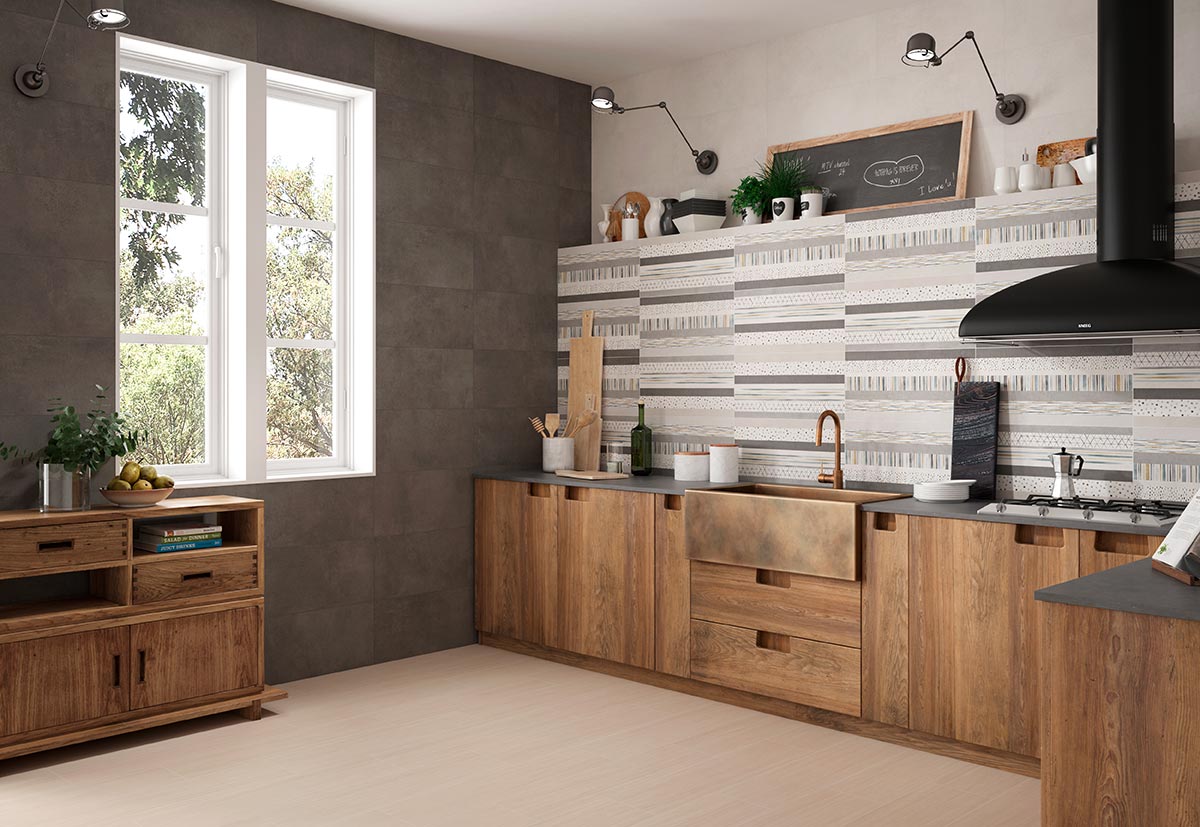 Other unique ideas for a backsplash without departing from the cleaning and maintenance advantages of porcelain are tiles inspired by wallpaper such as Uniq Belly Colours 29.5x59.5R. Also in the image are Uniq Pearl 29.5x59.5R and Uniq Graphite 29.5x59.5R. The modern rustic touches provided by the wooden furniture, added to the brushed-copper taps and rustic wooden tableware, create the perfect look.
Rustic-style bathrooms
The rustic style gives spaces comfort, warmth and well-being, something which is needed in bathrooms. Create the perfect space for some me-time with stone or marble-effect tiles in beige hues and add a matching or wood-effect floor. You'll have the perfect modern rustic-style bathroom.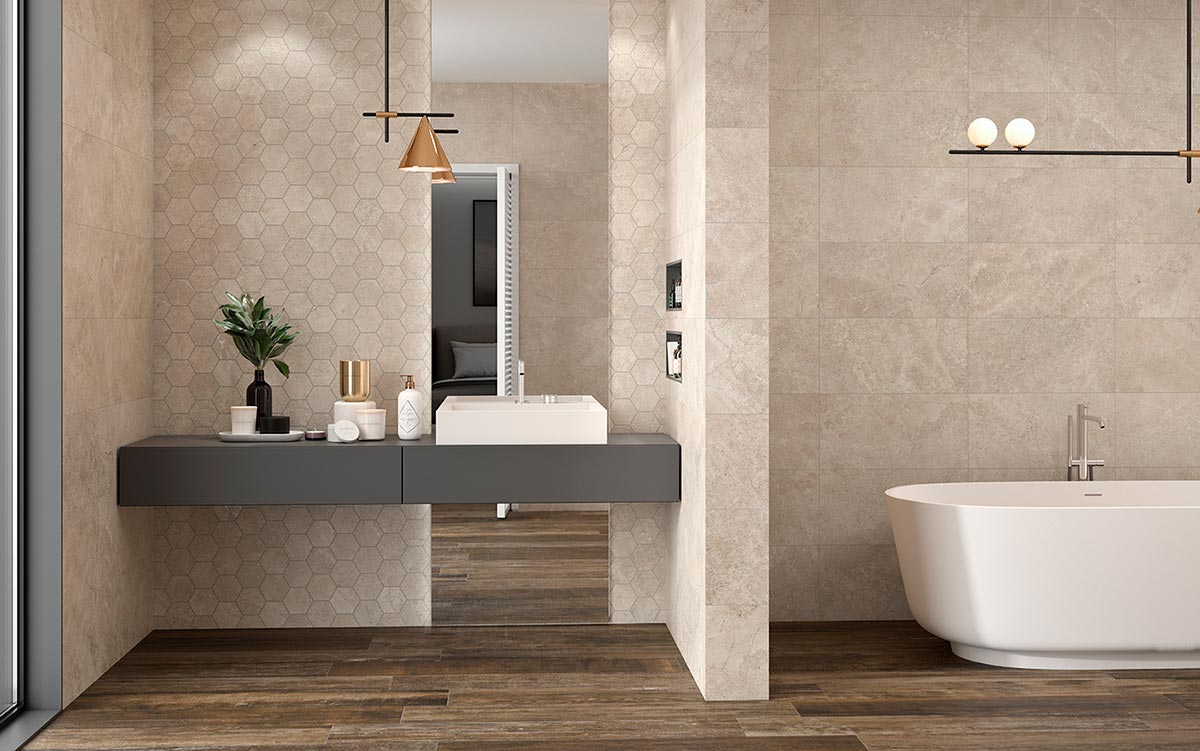 A bathroom that's as rustic as it is current. Why not accentuate the washbasin area with hexagonal wall tiles like Liberty Hexa Cream? It looks great, right? Liberty Cream 29.5x59.5R cladding.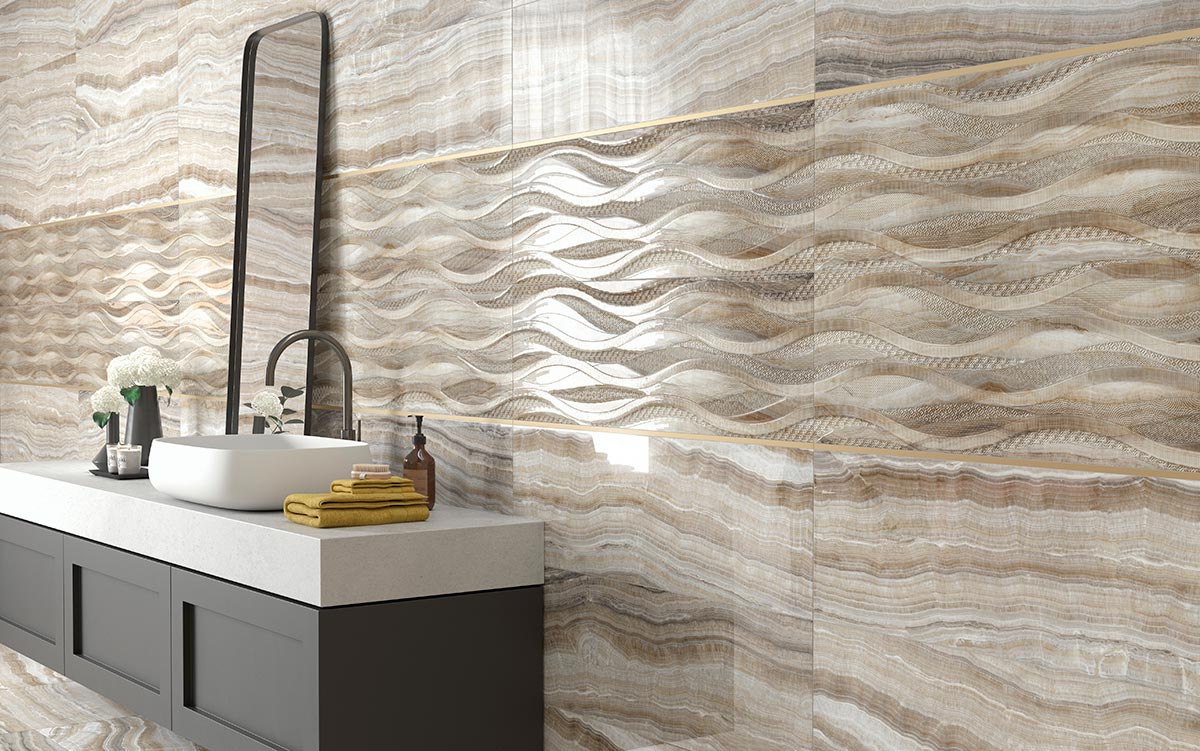 Beyond wood or stone, don't neglect materials like ceramic marble for your modern rustic-style bathroom. In the image, Spectrum Amber 31.6x100R, Munna Amber 31.6x100R relief and Gold 1x100R listello.
Rustic-style terraces and exteriors
The pandemic has also made us appreciate terraces and outdoor spaces even more. With rustic-style décor, home exteriors will be even more reminiscent of traditional country homes. Recreate a classic wooden porch with an outdoor dining room scattered with plants and cushions. You could even move the kitchen outside and/or add a barbecue. The ideal floor for your terrace has to be a rustic ceramic stone like Loira by Modular Concept, or other cottage-style tiles. The joy of living outdoors.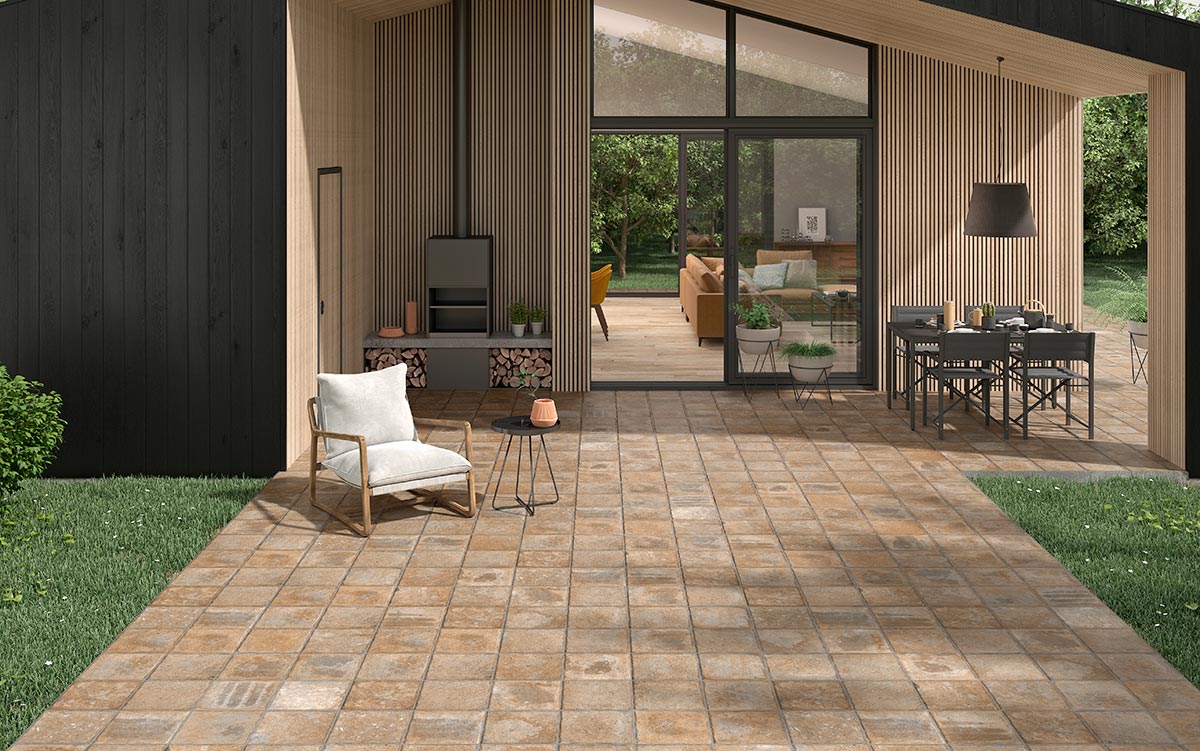 Create your porch with an outside kitchen or barbecue to enjoy a rustic style under the sun and stars. The ideal floor tile to get that country-style feel is Cottage. In the image: Terracotta Duplo 60x60R. Slide: R11 / C / Class 3.