Terrazzo can thank trade fairs such as Cersaie and Casadecor for its 2018 comeback. This is a trend that's shown a remarkable capacity to reinvent itself. It's now firmly back under the spotlight, with a new look and fresh detailing, above all in the ceramic tile format. Ranges like Takara are proof: terrazzo is here to stay.
Not even that long ago, it looked like the terrazzo trend had vanished into obscurity. But in 2018, this iconic seventies trend made a comeback, prompted by prominent trade shows like Cersaie and Casadecor. Ever since then, architects, interior designers and decorators across the globe have been clamouring to get hold of a material that spent decades decking out working class homes from the mid-20th century onwards. In architecture, its strength and durability made it the go-to solution: affordable and easy to maintain, this material has leapt ahead of the competition.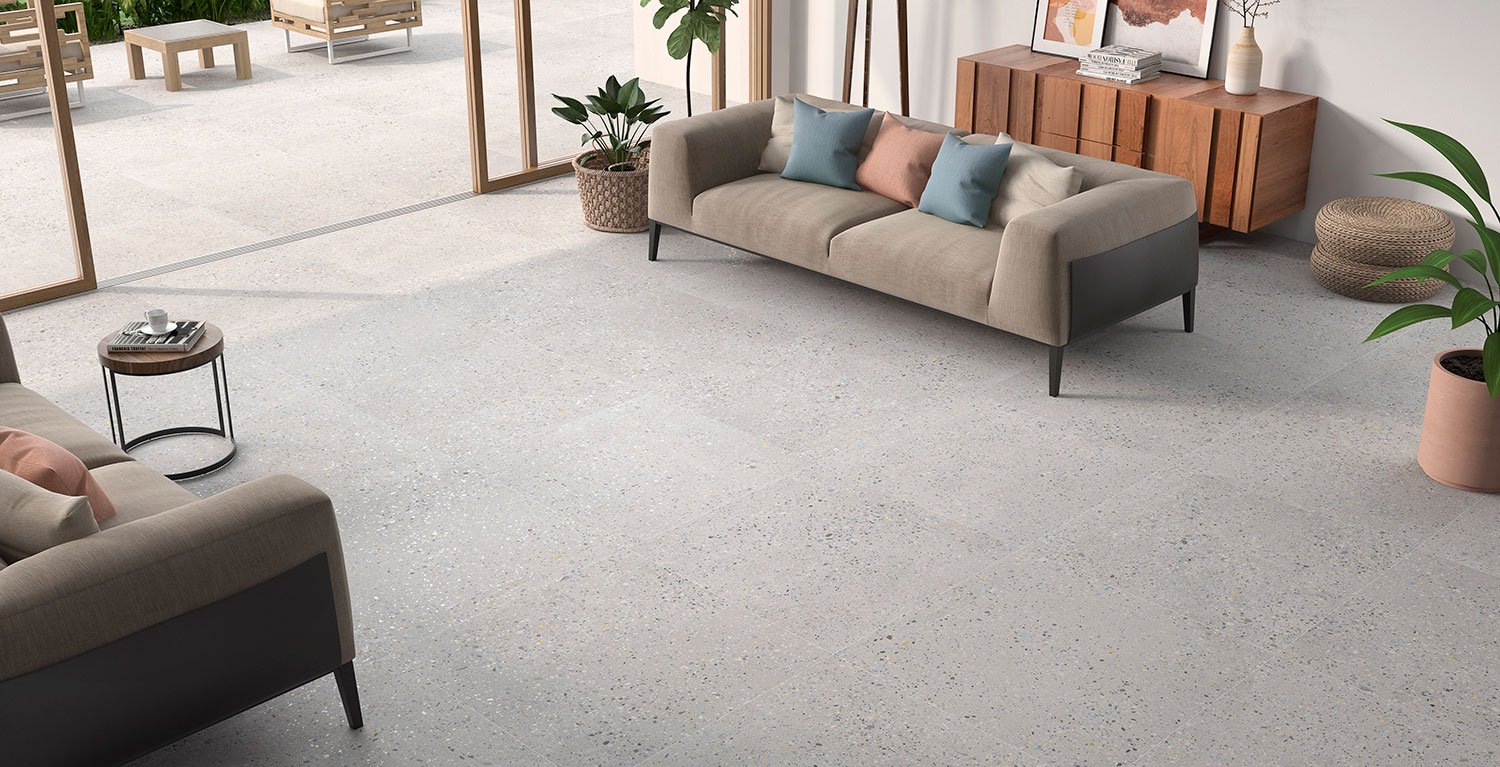 The origins of terrazzo
It may have experienced its golden age in the 70s, 80s and 90s, but the roots of terrazzo go way back. In fifteenth-century Venice, marble workers mixed leftover pebbles with clay in a bid to come up with new materials. They perfected their technique, and in time replaced the clay with cement. And the first terrazzo floors as we know them today were born.
The word 'terrazzo' comes from the Latin word for terrace. This is simply because terrazzo was initially used on terraces and other outside spaces - because it remained in great condition outdoors. Later it became more widespread, becoming the flooring par excellence of Italian palaces and stately homes of the era, both indoors and out.
'New terrazzo' with a ceramic skin
The terrazzo trend hasn't just taken the décor world by storm. Fashion and industrial design have also succumbed to this new take on a classic. You can see it everywhere in interior design: floors, walls, benches, worktops... and even cushions and other decorative accents.
The ceramics sector has taken the terrazzo look and reworked it to offer a new aesthetic to architecture. Imitation terrazzo porcelain is a must in ceramic floor and wall tiles; both for homes - including bathrooms and kitchens; and hotels and restaurants, looking for an ultra-modern, high-end décor look.
Takara: the perfect modern terrazzo flooring solution
Colorker has taken the traditional aesthetic and given it a head-to-toe makeover with stunning splashes of colour. You could say Takara is here to ensure the survival of terrazzo. This terrazzo tile features vibrant splashes of blue and yellow in stunning contrast to the cement hues, creating an exquisite clash of depths. Combining the Sassi technique - a material between cement and stone - and the latest digital manufacturing technology, we can achieve ultra-modern, original terrazzo floor and wall tiles.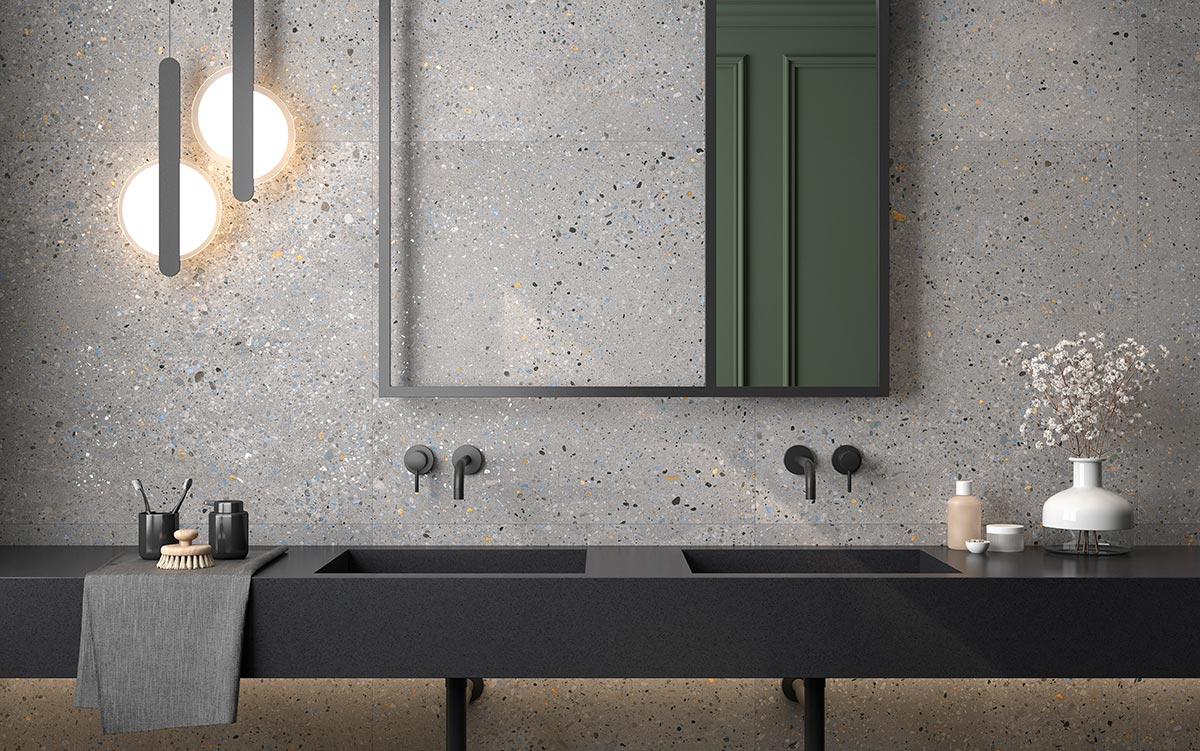 And though terrazzo has traditionally been reserved for flooring, porcelain terrazzo gives you the option to use it to decorate floors and walls in any space. Terrazzo is still under the spotlight - but it's back with a revamped aesthetic, such as Takara in a multicoloured finish. In the photo: Takara Grey, 90 x 90 R.
The unique Luck accent tile is another Takara must. It blends all four of the Takara colours (Light, Grey, Pearl and Dark) into the same surface. Uneven geometry, a technical finish and unrivalled sheen come together, creating an impeccable aesthetic loaded with character and personality.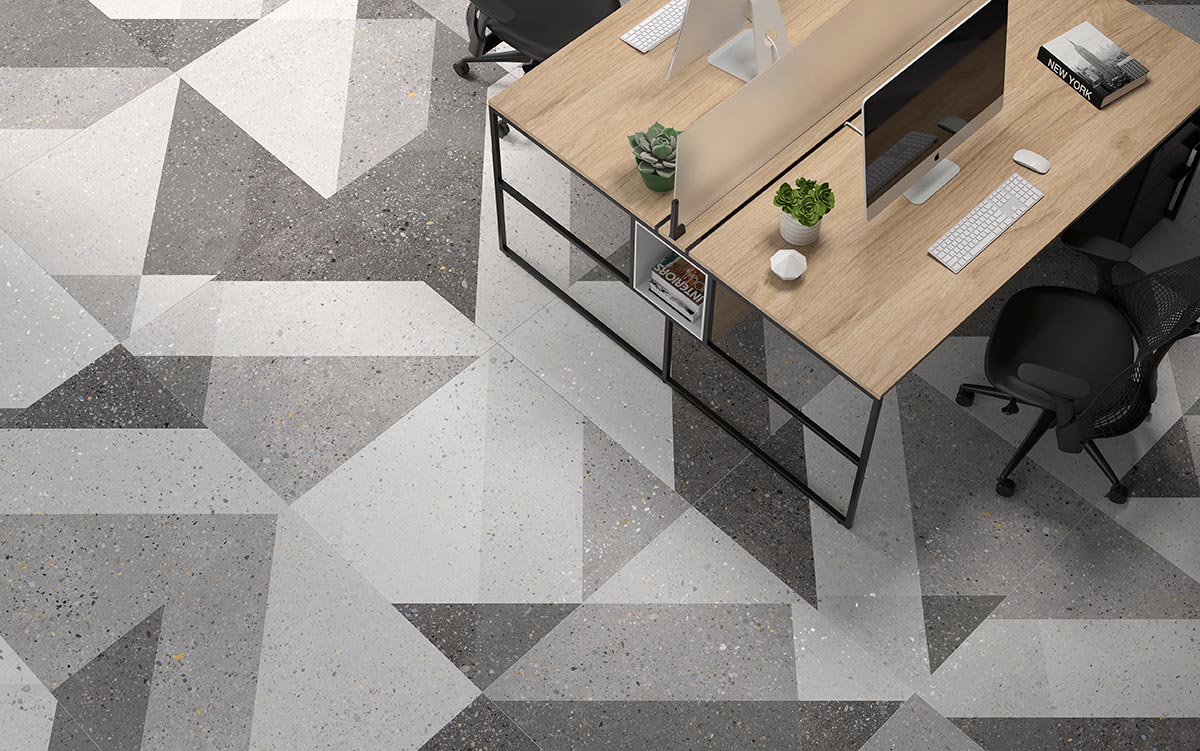 Luck accent tile from the Takara series. A terrazzo effect geometric pattern that masterfully combines the collection's four shades. 90 x 90 R.
Native: grey terrazzo vs. beige terrazzo. What's your mood?
Grey terrazzo's reputation as a top interior design choice has officially been secured - along with black. These two shades draw on the original terrazzo look - above all the grey, reminiscent of those first cement-based creations. One of the advantages of ceramic imitation terrazzo is that it can be produced in any on-trend colour. Beige, for example, has become a must-have trend in terrazzo flooring.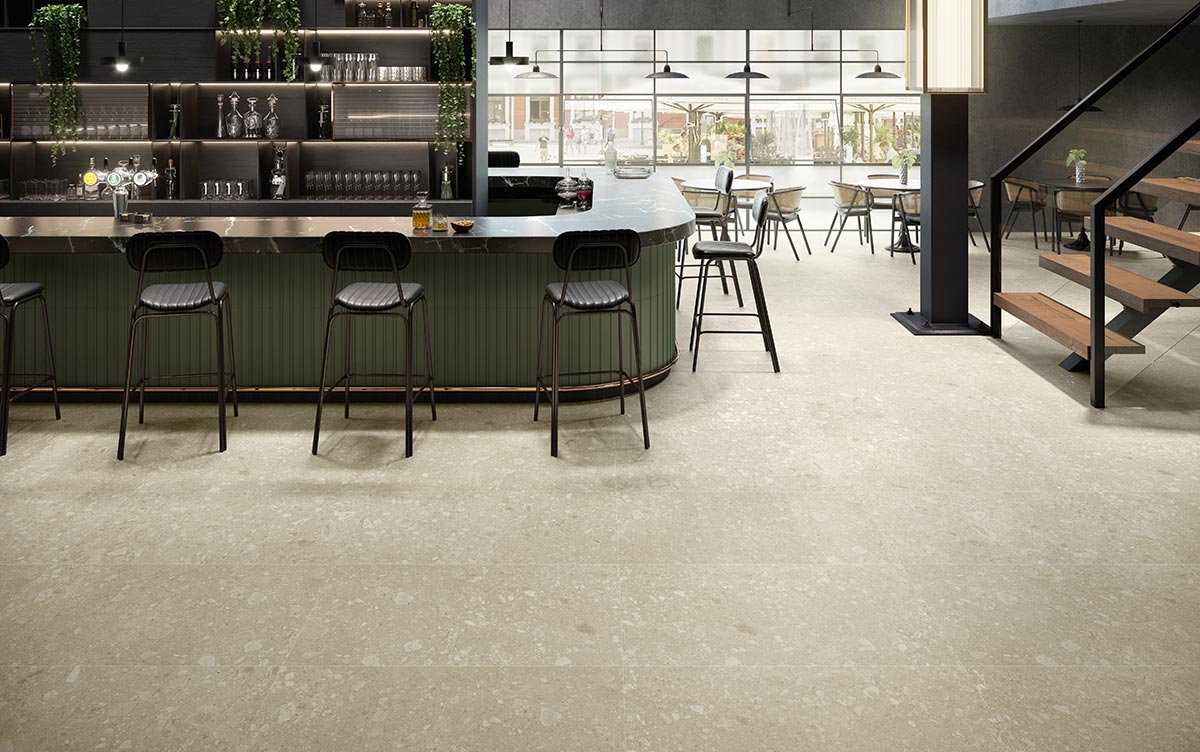 Native Cream 59.5 x 119.2 R. An addition to the grey tile, this Ceppo di Gré stone inspired collection offers incredibly elegant beige terrazzo floor tiles perfect for homes and contract projects alike.
Colorker brand Native has created faithful reproductions of genuine terrazzo in a huge array of colours. You can see this in its stunning portrayal of elegant Ceppo di Gré rock, with inlaid edges that add a unique sheen to every piece.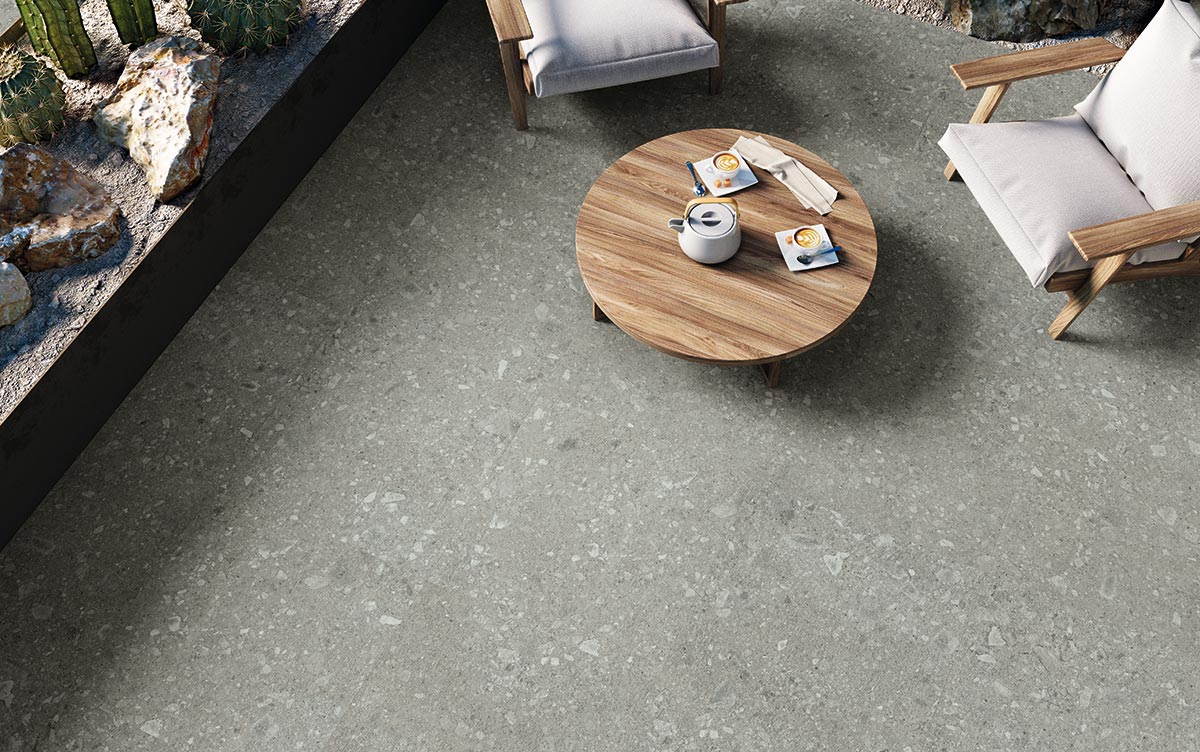 Native Grey 90 x 90 R. Just like original terrazzo, this porcelain is suitable for terraces and exterior areas.