Discard the perfect and symmetrical, and learn to value decadence and ephemeral beauty. Wabi-Sabi style is more than a way of decorating: it's a philosophy of life that teaches us to value the moment and everything we have. Do you want to learn how to live Wabi-Sabi? Start at the source: your home.
If you are overwhelmed with stress and enough is enough, the decoration of your home can also help lead you to a much calmer and contemplative life. In his book "Wabi Sabi: Learning to accept imperfection," Tomás Navarro talks about this trend as a new perspective on life, a new way of thinking about and processing external stimuli, which teaches us to accept simplicity and austerity, decadence, and the effects of the passage of time. Navarro says that, over the years, we have been sold an idea of success, perfection and happiness that is really a mirage. Far from the frenetic activity of everyday life, he invites us to find reasons to smile and to establish a list of priorities of our own, free from pressures, which will allow us to create a richer and more serene life.
However, in this "new search for happiness," factors come into play that confront us in our daily lives. Why not start with Wabi-Sabi at the source, in our home? Because Wabi-Sabi style is also a way of decorating. Did you know? Here are the keys to achieving Wabi-Sabi style in your home.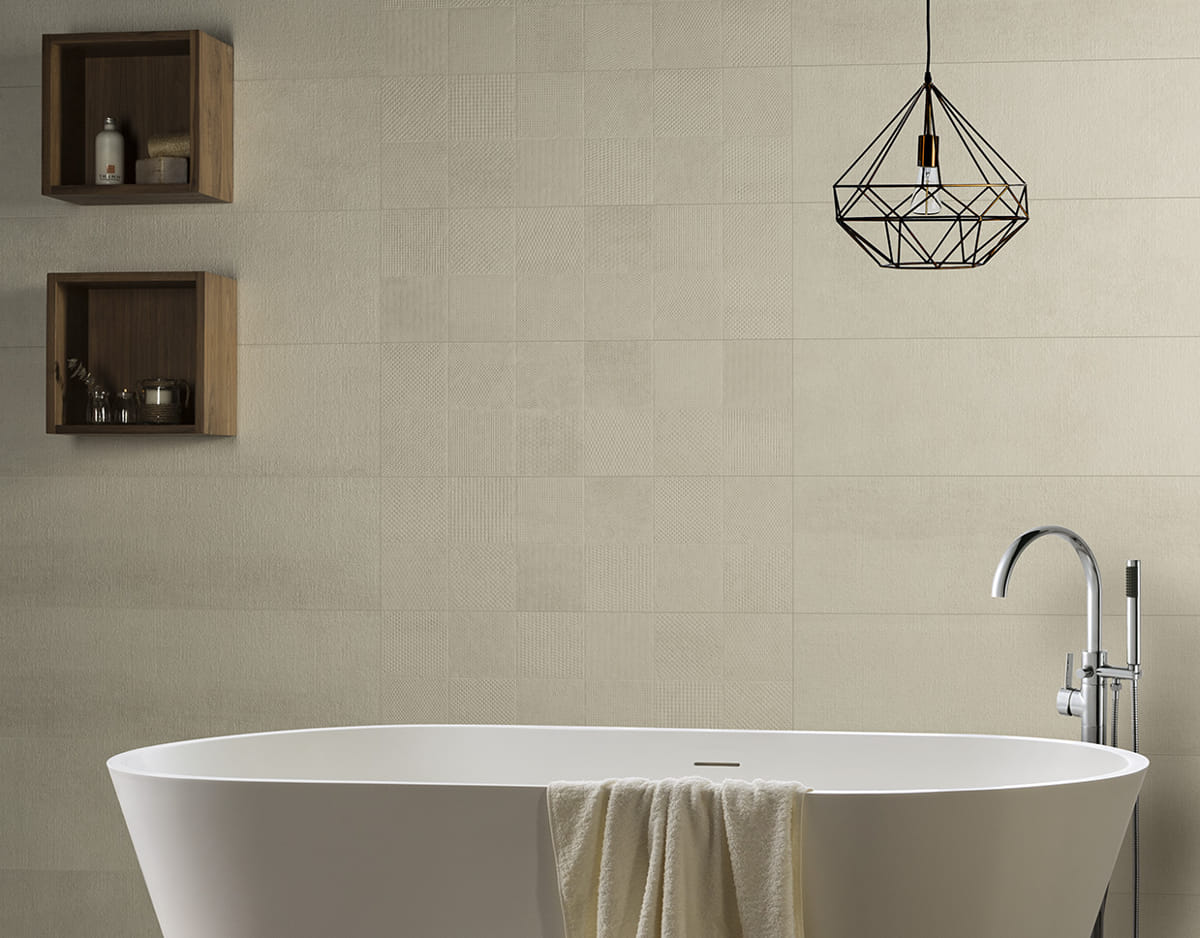 Wabi-Sabi style suggests a very simple and calm way of decorating, which is particularly important in the bathroom, the absolute temple of "ME TIME." Choose soft, warm lighting for a space like this and wall coverings in neutral, pale tones such as the Hit Moon 29.5x90R and Numme Moon 29.5x90R series.
What is Wabi-Sabi style? What is its significance?
Wabi-Sabi (侘 寂) is, (like Japandi style), a Japanese term referring to the beauty of imperfection, impermanence and the degraded and/or incomplete.
It dates back to the 12th century and is composed of two words: "Wabi," which connotes rustic simplicity, freshness or stillness, subtle and discreet elegance; and "Sabi," to deteriorate, to rust, referring to the beauty or serenity that appears with age, when the life of the object and its temporality become evident through wear and tear, cracks, wrinkles and imperfections.
"Wabi-Sabi cultivates all that is authentic by recognising three simple realities: nothing lasts, nothing is complete, and nothing is perfect" - Richard R. Powell.
How to decorate your home or project in Wabi-Sabi style
Now that you know what this trend is all about, we are going to help you bring Wabi-Sabi style to the decoration of your home or project. Because if you know how to use it, this style can adapt perfectly to any and every space.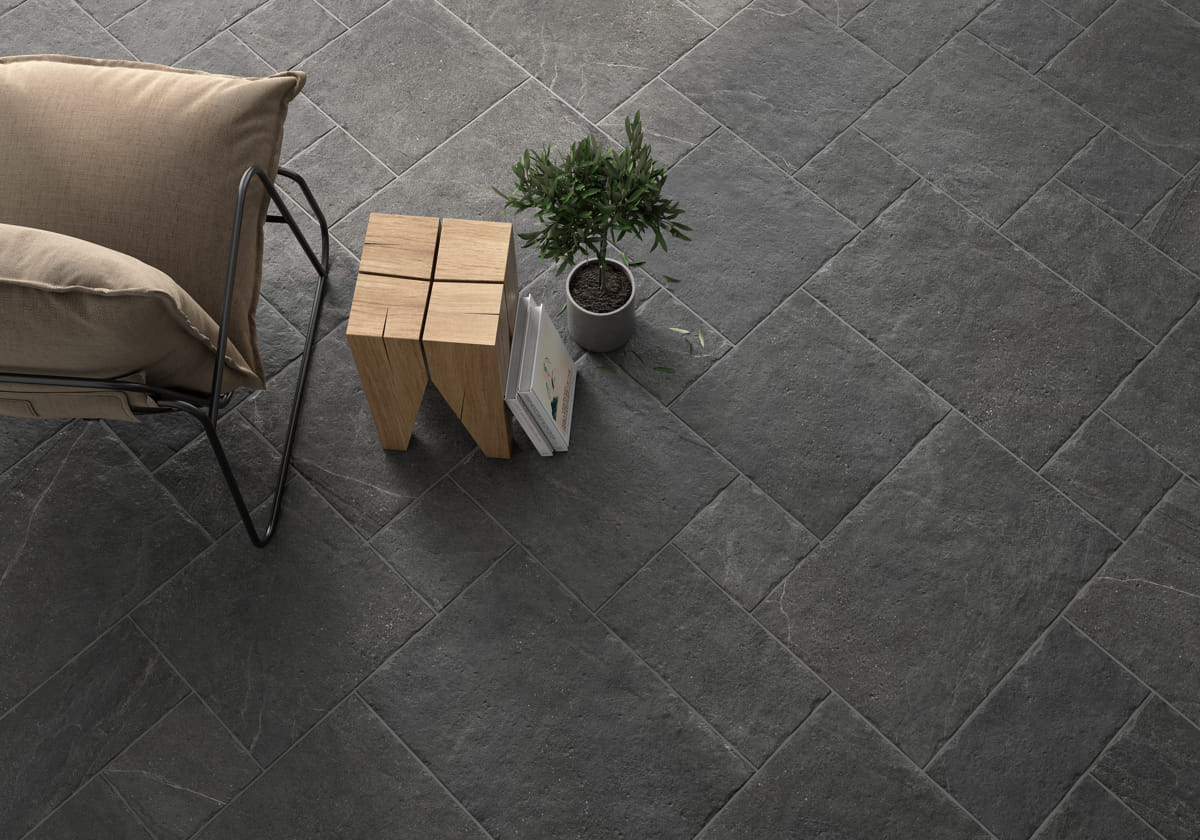 Giant Dark Modular Concept Series. Their worn and imperfect appearance and different formats allow for the creation of chic Wabi-Sabi interiors. The wooden benches with the appearance of cut logs put the finishing touch on the decoration.
Simplicity and austerity
Simplicity does not mean less elegant. Wabi-Sabi style is based on cultivating sobriety and modesty, opting for a decoration based on very few but well-chosen pieces, and reducing only to what is essential, without frills or artifice. It is as if what is not there (or is not shown) really carries more weight than what is seen. In this sense, the author's pieces, antiques or contemporary art are of great importance, valuing the spatial uniqueness of each object and fleeing from the coldness of the ostentatious and mass-produced. It is also important to play with the light, which should be dim to give a greater sense of intimacy, and always warm, never cold, to achieve cosiness and well-being.
Find out how to make homes cosier and warmer, here.
Minimalism, yes, but asymmetrical
As we can see, Wabi-Sabi style embraces minimalism but, be careful: it's an asymmetrical minimalism. Leave behind modular elements and perfect, serialised designs, and avoid geometry as far as possible. Instead, choose furniture with organic and imperfect shapes, untreated wood, and structural elements that defend the very origin of the architecture, such as wooden ceilings and exposed beams. These elements create a simple home that meets your needs and in which each object must tell its own story. As for the fabrics, avoid synthetics and choose more natural fabrics such as cotton, wool, linen, jute, bamboo or rattan. From modern rustic style to Wabi-Sabi with very few touches but with the same authentic essence and taste of origin.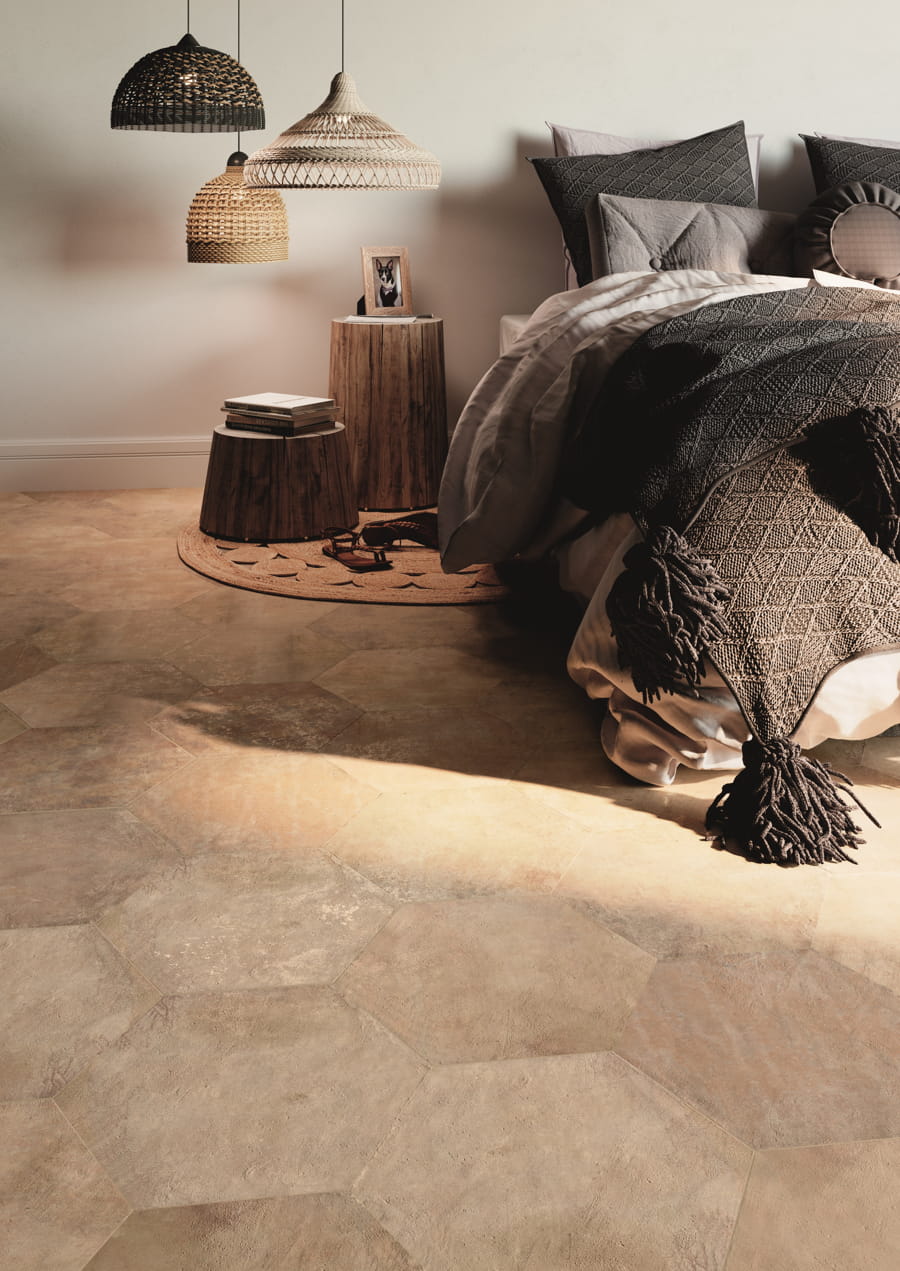 The irregular profile of the Amazonia pieces by ZYX, as a result of the intentional bite marks generated through handmade demoulding, and the worn gloss effect, as if straight out of the craftsman's workshop, make the collection ideal for Wabi-Sabi style bedrooms. Amazonia Cotto, 32x36.8. As for textiles, always natural fabrics.
Homage to nature
Wabi-Sabi is an ode to the randomness of nature, to purity and originality, to showing oneself as one is. In this sense, what it is all about is accepting life as it comes, with its inevitable decadence, with respect for the traces of time which, far from disfiguring spaces and objects, make them unique and unrepeatable.
The selection of natural materials is therefore crucial to Wabi-Sabi, where it is not uncommon to see decoration based on leaves, stones and seashells, as well as ceramic vases, trunks and wild twigs.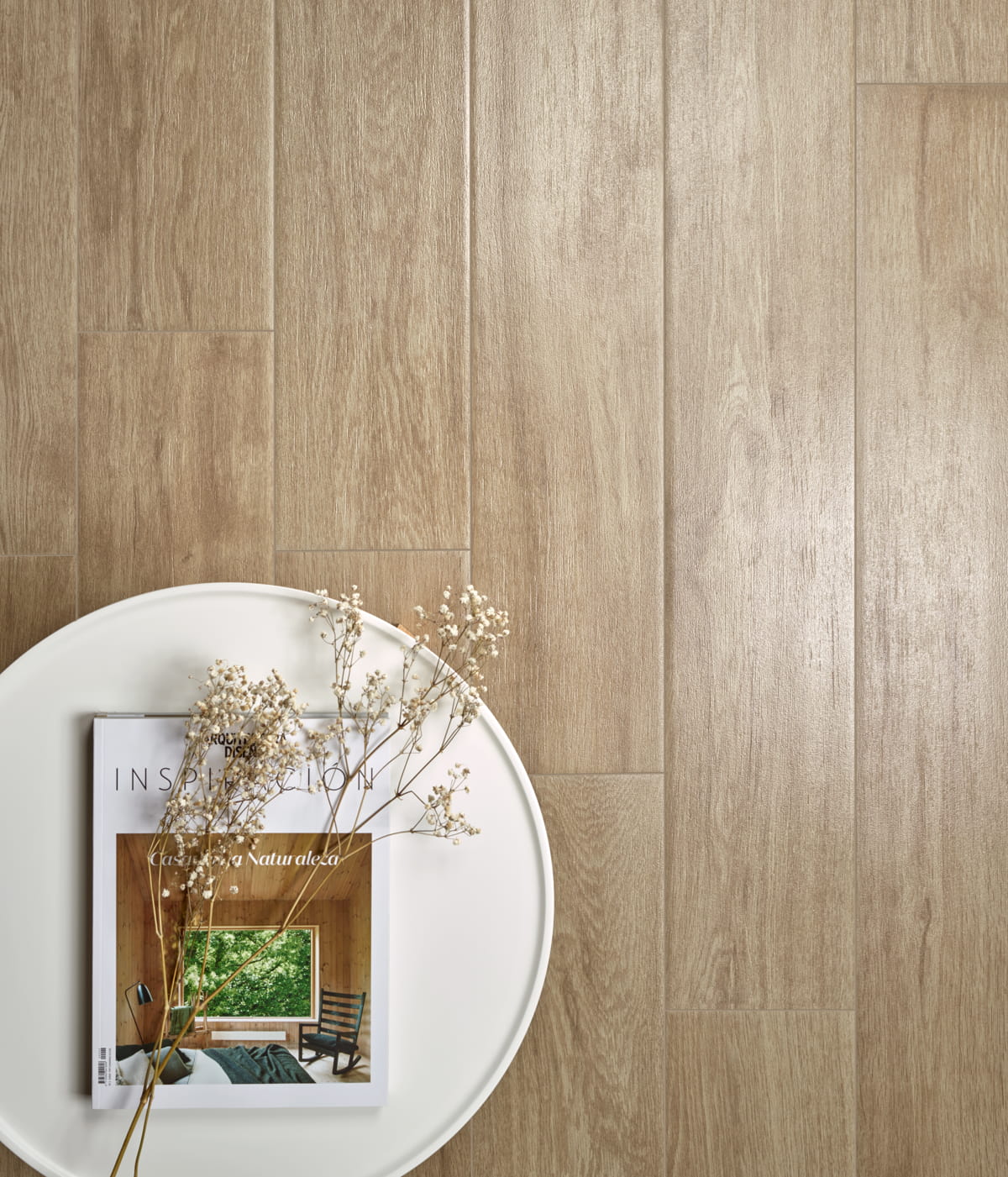 Dried twigs and ceramic tableware are the perfect props for Wabi-Sabi interiors. Flooring: Montana Natural, 19.5x119.2C.
Wabi-Sabi also reflects the most beautiful natural landscapes in terms of colours, where greys, beiges, whites and greens predominate, as well as sand, terracotta and turquoise blues, which add a note of subtle stridency to the whole palette.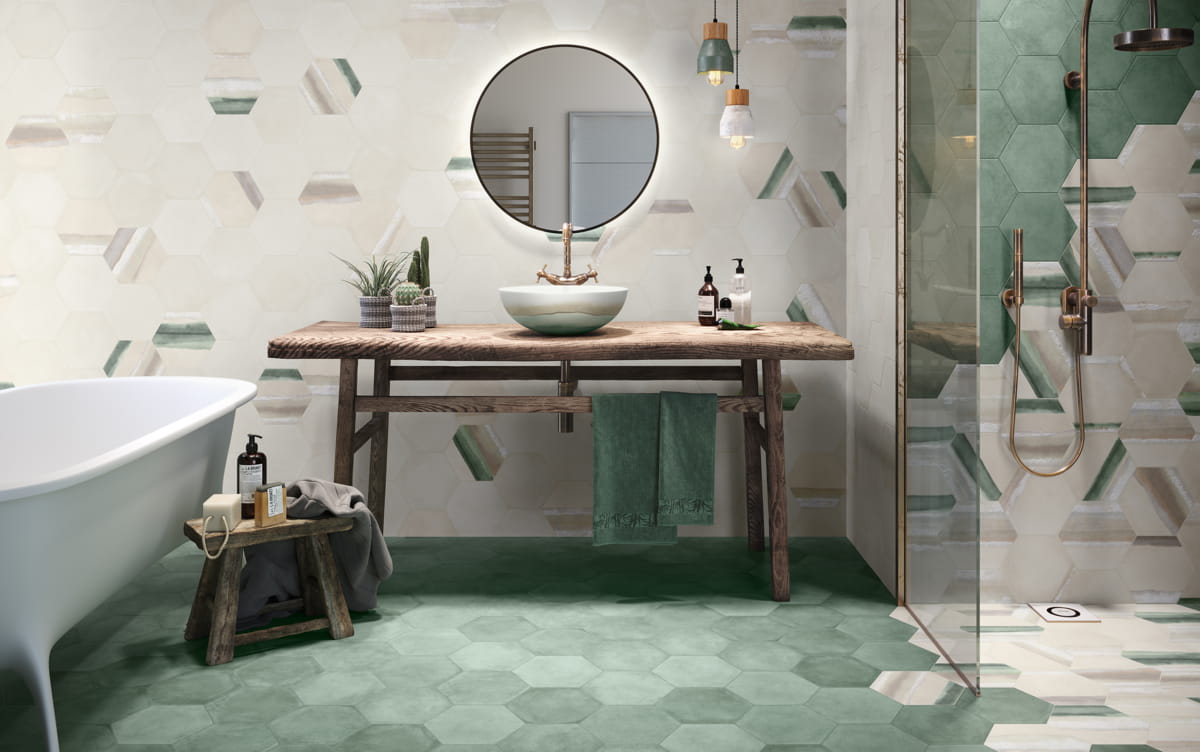 Although light and neutral colours are the emblem of Wabi-Sabi style, nature's own greens are reinventing the style in the new year. The new ZYX series, Matter, is ideal for environments decorated in this style thanks to its worn and handcrafted look, as well as the possible combinations of the pieces it offers. The washbasins, a new piece in the series, reformulate the strict Atelier concept, having been moulded and painted by hand. No two pieces are the same. Matter Bone 20x23, Canvas Bone-Green 20x23, Matter Green 20x23, Basin Canvas Green 40x15.
Untreated elements in their natural form
Wabi-Sabi style is not concerned with standards of beauty; it flees from fashions and is based on imperfection and impermanence. Every wrinkle is beautiful, as is every crack. This is why it is common to find Wabi-Sabi style houses with rusted and stripped walls and furniture, unpolished elements or full of creases and roughness. Because in Wabi-Sabi, showing the seams is a virtue and not a defect.
Are you keen to try it?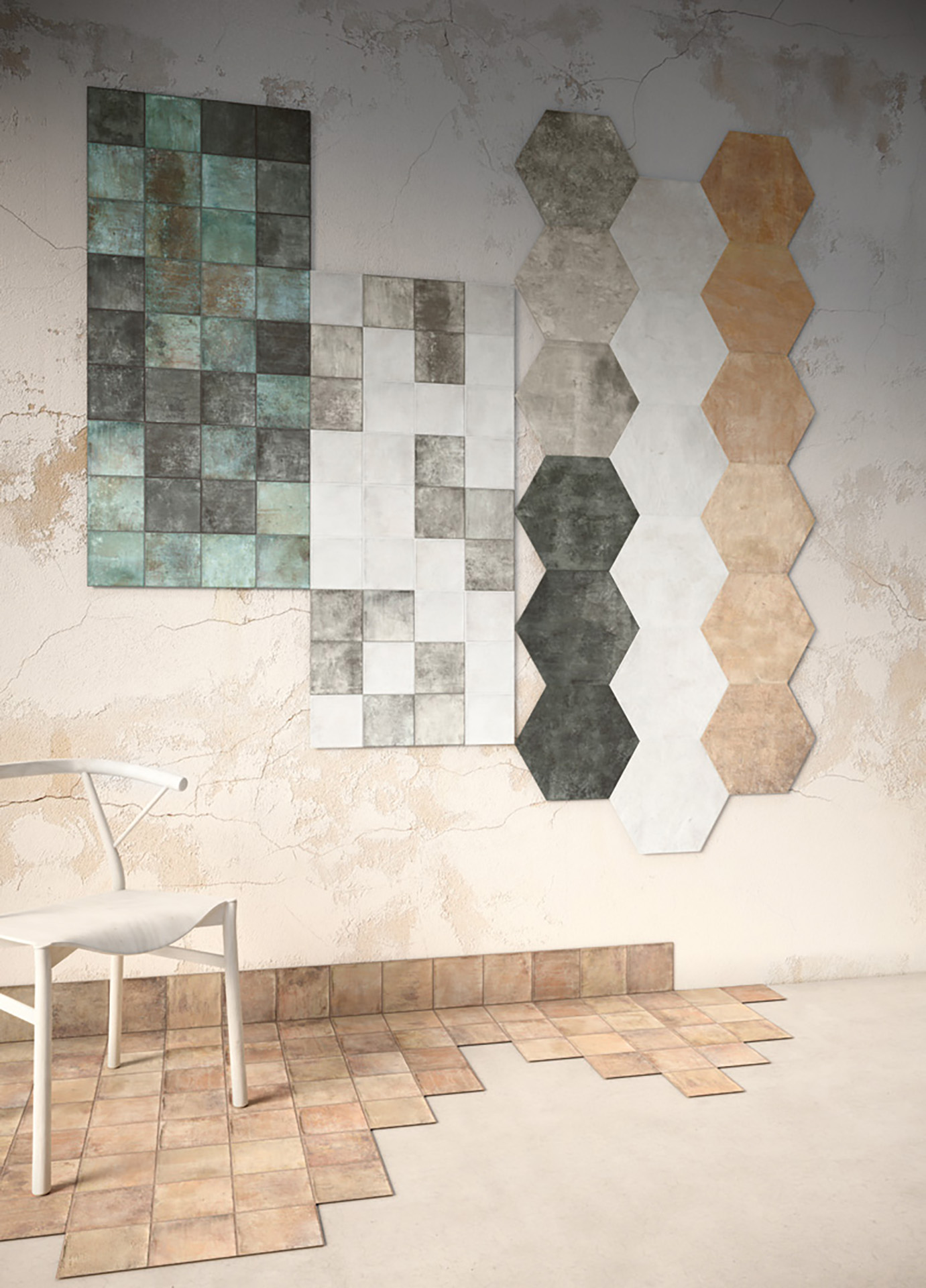 An asymmetrical signature space created with pieces from Amazonia by ZYX. Stripped and cracked walls are another hallmark of Wabi-Sabi style.