Like 'something out of mythology' — half Scandi, half Japanese mythology —, Japandi has risen from the ashes to dominate our living spaces in 2022. Find out the keys to the most-searched design style by interior designers on Pinterest. Konnichiwa!
Never had a hybrid trend been so successful. The style of order and harmony par excellence has arrived this 2022 and is here to stay. And it's not just us saying it, Pinterest is too. According to the image-sharing site, Japandi has once again taken over the interior design world. After a slight dip in popularity — for years it was one of the most sought-after trends —, this season it's reclaimed its spot on top of the most-searched styles list by interior designers and design professionals. Given its growing success, we couldn't have picked a better style to kick off our '12 Months. 12 Styles' section. Discover the keys to the style that combines the best of Nordic design with the aesthetics of the Empire of the Rising Sun.
What is Japandi?
As its name suggests, Japandi is a portmanteau that represents the marriage between Japanese philosophy and Scandinavian design. Two distinctive yet very similar decorative styles, with features that have managed to set up the perfect partnership in the living spaces of the new decade. Heavily influenced by the pandemic, the interior design of 2022 focuses on enhancing our home as the setting of the best moments of our lives. In this very humanistic vision of home interiors, the warmth of the Nordic style and the Zen harmony of Japanese design take centre stage. Two musts for warm and incredibly cosy homes, which find in Japandi the perfect decorative guide.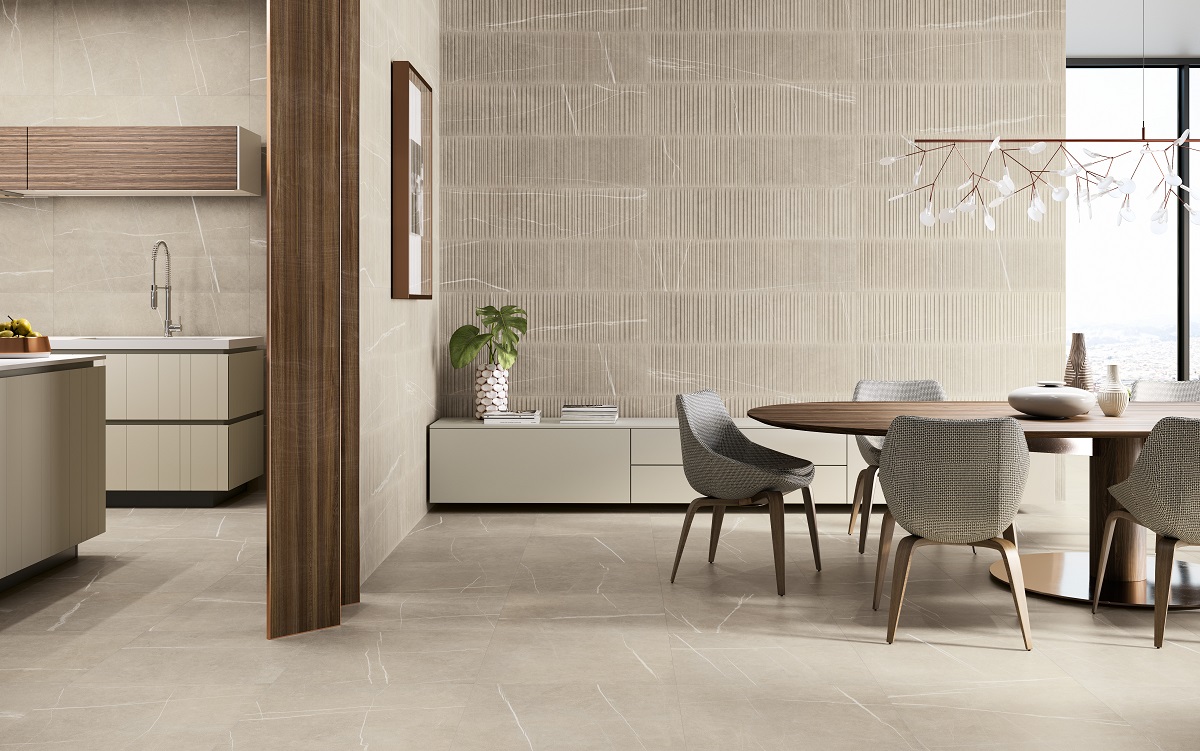 The Japandi style stands out for simplicity and balance above all else. Roomy and calm spaces, neutral colours and natural finishes. Nomade Bone 59.5x119.2R + Parallel Bone, 59.5x119.2R.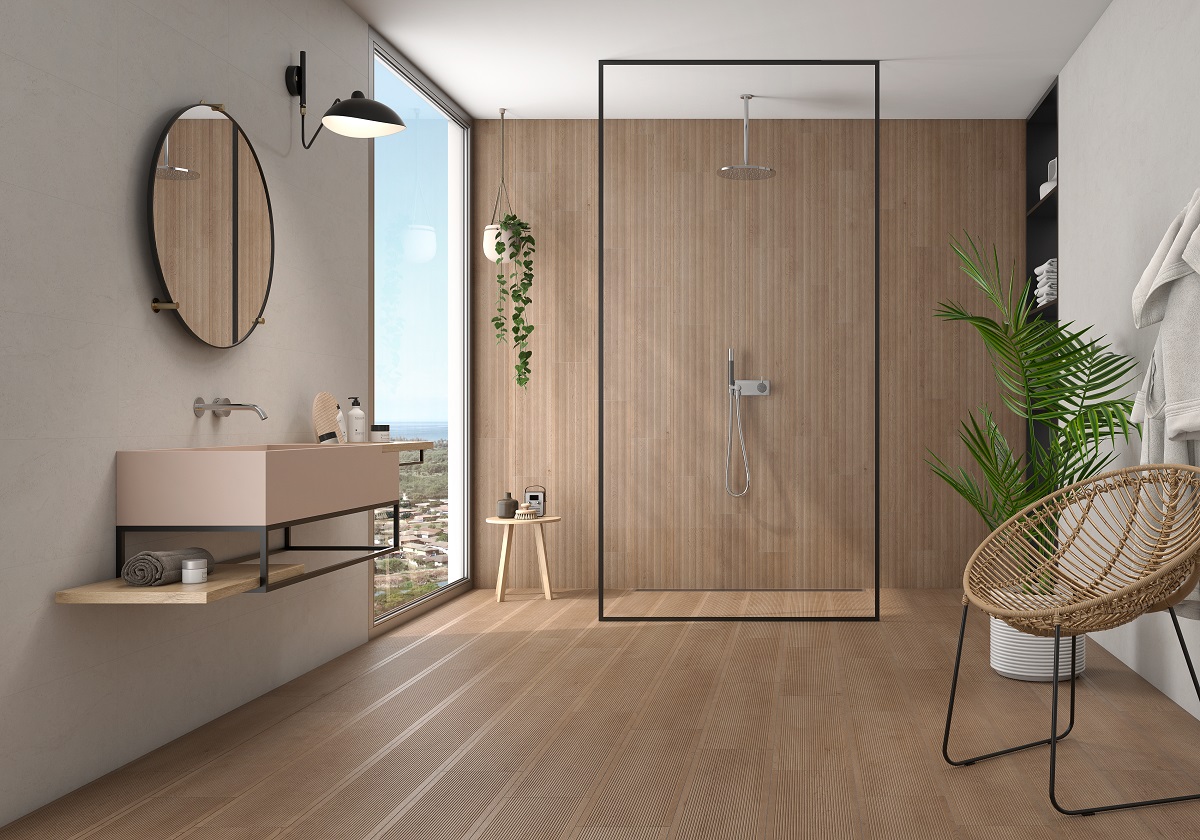 Deck, our wooden decking-effect tile in a Japandi-style bathroom. Ceramic wood is paired with furniture with touches of wrought iron and rattan elements. Deck Natural 21.8x84 GRIP+ + Hudson White, 29.5x59.5R.
Tips for Japandi-style houses: less is more and how taste lies in simplicity
Just like in Japan and the Scandinavian countries of northern Europe, the Japandi style embraces a minimalist approach to design. This doesn't mean these spaces lack personality — quite the opposite, since you can decorate to suit your own taste. But it is true that Japandi hails the simplicity, calm and serenity of quiet and uncluttered environments. Remember Japanese sensation Marie Kondo from Netflix's The Joy of Tidying? She underlines the importance of sticking to nothing more than the essential, and that's exactly what Japandi preaches: aim for functionality and discard anything superfluous.
The Japandi style favours functionality and order. There's no object that doesn't fulfil a purpose. Not the case in your home? Get rid of it!
Order and spaciousness
Order and spaciousness are two essential terms in Japandi décor. To meet these requirements, opt for fluid, roomy and interconnected spaces that make the most out of natural light and strengthen the connections between inhabitants. It's important that decorative elements are placed to enhance this fluidity, and to remove any items that may restrict the flow and visual connection. You wouldn't want to play against Feng Shui energies, would you?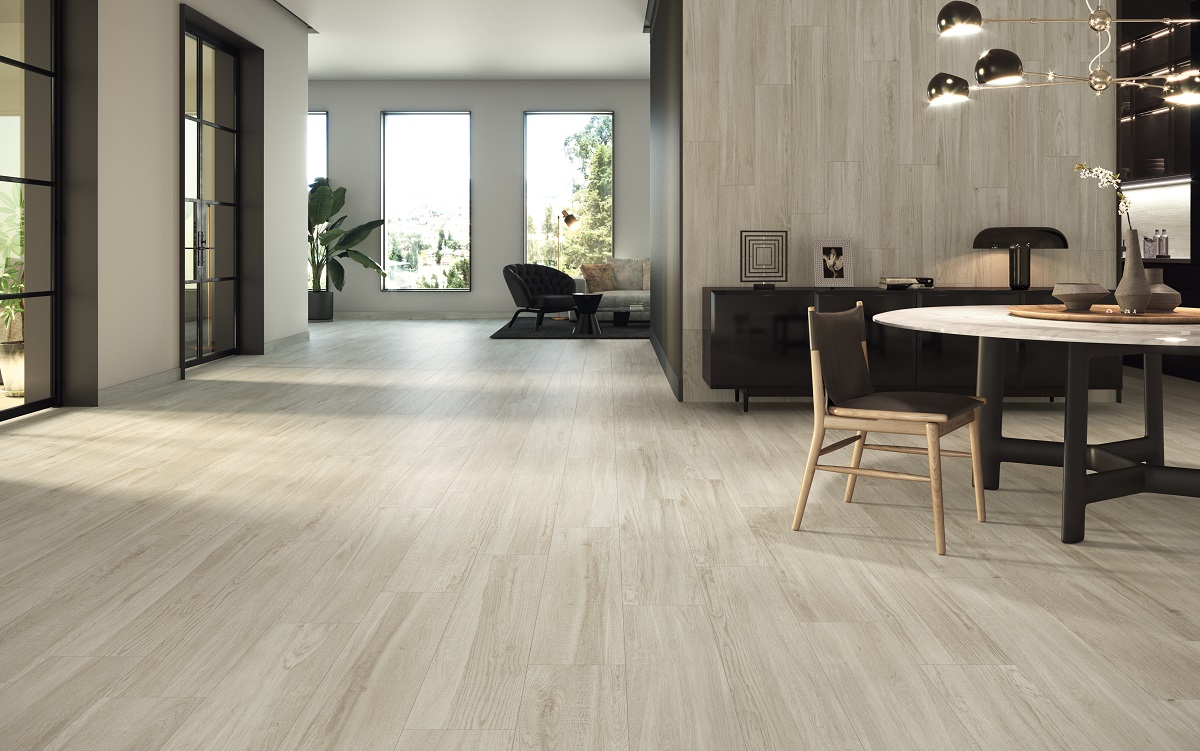 Japandi-style dining room with the Lakeview collection. The wood in the flooring, cladding and furniture is offset by understated touches of black in this project featuring large, interconnected spaces. Lakeview Bone, 23x120.
If you still want to reserve some rooms for private use, choose semi-walls, screens, glass enclosures or wooden panels, just like you would find in a Japanese home. These types of enclosures for interior/exterior delimitation can also allow you to bring in more light and integrate nature into the décor, as if it were a painting or mural.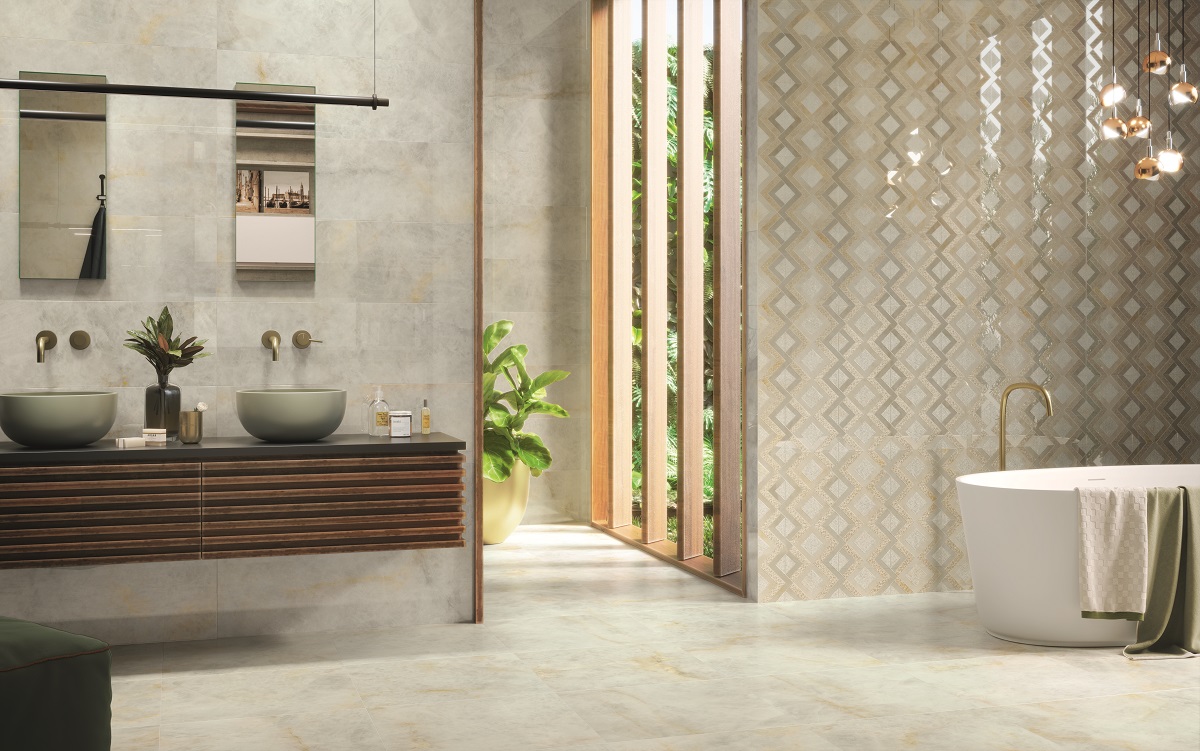 In this Japandi-style bathroom, the exterior sneaks into the interior through a floor-to-ceiling window partially covered with wooden beams. Kristalus White Series, 59.5x59.5R + Kristalus White 31.6x100R + Kristalus Etro Mix, 31.6x100R.
Materials
Based on the harmony of nature and the foundations of Wabi-sabi, which embraces the perfectly imperfect, Japandi turns to natural materials, such as wood, stone, rattan, bamboo, fabrics such as linen and decorative elements made of ceramic and glass.
For the structure, you can opt for natural materials or choose porcelain for maximum resistance, durability and easy cleaning, especially in more challenging rooms, such as the kitchen and bathroom. Nowadays, thanks to advances in manufacturing technology, you can find ceramics that perfectly mimic natural materials, such as wood or stone-effect tiles. As for wood, there are more authentic, rustic types of wood, full of grooves and knots, and others that offer a more linear look, ideal for the order and balance demanded by the Japandi style.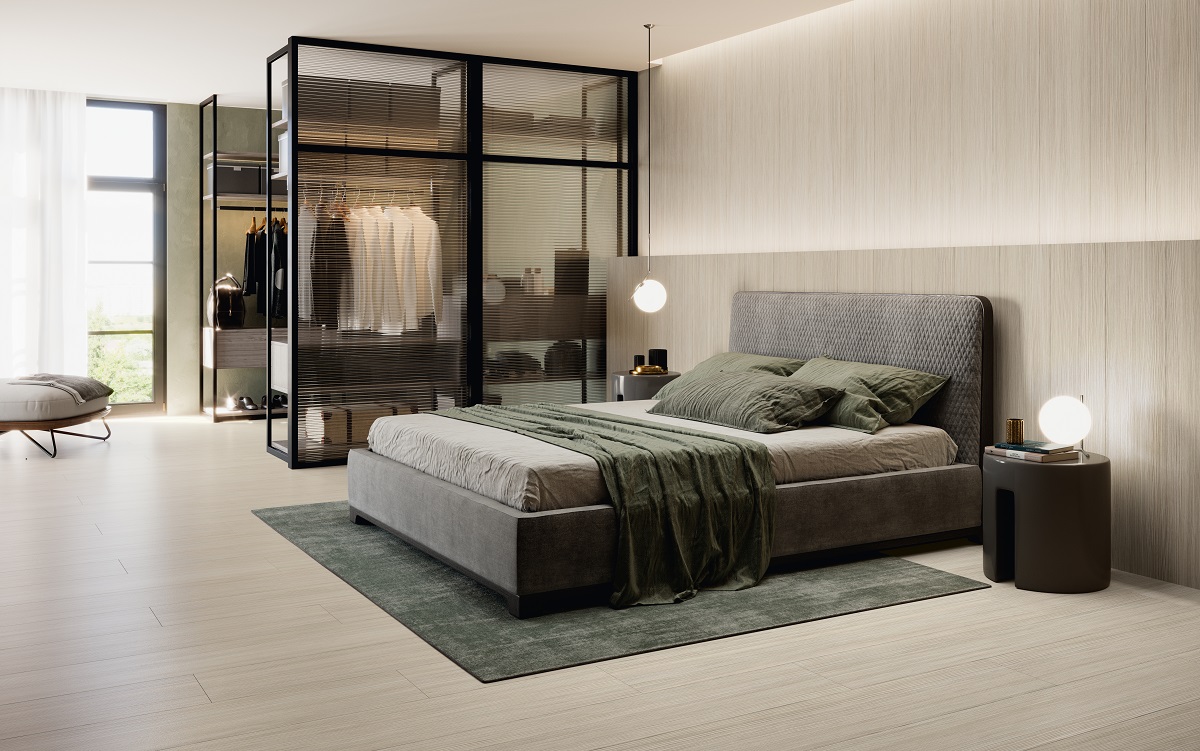 Japandi-style bedroom decorated with the Aoki collection, meaning 'green tree' in Japanese. This series is characterised by its clean, straight lines, devoid of knots and imperfections. Aoki Maple, 25x150R.
In terms of ceramic cladding, low walls, linear ceramics and geometric frameworks reminiscent of Japanese games such as Mikado are all in vogue. Mathematical perfection for accent walls.
The era of neutral colours
Never has there been a more golden age of neutrals than today. And it's not surprising, given their potential to bring peace and calm to spaces. In an era defined by stress, the home has become a place to seek refuge, a sanctuary in which to escape from the burdens of everyday life and take a breath, even if for just a moment. Japandi takes the chromatic palettes of Scandi countries, featuring whites, greys and soft pastels; and blends them with hues from Japanese design, such as earth tones, ochre, beige and gold. Black brush strokes also take centre stage in the new Japandi style, and greens find their space as a powerful ode to Mother Earth.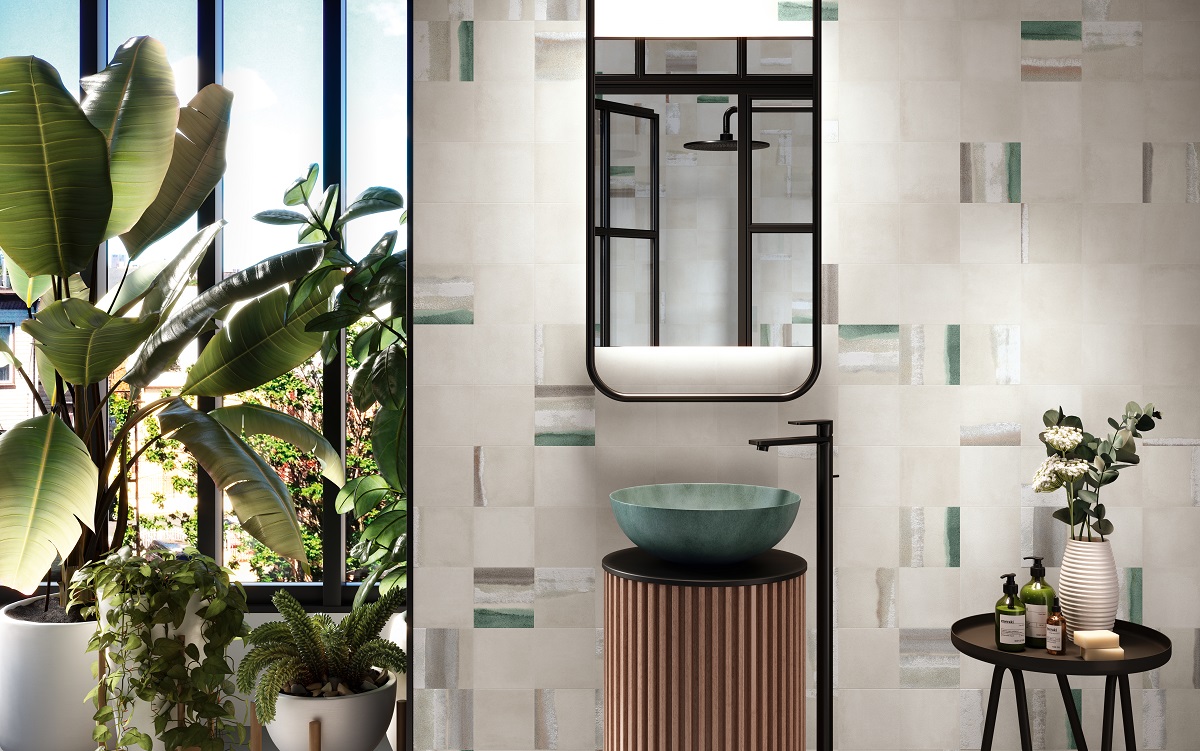 Matter by Zyx has all the ingredients to decorate a very Japandi bathroom. Achieve the look of this stylish bathroom with the Bone finish and understated hints of green, with the series washbasin being the biggest exponent of this. A signature piece hand-crafted by Spanish artisans that heightens the Wab-Sabi undercurrent of the décor. Matter Bone, 15x15 + Matter Canva Bone-Green, 15x15, + Matter Green washbasin.
Colour contrasts are another important feature of this interior design style. Would you dare to mix wood shades — Scandi-style light wood vs the dark wood of Japandi? How about mixing different stone hues, or combining stone and wood tiles in the same space, such as the bathroom? Create, create and create.
Plants as a natural form of expression
Decoratively speaking, the Japandi style tends to embrace freshness but without going overboard. Essential pieces of hand-crafted, wooden, finished furniture that are low to the ground coexist with ceramic ornaments, iconic pieces of glass, plus cushions and textiles made of natural fibres and in serene colours.
But if there's one thing that defines Japandi-style décor, it's plants. Bringing an element of nature and fresh air into the room is a must in the Japandi style bible. Be sure not to go over the top, though. Pick out a couple of simple-leaf or leafy plants you really like and place them around your room. Ready to turn your project into a sanctuary?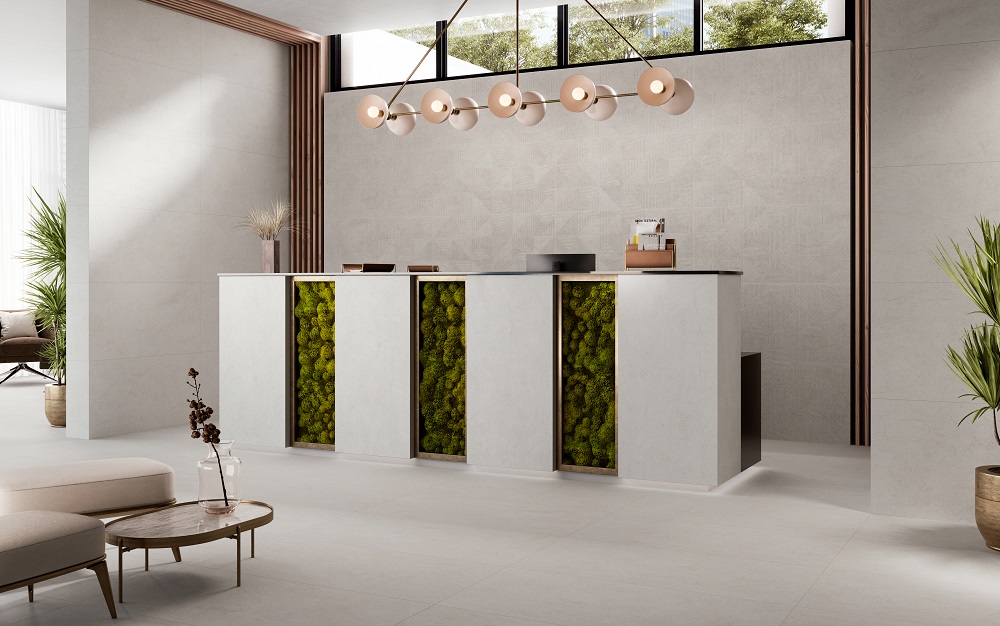 Vertical gardens can also be a very natural ornamental element for Japandi-style projects outside the home interior. Hudson White 59.5x119.2R + Oneida White 59.5x119.2R.