Having trouble making your home décor feel warm and comfy? Don't worry. We've put together some great tips for creating a warm, cosy home. Bye-bye, cold. Hello, holistic temple of comfort.
Feeling cold is a physical reaction, but it's also a subjective, emotional one. That's why if you have a bit of interior decorating know-how, you can tweak that feeling and improve the warmth and comfort level of your home with just a few simple steps.
The COVID-19 pandemic has forced us to spend more time at home than ever before. So why not learn how to make your home more inviting for your loved ones by creating the perfect atmosphere? Have a read of these tips for making a snuggly home during winter:
How to make your home warmer and more welcoming: essentials for 'rejecting' the cold and embracing warmth
1. Wood is your best friend
Wood is one of the most useful resources for creating cosy home interiors. The more cracks and knots the wood has the better as this gives it a more realistic, traditional look, transforming your home into an alpine cabin. In terms of colours, darker and medium shades such as oak or pine wood are ideal for intensifying the feeling of warmth.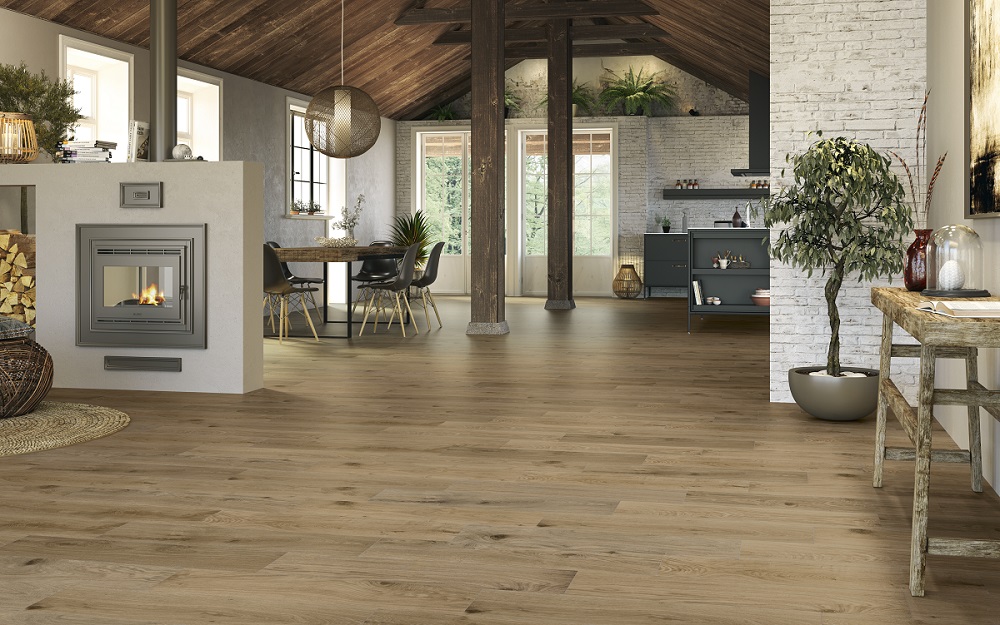 Rustic design styles are perfect for achieving a cosy home. In the image, Honey 21 8x84 from the Columbia series dresses this nature-inspired interior.
Another great secret to creating a more comfortable and inviting space is to opt for wooden flooring and cladding. You can go for natural parquet flooring, although we recommend porcelain as it works better in more challenging rooms, such as kitchens and bathrooms. Colorker makes its wood-effect tiles so that as well as looking incredibly realistic, they're also pleasant to the touch. To ensure they appeal to your sense of sight and touch. Look, feel and enjoy.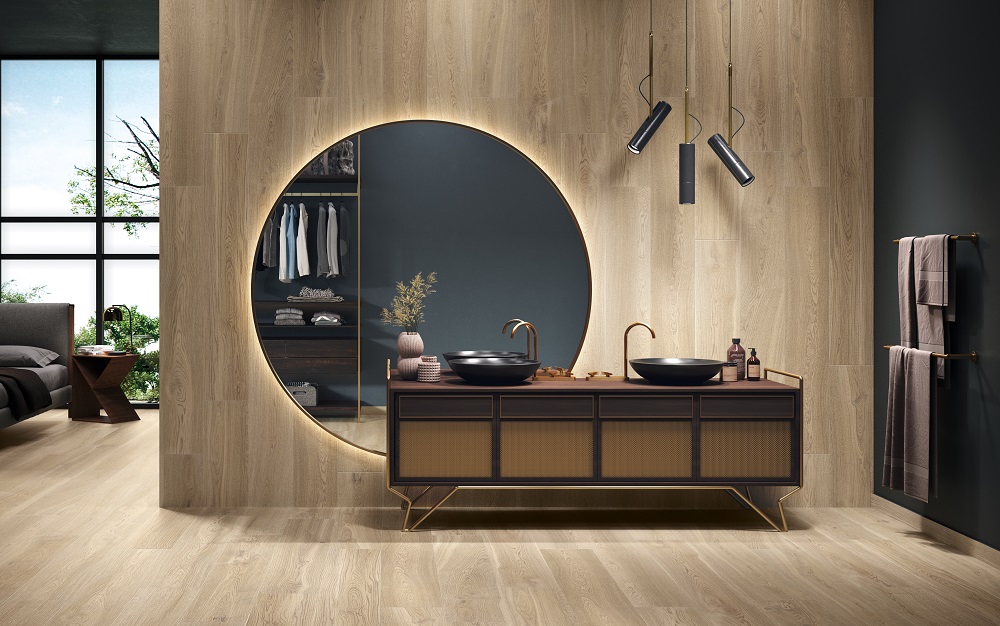 Completely wooden bathroom featuring the new Kaira Maple, 25x150R. Ceramic wood is ideal for wet areas due to its resistance and durability.
Another tip for using wood to create cosy homes is through tables, doors and other types of furniture. Does your house have exposed beams? Don't hide them, bring them to life! The result will be a home that's warmer and more rustic than ever.
2. Dress the walls
An empty white wall suited to minimalist aesthetics may bring you peace and harmony, but it will decrease the feeling of heat. Decorate your walls with paintings, frames, tapestries or wallpaper, place a mirror — which will make your space look larger — or line your walls with bookcases. If you're a tile lover, ceramic relief tiles and decorations can be your allies when it comes to making your walls feel warmer and stand out more. Choose whether you want them to be geometric and voluminous, match the wood-effect tile flooring or look like wallpaper without actually being wallpaper, like with our Uniq collection. What do you think of its unique interplay of patterns and colours for your kitchen or bathroom?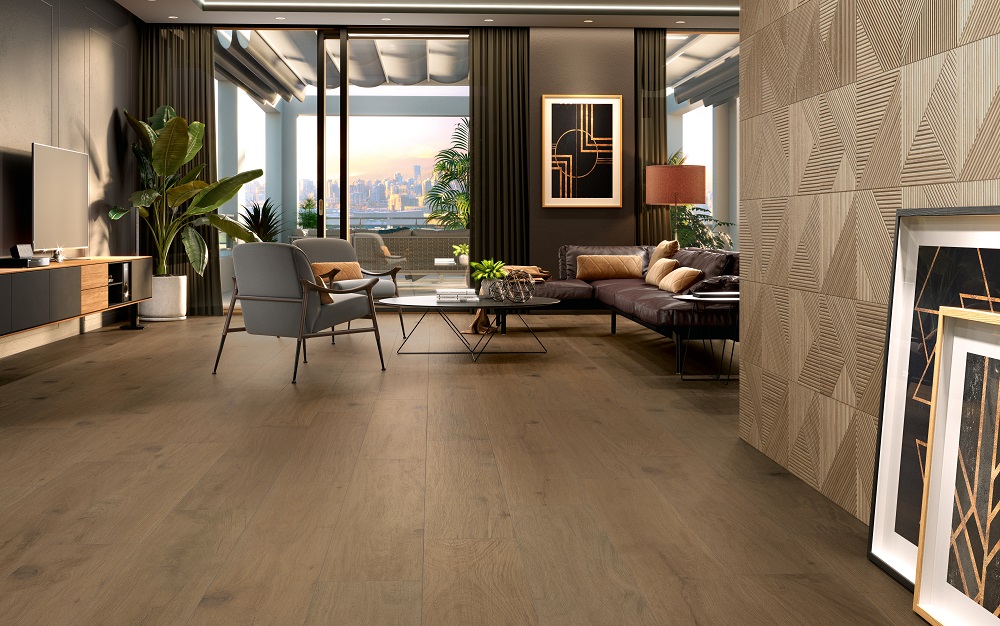 Century series Oak by Colorker, 25x150R, with Tangram Walnut cladding, 31.6x100R. This best-selling geometric relief tile stands out for its interplay of light and shadow.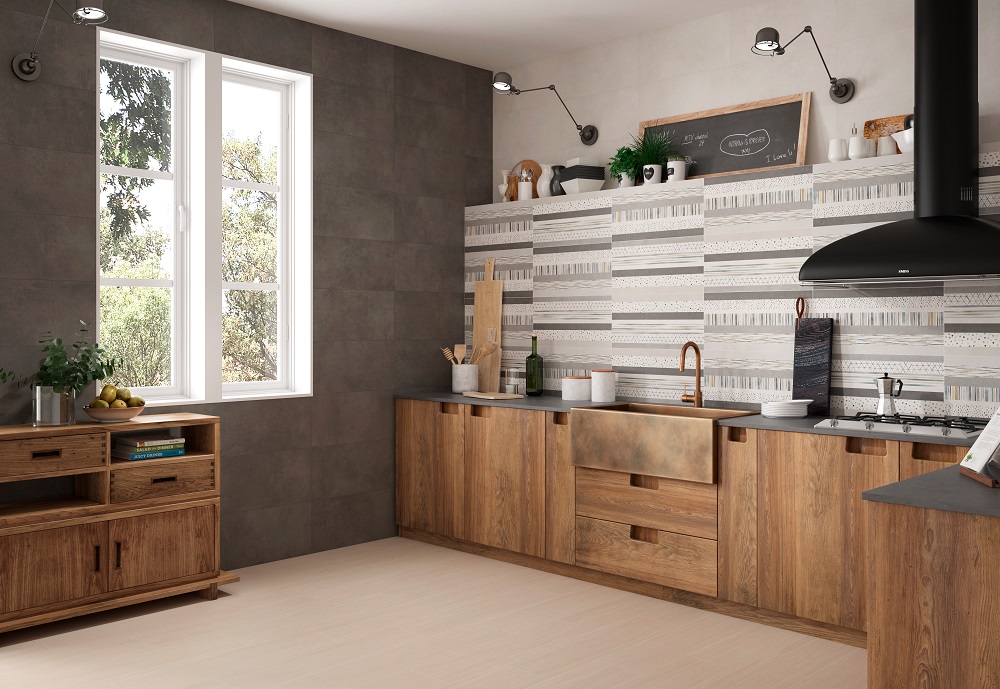 Uniq ceramic wall tiles simulating fun, dynamic wallpaper: Belly Colours, 29.5x59.5R. Combined with series base flooring and cladding: Uniq Pearl and Uniq Graphite, 29.5x59.5R.
3. Colours from the centre of the Earth
Any interior designer who knows their stuff will tell you that earthy tones are the warmest on the colour wheel. Shades ranging from off-whites and beiges, to cottos, ochres, browns and aubergines are ideal for bringing warmth into your home. In fact, Pantone has already named some of these shades as 'it' colours for 2022, from medium brown 15-1040 Iced Coffee, to brownish polka dots, 17-11115 Petrified Oak, 16-1105 Plaza Taupe and 18-1312 Deep Taupe.
The powerful, red-tinged heat from the core of the earth is also great colour inspo, ideal for bringing out the reddish tones in the most inviting houses in the world. It's one of the star colours of our new Matter by ZYX collection, which we also think gives the space a very warm and cosy rustic feel.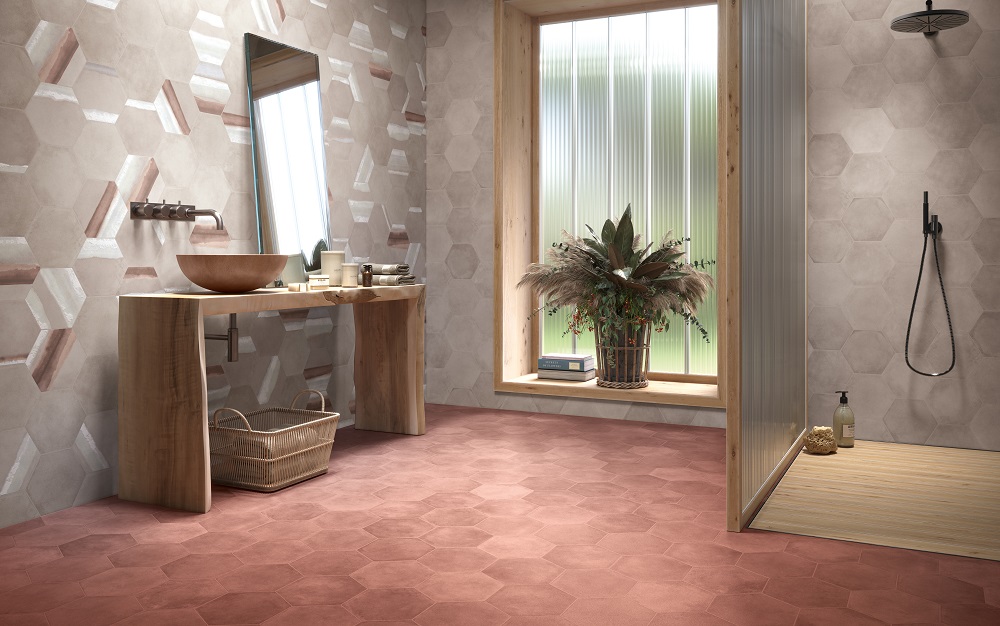 Tile combinations for bathrooms featuring the Matter series by ZYX. Its artisan, sculptural look elevates the interior design to a work of contemporary art. Matter Taupe, Canvas Taupe Red, 20x23 + Matter Red toilet, 40x15, one of the new additions to the collection for 2022.
If whites and greys are your colours of choice and you don't feel like switching things up, you can 'break them up' by adding touches of wood in your furniture, flooring and wall tiles. When it comes to stone, avoid the cool of this material by graduating towards warmer colours, like the beige version of Hudson, inspired by the original Jura stone.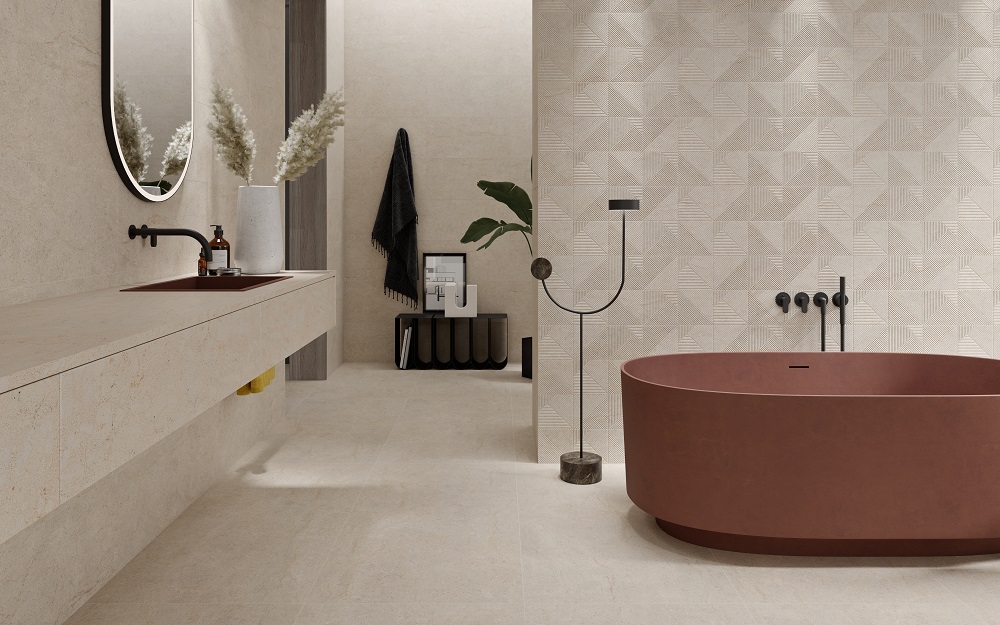 Bathroom decorated with Hudson Beige 29.5x59.5R and 59.5x119.2R + Oneida Beige relief tile, 29.5x59.5R. The outstanding feature is the use of neutrals to accentuate the brick-coloured bathtub.
4. Rugs, blankets and throws: dress up your décor just as you would yourself
There's no living room more inviting than one with a big, comfy sofa piled high with cushions and a throw or blanket for snuggling under. The same goes for your bed; why not dress it with bedding that adds personality and a greater feeling of warmth? The best thing about these accessories is that you can either use them or not, but they provide great visual comfort to cosy houses. For your floor, a good rug is great for playing with children or making walking barefoot more enjoyable.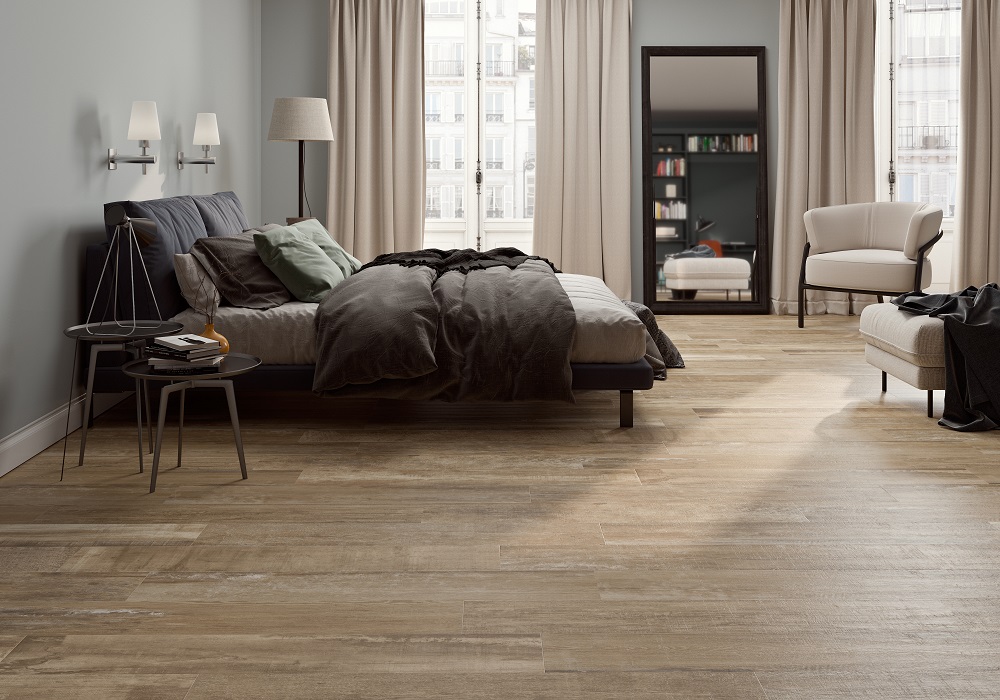 Bed decorated with cushions and throws, which you'll never want to get out of. Flooring: Soft Brown, 19.5x119.2C.
5. Cosy, rounded furniture
Remember earlier when I said that feeling warm and comfortable has to do with the senses? That's why it's so important your furniture doesn't just feel comfy but looks comfy, too. Go for sofas, armchairs and seats with large, 'over-stuffed' cushions and rounded edges that will help you relax and unwind. Because your décor should be stylish, warm and functional.
Another secret to making a house warmer using furniture is to dye it rich, warm colours, such as brown or burgundy. Pile your sofas with cushions and select natural fabrics with soft-touch textures.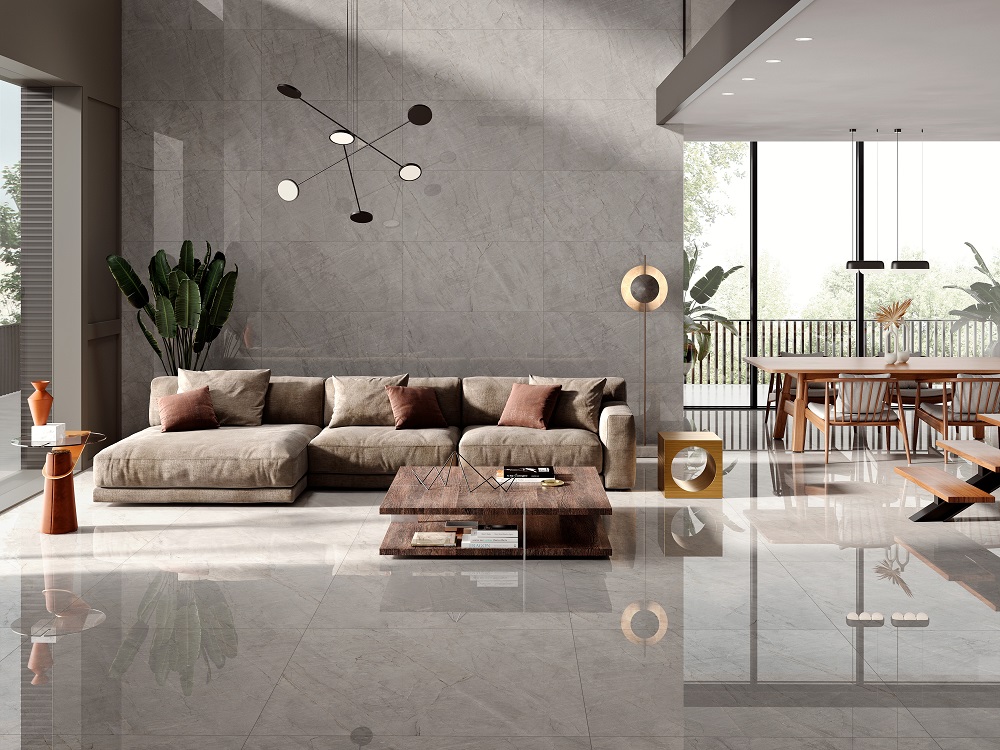 We've offset the slight cool of the Sky Grey marble, 60x120R, with wooden furniture and a soft sofa in warm colours.
6. Strategic lighting. Because everything in interior design serves a purpose
Lighting is always a key aspect of interior design. If your house is south facing, the sun will flood your house with warmth during the day, but don't worry if that's not the case. You can achieve a cosier effect with warm-temperature bulbs, and only using cold lights for specific spots or focused light points. Lamps with warm-temperature lampshades will also help you, and candles can be an essential tool for creating an ambience that is as romantic as it is warm and comfortable.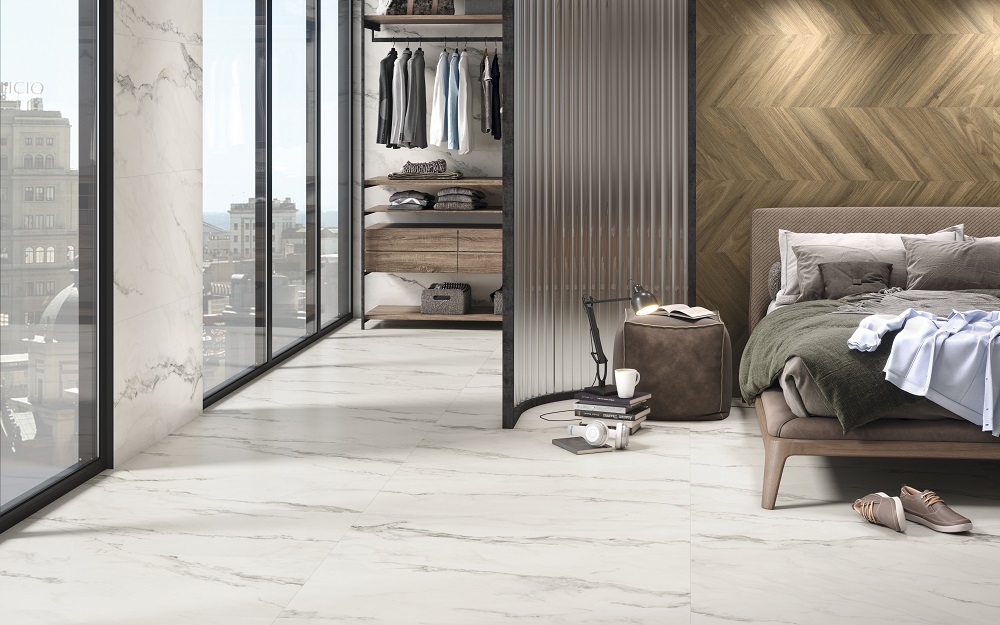 Bedroom with large windows that take advantage of the outside light. A warm light point has been added to accentuate the wooden cladding above the bed and increase warmth. Flooring: Insignia White, 59.5x119.2R.
7. Fireplaces are a must. For the warmth of the home
What provides more warmth than heat sources themselves? During winter, we'd be 'unable to live' without blasting the heat from our radiators or heaters. However, there are more obvious heat sources that not only create a physical feeling of warmth, but also a visual one, like a good fireplace. What's more, fireplaces give homes a snuggly, warm feel, just like in a nice, country home. 'Baby, it's cold outside!'