Wood, cement, stone and more... there are so many options out there for outdoor and terrace flooring. But do you know which is best for your project? Here are some tips from our professionals for a beautiful - and safe - terrace.
If the terrace is the new living room, is it time to give your outdoor space a makeover? You've made your decision - and you're not the only one. According to a report published by property portal Fotocasa, searches for homes with a balcony/terrace and garden have shot up by over 40% since Covid-19 forced us into lockdown. And when you're embarking on renovating and decorating your terrace, there are a number of things you need to consider, such as which outdoor flooring to choose.
As experts in manufacturing outdoor porcelain tiles, Colorker is here to give you some top tips and technical advice so you can get just the right terrace flooring to suit you, your needs, and your project. Ready? Living your best life under the sun (and stars) is almost here.
Outdoor tiles: is porcelain the best material to choose for your terrace flooring?
There might be a number of different and equally valid options out there for terrace flooring, but the simple answer is yes. As well as its endless decorative possibilities (choose from extra exclusive products in wood, stone or cement, among others); porcelain flooring is a safe option for outdoor use thanks to its strength and durability. And it stands the test of time well, remaining unchanged even in the face of harsh weather. It's also incredibly easy to clean and maintain, and is simple to install in comparison with other materials.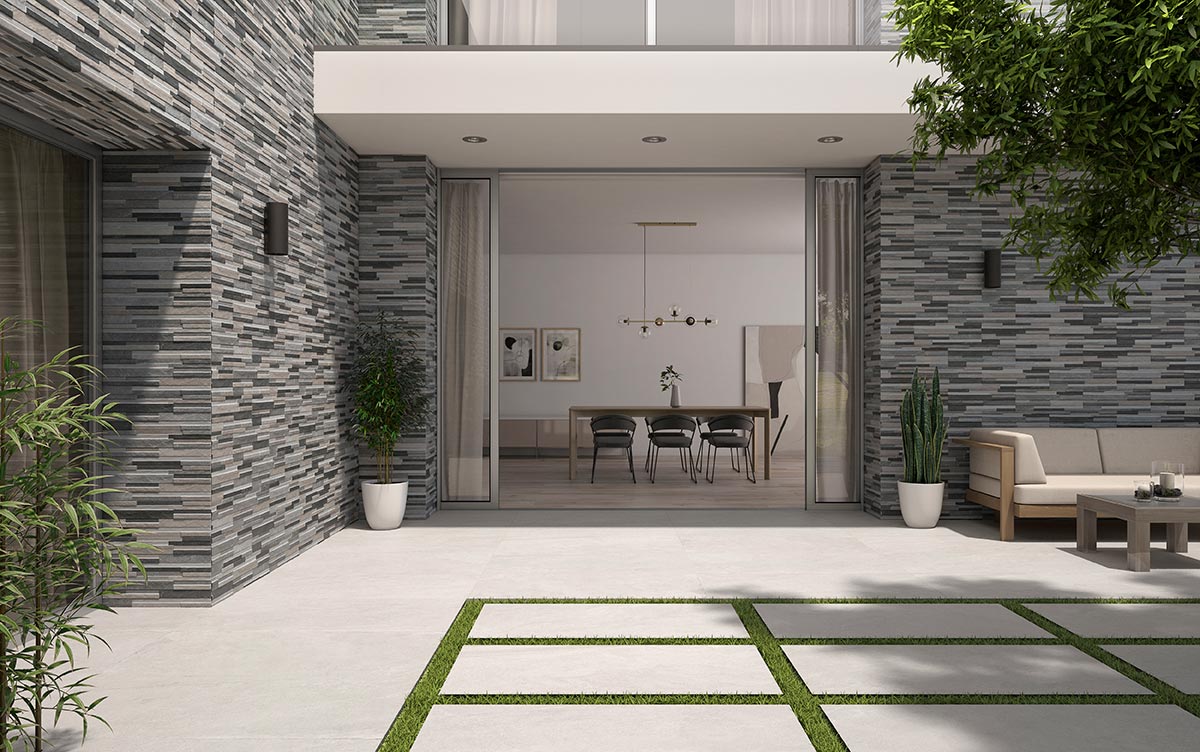 New Horizon collection. A stone effect collection from Colorker, suitable for outdoor use.
Things to think about when you're looking at ceramic tile flooring for your terrace:
Porosity. If you're looking for flooring for a terrace that's open to the elements, you're best bet is to go for low porosity porcelain tiles. They absorb less water, are incredibly weather resistant and durable, and are more scratch resistant.
Thickness. The thicker your tiles, the stronger they are. Generally speaking, the average thickness of an outdoor tile is 10 mm, but you can get floor tiles in thicknesses up to 20 mm that are easy to install and don't require any adhesives or joints. Another advantage of double-thickness flooring is that you can place it directly over surfaces such as cement, gravel or grass, and you can even use them to create a raised path. This practical and quick to install elevated flooring can also be used to conceal cables and pipes thanks to the cavity it creates underneath.
Tile size and rectified options. When you're choosing outdoor flooring (especially if it's for a larger terrace), it's worth thinking about larger format tiles that will give you a more uniform look. And if you go for rectified tiles, you'll also achieve smaller gaps between the tiles.
Non-slip. If you're looking for the safest option for your terrace, opt for non-slip outdoor flooring. And if it's for a swimming pool area, it's an absolute must. Floor tiles are classified by their non-slip properties (GRIP), with class 3 (or R11) being the highest level.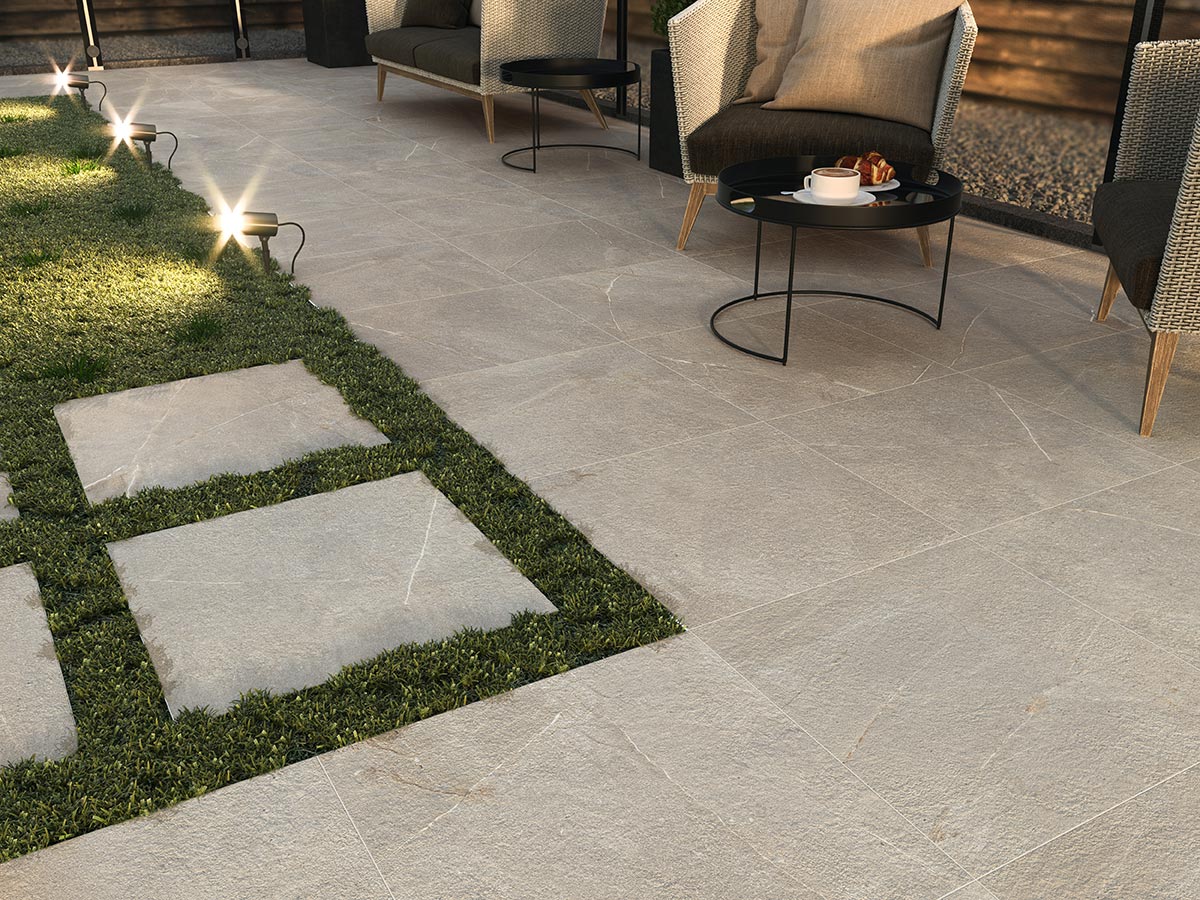 Madison Bone Duplo series. Duplo is a 20 mm range from Colorker, specially designed for outdoor terraces and flooring.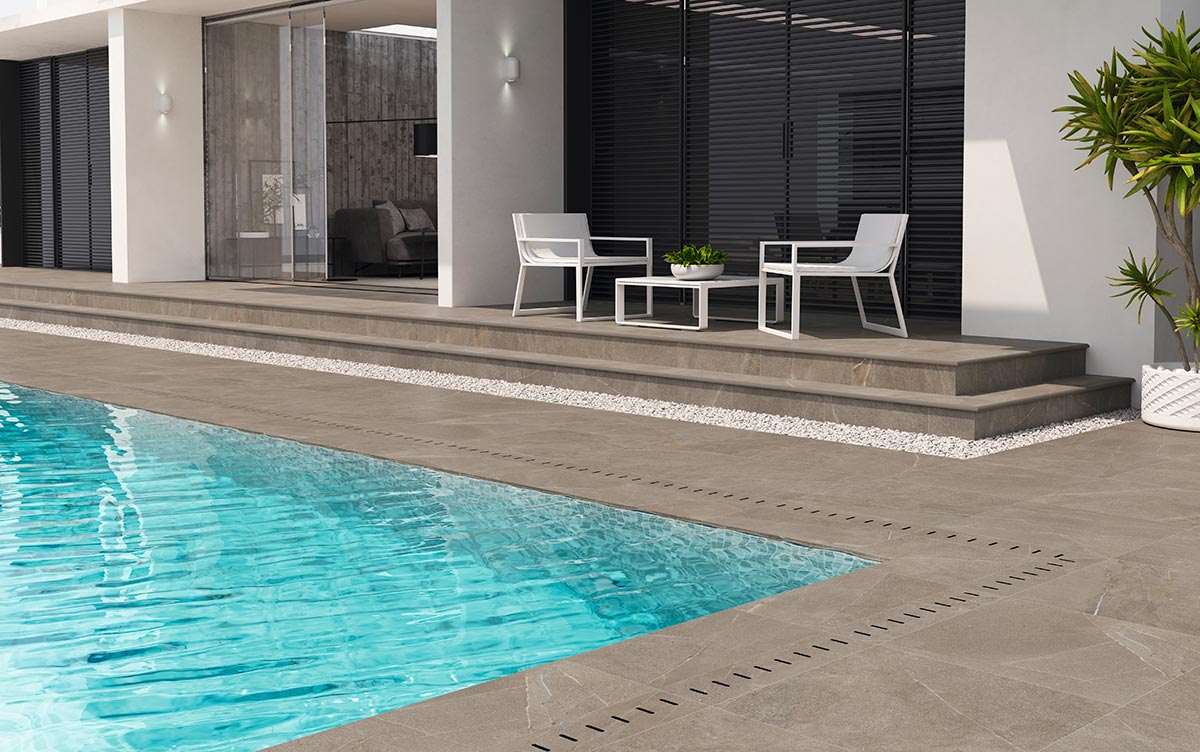 Madison Noce Puplo 60 x 60 series. A stone effect collection from Colorker classified as R11/C/class 3.
The best flooring ideas for terraces: pure ceramic elegance
At Colorker, Operation Summer is in full flow, and our new tile collections - perfect for your terrace or outdoor area - have already landed. Next let's look at some ideas for the type of finish.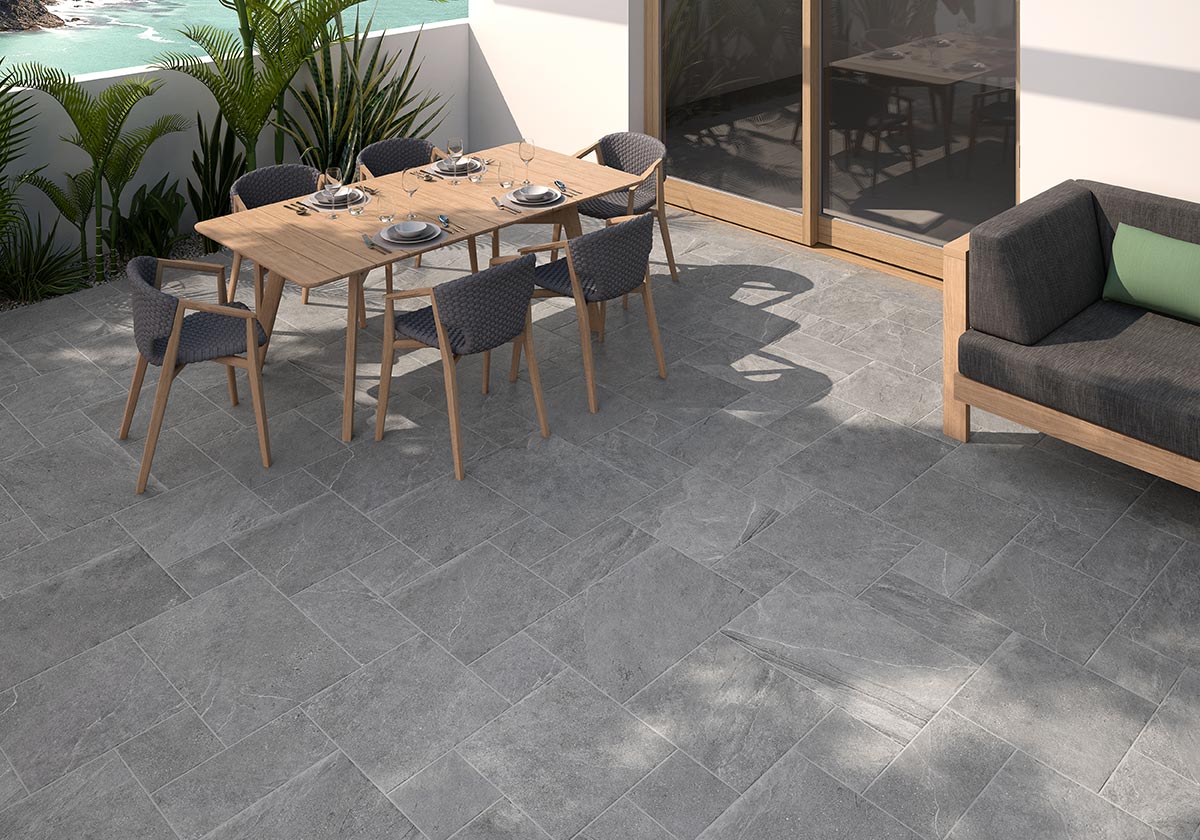 Giant Grey collection. Part of the new Modular Concept collection by Colorker, this collection includes several formats within one package.
Wood effect outdoor flooring
Wood effect tiles are the ones to go for if you love rustic or country house inspired terraces, but can't face the maintenance of natural wood. But this authentic look will equally suit more modern wood terraces to perfection - why not go for it? It all depends on the décor you go for.
One of the advantages of wood effect outdoor flooring is its warm look. This is a chameleon of a choice, and it will blend into its setting perfectly. At Colorker we're committed to innovation in ceramic production, which means our latest ceramic wood collections have an incredibly authentic look, with a delicate grain and other details you'd expect from the real thing. And we've also added more premium pieces and new formats to our range of outdoor floor tiles, including options in 23 x 120 and 25 x 150 format, giving you a wealth of options and ideas for your decor projects.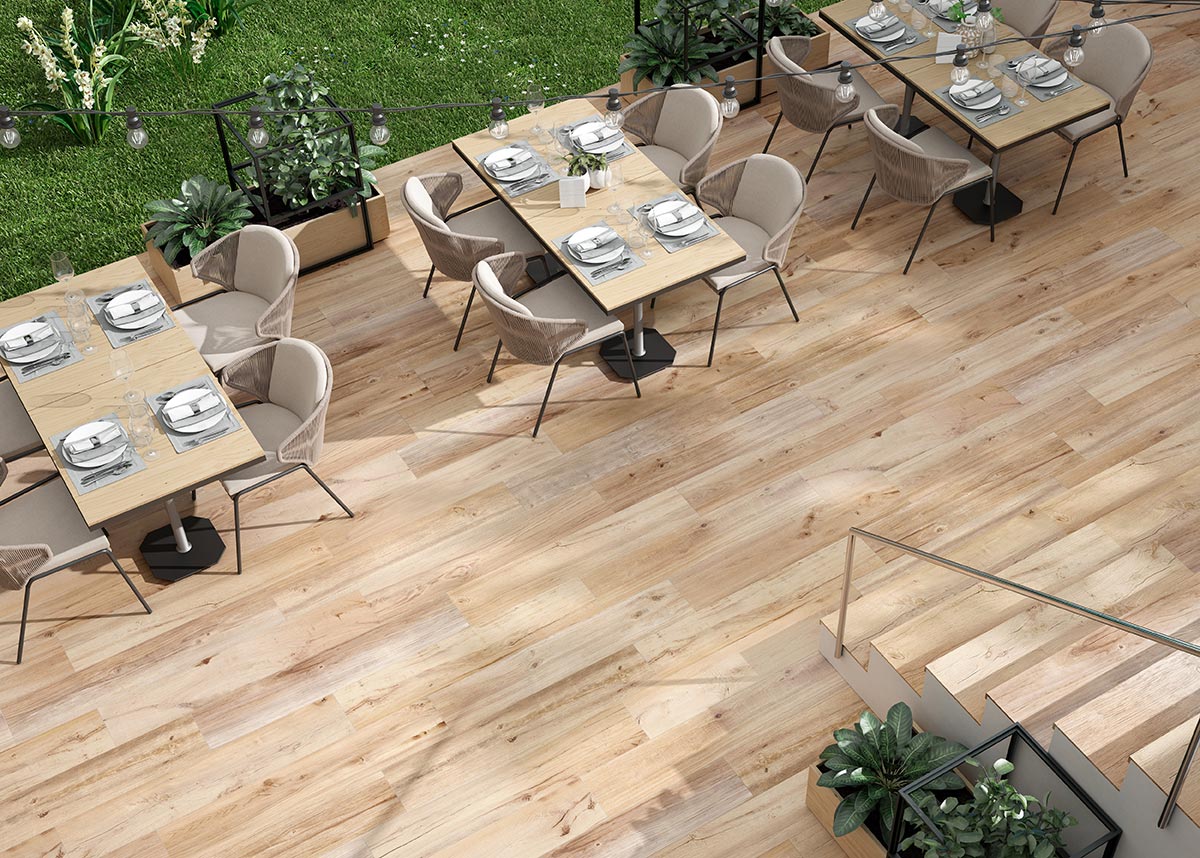 Hamilton collection wood effect tiles. Available in a GRIP+ non-slip version, with options available for steps.
Stone outdoor flooring
Of all the tiles out there for terrace flooring, stone effect porcelain tiles are one of your best bets. The latest designs take a masterful approach to the colour palette, and will add a stunning mineral character to your outdoor space. Burgundy stone, quartzite, granite, travertine, slate, limestone, etc. Porcelain stoneware give us the capacity to reproduce all these distinctive types of natural stone, with on point textures and details, material effects and hues. New generation stone gives you a multitude of options, and the ability to play around with the way you install the tiles - stone mosaics are taking interior design in a new aesthetic direction.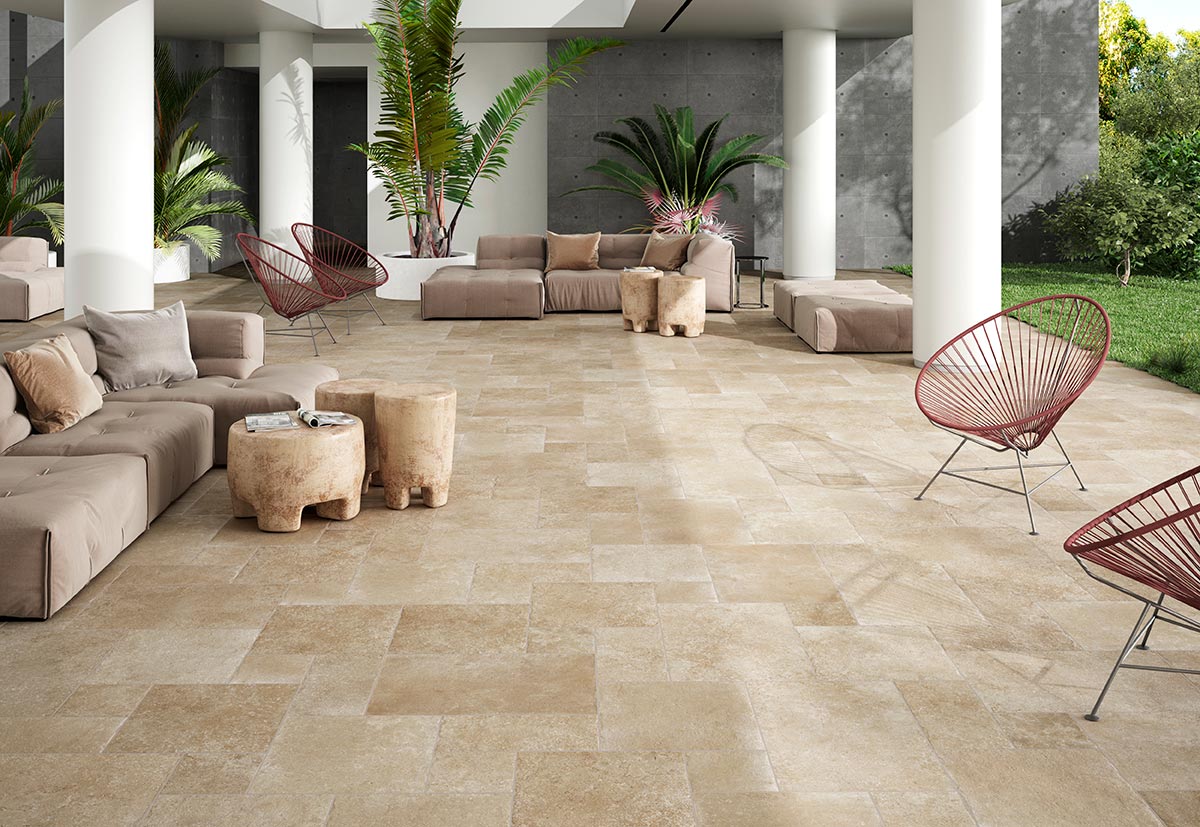 Loira is a faithful reproduction of travertine stone. Find out more about Modular Concept in this video.
Cement outdoor flooring
Cement is another terrace must-have. You can use this aesthetic to create a restrained, harmonious environment, and it can be the perfect finishing touch to your other decorative elements. Dreaming of an industrial or urban terrace? Or more boho with sand effect cement? Get the total concrete look.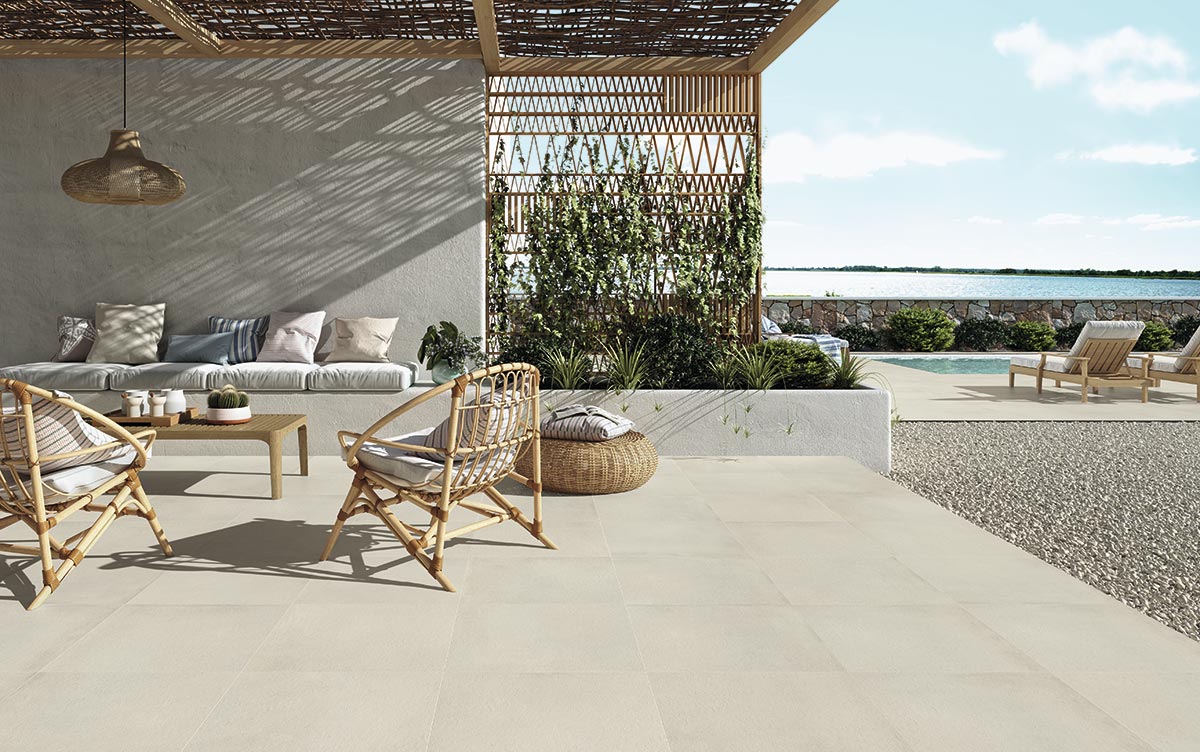 Norton Bone Duplo 60 x 60R terrace flooring. Ideal for use in or around your swimming pool, achieve an Ibiza style Mediterranean look like the one in the image.
If you're looking for a raw aesthetic for your outdoor flooring, use the same tiles both in and around your swimming pool. You could even use them to create swimming pool steps, or place them on the walls for an endless look.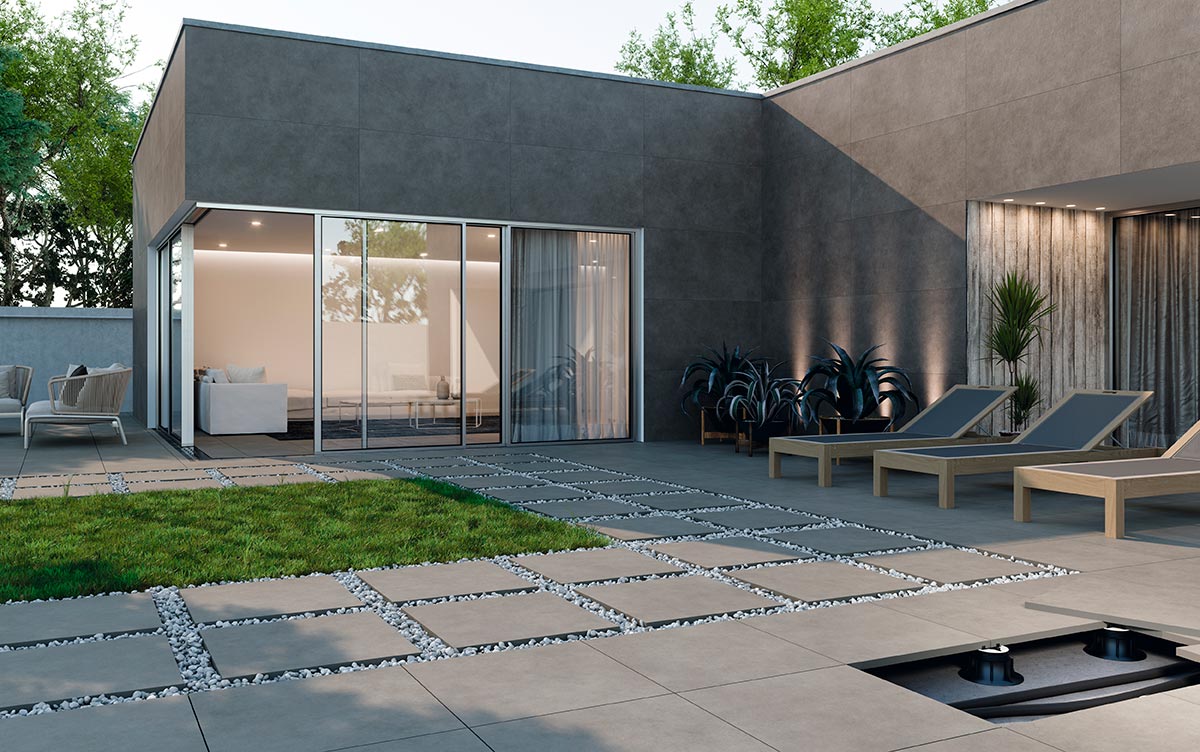 Diverso technical porcelain cement look tile collection. You can use these tiles to achieve continuity between your walls and floors, thanks to the large formats.
Wood deck tiles for terraces: a new ceramic direction
Thanks to its strength and durability, and excellent resistance against weather conditions, wood decking is a popular choice for terraces and outdoor flooring. Colorker has achieved the perfect copy of this elegant and robust material with its new Deck collection, with a ceramic composition that guarantees its technical performance. Deck represents a new direction in outdoor flooring, combining maximum safety with a relief aesthetic that pays attention to every little detail. Class 3/R11 non-slip outdoor flooring that blends nature with nature.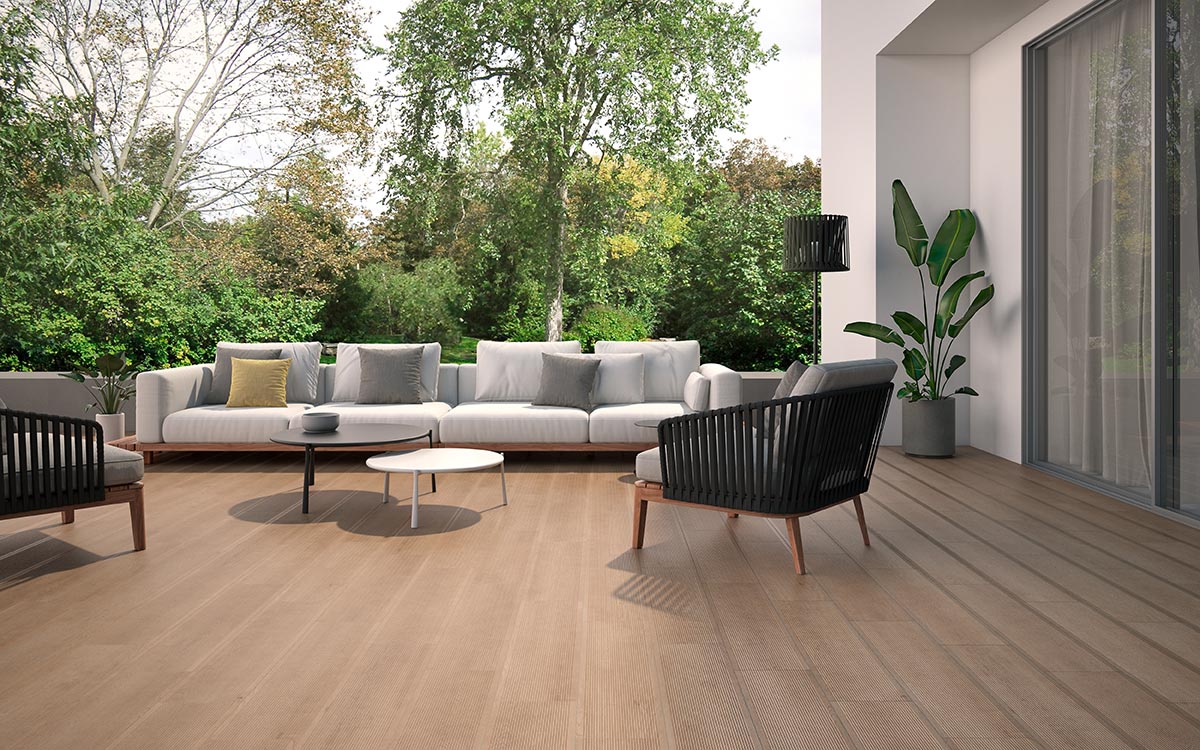 Colorker launches its new Deck ceramic series, inspired by wood decking. Deck Natural Grip + 21.8 x 84.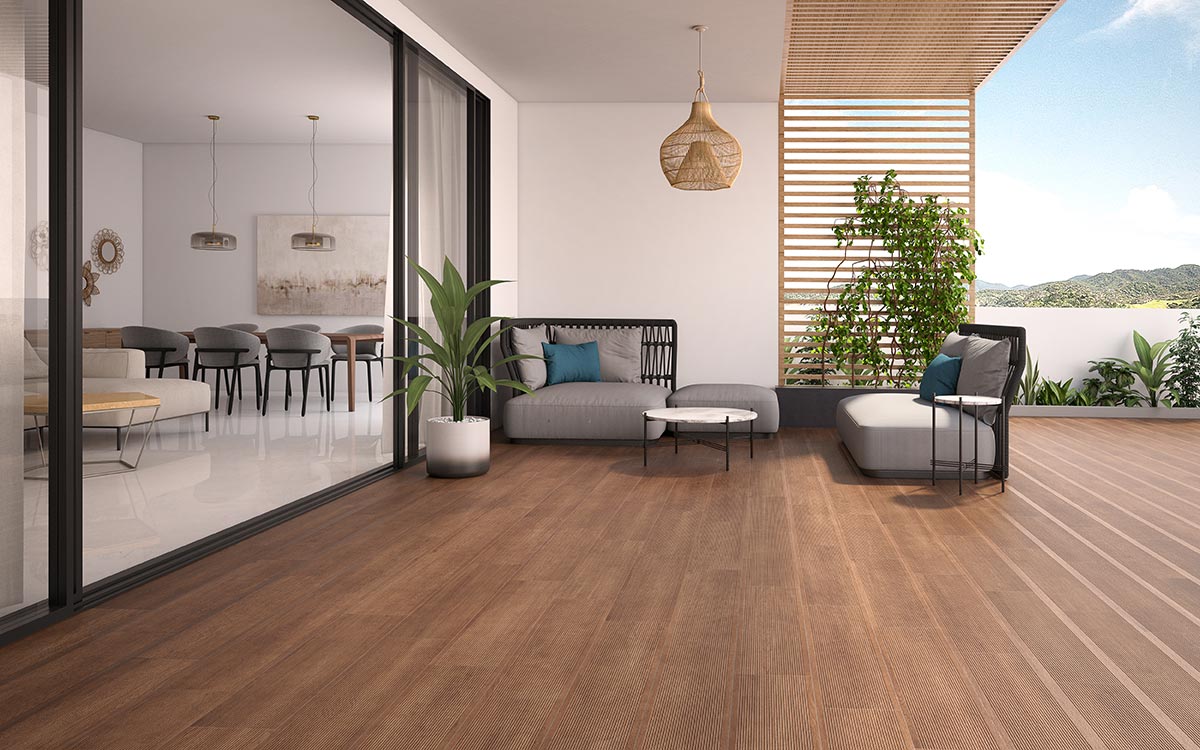 Deck Oak Grip + 21.8 x 84. The perfect choice of outdoor flooring to open your living room out to the terrace.
By now you must be ready to discover even more terrace decor ideas... Check out our "Terraces" Pinterest board, and get inspired! Stunning and practical terraces are just a click away.
▸And if you need any more information, just contact us.