Colorker expands its range of ceramic wood proposals with this collection that has a rustic air and features highly realistic graphics. A touch of nature for both interiors and exteriors, as it comes with GRIP+ non-slip finish in 23x120 and 30x120, 20mm-thick formats.
Wooden tiles have long been one of Colorker's star products and have been the most successful at the exhibitions. The company has made great advances in terms of design and manufacturing to make its ceramic wood products hugely realistic, capable of emulating the same warmth and quality as natural wood.
The new Hamilton collection is the result of this constant quest for excellence. A material whose graphics -a subtle melody of knots and veins- bring an elegant rustic style to rooms. Hamilton is also born in response to a public who seeks design and quality at the best price, and it includes a new format: 23x120.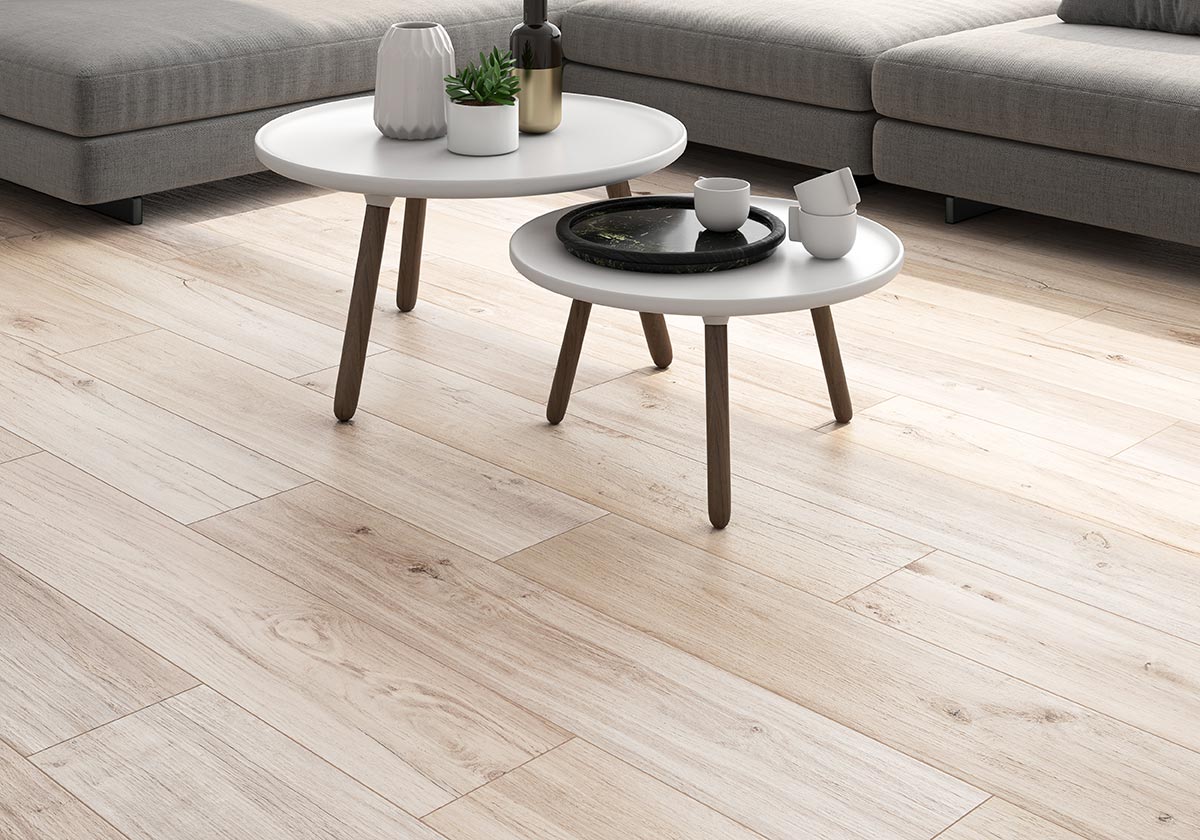 Hamilton Maple. Colorker is committed to the segmentation of formats with the new 23x120.
Bathrooms and kitchens with a heart of wood
Characterised by its elegance and perfect imperfection, Hamilton is an ideal collection for bathrooms, as well as rustic or vintage feel kitchens. Quality and easy maintenance for demanding spaces, without sacrificing the authenticity that only wood can bring to these types of rooms.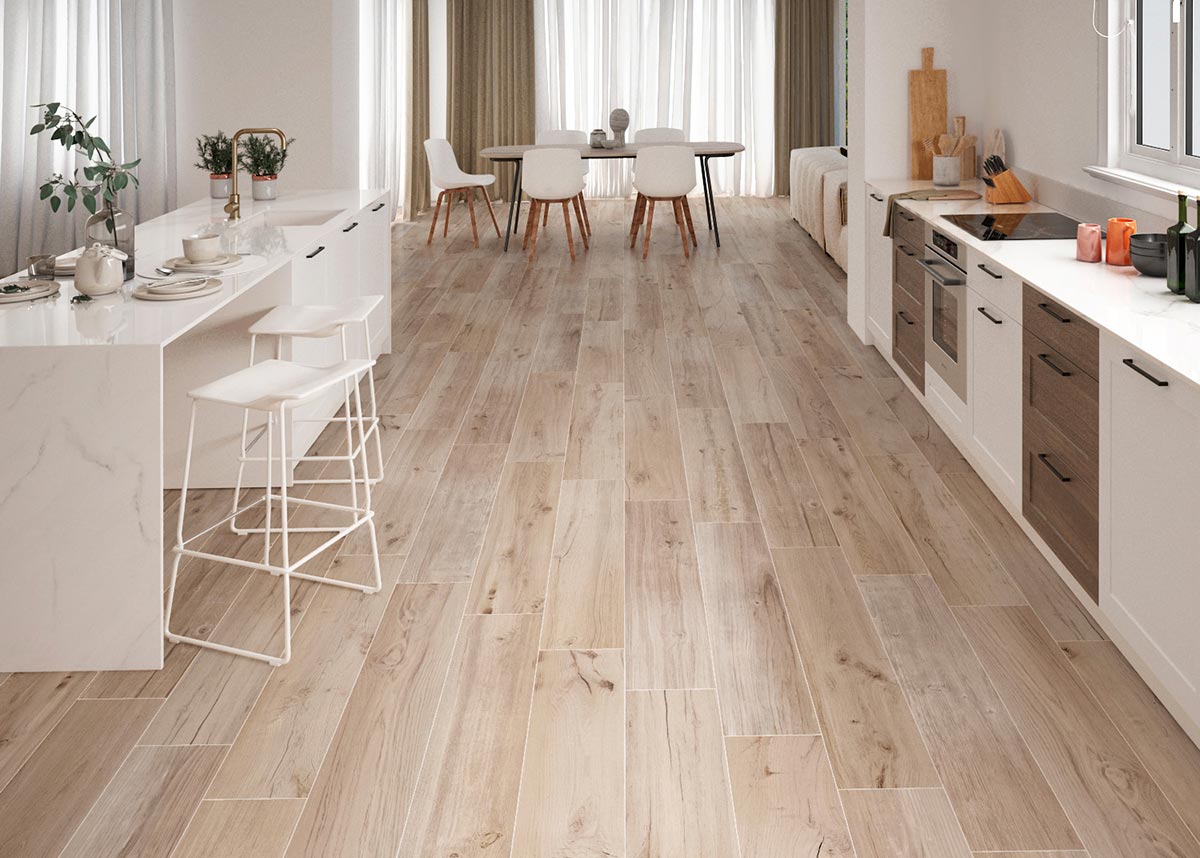 Hamilton Maple. Create an on trend white and beige kitchen with wooden flooring.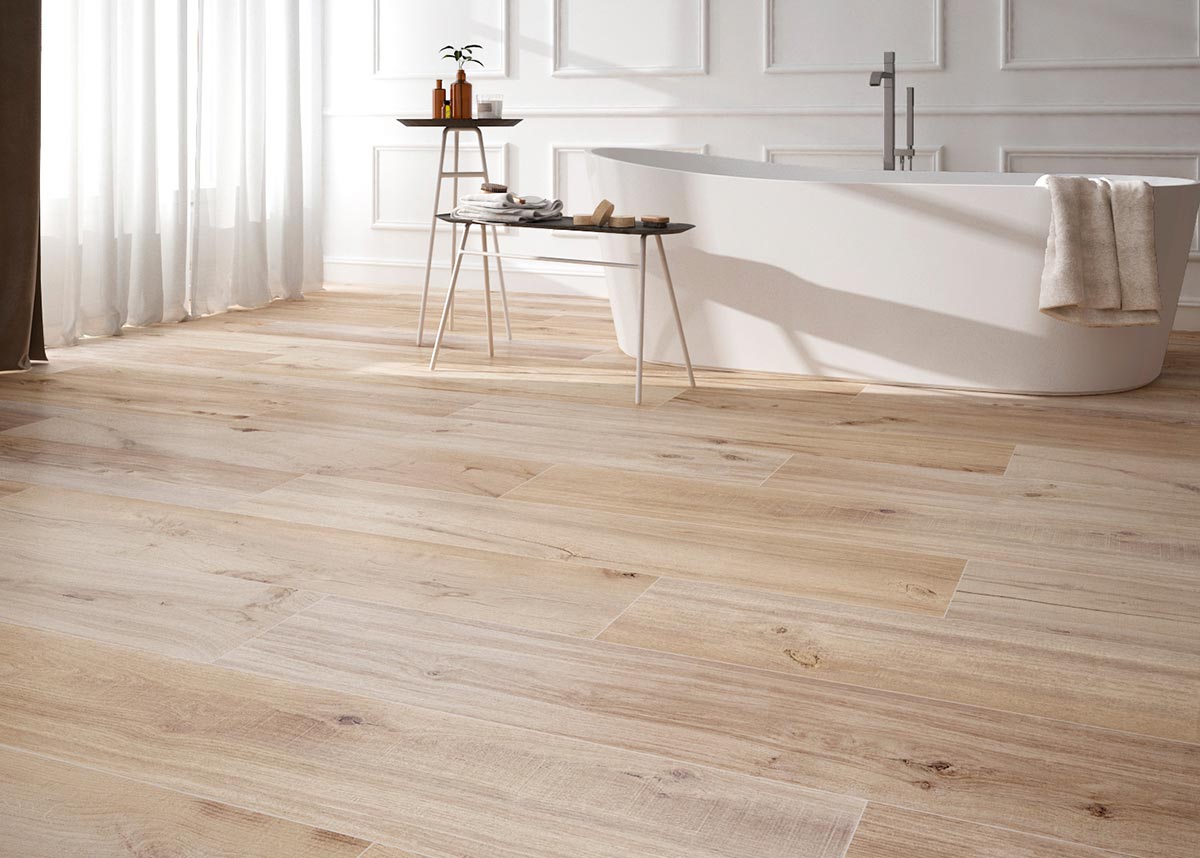 Hamilton Natural. Nature steps inside the bathroom.
Hamilton is also suitable for integrated spaces, such as living rooms where the floor extends outside onto the terrace. This Colorker series also includes the Duplo version (double thickness) and Grip+ finish with a special soft touch and non-slip quality, adapting perfectly to exterior spaces.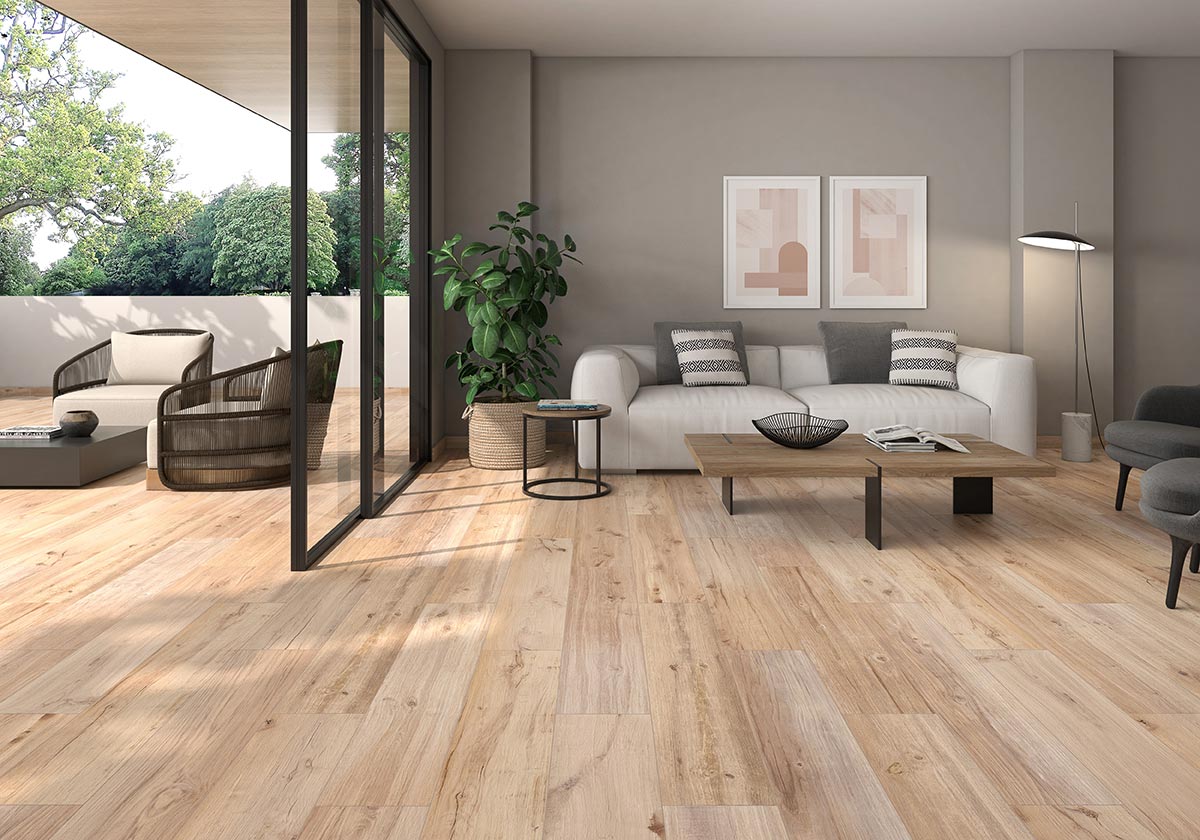 Hamilton Camel. The technical characteristics of the series are perfect for integrated spaces.
Touch wood
Beyond mere aesthetics, based on intense, woody veins and warm and elegant tones; Hamilton stands out for being pleasant to touch. It's as if you could feel and touch the wood. The collection comprises four different finishes: Maple, Natural, Camel and Ash, the latter, with certain touches of grey, which further accentuates its vintage essence, if it were possible.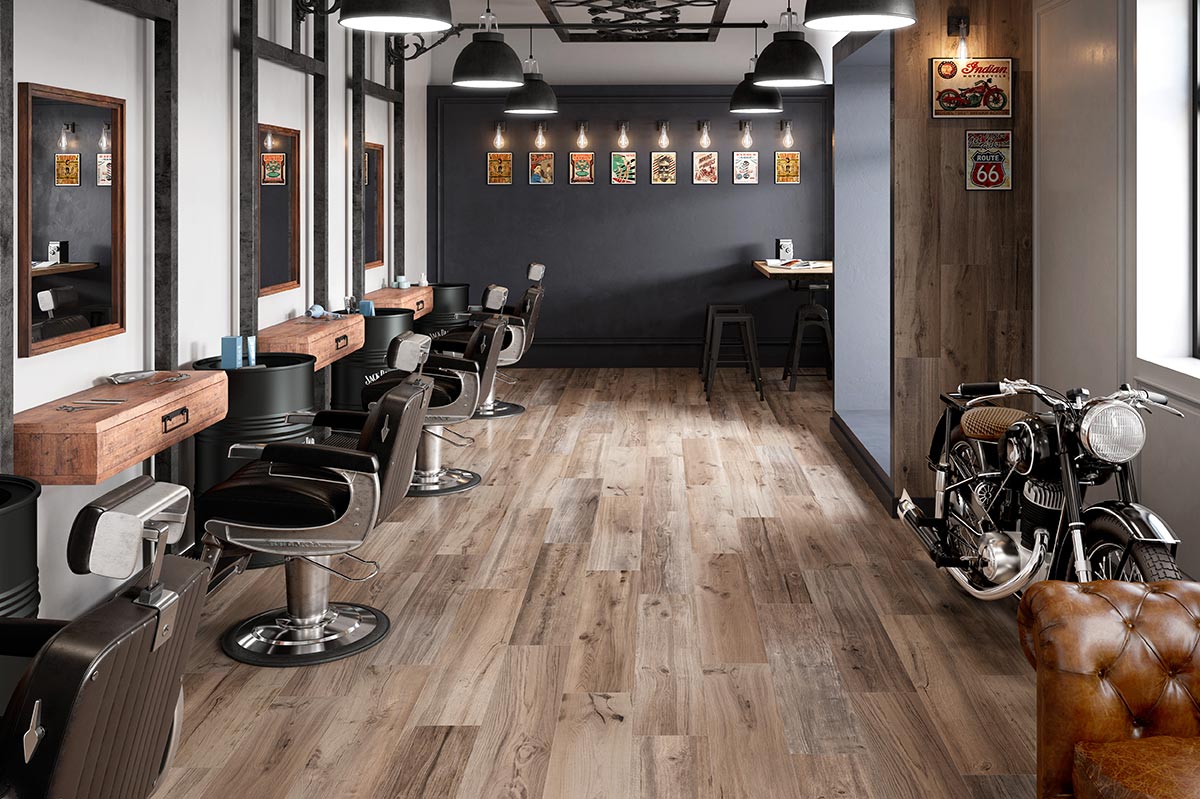 Hamilton Ash. The vintage character of this finish brings the purest of nature to contract projects.
This is a collection that, in addition to its inherent beauty, is especially practical, given its properties and extra pieces. Particularly noteworthy among its range are the stair treads. This piece makes the setting a harmonious space based on good home living, where the smallest of details matter.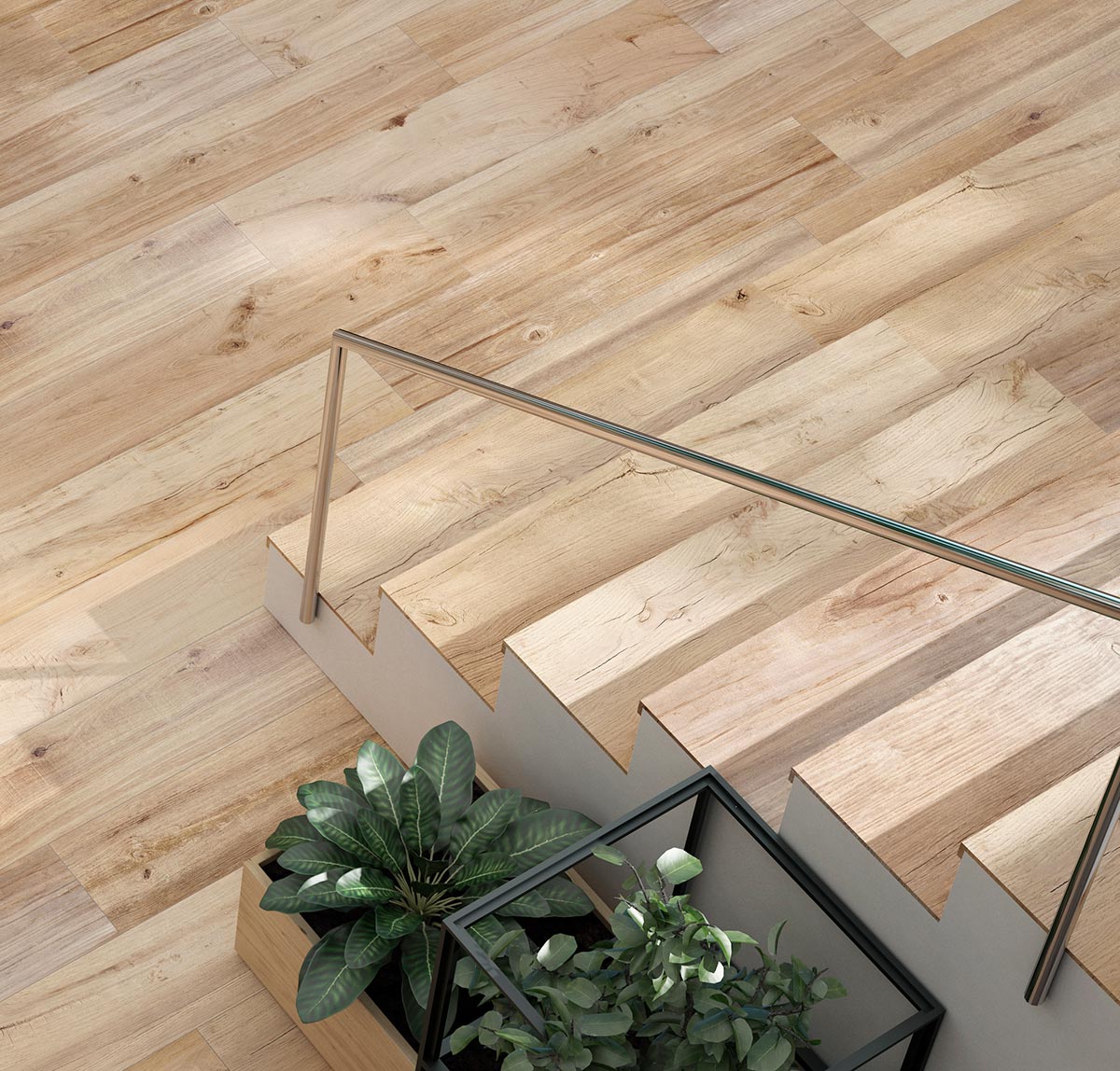 The collection includes stair treads as special pieces.
Download the collection catalogue, here.