Home refurbs are not a simple task, especially because we all want to see stylish and practical results. When it comes to refurbishing your bathroom you don't just need to consider the choice of tiles, shower screen and other decorative elements. You need to pay special attention long before you make your final decorative decisions. In today's blog we give you some tips on making your refurb 100% effective.
1. Distribution
Before deciding on any accessories for this space you need to calculate the position inside the room and the distance between the elements.
For example, user privacy is a key factor to consider, unless you want the toilet to be the main feature on entering the room. At the same time, this unit should be positioned with the minimum distance from the bath or shower. The space for placing the toilet should never be less than 60 cm wide and 120 cm deep. It is also worth mentioning that you need to take into account the space occupied by the door on opening, which is usually 62 cm.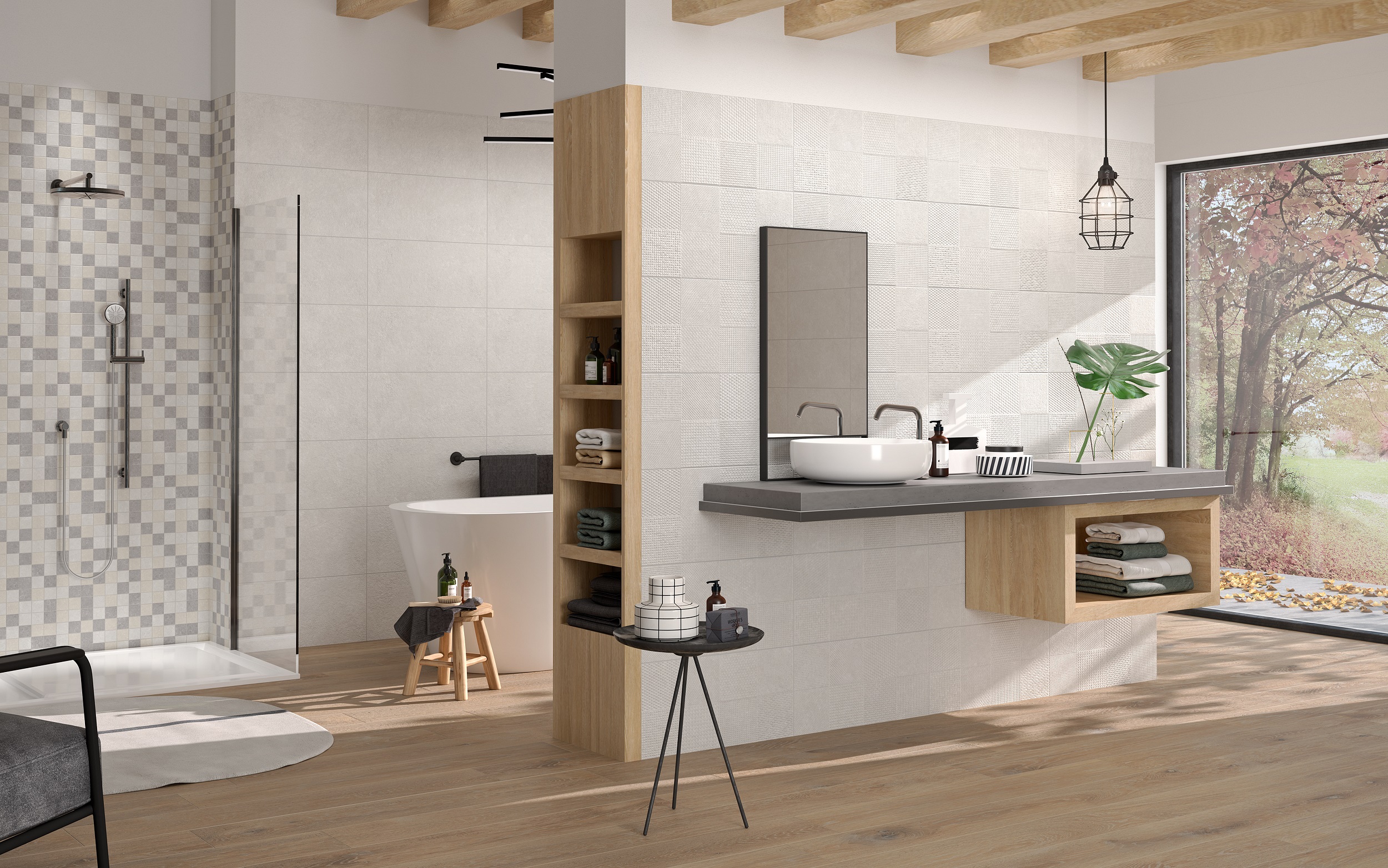 Privilege Moon Collection and Wonderwood Camel
2. Cleaning
You've probably never thought of floating units as a matter of hygiene but rather of style, so characteristic of modern bathrooms. In fact, the frequency of needing to clean the bathroom means that installing suspended units is the most advisable option at the same time as being attractive, modern and on trend.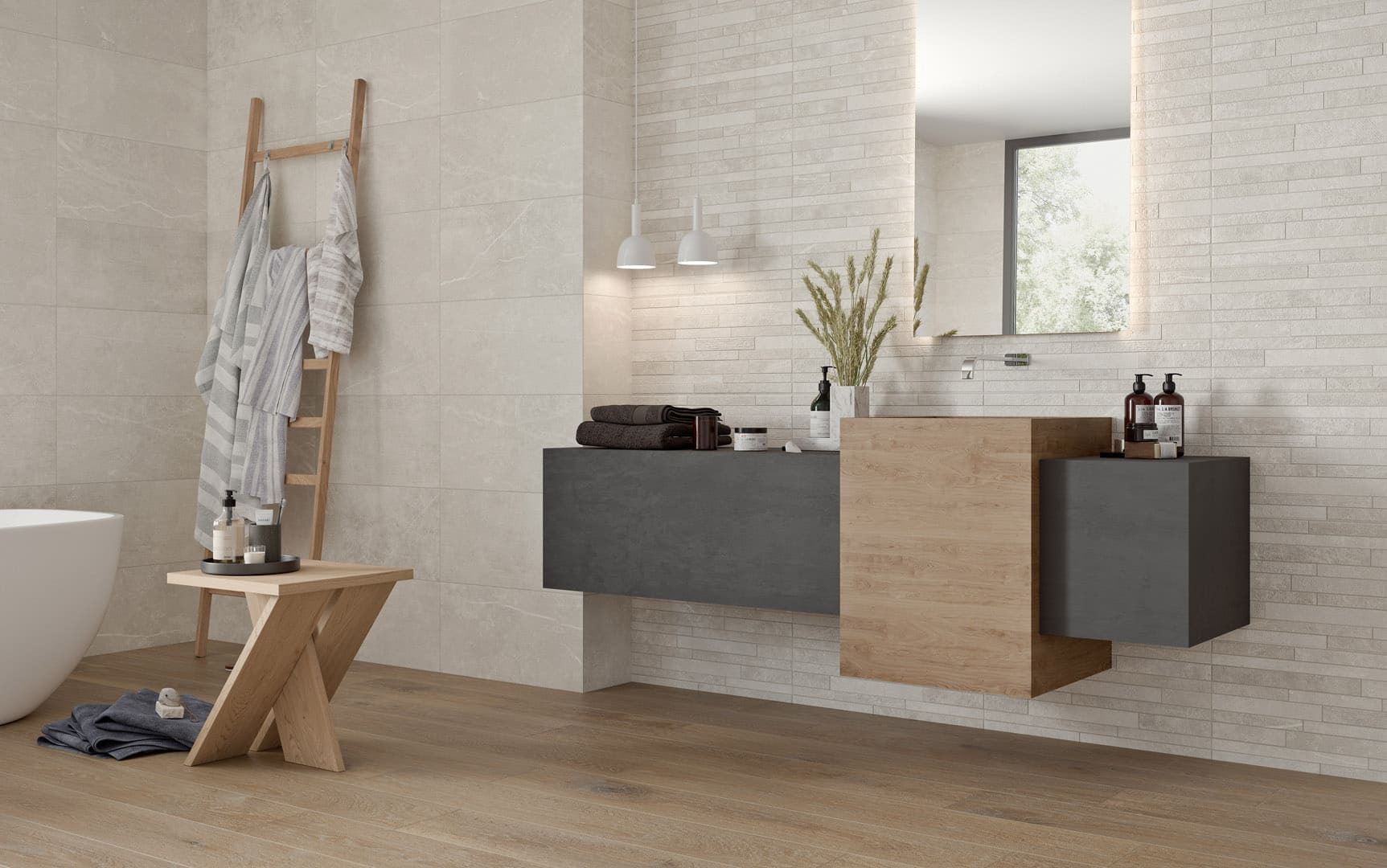 Kainos Bone Collection and Wonderwood Walnut
You also need to take into account the type of flooring tiles you are going to lay, and no less important, the colour and thickness of the grout (which adds personality to the tiling), as these areas tend to accumulate hard-to-reach dirt. White bathroom tiles can tend to look dirty if the grout is a light colour. A natural colour, grey or even a touch of colour, are always a good choice. We must stress that ceramic tiling is undoubtedly the most hygienic material for a bathroom. The Colorker range of imitation wood tiles are highly realistic and will turn your bathroom in a warm and resistant area.
3.The space
How many times have you gone into a bathroom where the elements are positioned so close together it is almost suffocating? You should bear in mind that these rooms are not generally very spacious, on the contrary, they tend to have a small surface area, which is why we are offering you some additional tips for making the most of a small bathroom.
To maximise every square metre you need to follow the ''less is more'' rule – for example installing small bathroom units to save space, having a shower instead of a bathtub, using heated towel rails or removing the bidet; an element that occupies valuable space and isn't used very often.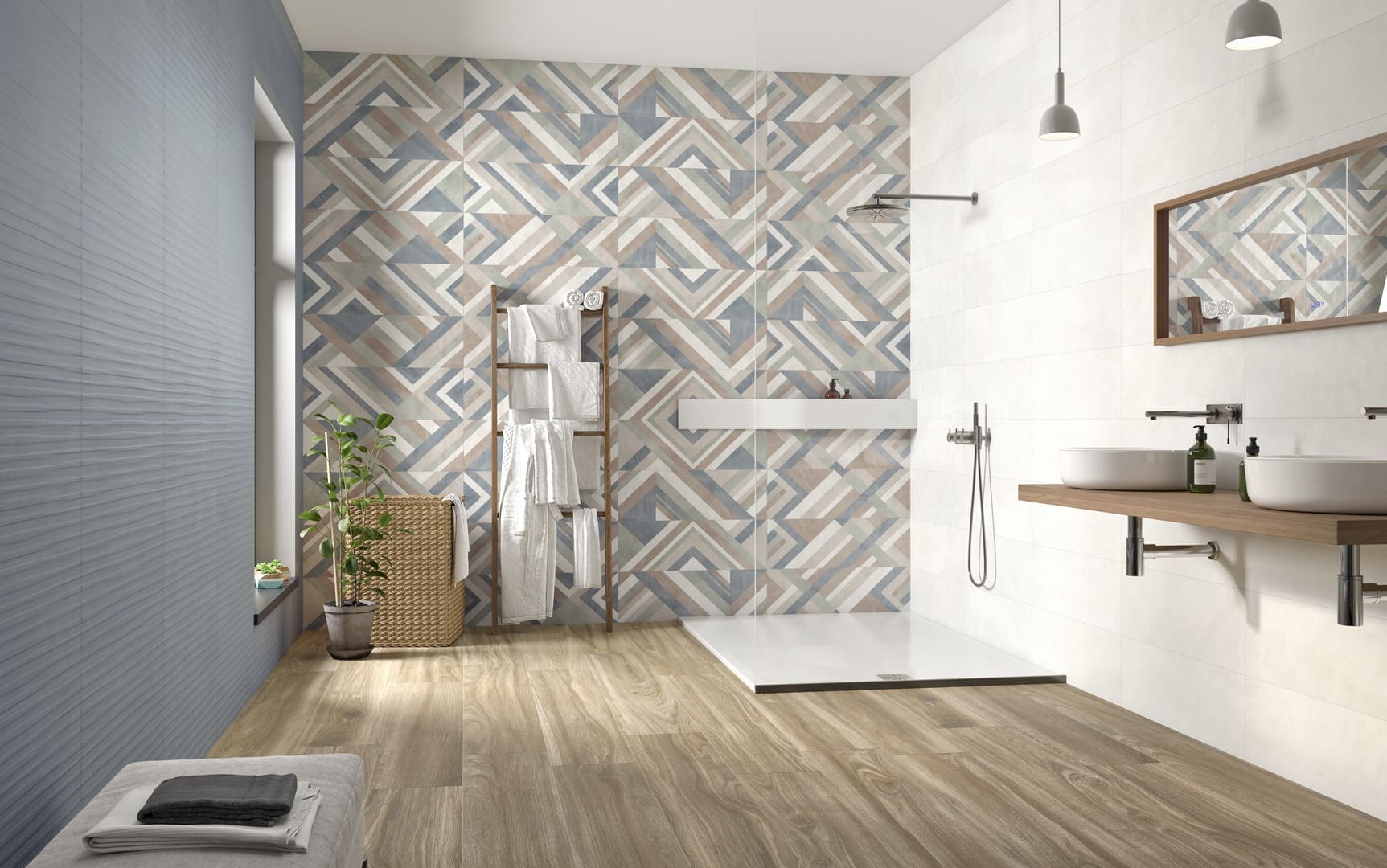 Impulse Blue Collection and Woodsense Natural
4. The tiling
Finally, it is very important to plan the power sockets you are going to need and where they are going to be installed before starting to tile the bathroom.
At the same time you need to choose timeless tiles for bathrooms, given that they are going to last a long time. It is also advisable to buy a few extra square metres of your chosen tiles. Don't forget that you may experience some unforeseen events such as water leakages or pipes in bad condition, which may damage some of the tiles. A box of spares will solve the problem (bear in mind that certain collections may be discontinued over the years).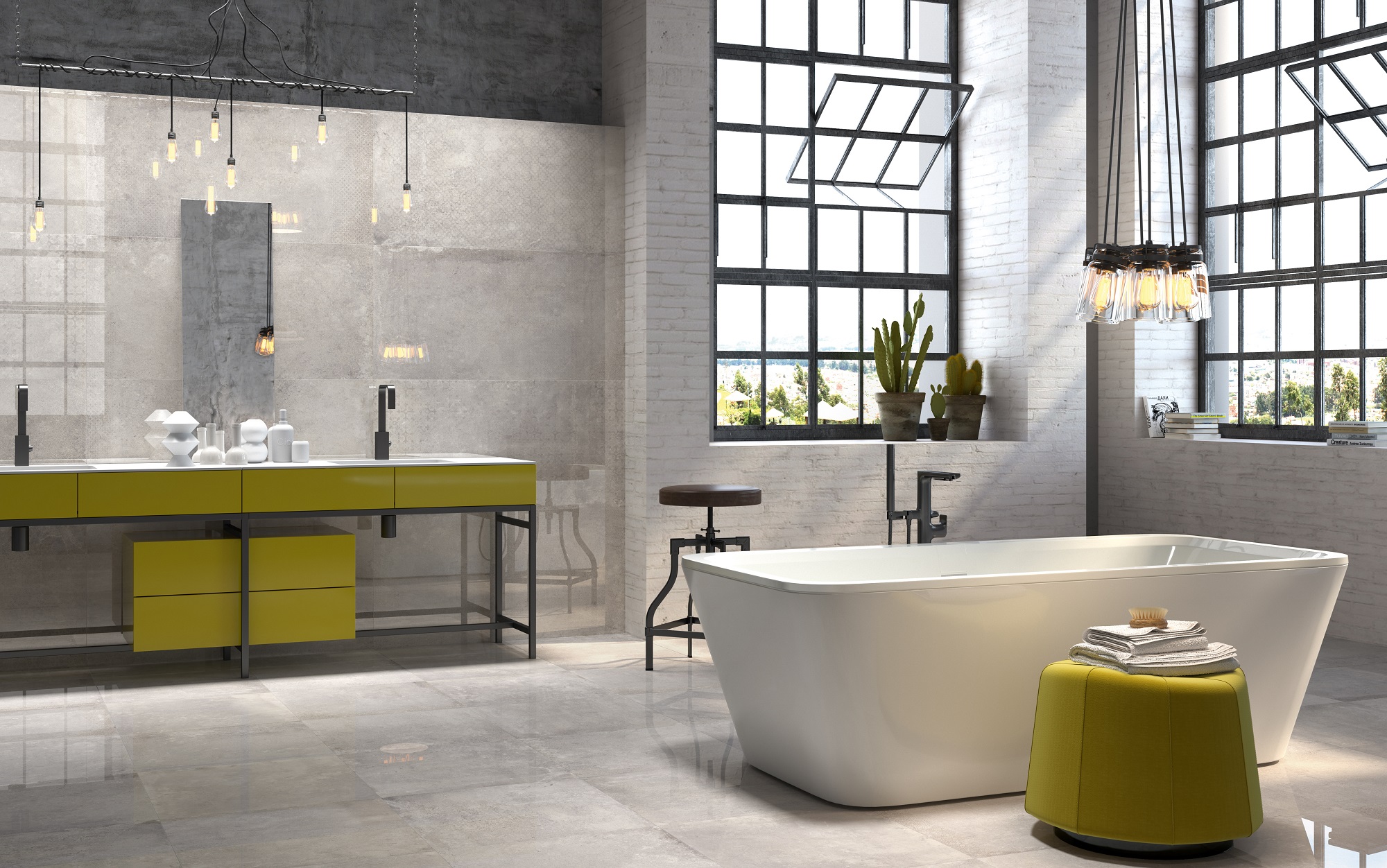 Factory Light Collection