Small kitchens don't need to stay that way: walls can be removed and the kitchen and the living room brought together. A new open-space kitchen & living room which will visually expand the space and lead to social and family get-togethers over the stove. Like the look?
At a time when everything 'seems to be changing' and we have spent (and are spending) more time than ever at home, I'm sure you have considered what you would like to change in your home. You have an idea: can I open up my kitchen into the living room? The answer is yes, particularly if your kitchen is small, or if you simply want to include your kitchen in social moments with your family and friends - a friendly chat whilst cooking. Having a kitchen & living room arrangement will allow you to enjoy this space much more, making it a more social, dynamic and multi-purpose area.
At Colorker, we suggest this all-in-one kitchen & living room arrangement, because in addition to visually expanding the space by removing architectural barriers, this layout allows you to opt for seamless ceramic flooring or even large tiles for an even greater feeling of continuity.
Wood? Marble? Stone? Discover these open-plan kitchen decoration ideas as well as our suggested ceramic collections to successfully decorate this type of layout.
6 open-plan kitchen & living room ideas
Open-plan kitchen & living room with glass
One of the things holding many people back from an open-plan kitchen is smoke and odours, and the fear that these might seep into curtains, sofas or other objects in the home. Every problem has a solution, so we suggest sliding or folding doors or glass. This type of door does not restrict the depth and breadth of the space, and they can be opened and closed whenever you want.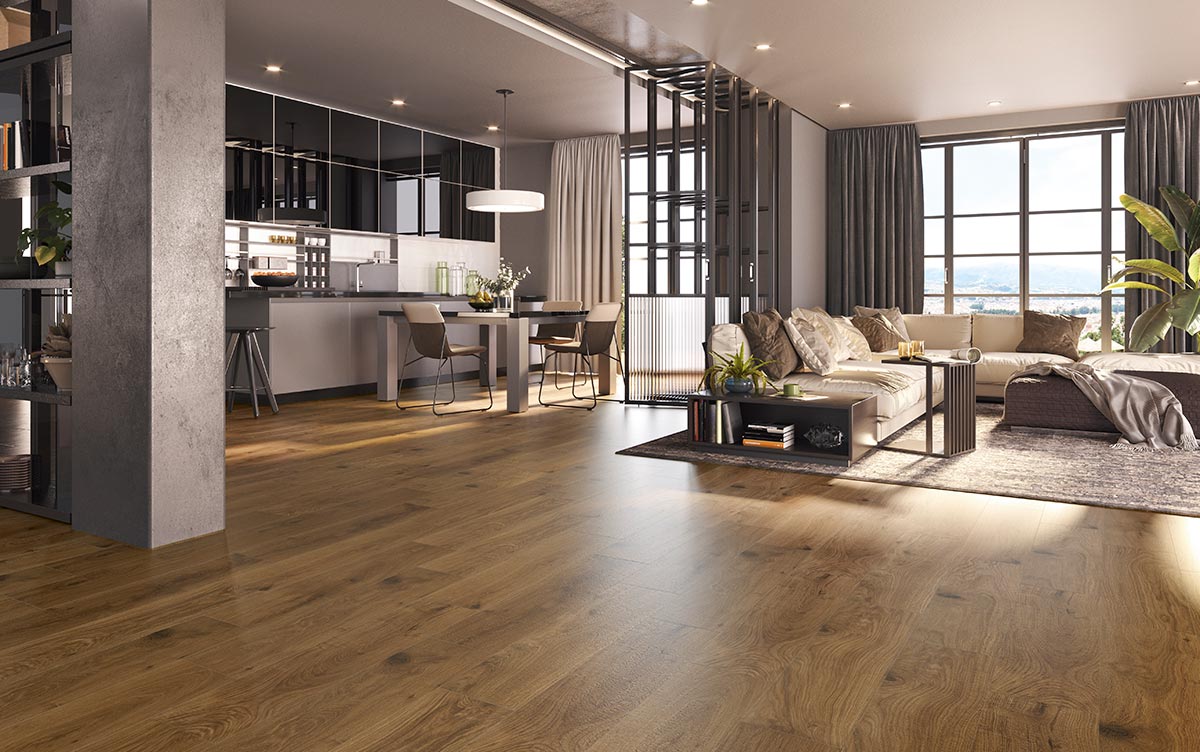 Columbia Oak 21.8x84 REC
In this kitchen, a metal sliding door with glass has been used to separate the kitchen and living room. The kitchen-living room layout makes the kitchen look much bigger than it is, also allowing you to fit in a multi-purpose dining table, as it is part of both the kitchen and the living room. This space stands out for the Columbia seamless wood effect flooring. A new Colorker product which perfectly imitates wood to add a touch of nature to any interior design project.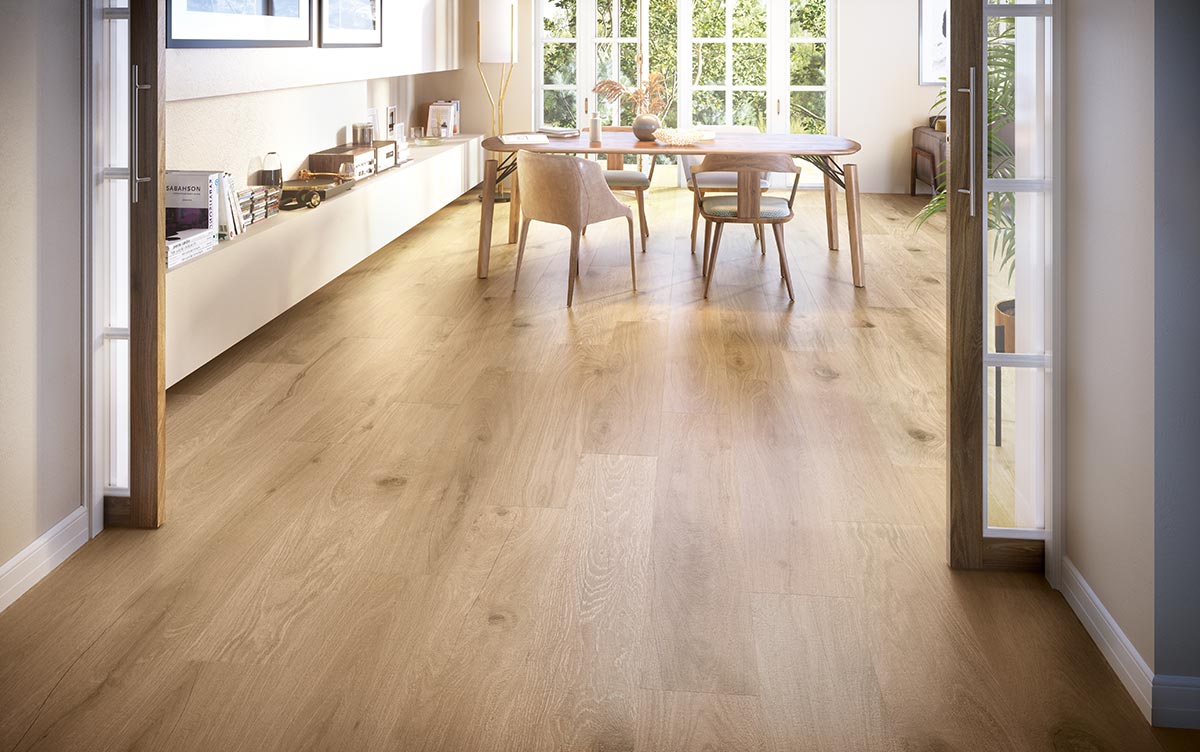 Century Honey, 25x150 REC
Century offers a very similar look but a larger 25x150 format. The ideal ceramic solution if you prefer to create a feeling of continuity with larger tiles.
Open-plan kitchen & living room with sliding doors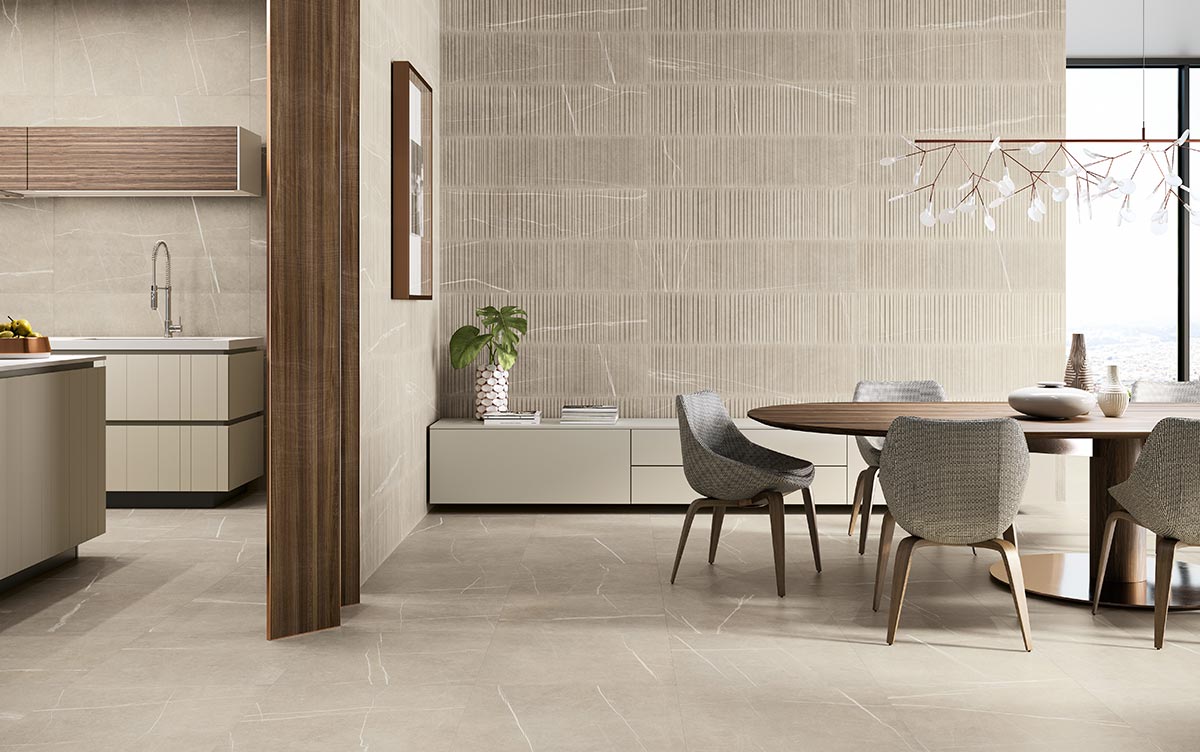 Nomade Bone 59.5x119.2 REC floor tiles. Nomade Bone 59.5x119.2 REC + Parallelo Bone 59.5x119.2 REC wall tiles.
In addition to glass, you can choose a sliding door in any other material. In this kitchen-living room, the wood-effect door contrasts perfectly with the elegant stone effect of Nomade. A proposal which combines living room and kitchen with the same floor tiles, and which is coordinated with the Parallelo wall tiles, noted for its exquisite texture and material effect.
Open-plan kitchen & living rooms with an island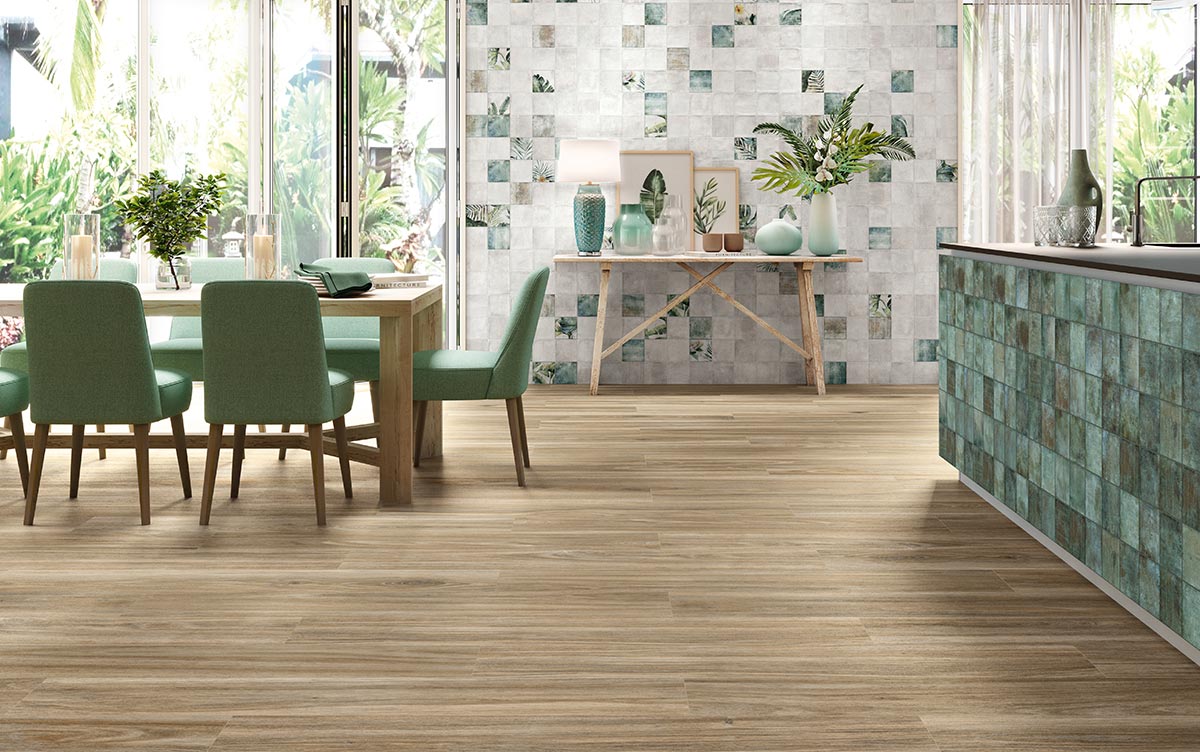 Flooring: Woodsense Natural 25x150 REC. Wall tiles: Emerald, Off White and Tropic from Amazonia by Zyx. 13.8x13.8.
Once the barriers and obstacles are removed, it is very important to correctly distribute elements to ensure a sophisticated, optimised and practical space. Including an island in a kitchen and living room arrangement will help with the visual separation between areas and improved functionality, and it can also be used as a bar or bench.
In this interior design, the island has been emphasised with unique and harmonious Amazonia by Zyx tiling. The same series which makes an impression, in its decorated version, as one of the living room's accent walls. Just for 'tropical minds'.
Open-plan kitchen & living room with a bar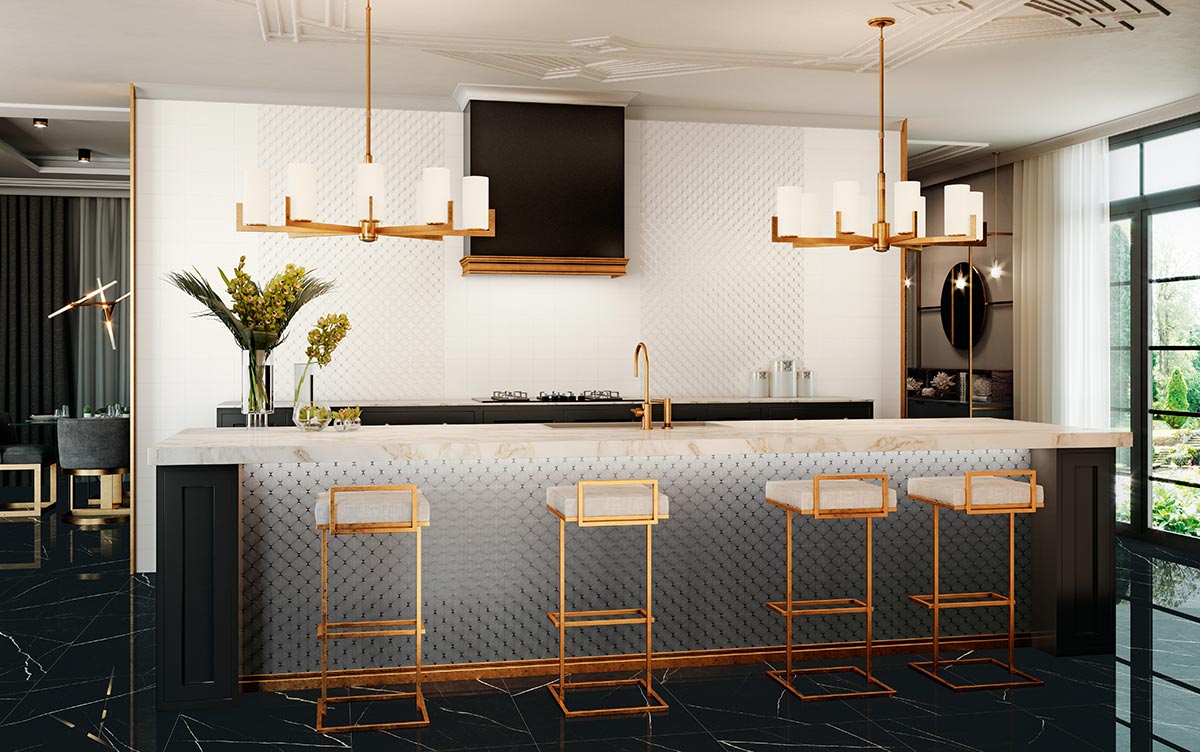 Flooring: Mistery Black 90x90. Wall tiles: Gatsby White Swing, Royal White Swing, Royal Flapper Shadow 14.8x14.8.
For small projects, or just if we prefer not to have an island, a bar can be a stylish and very chic option for an American style kitchen-living room. Like the island, the bar can have tiles which give it a touch of elegance and distinction.
In this kitchen, which uses the Art Deco-style collection Gatsby by Zyx, the kitchen is in the rear part of the living room, with both spaces linked by two side doors. Another idea to integrate kitchen and living room without combining them fully.
Open-plan kitchen & living room with a peninsula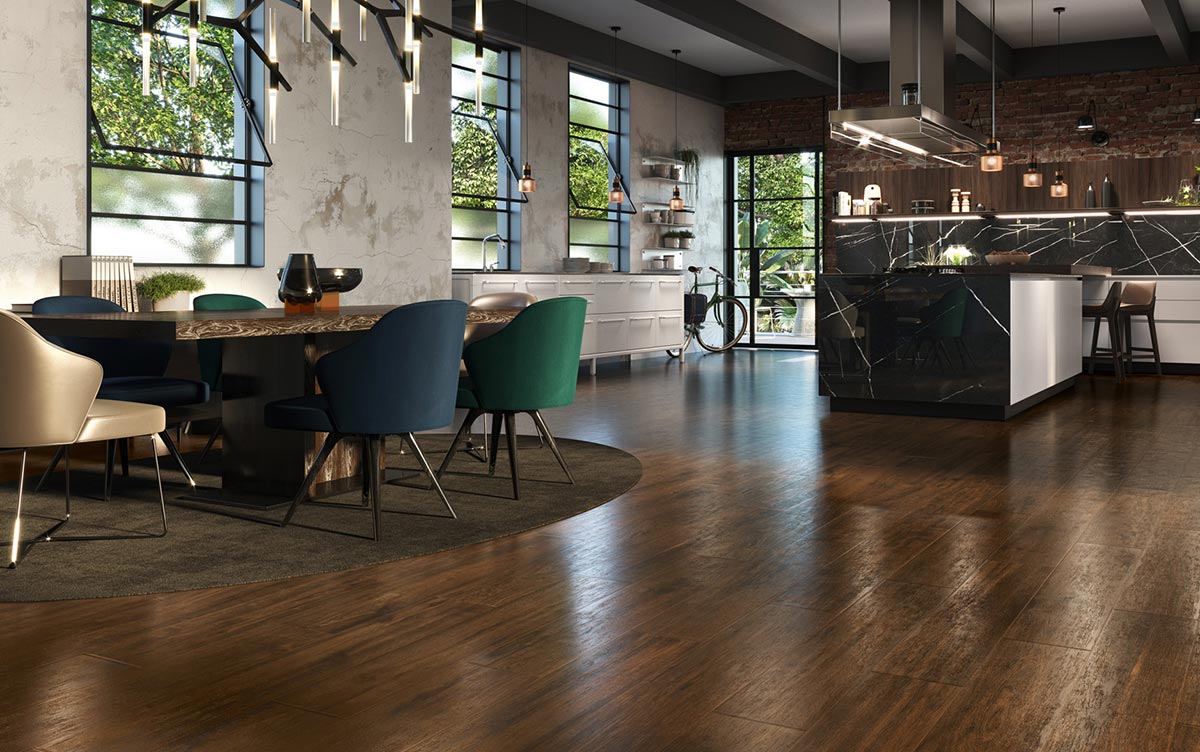 Flooring: Montana Brown 19.5x119.2 REC. Backsplash and island: Mistery Black 75.5x151REC.
For creative kitchen lovers, a kitchen with a peninsula might be the perfect solution to increase working space. However if fittings and an island are required, you will need a large kitchen to include all of these elements. If this is not the case, an open-plan kitchen-living room with a peninsula might be the ideal option.
In this kitchen, the peninsula sets the pace, offering a smooth and even distribution of the space. This area has been emphasised with black marble-effect ceramic wall tiles on the island worktop and backsplash, whilst the ceramic wood stands out in the seamless flooring.
And what about you - how would you design your open-plan kitchen & living room?