Along with the service and product, atmosphere is one of the key factors which ensures that any hospitality project is a guaranteed success. Discover seven ideas on how to decorate a restaurant with Zyx, a project type where ceramics have a lot to say.
In recent years, hospitality customers have become more demanding, They do not just go to a restaurant in search of good food, but an experience. In addition to an excellent menu and gourmet cuisine, the key to success is other factors like service and atmosphere, which will undoubtedly influence a customer's decision on whether they will visit a restaurant or not.
Atmosphere or how a restaurant is decorated is crucial for a customer to visit a restaurant - and to come back. It is important that the space is as appealing and welcoming as possible, inviting the diner to feel special and 'at home'. It is important to stand out, to offer value where our competitors do not, to create a brand and a leitmotif which is found throughout the restaurant's image, from the design of the menus to marketing and advertising, music or decoration. An all-encompassing gastronomic experience which awakens the five senses.
7 ideas on how to decorate a restaurant by Zyx
We have come up with some tips on how to decorate a restaurant to really whet the appetite. Below, we use Zyx's latest collections to give you some extra advice so you can get inspired before starting a new project and business.
Division of spaces. A 'wow' effect from the first impression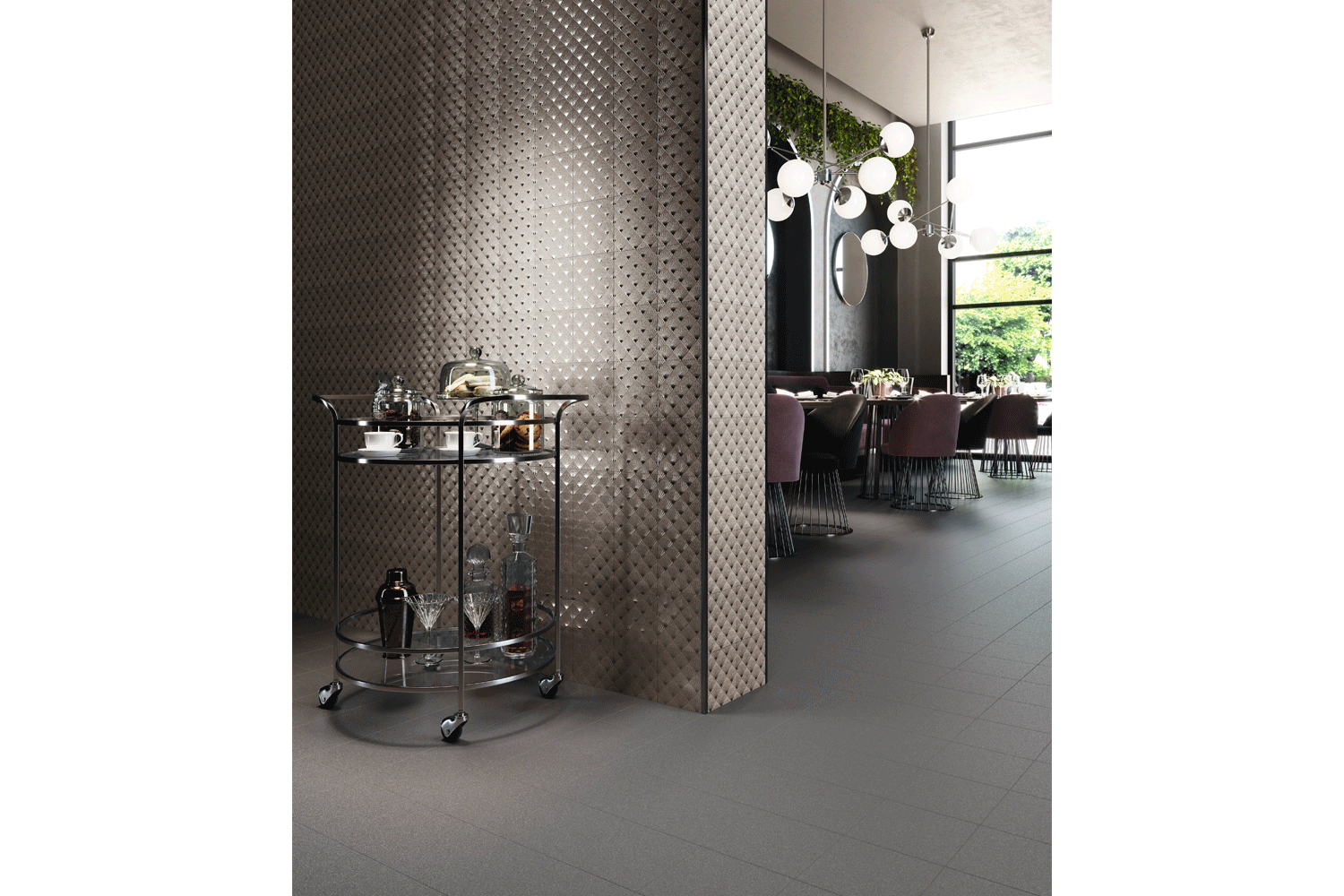 Gatsby Grey Velvet 14,8x14,8cm + Jazz Silver 14,8x14,8cm
How a space is distributed in a restaurant has a significant effect on how the customer feels. In this case, not using a full wall to avoid dwarfing the space, a half-wall has been chosen, which separates the reception from the eating area, enhancing the feeling of intimacy. To highlight this, it has been decorated with Gatsby Jazz in the Flapper Shadow colour. With this Art Deco-style wall tiling, the restaurant manages to capture the diner's attention from the moment they step in the door. There are no second chances to make a first impression.
Mix & match: combined wall and floor tiling for chic restaurants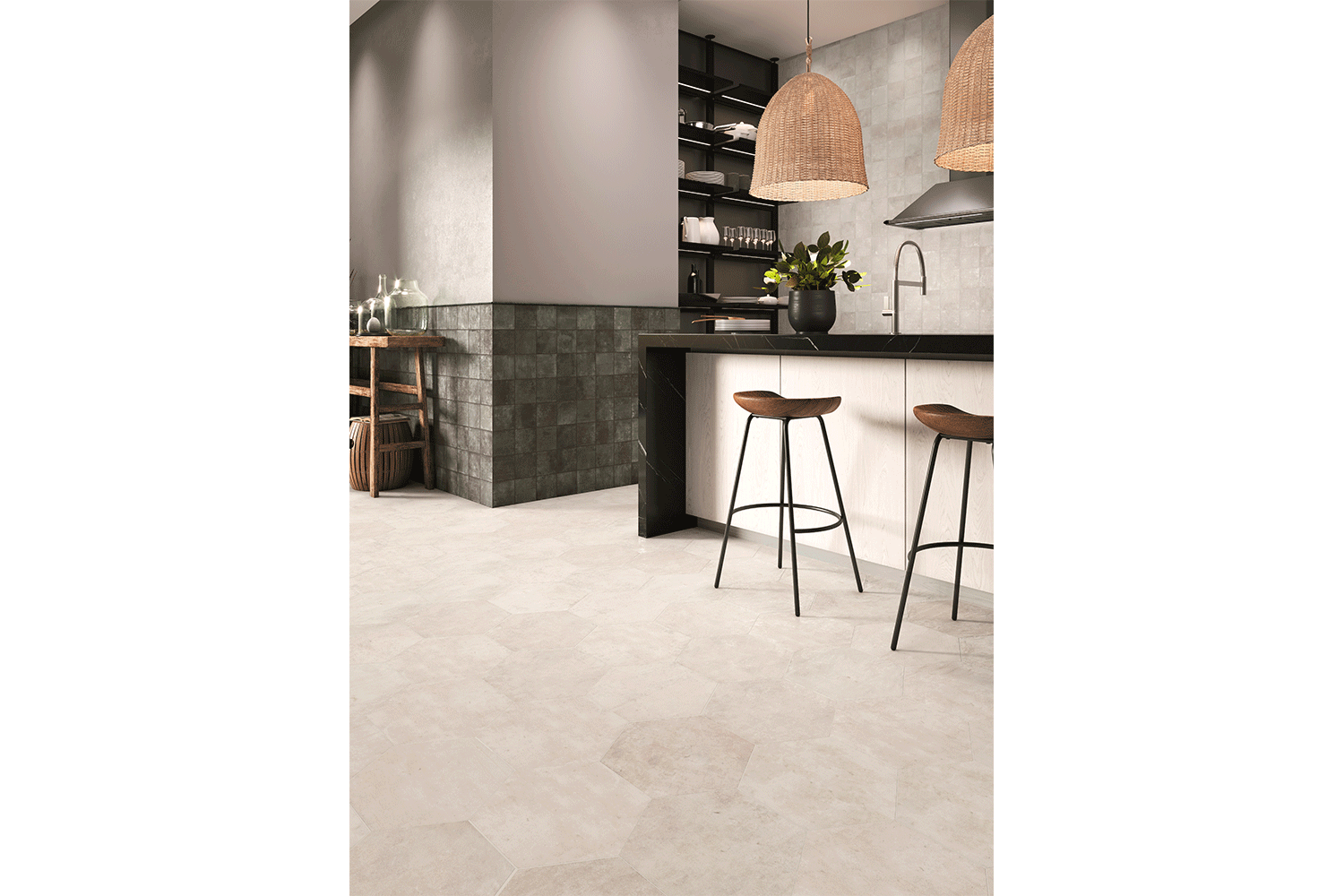 Amazonia Black 13,8x13,8cm + Off White 13,8x13,8cm + 32x36,8cm + Quarter Round 13,8x0,8cm
If, like in the image, you want to create unique atmospheres in your restaurant without needing to use visual barriers and to keep the feeling of space in your restaurant, a solution is to combine materials in the same flooring. You can mix & match materials to highlight a specific corner or to make the bar stand out. In the image, the Amazonia collection makes an impression with its different colours and formats.
The bar, the focal point of restaurant decoration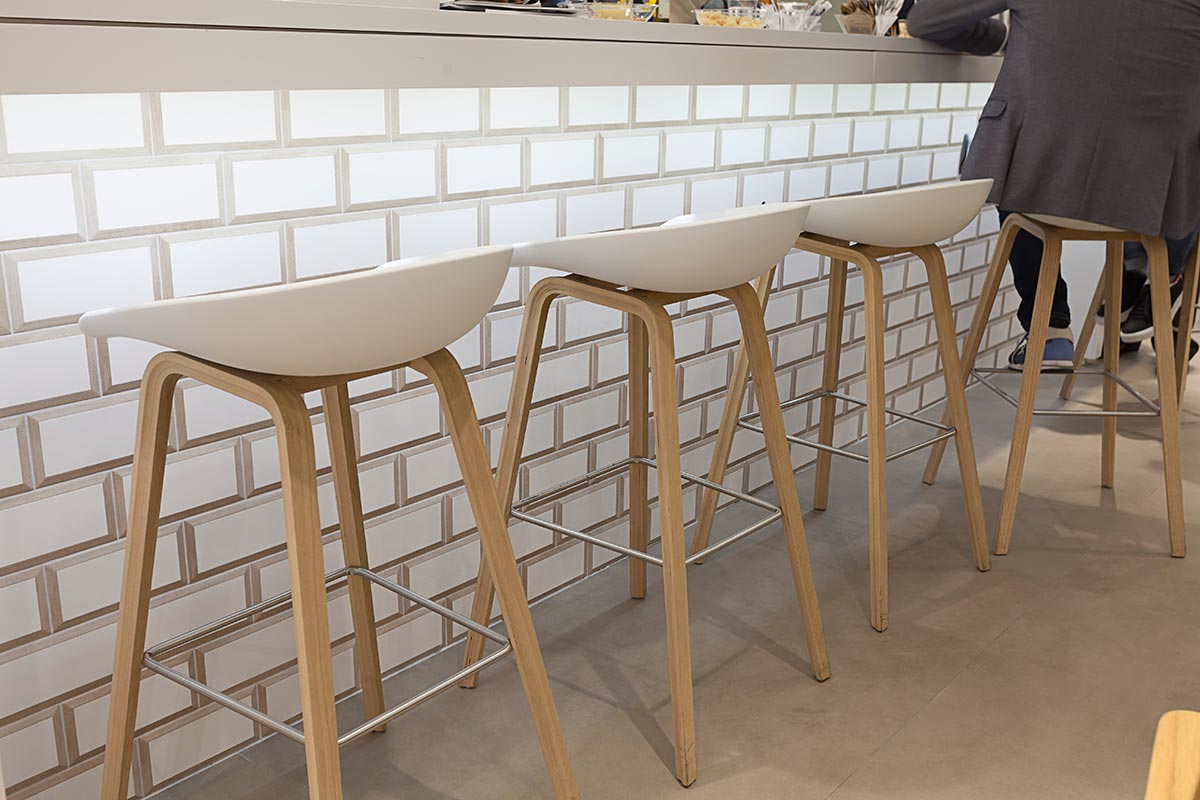 Metropolitan Stadion
Another idea to highlight the bar and emphasise it over the other decoration. In this case, the Metropolitan Stadion collection. The ideal option for Nordic revival-style restaurants. The design is accentuated with LED lighting.
Colours to decorate restaurants. Choose your style and palette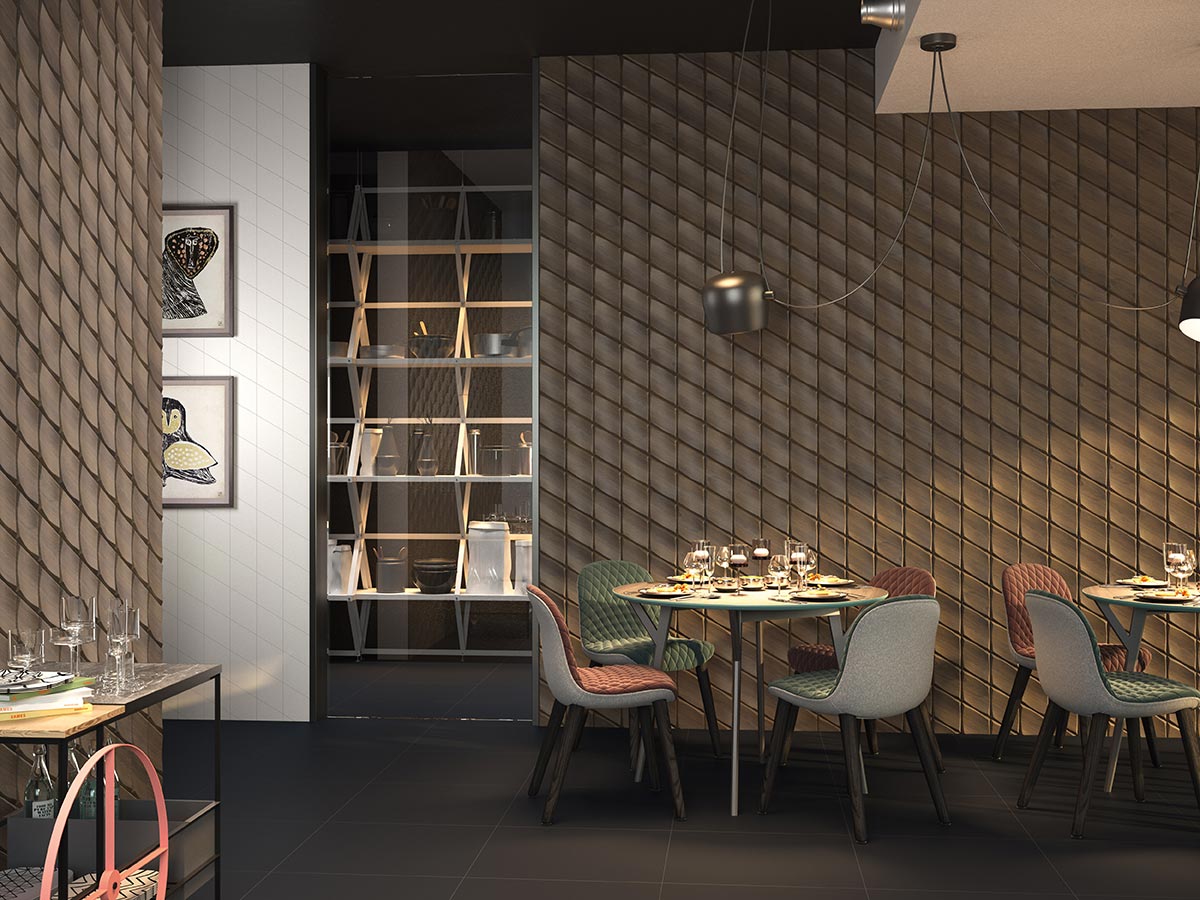 Evoke Area white matt + Zoom walnut wood + Dim black
Nordic revival, Art Deco, tropical, contemporary... when decorating a restaurant, it is important that you opt for a style from the outset and that the decorative elements like marketing and atmosphere work with it seamlessly. From there, you should define your colour palette. Remember the influence of colour on states of mind and how they can evoke emotions. For example, it has been scientifically proven that red whets the appetite, and that yellow or orange create a friendlier or more optimistic atmosphere. Green is fresh and peaceful. However we recommend that you use colour in small doses. Light or neutral colours broaden the space and reduce décor overload. Earthy colours intensify feelings of warmth and welcoming.
Kitchens take centre stage. Now you see me!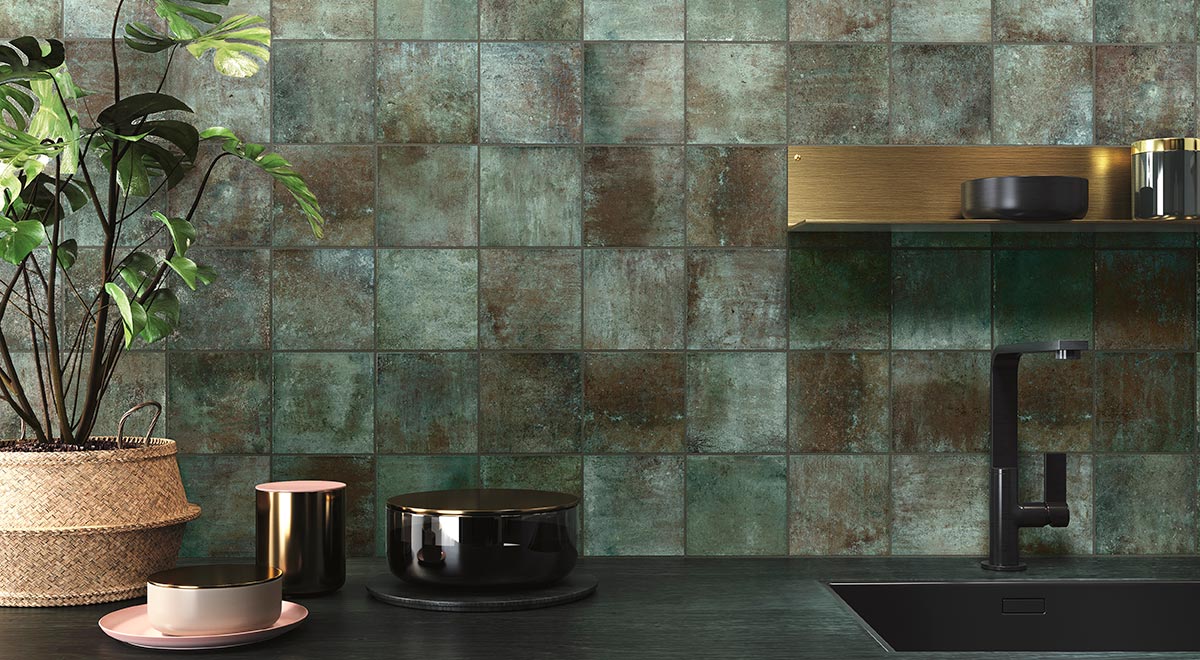 Amazonia Emerald, 13,8x13,8cm
Whilst kitchens have been pushed into the background for years, they are now taking centre stage in restaurant decoration. Many restaurants have a kitchen integrated into the dining area, in view of customers.
Without forgetting its more functional aspect and technical features (which will obviously affect choice of materials), it is now possible to opt for stylish and sophisticated ceramic collections which allow you to decorate more beautiful kitchens than ever. In the image, the Amazonia collection adds a very vintage finish to the backsplash.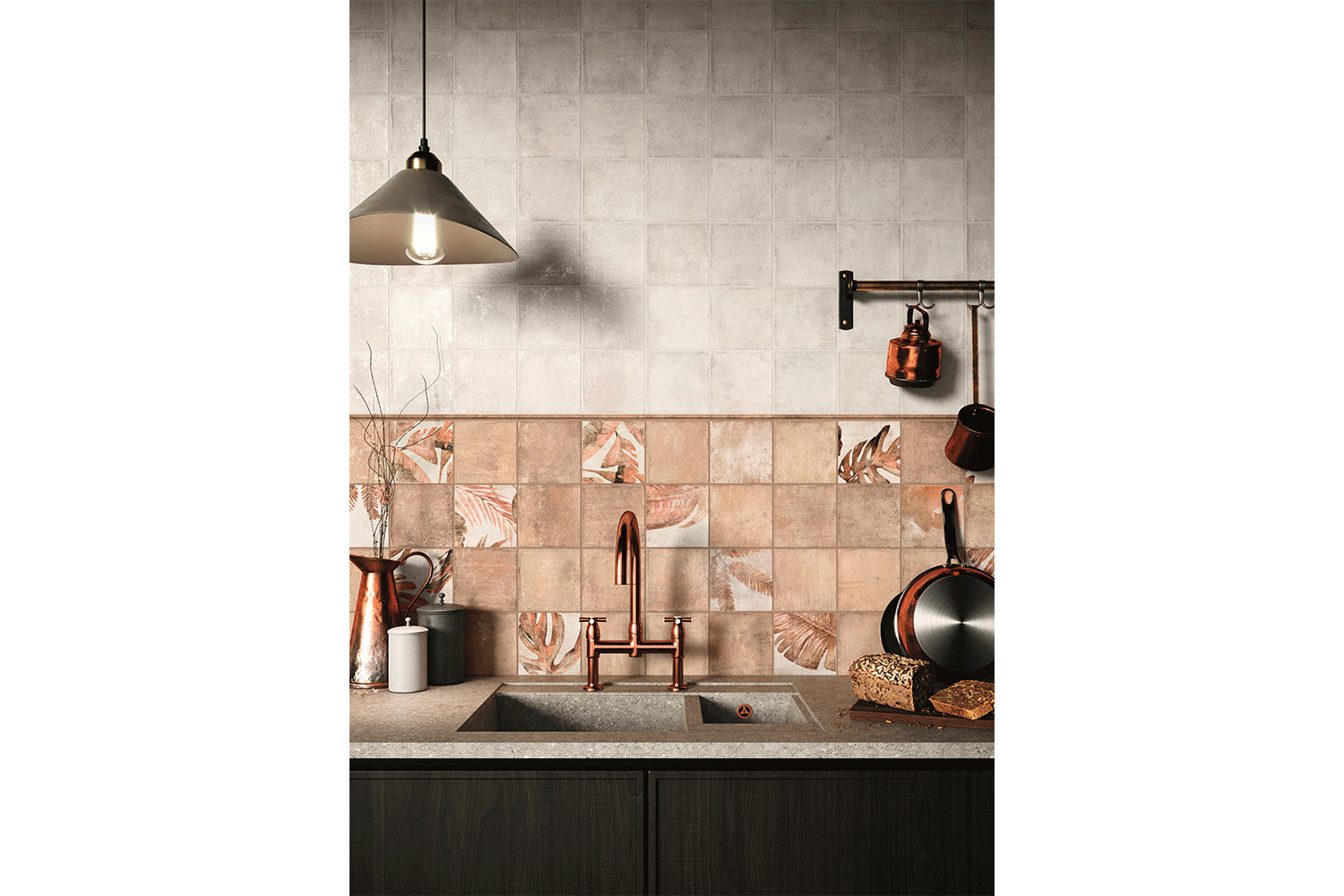 Copper (and orange tones) is on trend. Amazonia Off White 13.8x13.8 cm + Amazonia Cotto 13.8x13.8 cm + Tropic Cotto 13.8x13.8 cm + Quarter Round 13.8x0.8 cm
The bathroom matters too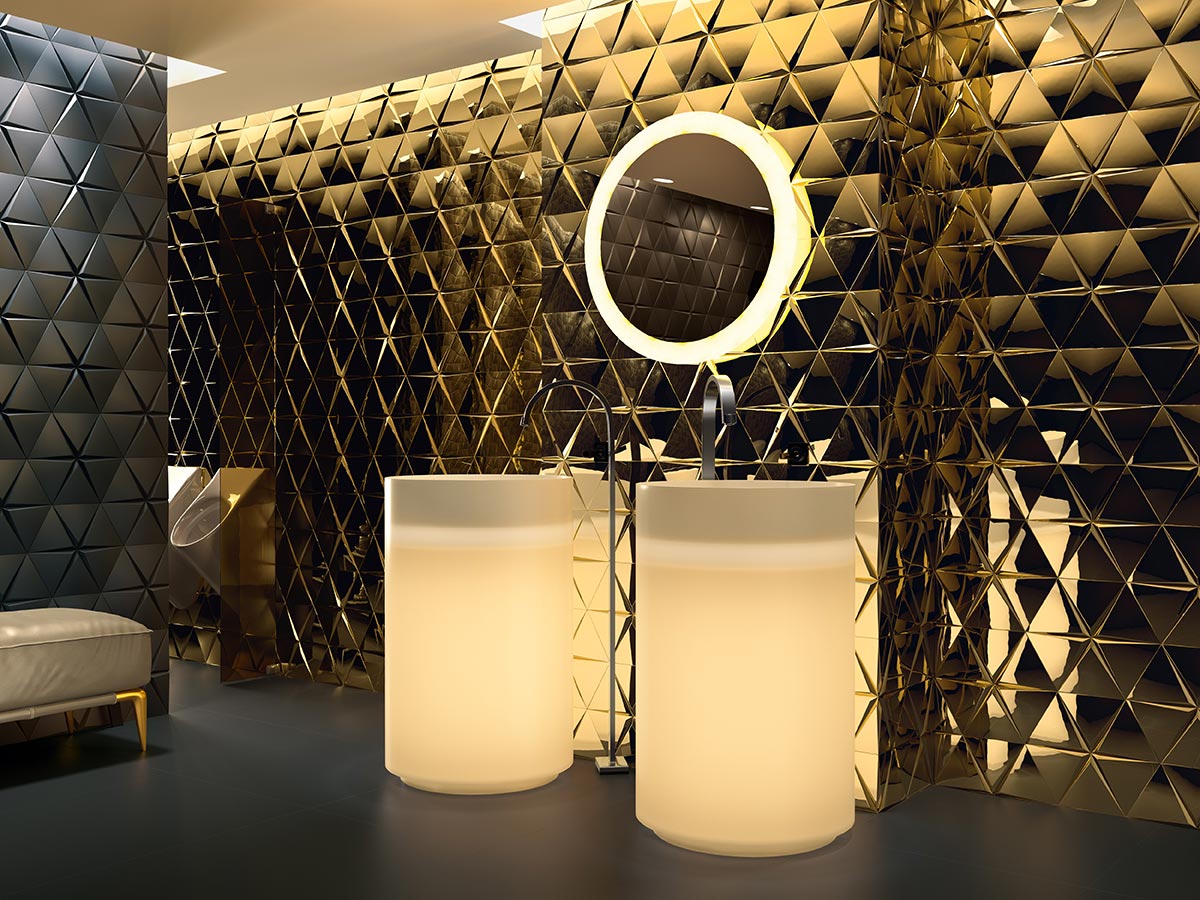 Evoke Cascade black matt + Cascade gold glossy + Dim black. Technical features include durability, resistance to stains and cleaning products and water absorption E >10%.
A show bathroom (or bathroom designed to be seen) is even more relevant in restaurants, where we continue to offer customers a complete experience which reinforces our brand image. Collections like Evoke by Zyx and its 3D metal effect offer the perfect design for a premium bathroom. An ideal tool for architects and interior designers to add their own touch to a project. In addition to the aesthetics, Zyx's ceramic collections are perfectly suited to demanding spaces like a bathroom.
How to decorate a small restaurant: small is beautiful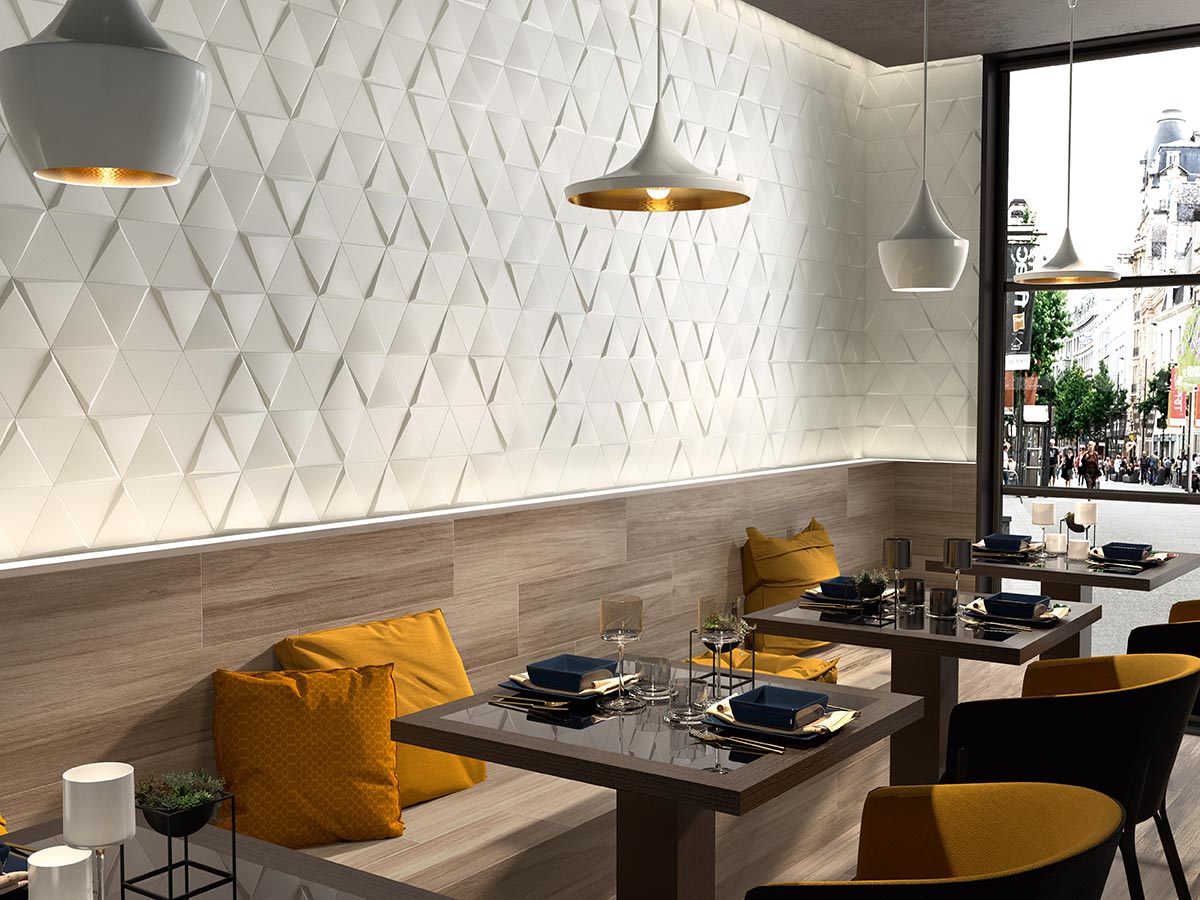 Evoke Layer white matt + Cascade white matt + Boreal noce de Colorker
A small restaurant does not need to be any less sophisticated if you know how to decorate it to make the most of your space. In this regard, distribution is key, since we need connected and open spaces which visually extend the space. Light colours will also help to make the rooms feel wider and more spacious. In this restaurant, the Evoke collection adds a sophisticated touch to the decoration. A unique material which perfectly blends with the Boreal Noce wood-effect tiles from Colorker, which are used on some of the walls and seating area. Adding a bench like this is a sure bet for small restaurants, as it allows you to make the most of the dining area whilst respecting the minimum recommended space between tables.
Tiles for restaurants: the perfect material for contract projects
Due to their resistance and durability, and because they are easy to clean and maintain, ceramic wall and floor tiles are the ideal material for contract projects like restaurants and hotels. Plus they offer an infinite range of highly inspiring decorative options which can work with any interior design or decorative style idea.
More information at www.zyx-space.com.