With summer just around the corner, it's time to start thinking about getting the swimming pool ready, that leisure and relaxation space that we enjoy so much during this season. And this year, the 2023 swimming pool trends do not disappoint at all.
There are many types of them. Generally, we can talk about public, communal and private swimming pools. Depending on their shape, they can be elongated, rectangular, oval or any other shape you can imagine. The world of swimming pool design is immense and constantly evolving.

Matter Green | Canvas Bone Green 15x15
La transformación de la piscina tradicional
Current trends are leaving the concept of swimming pools decorated with infinite small blue square tiles behind, opening up our minds to much more colourful options, combining different shades of blue with other neutral colours that create a sense of harmony. On the other hand, people are increasingly choosing colour options such as red or green or even adding drawings or prints to fill our swimming pools with colour, life and joy.
This year, through our ZYX brand, we have two ideas focused on swimming pool design so that you can enjoy the ideal rest and relaxation space this summer, accompanied by trees and various plants that provide peace and disconnection. Because ZYX can take you on a journey, making you feel like you are on the best beaches in Indonesia, submerged under the waters of Bali or even sunbathing on the beautiful shores of the Caribbean.
Through its two swimming pool collections: Matter and Amazonia, ZYX will take you to the most remote places on the planet to feel free, to travel and to get away from the daily grind.
Matter can convey the purest tropical style, using blues and greens combined with more neutral touches to achieve the perfect swimming pools. A combination of Blue and Bone, which transmits tranquillity and relaxation or a combination of Matter Blue and the decorated Canvas tile that gives a much more dynamic and fun touch to the space.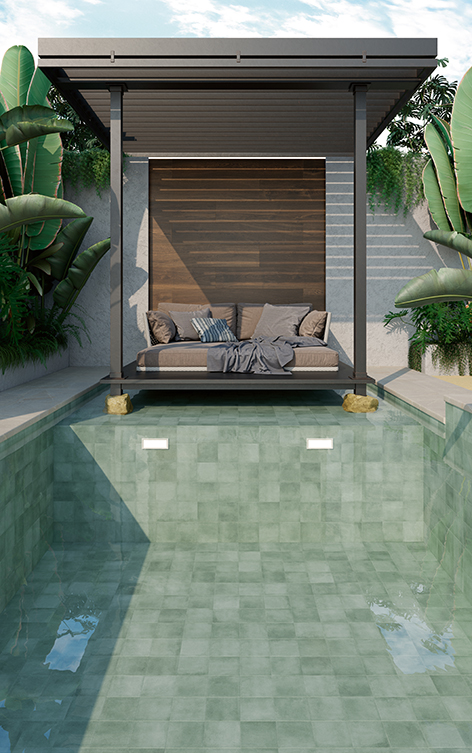 Matter Green 15x15
If you are one of those people who like to take risks and go all out, Amazonia is for you. This collection takes us to the wildest part of the Amazon jungle, in the purest tropical style, with the feel of the leaves wet from the constant rain and the colour of the sand moved by the wind. A green swimming pool tile with a tropical trend inspiration that is already a bestseller in swimming pools all over the world. The keys to its success include its handcrafted and slightly worn finish and modern shades, such as greens, greys and the cotto range. It is the perfect ceramic collection to recreate a jungle-like environment or, in the case of hotel projects, to take guests to exotic places in the world such as Thailand or Bali. Disconnect to reconnect.

Tropic Emerald 13,8x13,8 | Tropic Cotto 12,8x13,8 | Tropic Grey 13,8x13,8 | Madison Duplo Bone