Less is more. A philosophy that combines everyday practicality with elegance and modernity.
Minimalism is still present in today's decoration, a trend that never goes out of fashion. Minimalism includes all the necessary elements, but without overloading the rooms with excessive features, focusing on a futuristic and balanced space.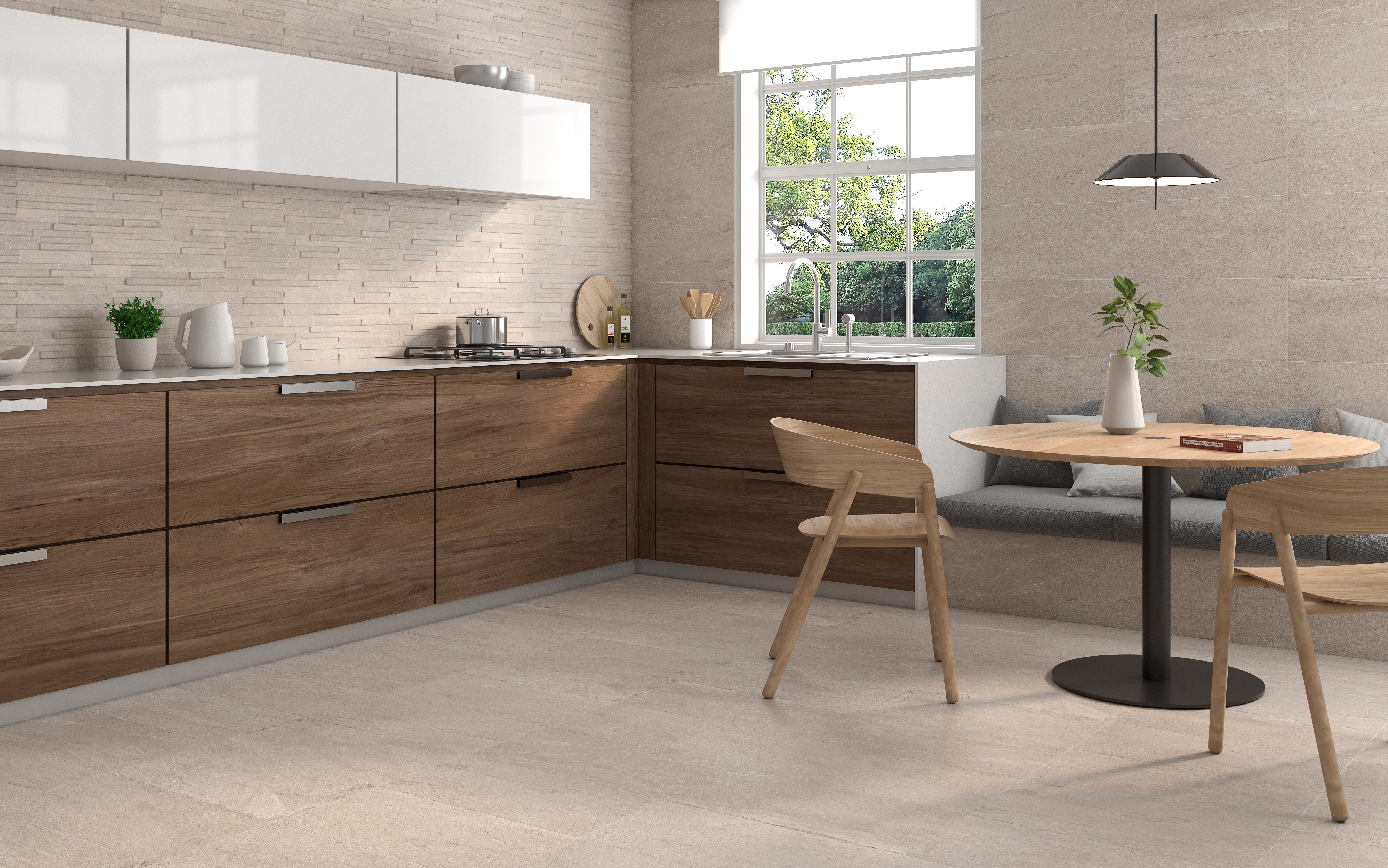 Wall: Horizon White 29,5x59,5 + Lagoon White 17 x 52 / Floor: Horizon White 59,5x119,2
What is a minimalist style in architecture?
When we talk about minimalist style, we are referring to one of the most innovative styles of the last decades. In terms of interior design, it has been described as the pioneer of future-oriented design.
Minimalism stems from a trend that was born in the late 1960s in New York, although its origins are rooted in Europe. Broadly speaking, minimalist interior design divides spaces by needs, so every element must be functional and relevant.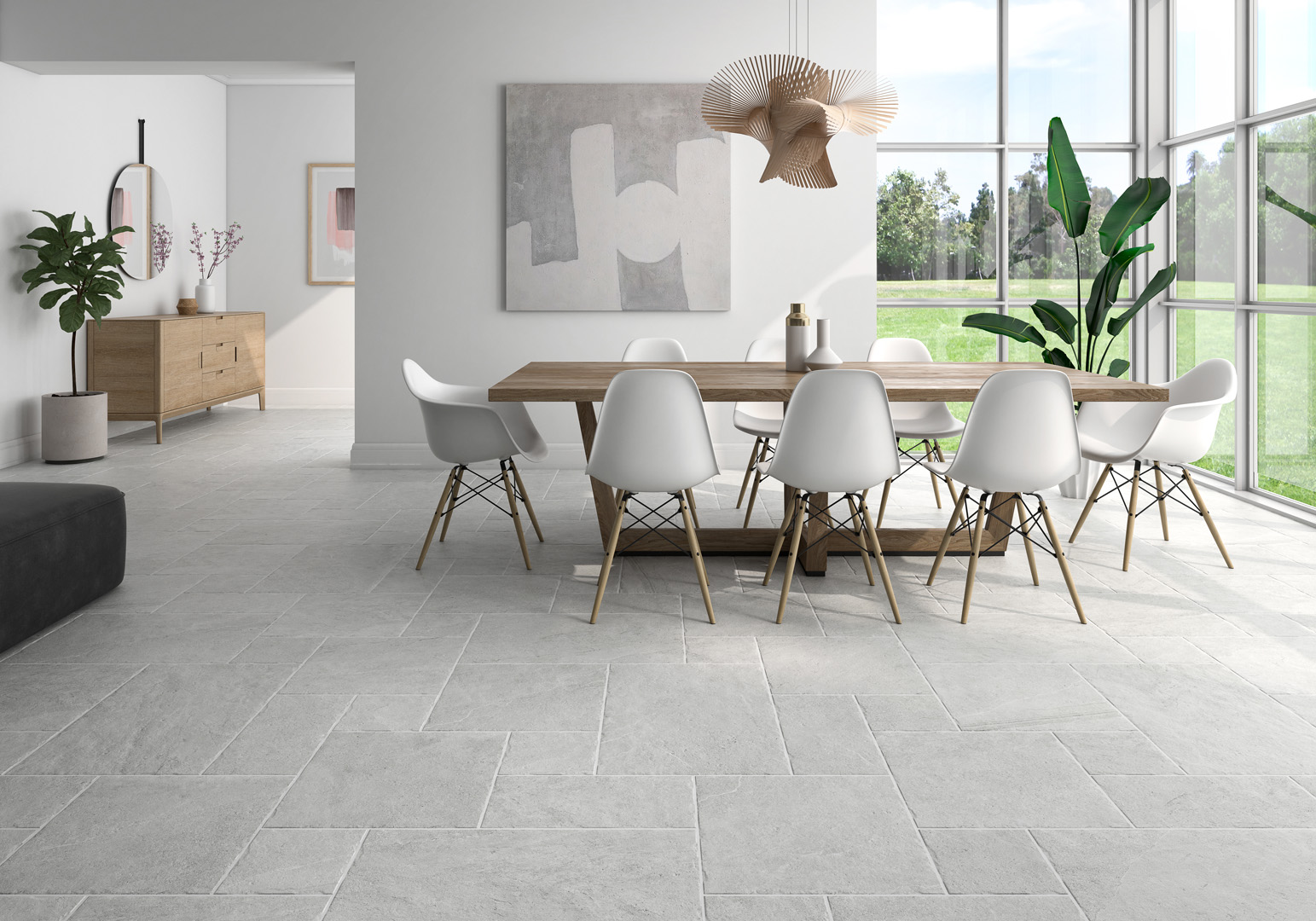 Combination of different sized pieces achieves a minimalist feel. Modular Giant White 44x66, 44x44, 22x44 y 22x22
Spaciousness and straight lines are some of the most common characteristics of minimalist interiors, taking advantage of the most diaphanous spaces and turning them into a simple yet elegant style.
Modern minimalist living rooms
There is no need to leave aside modern styling and finishes to go for a minimalist style, but there are a number of factors that must be considered when decorating a room. Modern minimalist living rooms are characterised by being one of the most spacious rooms in the home, and that is why we must start by focusing on the base, which in this case would be the floor that we are going to use. If we want to go for minimalism, we should use flooring that is as subtle and soft as possible, maintaining the same chromatic range and avoiding very marked de-toning.
The colours par excellence of the minimalist style are beige, white, black and grey, but we can use more daring tones that follow the same criteria. The finish plays a particularly important role here, as materials with a more natural effect are the most appropriate so as not to overload the room. In this sense, the materials par excellence that help us to achieve the ideal minimalism are wood, stone and cement finishes.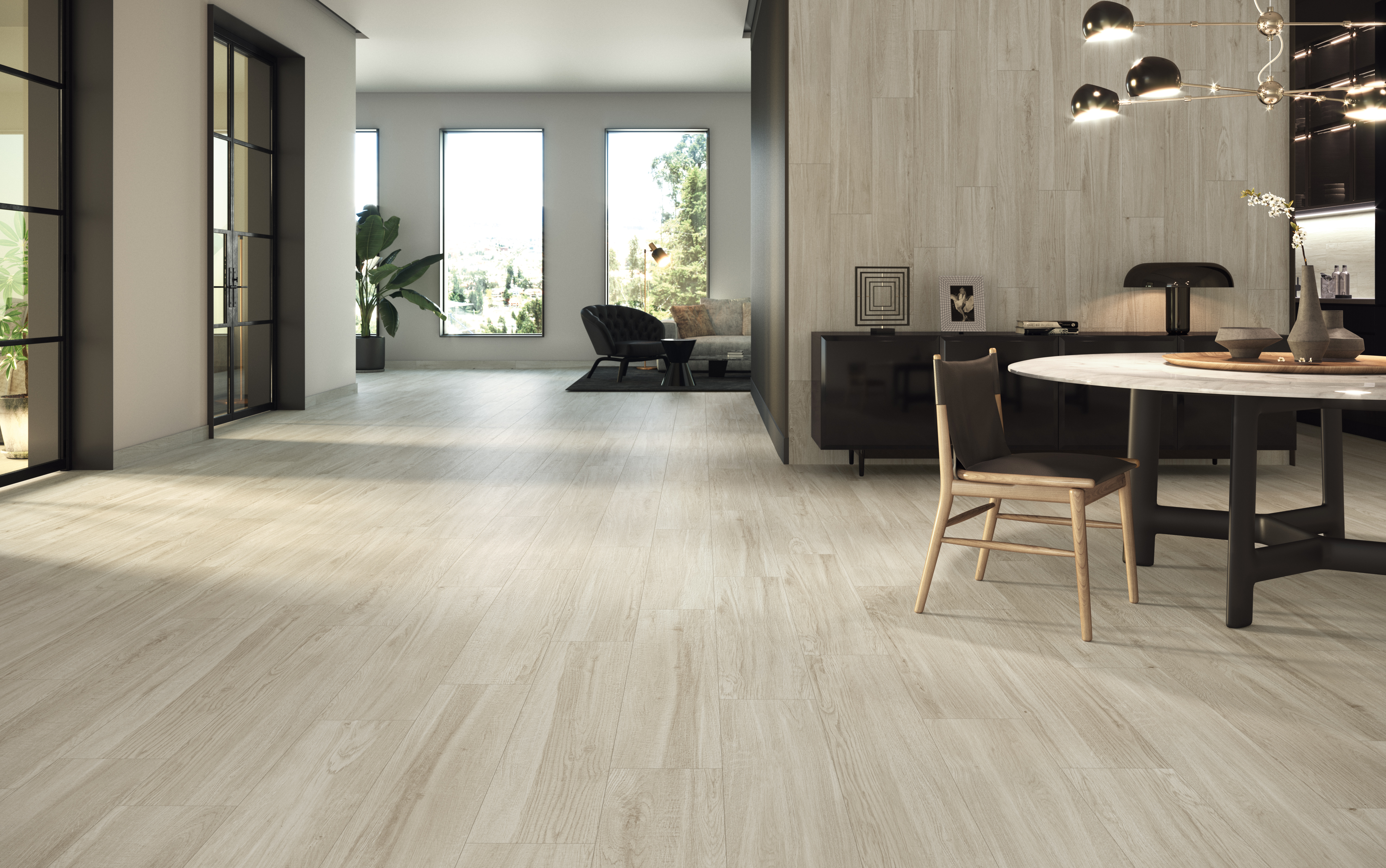 Floor: Lakeview Bone 23x120
Another point to bear in mind when decorating minimalist houses is the furniture we are going to use. As we mentioned earlier, the living room is a large room that allows us to combine a large amount of furniture and decorative elements to achieve the perfect minimalist decoration. The key to achieving a minimalist style is to select furniture for its functionality and try not to overload the room. For this reason, smooth finishes and simpler shapes (squares, straight lines, etc.) are the most common here, and the decoration in this case is subtle and minimal.
Minimalist kitchens
In every kitchen, order and cleanliness are essential, which is why many modern minimalist kitchens opt for this way of decorating with elegance and good organisation. This achieves a simple aesthetic but full of personality. The small accessories, the furniture and the single-colour or sober and neutral ceramic floor and wall tiles are the keys to achieving a minimalist style that gives our kitchens a special shine.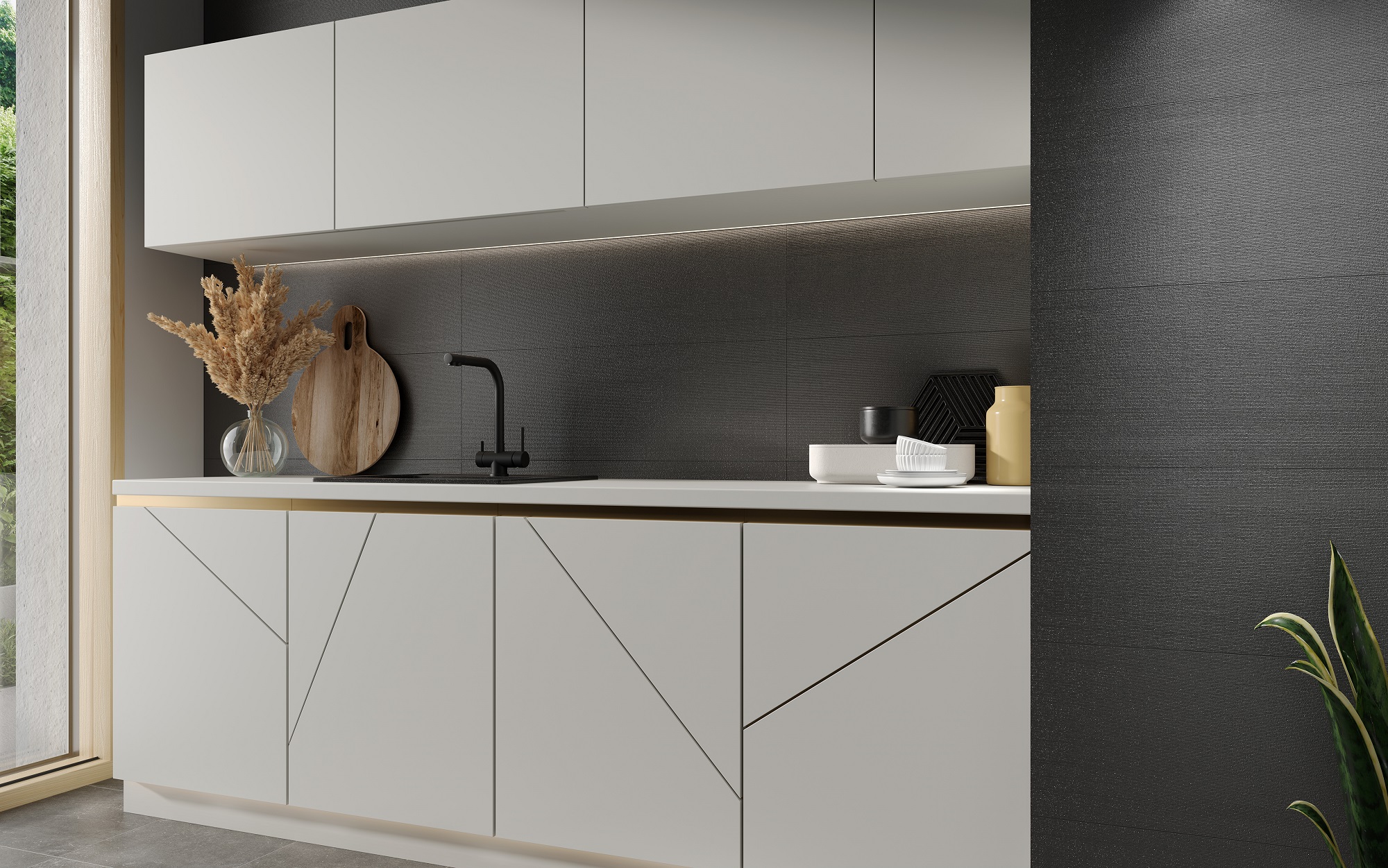 Wall: Pulse black 31,6x100R
Tips and advice on how to get it right when decorating minimalist kitchens
First of all, when decorating a minimalist kitchen, it is important to choose the right colours, as until now the shades par excellence that led to a static minimalism were black and white. However, nowadays, we can see that a large number of colours can be combined without losing the minimalist aesthetic par excellence. The key to not losing the essence is to work with a main colour and combine it with different shades of the same chromatic range so as not to fill the room with too much decorative load.
The second point to consider in the minimalist style for kitchens is the materials, as in order to combine the same style we must focus on a single type of material, without mixing different elements in order to maintain this harmony. In many cases, minimalist kitchens use cement or wood finishes to create combinations of flooring, worktops and tables.
Another important aspect when choosing the minimalist decoration of our kitchen is knowing how to choose the main material to furnish the whole room, as it is especially important to follow the same finish to give harmony to the design. The wood finish is the base par excellence of minimalist kitchens, but nowadays we can find ceramic pieces with finishes such as concrete or marble that can also achieve this effect in worktops and islands.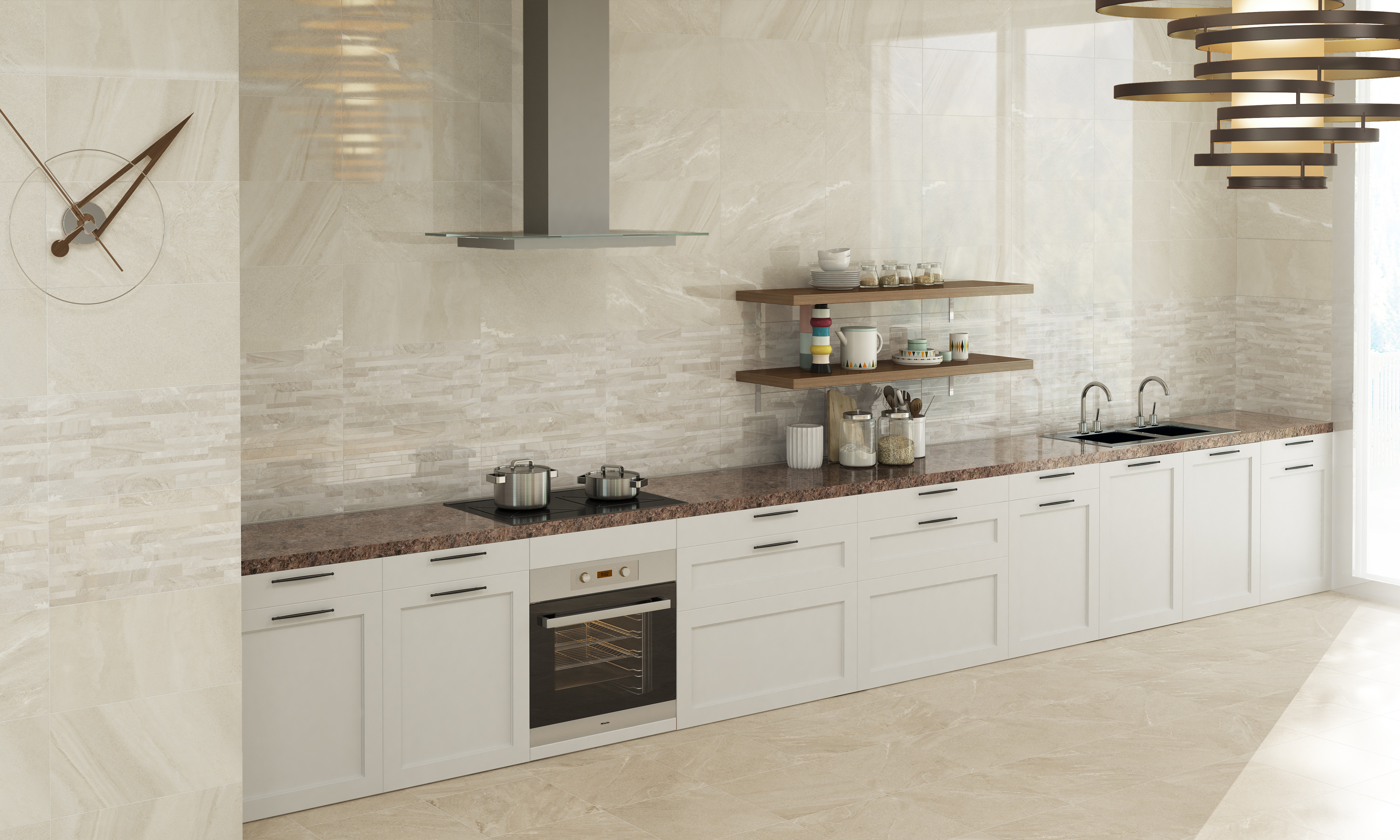 New Age Fields Bone 29,5x59,5
But as we already know, the key to minimalism is in the details. Open spaces, little decoration and the same range of colours. If, for example, we opt for white furniture, we can combine it with another shade in the flooring, but without adding a large number of colours so as not to overload.
Many decorating experts prefer to hide the electrical appliances in order to leave a cleaner and more homogeneous room, but this depends on the overall composition. In any case, electrical appliances can be useful as a decorative element as they are an essential part of the kitchen: embedded ovens or designer hoods are some of the elements that stand out the most in the minimalist style.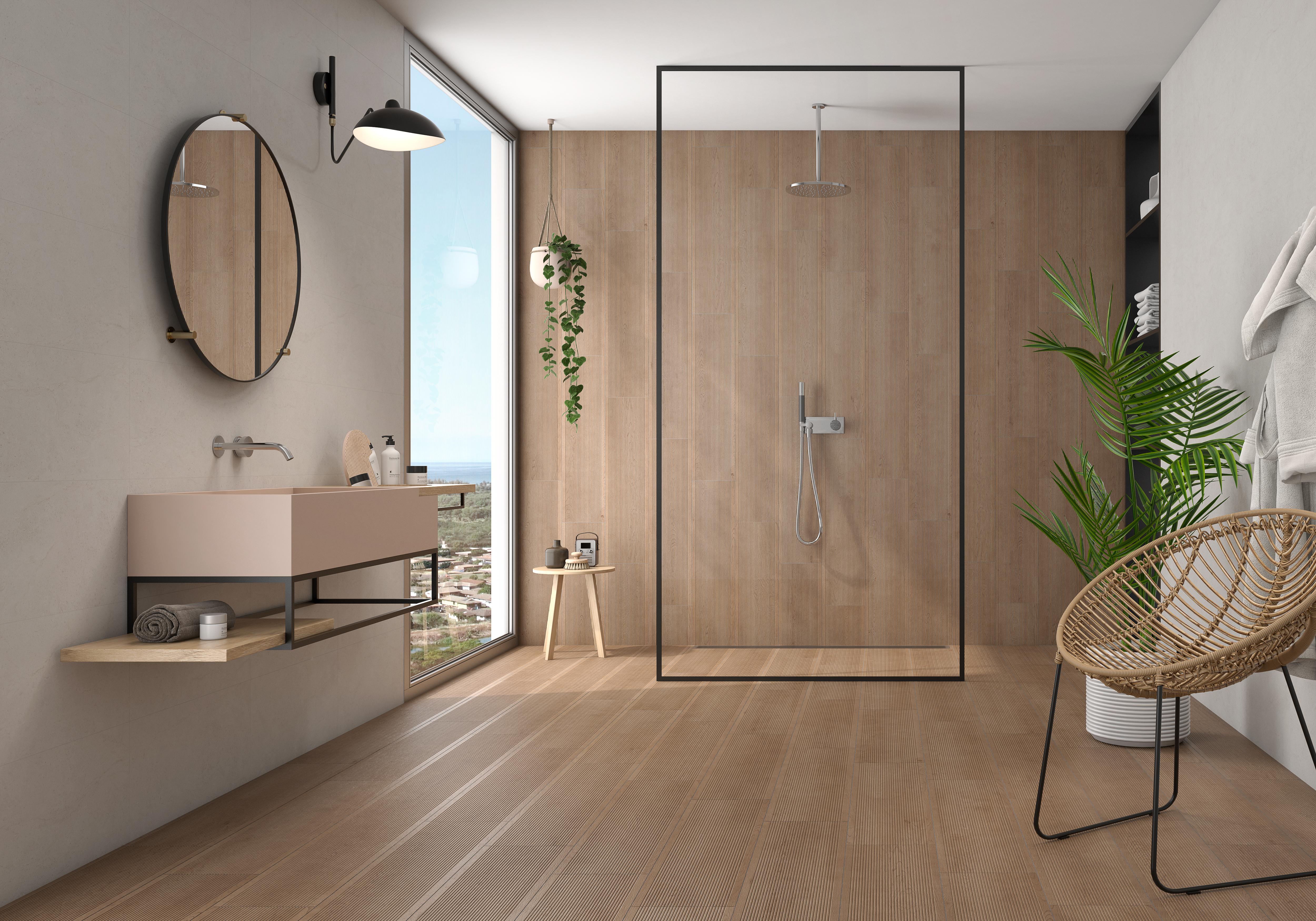 Deck Natural 21,8x84 Grip+ | Hudson White 29,5x59,5
Minimalist bathrooms
Bathrooms are a room that radiates tranquillity and that, thanks to their design and layout, invite you to relax and disconnect from the urban movement to which we are constantly subjected. In today's architecture, large and spacious bathrooms are not the norm, so it is increasingly common to see bathrooms with a minimalist style, which play with remarkably similar tones and with simple but attractive furniture. The choice of floor and wall colours plays a particularly important role here, as they will be the most eye-catching and relevant part of the bathroom, to which we will then have to combine the furniture and decorative objects.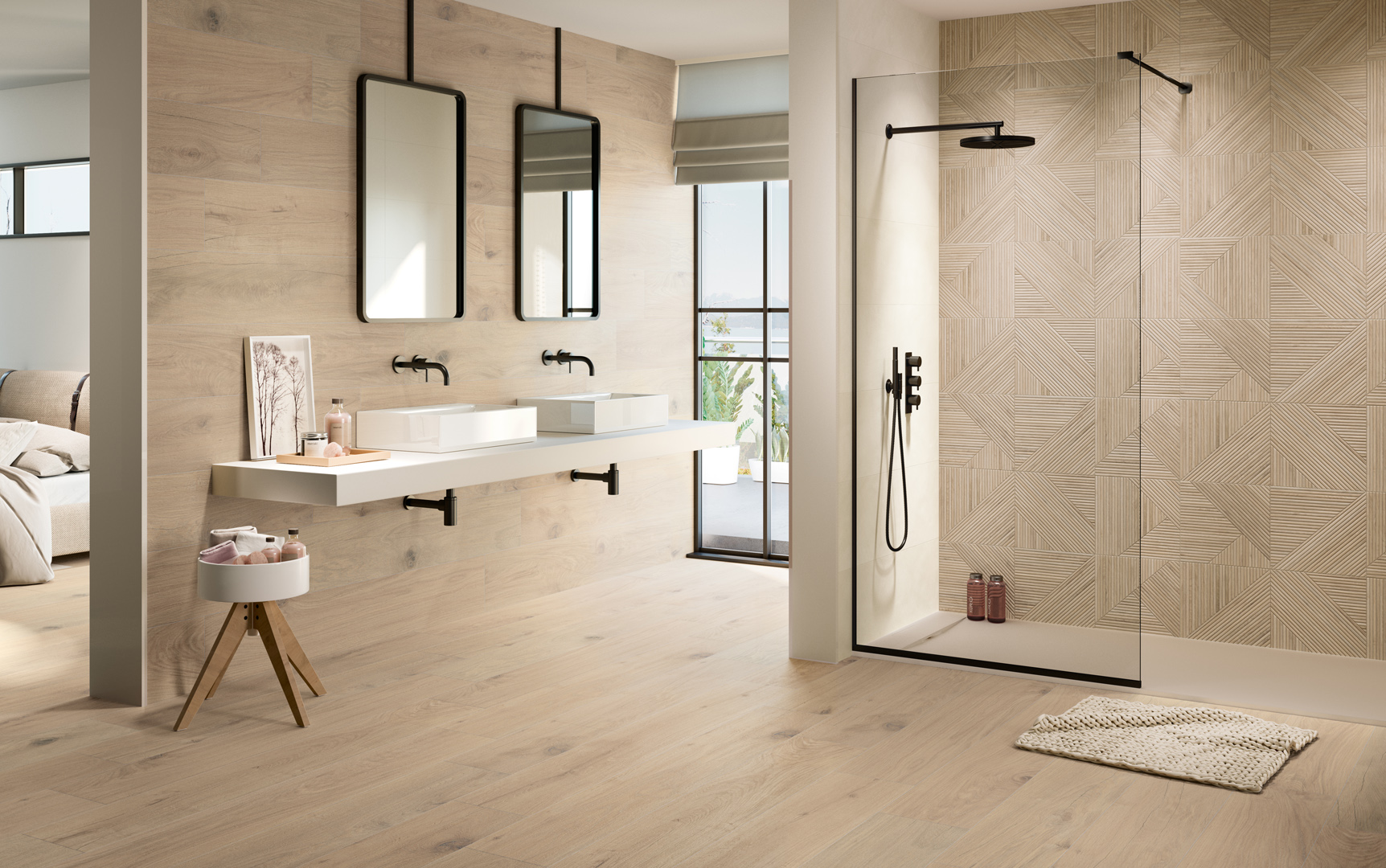 Impulse White 31,6x100 | Century Natural 25x150 | Tangram Natural 31,6x100
The colours for minimalist bathrooms are usually neutral, following the lines of the basic colours and, although more daring colours are chosen, the same chromatic range is always followed. Therefore, the aim when decorating a minimalist bathroom is to make the room cosy but at the same time comfortable and functional. And this is precisely what the minimalist style is all about, combining a series of furniture that is essential without adding decorative elements in excess. For this type of style, we usually go for soft, light colours, mainly white, to achieve rooms that provide spaciousness and relaxation.
As for finishes, the minimalist style allows us to opt for a wide variety, as both matt and polished materials can help us to achieve this minimalism. Mirrors and screens are a great ally when it comes to decorating and combining this style without leaving aside a modern and up-to-date interior decoration.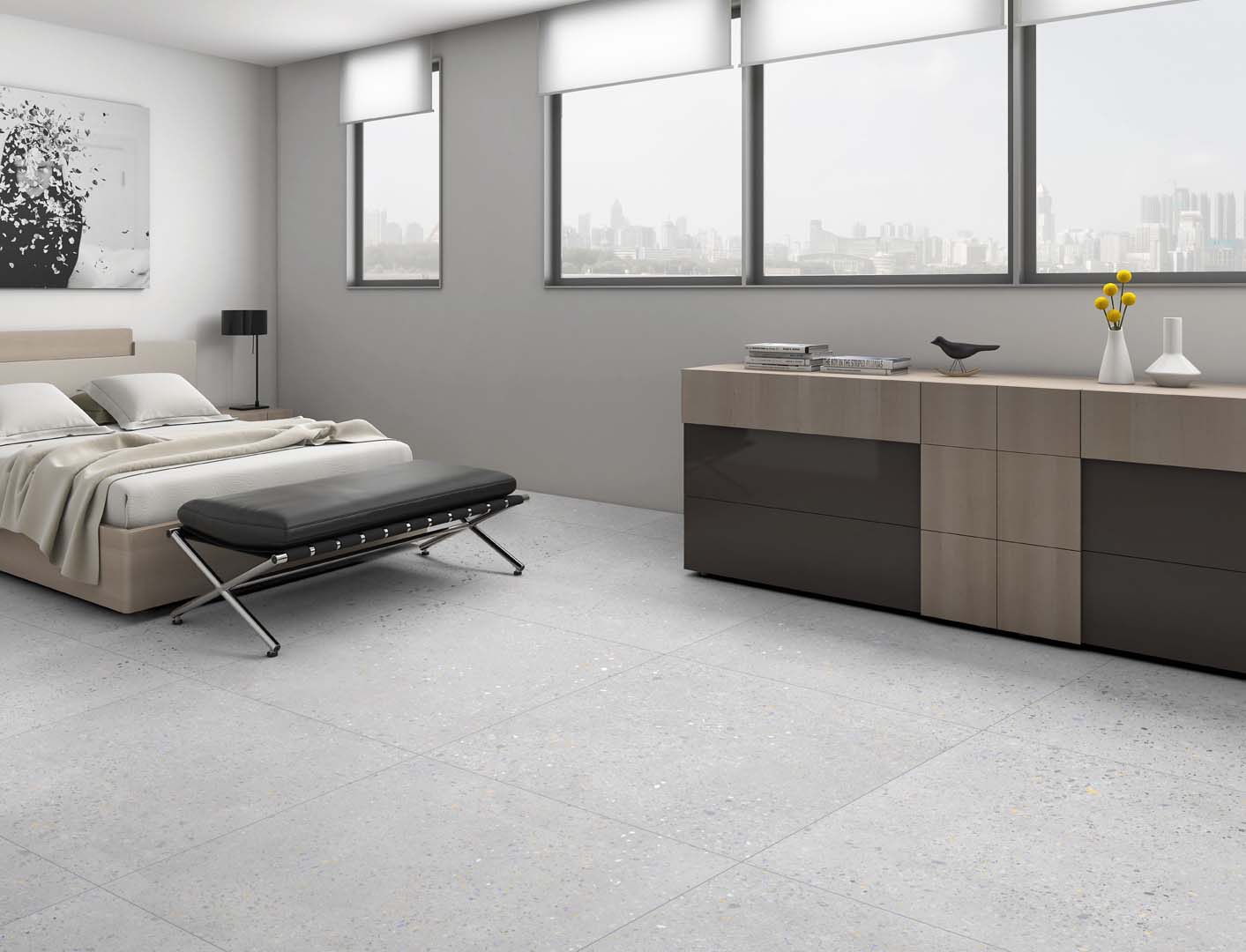 Wall: Tackara Light 90x90