The Colorker Group will once again be present at the 2022 edition held in Las Vegas, where it will take the opportunity to meet clients and strategic partners.The company will reserve a key space for the Matter by ZYX Atelier and shall present two new Premium series: Premiere and Panamera.
Despite the difficulties the sector has been facing at the start of this year, the Colorker Group will be back at Coverings, showing that the US market continues to be an absolute priority for the company. For the launch, the company based in Alcora (Castellón, Spain) boasts a perfectly balanced, cozy space as a showcase for its most successful collections and will present its latest brand innovations. The new releases include a stone (Premiere) and a cement (Panamera), both very well crafted down to the last detail to fully meet the demands of the US market. In addition, Colorker will bring back two of its bestsellers—such as Hudson, Kaira or Aoki—and will reserve a top space for its ZYX brand, rebuilding the Matter Atelier Concept that was already presented in Cersaie 2021, so that you can relive the whole Bologna experience.
'The new Pizarra' and latest trend colors with Premiere y Panamera
Given the interest generated by our slate effect porcelain tiles, especially in countries such as the USA, Colorker has added another series with this style to its product catalogue: Premiere. An alternative to the popular Horizon that includes covering in 31.6x100R and coordinated flooring in 59.5x59.5R.
In addition to its premium character, with deep shading and stone details that highlight the surfaces, Premiere surprises with its two exclusive reliefs: Ryder and Aquila. Ryder defies established patterns thanks to its irregular layout, interplay of volumes and raised edges, as if each piece of the latticework came to life. Also with a geometric base, Aquila features a detailed arrowhead pattern, adding dynamism to the interior design and perfectly counterbalancing the neutral base of the series.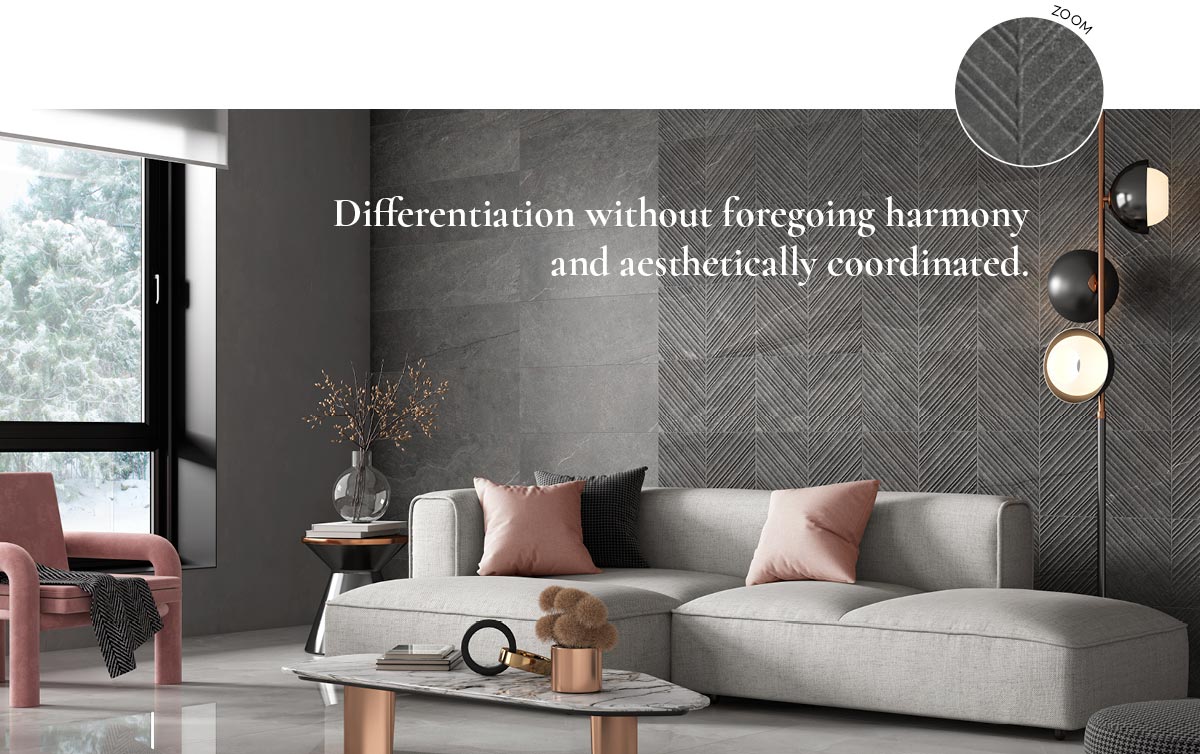 Premiere Dark 31,6x100R + Premiere Dark Aquila 31,6x100R + Elyseum Pearl 60x120R
For Panamera, we use the latest color trends to open up new possibilities for architecture and interior design. Highly exclusive wall coverings that take into consideration the popularity of green and blue tiles to merge into shades such as aquamarine or petrol blue.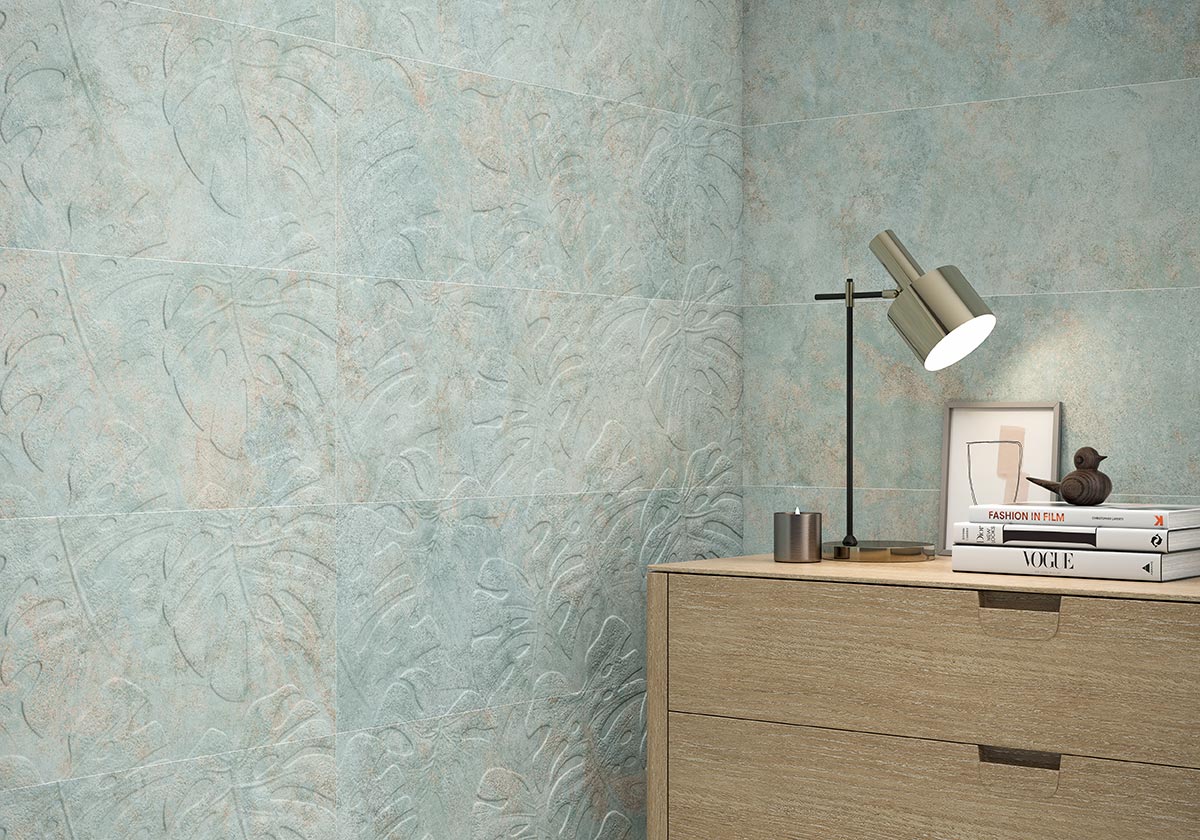 Panamera Soul Aqua, 31,6x100R + Panamera Aqua 31,6x100R
A very toneless and material aesthetic that, in the case of Aqua, is reminiscent of the oxidized bronze of works of art. Ocean is the exquisite version of Panamera in petrol blue, where the golden sparkles of the piece stand out starkly, and Moon is the more neutral shade, in a subtle, attractive off-white.
Other Colorker collections already presented and that will be center stage once again at Coverings 2022 are Hudson, inspired by the mysterious French Jura stone (including its relief version Oneida); Aoki, wood-effect tiles with a very linear and clean base for Japandi-style interior decorating; Kaira, which may be viewed as general paving, and Takara, the new terrazzo flooring available in three colors (Light, Pearl and Grey). The Deck collection will be used to cover the stand's façade.
Matter by ZYX takes you back to the artist's Atelier
As you all know, we're preparing a very special premiere for our new Matter Collection in Cersaie—a truly realistic and experiential recreation of the artist's lair on whose subjective representation of reality the series is based.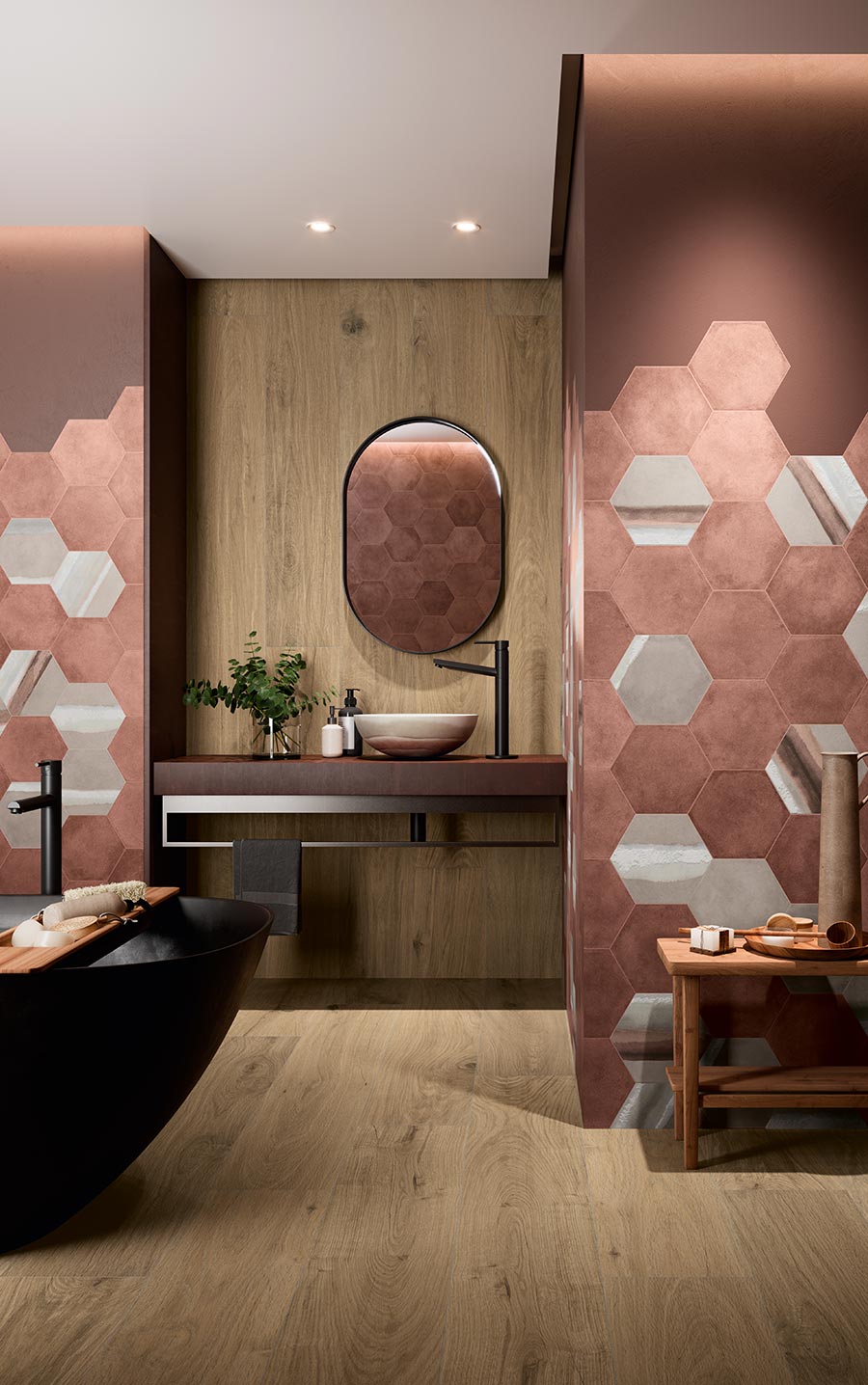 Matter Hexa Red 20x23 + Canvas Taupe-Red 20x23 + Canvas Red washbasin 40x15
For Coverings 2022, the ZYX team is once again reconstructing part of the artist's spiritual retreat in a creative space where you can see all Matter's square (15x15) and hexagonal (20x23) pieces, as well as the new series of washbasins 100% handmade and hand painted by Spanish artisans.
➻ If you don't want to miss this and much more in the next edition of Coverings Las Vegas, visit us at Stand C9416 of the Spanish Pavilion from April 5 to 8. See you there!