Looking to renovate your home and interested in 2021 design trends? We've studied the leading reports and studies to 'predict' these 10 interior design trends.
New Year. New home. Or that's what a lot of people will have thought at the end of 2020, the 'year of lockdown'. Long months spent looking at the same four walls due to the COVID-19 pandemic have made it very clear what works and doesn't work in every home, resulting in an unprecedented boom in home improvement. According to a report on the Home Improvement industry by Habitissimo, during June 2020 there was a 36% increase in home renovations in Spain. In the United Kingdom, homeware spending increased by 42% in May, according the Office for National Statistics.
But which interior design trends will lead the way in 2021? We have scoured the main trend studies and reports and leading international magazines to predict these 10 design trends. Let's take a look. Stay ahead of the trends.
1. The rise of Cosy Living
The COVID-19 crisis not only changed how we think, but how we live. There's now a greater focus on why rather than how, with more emphasis on welcoming and functional spaces. A general trend which says that wellness must be the primary goal of 2021 interior design, using decor which awakens the five senses.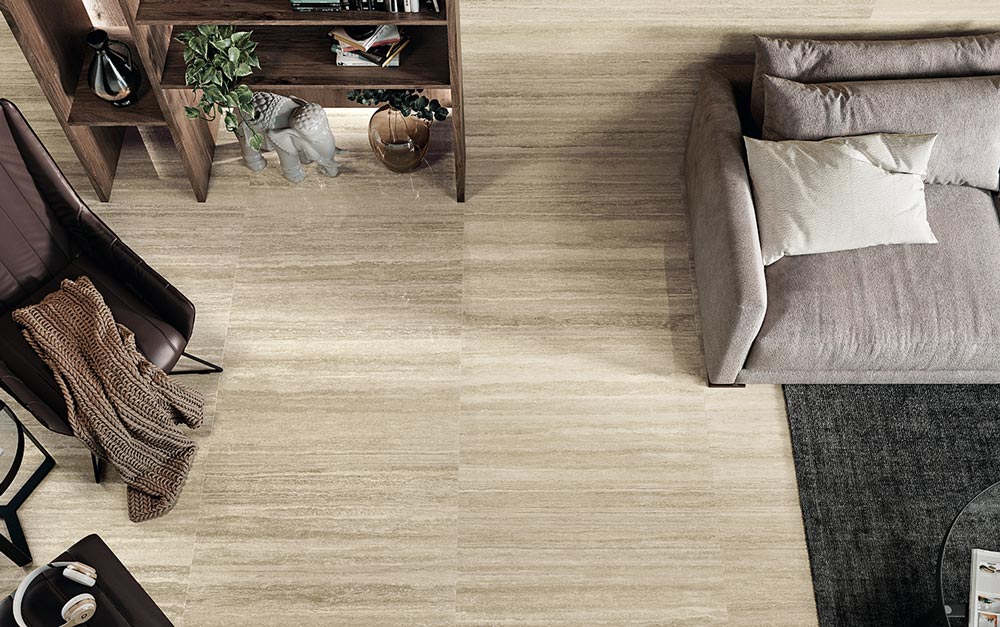 Coliseum Cream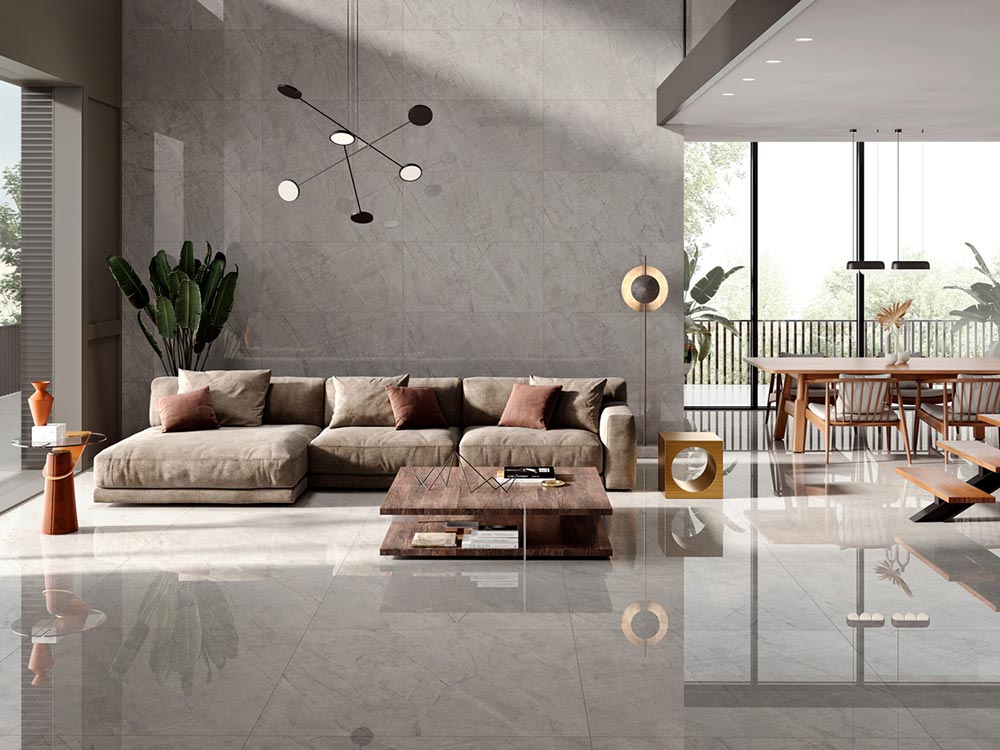 Sky Grey
Materials like wood or marble are visually and physically appealing, and the perfect environment can be topped off with an aroma: candles or wood, for example. Textiles have come to the forefront and comfort and storage are key when choosing furniture. Keep what is useful and get rid of what you don't need.
2. Living room trends 2021: spaces where 'everything happens'
Creating versatile and multi-purpose spaces will definitely be an interior design trend in 2021. And the star of these multi-purpose rooms is the living room, becoming the place where 'everything happens' during lockdown.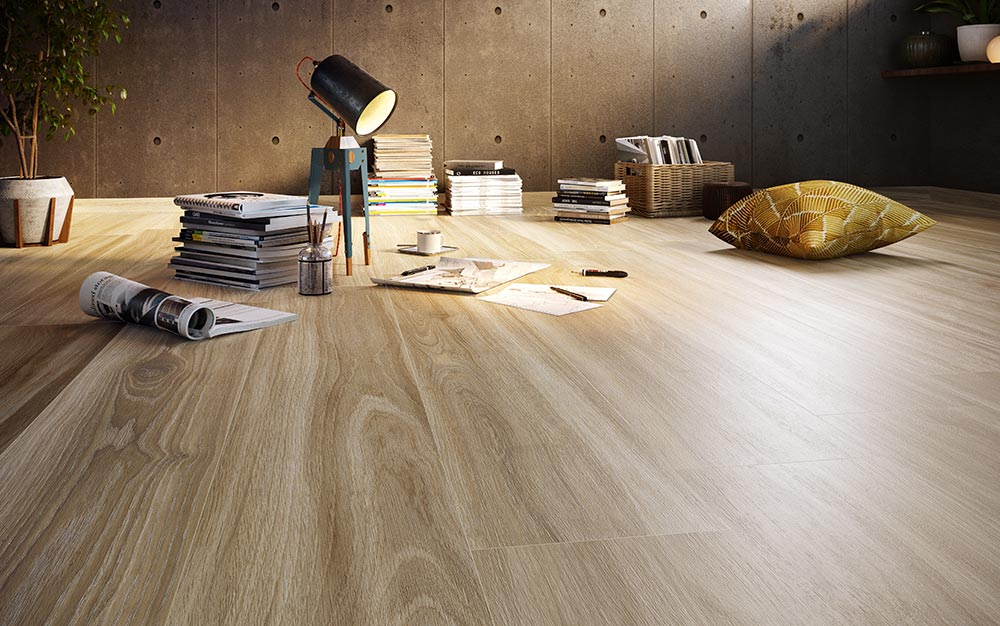 Woodsense Natural
A makeshift workplace and office, a classroom and playroom, and even a gym or pilates and yoga studio. Design emphasising a new perspective - where everything can be 'reused' and 'converted' - requires durable materials which can be easily cleaned and maintained, such as ceramics. Choose imitation wood ceramics or stone for floor tiles and textured or decorative wall tiles to forge a different style and convert your living room into a designer space. Modular walls and sliding doors can also be a great addition to these new FUTURE construction methods.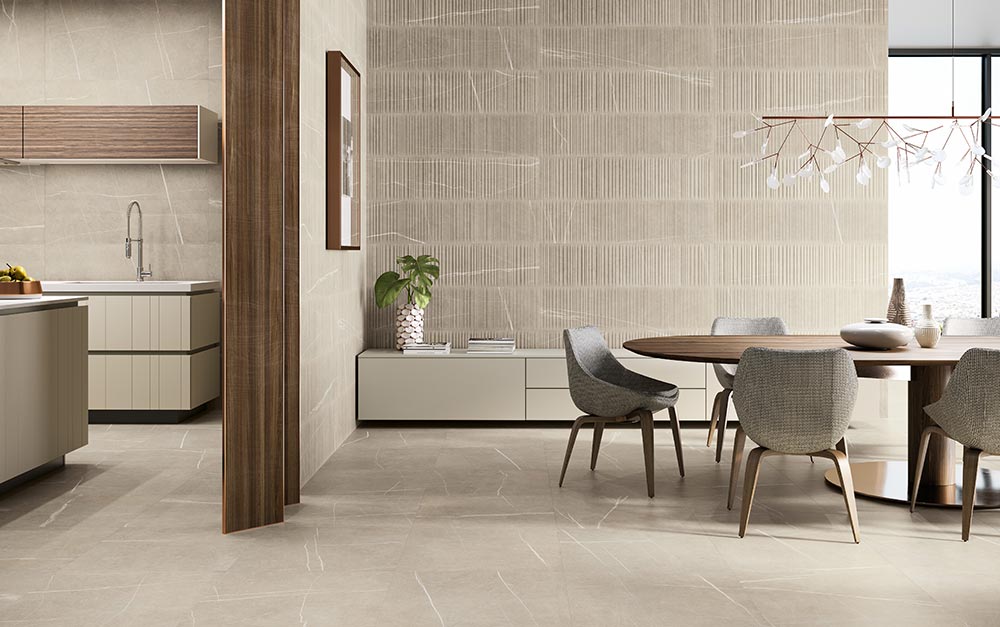 Rooms can be arranged flexibly using sliding doors and seamless floor tiles throughout the space. Bone + Parallelo Bone.
3. The new era of 'ME TIME'
Pinterest searches show that we are immersed in a new era of wellness. According to the social network, the keywords 'self care at home' increased by 332% in 2020. 'How to sleep better', 'yoga' and 'mindfulness' all featured in search histories throughout the year. There is a room which has taken centre stage in relation to ME TIME: the bathroom. The bathroom has become a home spa, a place to escape and take care of ourselves due to pandemic-related stress. Dedicate your space to you with a freestanding bathtub and ceramic materials which resist moisture and contact with water.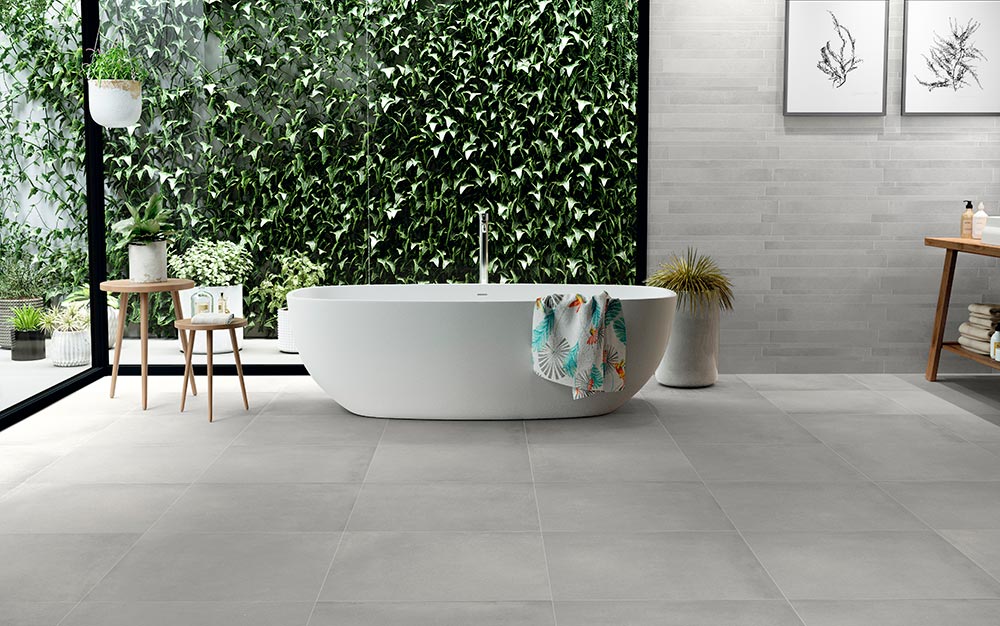 Norton Pearl + Tesela Norton Pearl
Pinterest reported a 50% increase in searches for 'bathroom with freestanding bathtub' and a 145% increase in 'deep soaking tub' in countries like Canada, the United Kingdom and Australia. Source: Pinterest Predicts.
Bathroom space created by Erico Navazo for Azulejos Peña. Flooring: Omnia by Colorker. Wall tiles: Gatsby and Evoke by Zyx. Fixtures with metal finishes is another 2021 design trend. Photo: Asier Rua.
4. Safe and easy-to-clean areas
Sterile, antibacterial and easy-to-clean and easy-to-disinfect materials are experiencing a golden age in 2020-2021. Ceramics are definitely the ideal solution, as they offer all these properties as well as a look which is very similar to natural material.
5. Plenty of plants
An ode to the planet, origins, and a firm commitment to purifying air in indoor spaces; all this makes plants one of the leading interior design trends in 2021. Spaces - designed to be lived-in now more than ever - become fresher and more lively with plants and green spaces throughout.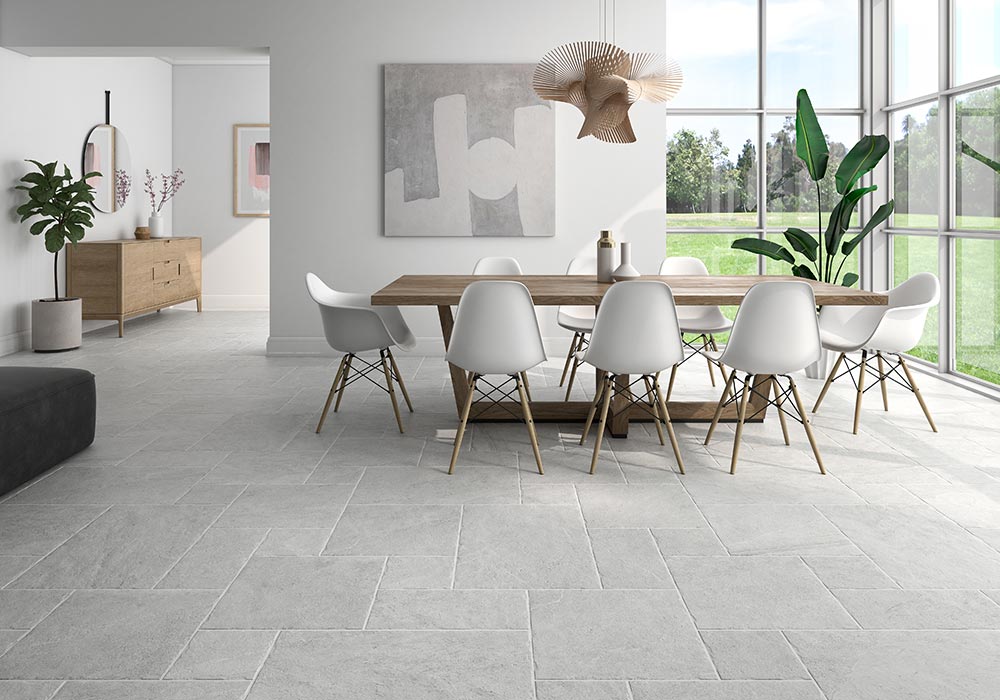 Giant White. Modular Concept
Plant decoration can also be used as a pattern for ceramic surfaces. Immerse yourself in the jungle and create a haven of peace for 'slow life' in your home with collections like Amazonia by Zyx, also inspired by the handiwork of master craftsmen.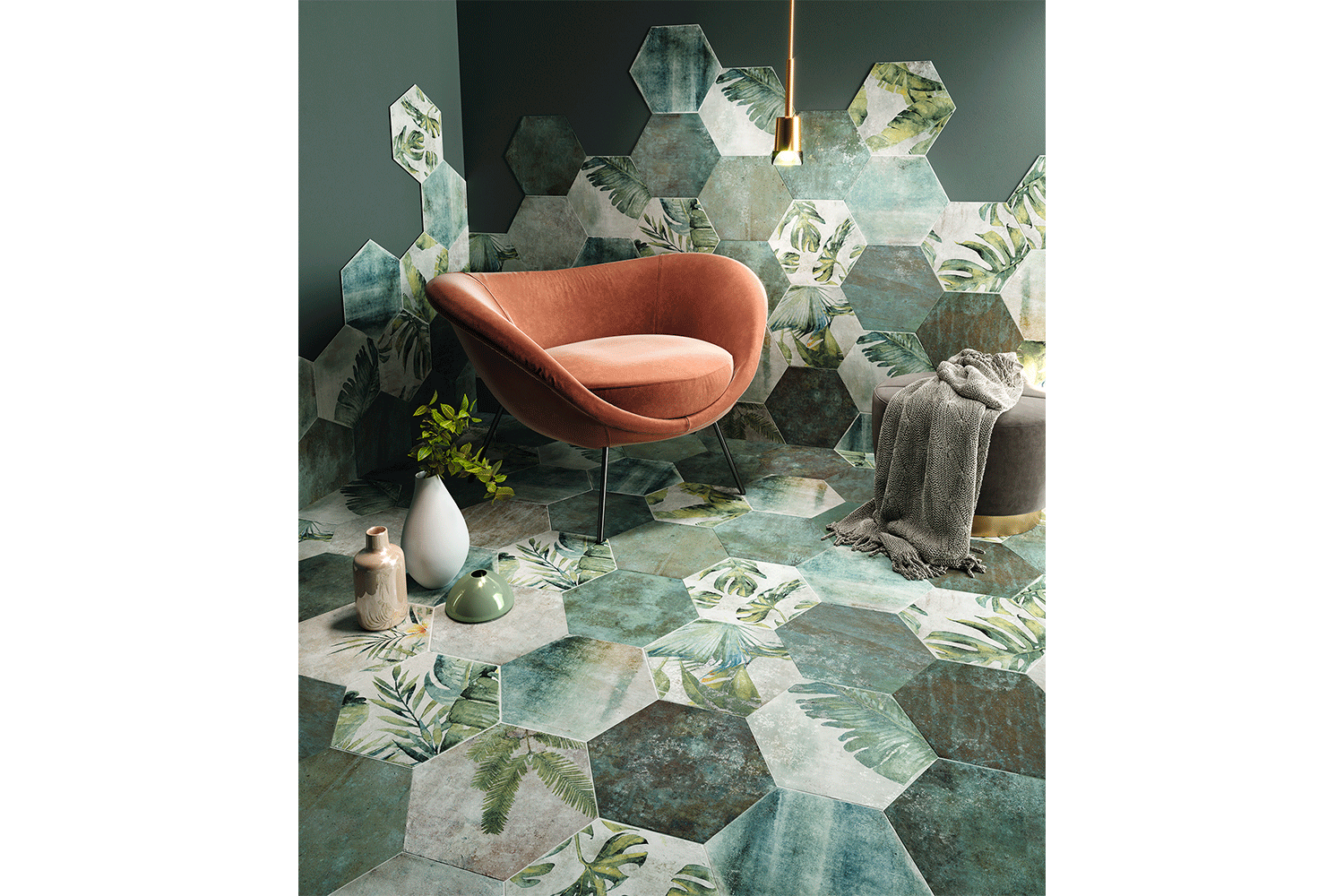 Amazonia by Zyx
6. Raw materials
According to the trend forecasting company WGSN, 2021 will be a year for 'celebrating raw' and 'Indigenous Thinking', thanks to a boom in materials like wood and untreated iron, and specifically wicker and rattan in all spaces and in all elements.
Tangram is Colorker's new textured imitation wood collection which creates volume, drawing inspiration from the traditional Asian game. A perfect collection to create Japandi designs, another key trend for 2021 interior design according to Pinterest Predicts.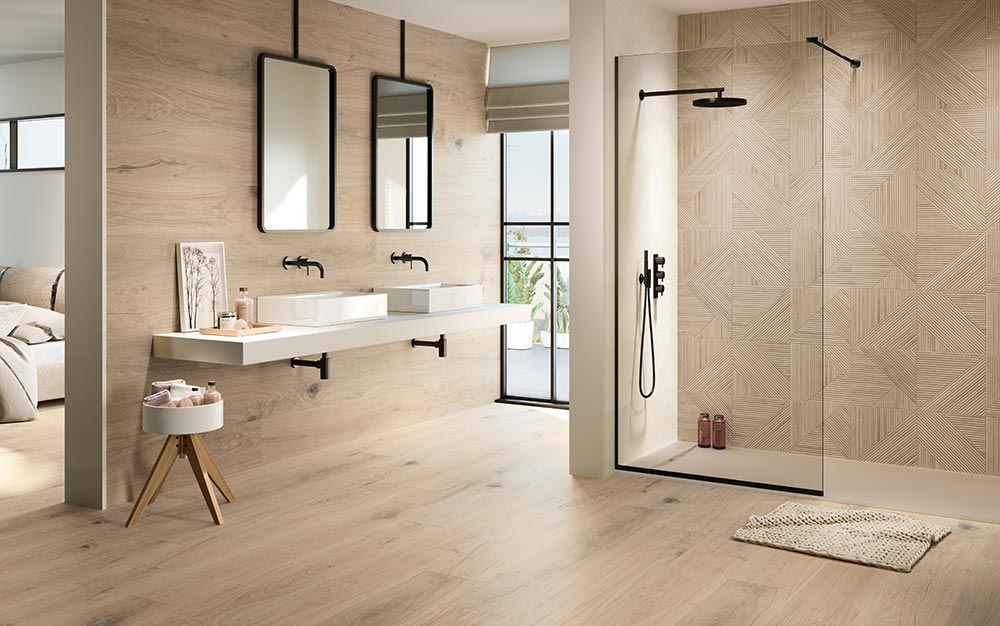 Century Natural + Tagram Natural + Impulse White
Japandi combines Scandi design with the more zen 'made in Japan' feel.
7. Customisation and creativity
During lockdown, homes became spaces for creativity. And hopefully this will continue with new lifestyle trends arising from the pandemic. According to Clever Magazine by AD, "people are looking for tools that help them communicate and express themselves after almost a year of holding back on social interactions".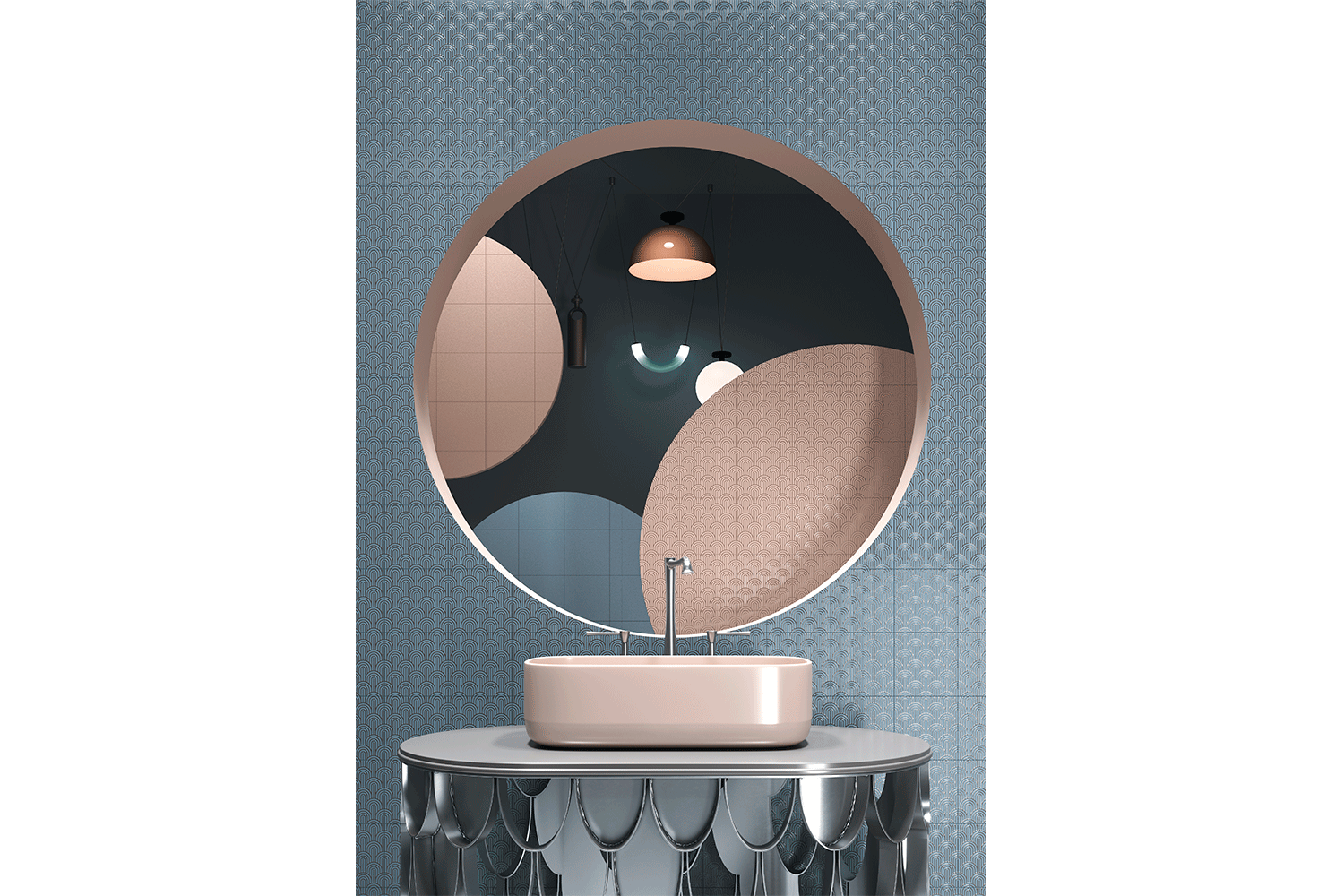 Gatsby collection by Zyx.
Bold and dynamic patterns and geometric or irregular shapes could be a highlight in 2021 design when focusing on creation and experimentation. A new way of expressing who we are, with a homage to maximalism found in every corner of the home.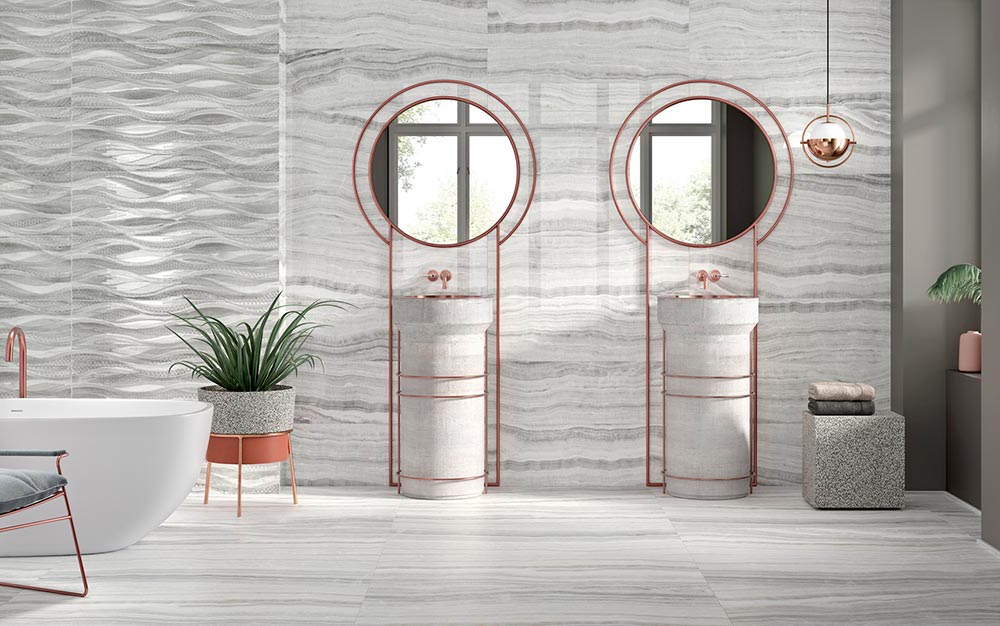 Spectrum White
8. Colour trends 2021
Pantone recently published its 2021 #ColorOfTheYear: Ultimate Gray+Illuminating. A bold choice which reflects the fearless start to 2021. This colour follows the trend predictions by Coloro+WGSN: Jade, Dark Oak, Lazuli Blue and Orchid Flower. These will certainly not be used alone, instead accompanied by more neutral tones to avoid overpowering spaces. How about you: do you prefer a full-on approach, or small touches of strong colour in a design?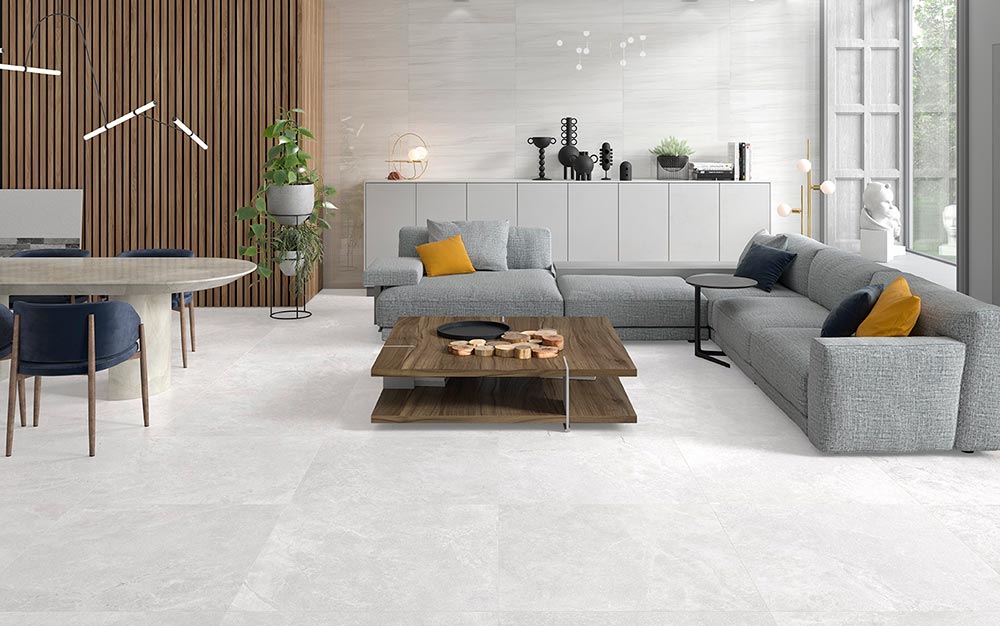 If these colour trends seem too much, try including them in decoration. Kendo Pearl+Liberty Grey
9. Voyage to Morocco
The contrast between neutral colours and bolder patterns is another 2021 trend in the kitchen. A space which makes way for hydraulic or Moroccan-inspired tiles, which blend perfectly with simpler ceramic wall and floor tiles. The 2021 trend is to apply them to a whole wall, or just as a unique design feature on the backsplash.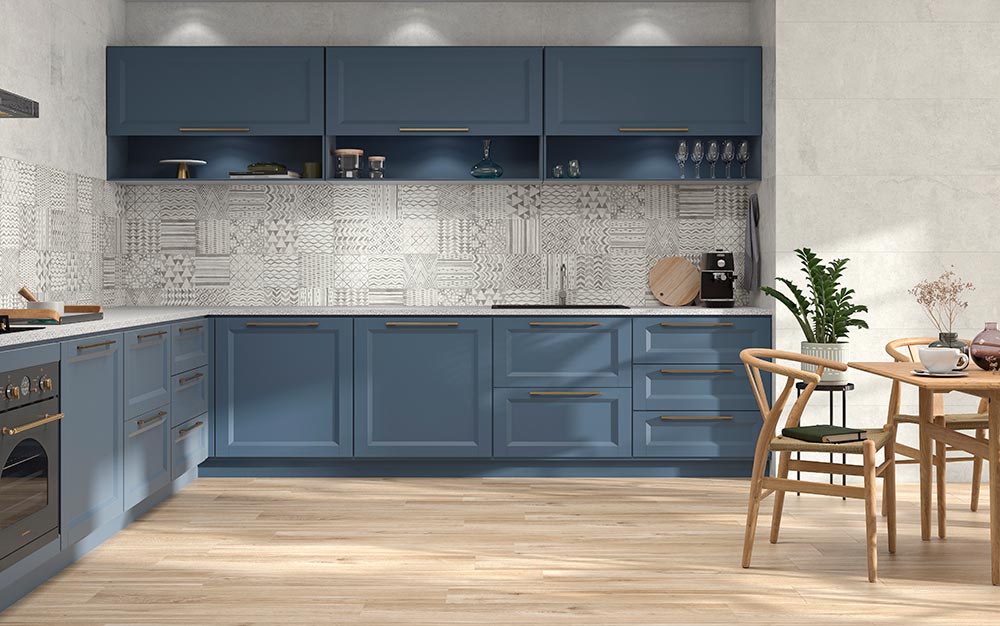 Memento Moon + Bekko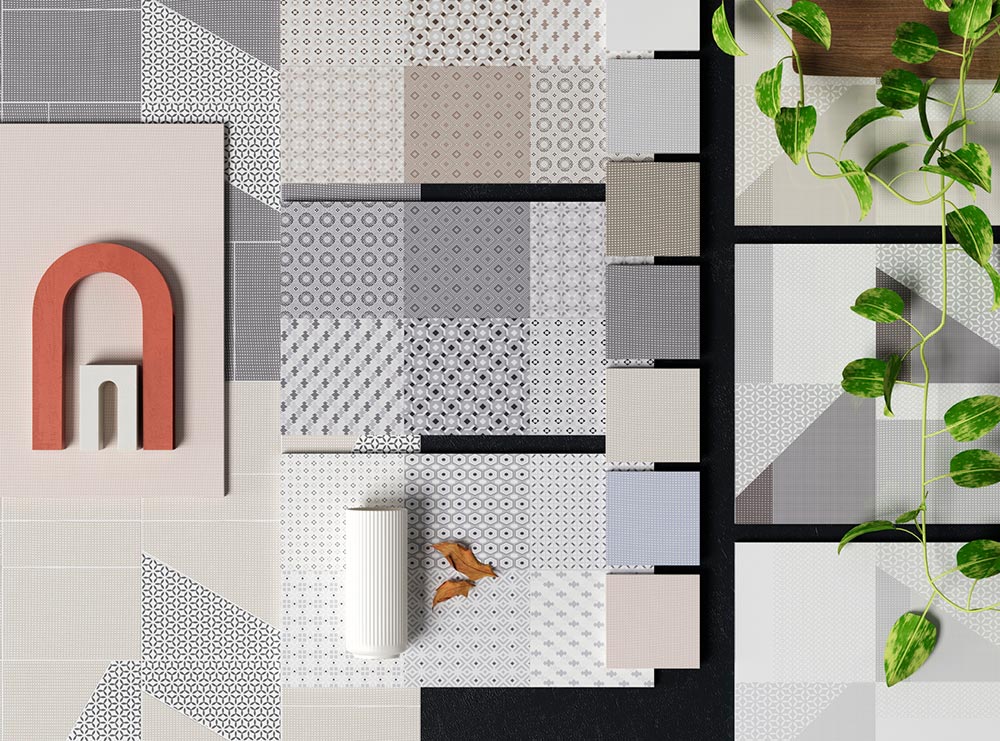 Ikon series
10.The year 4.0
2021 will definitely be a year for digital transformation at all levels. In interior design, there will be a firm focus on home automation, home technology applied to wellness, safety, entertainment and virtual communication.
Specifically, to achieve all of society's requirements, particularly in terms of design, wellness and safety; at Colorker we are also focused on our own digital transformation. We are striving for applied innovation to create more realistic, durable and secure ceramic products, as well as to achieve other criteria like quality, efficiency and sustainability.